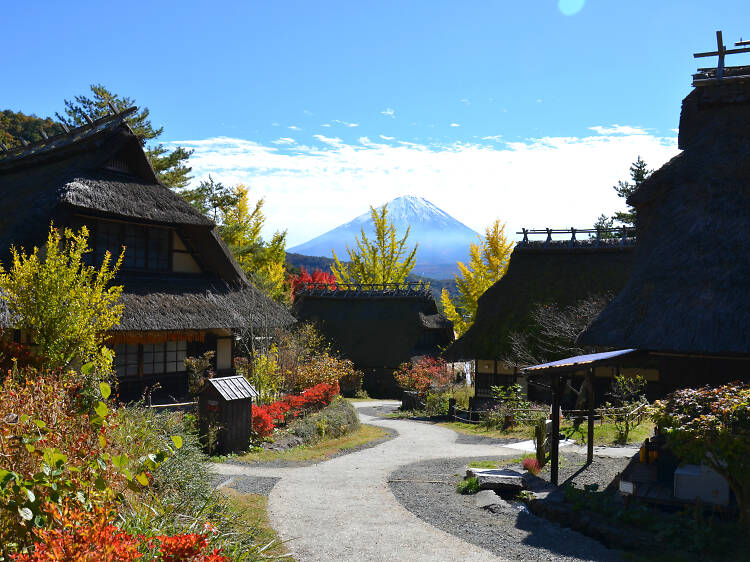 Photo: Tabea Greuner
Saiko Iyashi-no-Sato Nemba
Saiko Iyashi-no-Sato Nemba is a former farming village turned open-air museum, situated not far from the shores of Lake Saiko, which is one of the Fuji Five Lakes. Its quaint countryside setting provides an ideal photo op, with the towering Mt Fuji acting as a backdrop to charming traditional thatched houses.
Nemba village was destroyed by a massive landslide in 1966. The twenty 'heritage' houses that you see today are true-to-original reconstructions, now home to craft shops – think pottery, incense-making and weaving. The site as a whole is a museum, documenting the daily lives of the farmers back then, as well as the tragic disaster that occurred over half a century ago.
Make sure to take a souvenir photo on the little bridge that overlooks the scenic village, with Mt Fuji in the background – you can even dress up in a kimono or samurai armour, available for rent nearby at ¥1,000 per person. Art enthusiasts should check out the on-site gallery for its regularly changing exhibitions by local artists. During our visit we met famous illustrator and producer Kosei Maeda of the hit anime 'Manga Nihon Mukashi Banashi', which aired from 1975 until the early '90s.
If you're feeling peckish, order the hoto noodles at the little eatery near the entrance. A Yamanashi speciality, these flat noodles are served in a hearty miso-flavoured broth with meat and seasonal vegetables.
9.30am-4.30pm; ¥500, children ¥250