The 10 best cheap hotels in Toronto
Get the best out of Toronto without overspending on a hotel room. The city's hotels can be cheap and good quality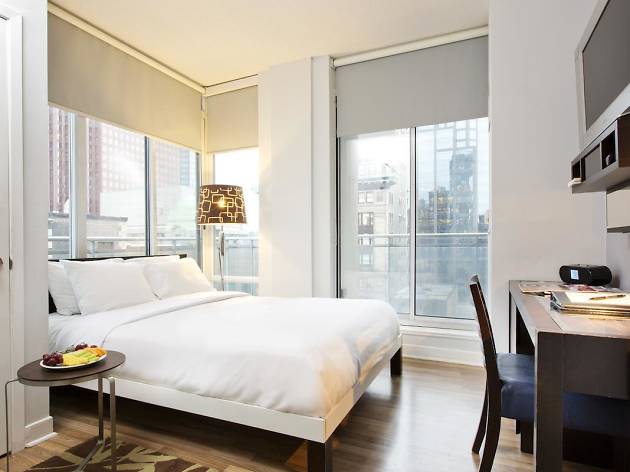 Now that Toronto is a major tourism destination, finding somewhere to stay that doesn't break the bank can be a hard ask. With so many others flocking to the city for its attractions, bars and restaurants, you might assume that cheap-but-good accommodation would be non-existent. Not so, if you know where to look. Toronto does have some reasonably priced hotels you won't regret booking a stay in. We've hand-picked the best, giving you more headspace to think about how you'll be spending your time in town.
Best cheap hotels in Toronto
1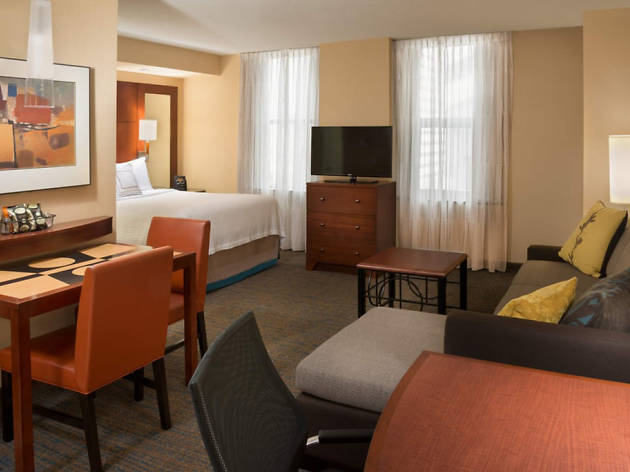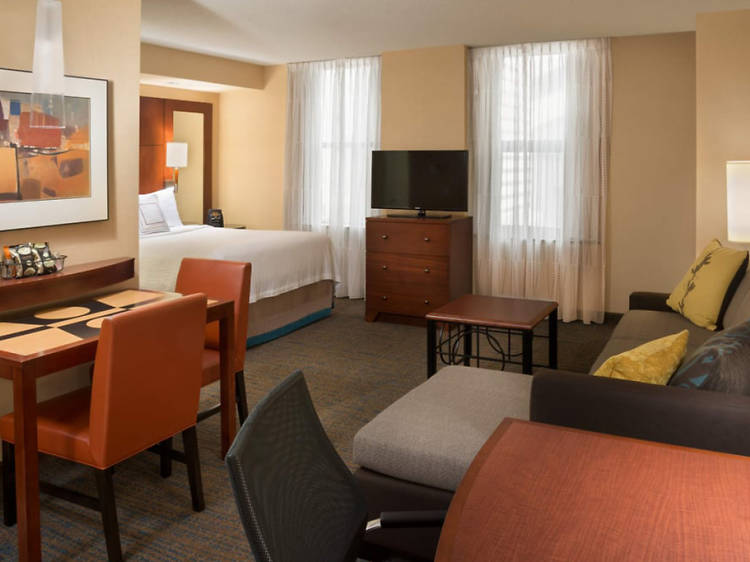 Photograph: Courtesy Yelp/Residence Inn Toronto Downtown
Residence Inn Toronto Downtown
The Residence Inn Toronto Downtown scores highly for us in two ways: First, its downtown location, second: the full kitchen found in all rooms. Additional bonus points for the sleeper sofas, generously-sized bathrooms and the free hot breakfast buffet. This friendly, unpretentious hotel is just the place to make new friends while you enjoy a morning coffee.
2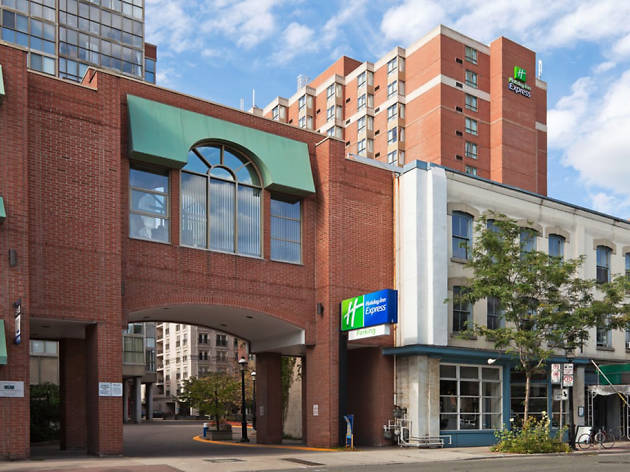 Photograph: Courtesy Yelp/Holiday Inn Express Toronto Downtown
Holiday Inn Express Toronto Downtown
You might think Holiday Inns are no-frills, but wait until you see what the buffet bar at this place has in store. The on-site pancake machine is, obviously, a huge daily hit that delivers oh-so-delicious, fresh pancakes at the click of a button. Need another reason to stay here? You'll be just steps away from Toronto's St. Lawrence Market.
The Chelsea Hotel offers a fantastic downtown location and good value for your money that's perfect for families. Kids can enjoy the 130' corkscrew waterslide, Kids Centre and Club 33 Teen Lounge while adults can relax at the private pool or work out in the fitness center. If you're looking for something to eat, check out the T| BAR, which serves one of the best Indian buffets in the city during the week.
4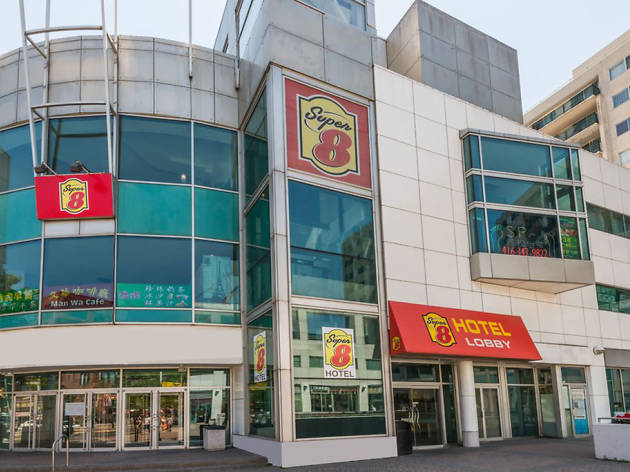 Photograph: Courtesy Yelp/Super 8 Hotel Downtown
The Super 8 Hotel Downtown is pretty basic, but with a location in Chinatown and rates starting around $120 CAD, you can't complain. Complimentary breakfast is included, and if you're still hungry you'll be within walking distance of some of the city's top culinary neighbourhoods such as Kensington Market and Queen West, where you can splash the dollars you've saved on the cheap room. Some of the city's top attractions—the CN Tower, Art Gallery of Ontario and City Hall—aren't too far away either.
The world's largest full-service Courtyard hotel is located in Downtown Toronto with the average rate starting at just $209 CAD per night. The recent addition of printed murals and art in every room, as well as the lobby fireplace, give the hotel a homier feel. Located at Yonge and College, you'll be just a few blocks away from the Village and Yonge & Dundas (Toronto's Times Square).
The Roehampton Hotel provides basic accommodations at a very reasonable price, with spacious rooms starting around $160 CAD per night. What makes this hotel appealing (besides the price) is the midtown location. You'll be steps away from some of the city's best dining and shopping options without having to deal with the crowds. If you need to head downtown, it'll take you less than 20 minutes.
Depending on when you're planning on visiting, the Bond Place Hotel will cost you less than $200 CAD per night—a steal, considering the hotel is located a block away from Yonge-Dundas Square, where many free live events take place. The hotel isn't much to look at from the outside, but the rooms are modern—especially the premier queen room, boasting a design that reflects the vibrancy of the city.
For a property that's located on the water, the Radisson Admiral Hotel offers surprisingly low rates starting at $239 CAD. For those of you in town to catch a Leafs or Raptors game, the hotel is within walking distance of the Rogers Centre and Scotiabank Arena. End your night with a trip to the hotel's Lakeview Pool Lounge, where you'll enjoy stunning views of the city and Lake Ontario with a refreshing drink in hand.
Don't let the airport location fool you: the Alt Hotel Toronto Airport is surprisingly convenient—you can get to downtown Toronto via the train in less than 40 minutes. Rooms with one bed start at $179 CAD while a room with two beds starts at $199 CAD. Make sure to check out the space's unique "alt expo" feature: a custom collection of 80,000 Instagram photos that form a mural that celebrates creativity and design.
10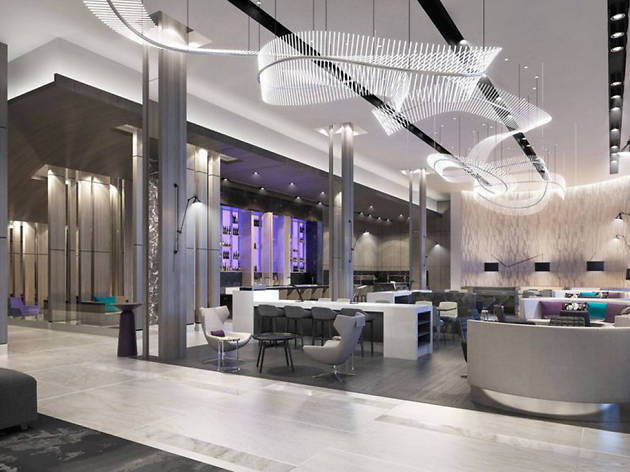 Photograph: Courtesy Yelp/Toronto Markham Marriott
If you're going to be in the northern part of Toronto or you simply like to experience luxury hotels at reasonable rates, you should check out the Toronto Markham Marriott. The highlight of the hotel is the infinity pool where the in-water lounge seats and the vibrant coloured floor-to-ceiling windows will make you wonder if you've relocated to an exotic resort. Grab a sofa seat booth or a bar stool at Draco, the hotel's restaurant and lounge, where you can enjoy the downtown feel without actually having to be downtown.
Working with a higher budget?
Whether you're looking for a rooftop pool or rooms that feature art from local artists, you'll have plenty of options to choose from