Heads up! We're working hard to be accurate – but these are unusual times, so please always check before heading out.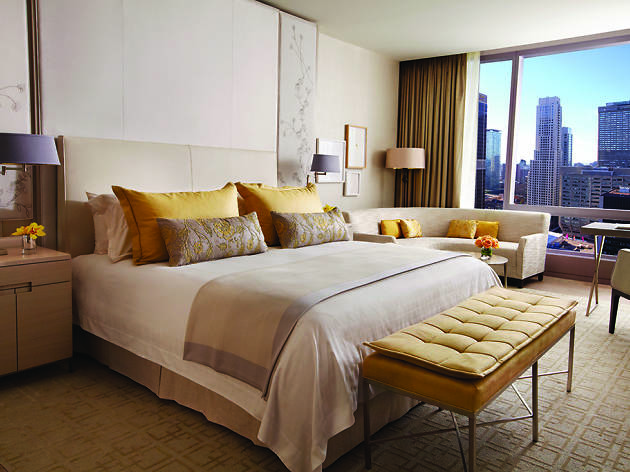 The 12 best hotels in Toronto
Whether you're looking for blow-out luxury or a more affordable accomodation, there's plenty to choose from in Toronto
Toronto, you're great. From Chinatown to Little Italy, via Koreatown, this is a vibrant, multicultural city where everybody feels at home. The average visitor, whether they're in town for a weekend break or an extended vacation, will be over awed by the endless supply of great restaurants and attractions found across the city.

In terms of hotels, Toronto does a fine line in luxury hotels, famous names and, increasingly, boutique hotels in some of the city's coolest areas. We've put together a list of our favourite, chic-est options, but if you're looking for a more budget-friendly option, check out the best cheap hotels in the city.
Best hotels in Toronto
What is it: The spacious, tastefully-furnished rooms and suites of The Sheraton Centre Toronto combine luxury with practicality.
Why go: The hotel's pool is under protective glass, meaning you can enjoy a dip even when the Canadian winter is in full (and super chilly) swing. And when it is a little more spring-like, guests can join in free fitness classes in the waterfall garden. Treat yourself to a club room and you'll also be welcomed into the club lounge on the 43rd floor.
What is it: Towering above the city streets, the Fairmont Royal York is famously the Toronto hotel of choice for the British Royal Family - and we can see why.
Why go: In recent years, the Fairmont has gone modern, courtesy of a multi-million dollar refurb. But despite the spruce-up, it still retains the historic charm this iconic hotel is known for. You'll also discover cute quirks throughout your stay, such as the restaurant's honey which is produced in hives on the hotel's own roof. Oh, and if you're travelling with kids but still want date night, there's a professional childcare service available.
What is it: The Shangri-La Hotel is Toronto's first Asian luxury hotel brand.
Why go: A public stainless steel sculpture created by Chinese contemporary artist Zhang Huan greets guests as they enter the hotel. All guest rooms boast modern amenities, but it's the small details such as the lithographic works by Wang Xu Yuan and Asian influenced design elements that set this hotel apart from others.
What is it: With just four rooms, the Ivy at Verity is a hidden gem that calls a restored 1850s chocolate factory home.
Why go: In every room, you'll find a king-sized bed, Italian linens, a deep soaker tub with spa products and a large outdoor terrace that overlooks an 18th-century courtyard. Breakfast is even delivered right to your door so you can enjoy the old-fashioned European hotel experience properly.
What is it: The Delta Hotels by Marriott Toronto is the flagship hotel of the brand and it overlooks the city's waterfront.
Why go: With the CN Tower, Rogers Centre, Ripley's Aquarium, Scotiabank Arena and the Budweiser Stage just steps away, the Delta Hotel puts you close to all of the action. The harbourfront is visible from the lake view rooms while soaker tubs are available in the corner skyline rooms.
What is it: The Chelsea Hotel is an urban resort with 1,590 guestrooms, making it Canada's largest hotel.
Why go: Despite its size, the hotel offers features that will cater to just about anyone. Adults get exclusive access to a pool and health club while families can enjoy the Fun Zone that includes the Club 33 Teen Lounge, a Kid Centre and a heated indoor pool that has a 130' corkscrew waterslide. Showing your room key at many attractions will get you a discount on admission prices.
Photograph: Courtesy Yelp/Jenny H.
What is it: Hotel X Toronto by Library Collection is an urban oasis that combines luxury with sports and entertainment options for an experience like no other in the city.
Why go: With a full-service spa, four indoor tennis courts, two swimming pools, fitness studios, a cinema and seven dining experiences, Hotel X Toronto feels like a resort. Enjoy the views of the city and lake from the three-level rooftop SkyBar or take a dip in the outdoor rooftop pool, which is reserved for hotel guests.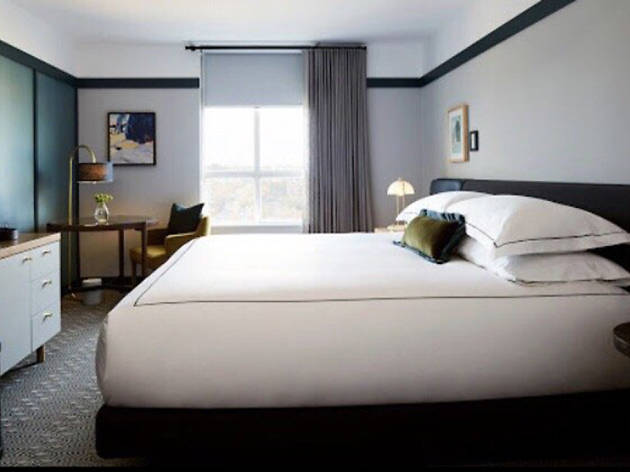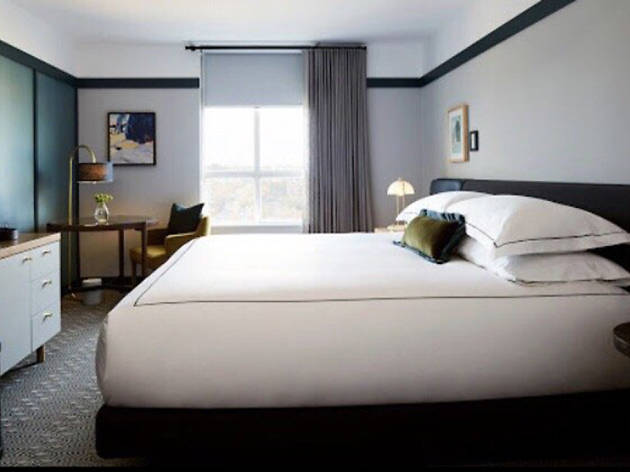 Photograph: Courtesy Yelp/Sean W.
What is it: The Kimpton Saint George is the boutique hotel company's first and currently only hotel in Canada.
Why go: It's all about the design. Most of the art in the hotel is original, designed by Canadian artists—including the owl mural on the side of the building. The hotel's colour scheme and furniture were carefully selected to give guests a feeling of community, one of the many things Toronto is famous for.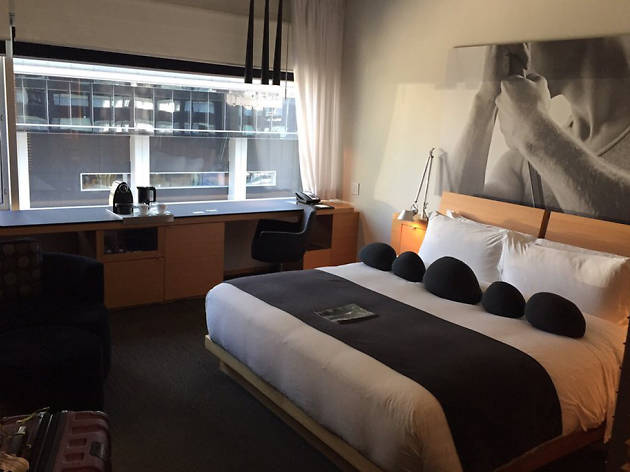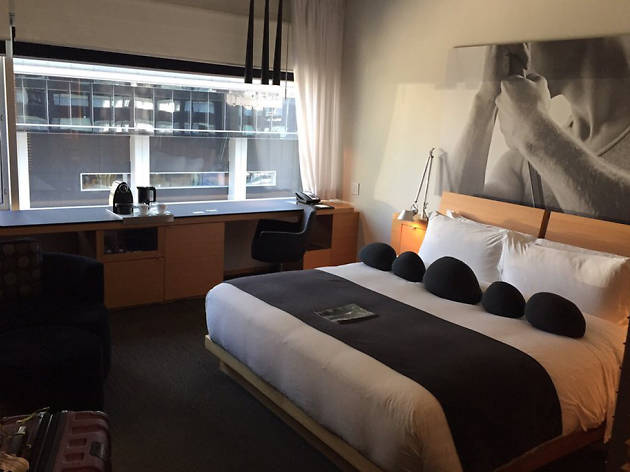 Photograph: Courtesy Yelp/Cliff H
9. Le Germain Hotel Maple Leaf Square
What is it: Attached to the Scotiabank Arena, the Le Germain Hotel Maple Leaf Square offers guests the chance to see the Toronto Raptors, Maple Leafs and their favourite bands without having to step outside.
Why go: Conveniently located by Union station, the UP Express and the waterfront, the Le Germain Hotel is in the heart of Toronto's sports and entertainment district. Express yoga sessions, no checkout times, a Lexus courtesy car and eco-friendly features are available to all guests.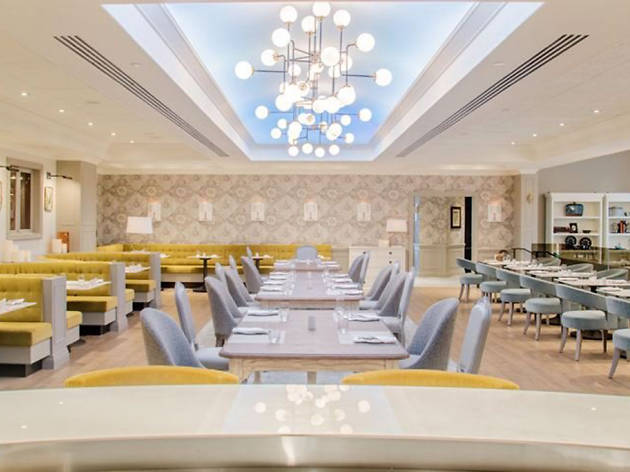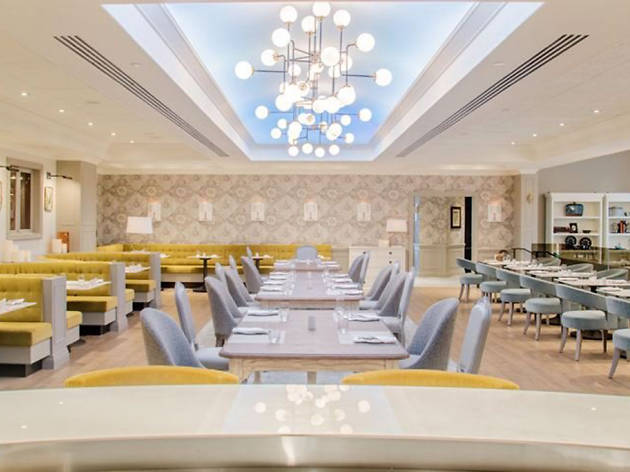 Photograph: Courtesy Yelp/InterContinental Yorkville
10. InterContinental Yorkville
What is it: The InterContinental Yorkville is a luxury hotel just steps from some of Toronto's most popular cultural hotspots.
Why go: After exploring the city, relax on the outdoor patio, which is connected to an indoor/outdoor bar. Need something to eat? Executive chef Chris Pereira has been with IHG for more than 20 years and has a created a menu inspired by the city's diversity.
Photograph: Courtesy Yelp/The Broadview Hotel
What is it: Once the site of the infamous Jilly's Strip Club, The Broadview Hotel opened its doors in 2017 and helped revitalize the area immediately.
Why go: Just east of the downtown core is the The Broadview Hotel, offering king-sized beds and a vinyl record player with a curated collection of records in every room. Outdoor terraces are available in some rooms, but everyone has access to the rooftop lounge—which has become a gathering spot for the local community.
What is it: Located right on the waterfront, the Westin Harbour Castle has 977 guestrooms and recently renovated crown suites.
Why go: Sustainability is a huge theme at the Westin Harbour Castle. Vegetables and herbs used by the hotel's culinary team are grown on the rooftop terrace, which is also home to three European honey beehives. For an intimate dining experience, try the Savoury restaurant, which seats just 10 people.
On a budget?
We take into account all of the little things that make a hotel special, like fancy soap in the bathroom when you want to stay in and relax, and a short walk to the city's big-ticket attractions when you want to go out