The Fairmont Royal York Hotel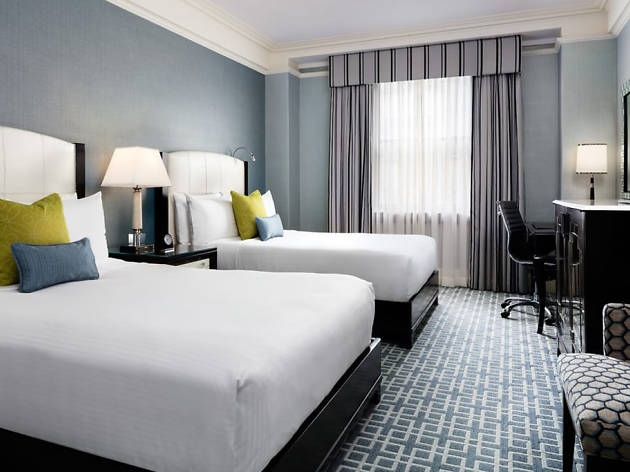 Time Out says
For some old Toronto flair, slip between the sheets at the Fairmont Royal York Hotel. It was the largest and tallest building in the British Empire when it opened in 1929 and, from the Via Rail station platform downstairs to the beehives and gardens providing the hotel's restaurants with fresh produce on the roof, it's still impressive. Its stunning architecture, including the original painted ceilings, makes it a popular spot for special events. Centrally located within walking distance to the CN Tower, Air Canada Centre, Rogers Centre, the Eaton Centre and the Sony Centre for the Performing Arts, it's also steps away from Union Station. And you'll never want to leave: the Royal York boasts one of the best over-the-top brunches in town, complete with decadently nefarious things done with brioche. While this is definitely a luxury destination, it's not out of reach—the Royal York offers frequent promotions as well as discounts for conferences and events. From $229 per night
The Fairmont Royal York Hotel says
The Fairmont Royal York, formerly known as the Royal York Hotel, is a large and historic hotel in downtown Toronto, Ontario, Canada.

Opened on June 11, 1929, the Royal York was designed by Ross and Macdonald (with Sproatt and Rolph) and built by the Canadian Pacific Railway across the street from Union Station. With 28 floors, the château-style building was the tallest building in Toronto at that time, and the tallest building in the British Empire until the construction of Toronto's Canadian Bank of Commerce tower on King Street one year later.

The hotel has been the residence of choice for Queen Elizabeth II and other members of The Royal Family when in Toronto. The Queen usually has an entire floor reserved for her and her party, occupying the Royal Suite herself.

Today, the hotel hosts royalty of another kind as an official hotel for the annual Toronto International Film Festival.
Details