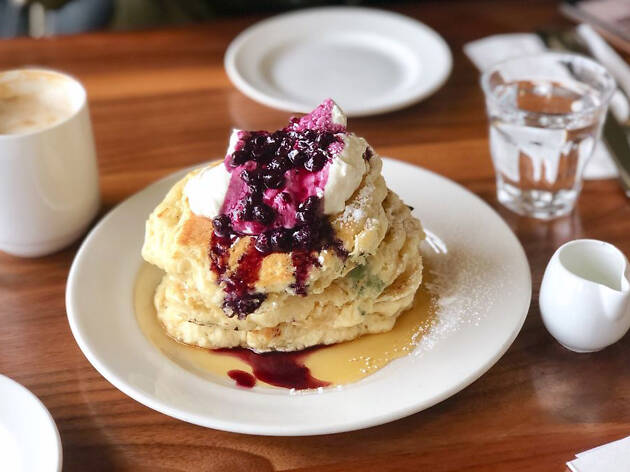 Best breakfast in Toronto: Where to go and what to eat
The best breakfast in Toronto is as multiculturally eclectic as the city's population—and we're all for it.
While Torontonians prefer to ease into their weekends with a leisurely brunch, when the work week begins, you'll find everyone, from downtown corporate barons to midtown mavens, eating the best breakfast in Toronto at these local venues.
From grab-and-go spots in the heart of the city to sit-and-savor cafés where morning business might be conducted over a plate of eggs benny, these tables all but guarantee you'll get your day started right.
So fuel up at these destinations, whose offerings are as multicultural as the city's own denizens, before going to work or spending the day visiting the city's top attractions and museums.
RECOMMENDED: Full guide to the best restaurants in Toronto
Best breakfast in Toronto
Photograph: Courtesy Yelp/Ve T.
1. Maha's Egyptian Brunch
What is it: This is what Maha Barsoom and family call "5,000-year-old food made 5,000 years later," in Toronto's East side. The restaurant is open for breakfast and lunch every day except for Wednesday, serving a variety of Egyptian classics like ful (stewed fava beans) paired with sunny-side-up eggs or the basturma scramble, made with fenugreek cured Egyptian beef slivers. Without a doubt, every dish is a winner.
Why go: The place is cozy, as you'd imagine the Barsoom's home to be, buzzing with activity and honey-cardamom lattes to start you off on a sweet note.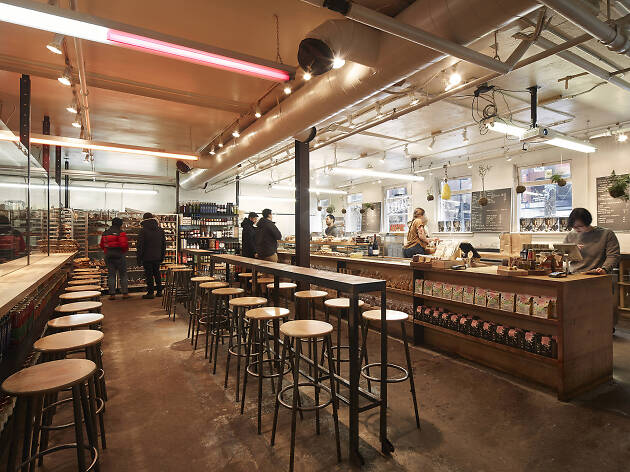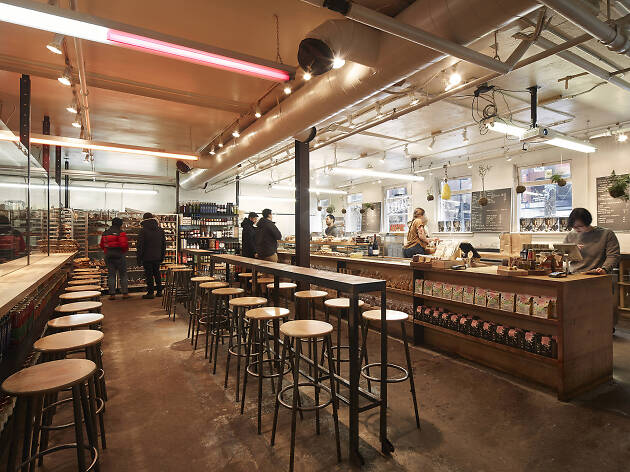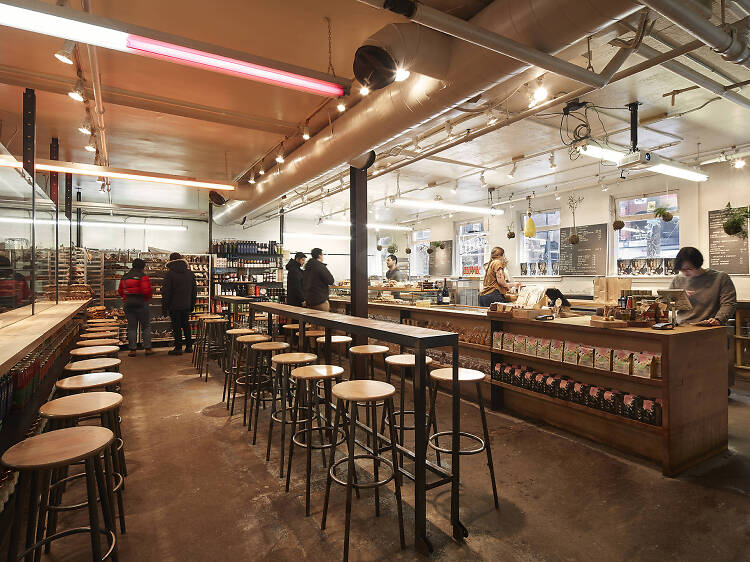 Photograph: Riley Snelling
What is it: A bakery/café that feels like you've stepped into a hidden treasure below the city street level on King Street West, complete with all the sweet cornetti (the Italian variation of the croissant) and cappuccini you can handle. Not a fan of sweets in the morning? No problem: the cornetto salato (savory croissant) will delight you.
Why go: Third generation bakers that use organic flours mean business when it comes to baking in the Italian tradition. This is the perfect spot to pick up some casual grub and to-go breakfast to fuel up before exploring the city. After all, a bombolone and cappuccino are the perfect pairing any time of day—especially in the morning. Check out additional locations at Union Station, MOCA and First Canadian Place.
Photograph: Courtesy Yelp/Carlotta C.
What is it: A chic resto-bar in the city's Fashion District that attracts a sartorially smart crowd hungry for fried eggs bravas (sunny-side-up eggs with spiced potatoes, aioli and a hot tomato-based sauce) and smashed avocado on sourdough toast with a side of fruit. Great coffees, teas, fresh juices and pastries help complete the picture, all served in a marble-enhanced, cool atmosphere.
Why go: Perfect if you're planning on hitting Queen Street, Chinatown or Trinity Bellwoods after breakfast. There are more health-conscious options on the menu, think steel cut oats, with a variety of nut milks for those who prefer vegan options.
Photograph: Courtesy Yelp/Cri C.
4. Emma's Country Kitchen
What is it: The original Emma's Country Kitchen opened in small town Ontario, where the owner's grandma (you guessed it, Emma) was renowned for her brilliant baked goods. Recipes have been passed down to the current generation, so expect freshly baked everything: from loaves of bread to scones, hamburger buns and a terrific "lazy daisy oatmeal cake." A country-style diner in St. Claire West, this neighborhood gem has been serving classic eggs Benedict with house-cured peameal bacon on buttermilk biscuits under a dome of mousseline sauce since 2012.
Why go: The morning fried donuts are legendary, as are the aforementioned eggs benny and the "I know what you did last night" breakfast burger. Strong coffee and a stroll over to the Artscape Wychwood Barns post-breakfast make this a tasty start to any day.
Photograph: Courtesy Yelp/Lorraine L.
What is it: A staple local breakfast spot that was housed on Queen East and reopened on Broadview in 2018, serving excellent eggs Benedict and globally nuanced breakfast faves. The new, pretty and light-filled location sources loads of local products and produce so that you can customize your own egg dishes or opt for an A.M Poutine, perhaps.
Why go: If you like a place that pays attention to the deets, like cold-pressed OJ or grapefruit juice, high-quality coffee (from Toronto's Pilot Roasters), breads from Blackbird Baking Co. and St. John's Bakery, you'll love this spot. The Leslieville nabe location is the ideal destination if you're looking to wander around funky shops and galleries post meal.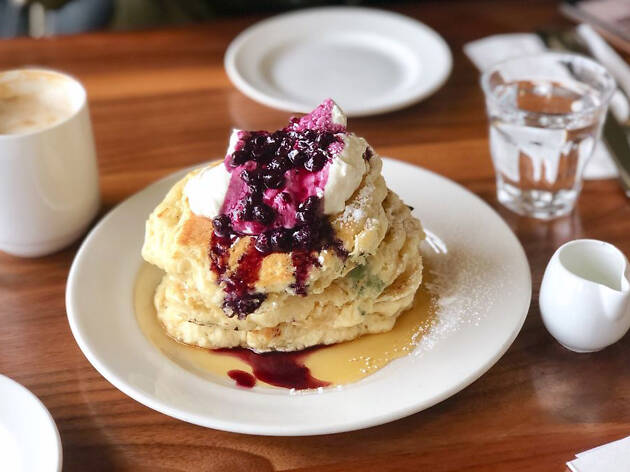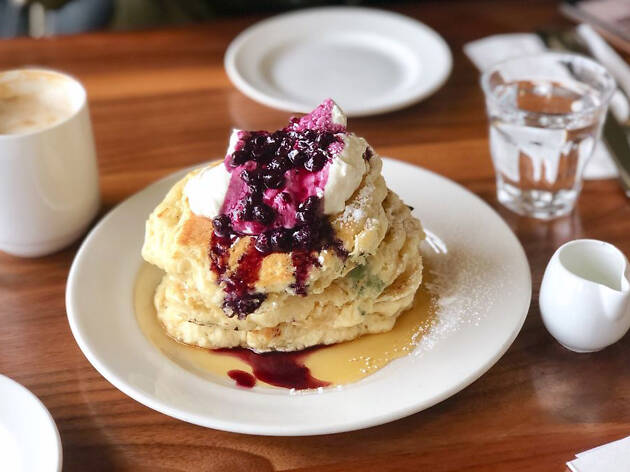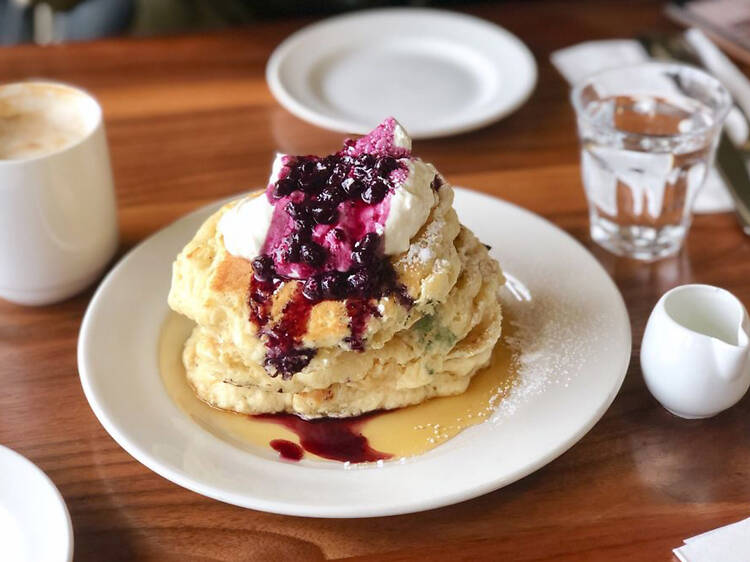 Photograph: Courtesy Yelp/Paul H.
6. Mildred's Temple Kitchen
What is it: Owner and executive chef Donna Dooher has been a fixture of Canada's and Toronto's food scenes for decades. This particular spot is the reinvention of her former Mildred Pierce restaurant named after the classic movie. She offers a hearty B'lunch (which she considers the best of lunch and breakfast) service in a spacious, light and airy space in the West side's Liberty Village neighborhood.
Why go: To taste the Canadiana-inflected Bloody Caesar (not a Bloody Mary in these parts) with house-made chili hot-sauce, a locally made Caesar tomato-clam juice and paper thin celery curls to go with your huevos monty. You might also want to try Mrs. Biederhof's blueberry buttermilk pancakes doused in Lanark County maple syrup. This is the perfect place to linger in while enjoying a late-morning feast.
Photograph: Courtesy Yelp/Diana W.
What is it: A classic French bakery in the Riverside neighborhood that's been serving some of the city's most delicious freshly baked croissants, quiches, tartes and omelettes for over twenty years now. You'll smell the alluring aroma of baguettes and pastries before you step foot in the quaint café.
Why go: The bakers start their routine at 4am every day to ensure that you get the flakiest, most buttery French viennoiseries, croissants and boules around. Do you really need more reasons to visit?
Photograph: Courtesy Yelp/Elaine W.
What is it: A funky, 26-seater in the Trinity Bellwoods' neighborhood that's known for its fabulous French toast made from day-old bread sourced from the bakery down the road and the carrot cake waffles. It's a gathering spot for locals and travelers alike who commune over generous plates of carbs and good, hot coffee.
Why go: The persimmon pancakes are one reason to give this place a whirl, the all-day breakfast specials and the cheese stuffed savory French toast are two others. It's also a good start to a walking tour of the eclectic neighborhood packed with designer shops, coffee shops and indie fashion labels.
Photograph: Courtesy Yelp/Aimee Y.
What is it: A southern French café and bakery originally from New York City, in the heart of First Canadian Place in the city's Financial District that serves locally sourced breakfast and lunches to a daily throng of area suits. Bonus points for the freshly baked artisan breads, quiches, cookies, croissants and all of the other French, buttery bites Maman turns out that make any morning better. Try the pistachio loaf, trust us.
Why go: Maman is a pretty café within a fairly robust food-court that caters to white collar office workers, which means you get top-notch fare at reasonable prices. If you're more of a vegetarian/vegan breakfast diner, just hop across the court to iQ Food Company for a chia pudding, PB oats or avocado toast with a smoothie to wash it all down.
Photograph: Courtesy Yelp/Tushar C.
What is it: If you're looking for classic Toronto, look no further than this little breakfast joint in Little Italy. Since 1998, Aunties has been slinging eggs and bacon on mismatched plates to appreciative locals. If you're craving a sweet start to the day, the cinnamon French toast or oatmeal pancakes should fit the bill. Savory? The breakfast tacos with eggs and chorizo or the breakfast pocket sandwich on focaccia ought to rev your engine.
Why go: This is the popular choice by locals, serving good, honest food made right. It ain't fancy but, sometimes, that's just the way Toronto likes it.
Craving a craft beer?
With complicated licensing laws and government-regulated retailers taking a hefty cut out of profits, the best Toronto breweries are getting in on the local drinking game by servicing patrons thirsty for interesting brews they might not find at neighborhood bars.
Best selling Time Out Offers