The 13 best brunch restaurants in Toronto
Waking up in this Canadian city? Feast on a mix of classic and diverse dishes with the best brunch in Toronto.
Let's face it, Toronto is spoiled when it comes to culinary offerings. The city's diverse cultural landscape allows foodies the luxury of never having to settle for bland when it comes to choosing a great restaurant—even for brunch. Every neighbourhood has its own hidden gem just waiting to be discovered by the hungover and the hungry. Whether you prefer the tried and true classics or are looking to step out of your comfort zone, this city offers a melting pot of cuisine. So roll out of bed after enjoying the city's lively nightlife scene and check out our pick of Toronto's top brunch spots. Enjoying the leisurely weekend meal is definitely one of the best things to do in the city.
Best brunch in Toronto
1
Photograph: Courtesy Yelp/Linda T.
What is it? This funky, French bistro lends whimsical flare to the space that previously housed neighbourhood favourite, the Harbord Room. Chef Victor Barry has created a menu where the food is familiar but has an elevated twist, with the likes of truffle scrambled eggs, smoked trout crepes and a rich croque madame.
Why Go? This is the spot of you're looking to treat yourself for Sunday brunch. Cancan's playful design and refined brunch menu strike the perfect balance between feeling fancy and not taking yourself too seriously. Reservations strongly recommended.
Price Bracket: Blowout
2
Photograph: Courtesy Yelp/Min C.
What is it? Thai food for brunch? Yes please! Kiin's menu is inspired by Royal Thai cuisine and offers a unique brunch experience in the heart of downtown Toronto. From small, shareable plates to larger mains, flavours and textures are expertly combined to create dishes that will take you on a culinary adventure before it's even noon.
Why Go? The team at Kiin (of local fave spots Sukhothai, Pai and Sabai Sabai) offer the city true Thai hospitality and base their menu on traditional dishes, personal experiences and memories. That passion comes through in every dish.
Price Bracket: Pricey
3
Photograph: Courtesy Yelp/Miruna C.
Maha's Egyptian Brunch, Little India
What is it? Maha's Egyptian Brunch is a gem hidden away in Toronto's East End. Don't let their unassuming website "foole" you; Maha's is a vibrant and warm family-run brunch spot that celebrates the flavours, culture and heritage behind Egyptian cuisine.
Why Go? You'll find traditional dishes like foole medames, shakshuka and kebda eskanndarani. For those not familiar with Egyptian cuisine, the staff is happy to give you recommendations. Prepare to wait, as space is limited, or plan to arrive early.
Price Bracket: Average
4
Photograph: Courtesy Yelp/Aletta B.
What is it? A Junction Triangle favourite for six years running, Farmhouse Tavern brings a bit of country to the city, and focuses on seasonality and local products, with a rotating chalkboard menu that offers great brunch on Saturdays and Sundays.
Why Go? Farmhouse Tavern is all about #FarmDrivenFood and features many of the awesome ingredients found locally in Ontario. It's rustic, cosy and a perfect place for a casual brunch with family or friends.
Price Bracket: Pricey
5
Photograph: Courtesy Yelp/Matthew C.
What is it? Welcoming the new kid on the block! Egg Bae, standing for Eggs Before All Else, is a recent addition to Toronto's beloved Kensington Market neighbourhood. It specializes in loaded breakfast sandwiches with amusing names such as the Eh Bae Bae, the Bae-Sic and the Bae Don't Kale My Vibe.
Why Go? This place is quick, easy and darn cute. Egg Bae's sandwiches are as delicious as they are Instagrammable; their soft, fluffy buns are all made in house and they offer gluten free options as well.
Price Bracket: Bargain
6
Photograph: Courtesy Yelp/Jackie W.
What is it? One of the city's finest institutions – especially when it comes to Toronto's own peameal sandwich. Not au fait with peameal? Why, it's bacon that was once coated in yellow peas (hence the name) to crisp it up, but is now rolled in cornmeal instead. This food stall in St. Lawrence Market crafts it to perfection.
Why Go? If not the peameal wedge, then go for the freshly baked breads and pastries. Or bag a chicken parmigiana sandwich for later and do a bit of people watching in the market.
Price Bracket: Bargain
7
Photograph: Courtesy Yelp/Geraldine G.
What is it? Aunties and Uncles is quintessential Toronto. Since 1998, Aunties and Uncles has been there for us after a late night in Kensington or Sneaky Dee's, offering casual brunch items at an affordable price, good coffee and a fun space that feels like home.
Why Go? Whether you're a tourist looking for an affordable meal, or a local meeting the crew for brunch, you will feel welcomed and leave satisfied. Just a heads up, this place is cash only and doesn't take reservations.
Price Bracket: Bargain
8
Photograph: Courtesy Yelp/Gloria Z.
What is it? Regardless of where you're from, dim sum is a must-do when it comes to brunch experiences. And when you're in Toronto, there are few better places than Chinatown to enjoy this Asian tapas, but Kwan Dim Sum is one of them. Head north to taste their delicious dumplings.
Why Go? Steaming baskets of stuffed dumplings, congee, hot pots of tea and creamy egg tarts are just some of the delicious items waiting to be discovered at Kwan's sleek York Mills location.
Price Bracket: Average
9
Photograph: Courtesy Yelp/Geraldine G.
What is it? The Drake is one of Toronto's OG boutique hotels. Located in the hip West Queen West neighbourhood, the hotel offers an awesome underground music venue, stunning rooftop patio and a weekend brunch served from 9am to 4pm on Saturdays and Sundays. Even if you're not staying in one of the swanky rooms, with a brunch reservation you can still experience the Drake's signature style of artistic luxury.
Why Go? For a classic brunch, with added indulgence and artsy flare, this is the go-to spot for when you're feeling a little bad and bourgee.
Price Bracket: Blowout
10
Photograph: Courtesy Yelp/Min C.
What is it? Australian coffee culture has officially arrived in Toronto, and with Baddies Café, locals are really happy about it. The café's crisp interior is juxtaposed with bright, colourful menu items such as the Smashed Avo, the Vegan One and the Frenchie.
Why Go? Baddies is the café cool kid and offers fresh, thoughtful menu items. It also happens to be one of the most Instagrammed places in the city, so if you're just going for the 'gram make sure to stop and appreciate the menu's creativity.
Price Bracket: Average
11
Photograph: Courtesy Yelp/Diana W.
What is it? Riverside's little darling, Bonjour Brioche is known for its French style baked goods and weekend brunches that always result in a wait list. With reasonable prices, charming patisserie vibes and French bistro style fare, there's a reason this place has been around for more than 20 years.
Why Go? Prepare to be enticed by sweet smells of baking and the promise of a quiche du jour. Additional fun fact: Bonjour Brioche was used as a filming location in season one of Handmaid's Tale. Cash only, no reservations.
Price Bracket: Average
12
Photograph: Courtesy Yelp/Min C.
What is it? Buca's Yorkville outpost is a sophisticated and truly premium dining experience. From the service to the prepossessing culinary creations, this modern Italian restaurant radiates cool. The brunch menu alone is impressive and includes a blend of house-made and imported ingredients.
Why Go? If you're okay with eating instant ramen noodles for the rest of the week, go splurge on this seriously swoon-worthy Italian inspired brunch. Buca is elegant, refined and worthy of a celebratory meal.
Price Bracket: Blowout
13
Photograph: Courtesy Yelp/Nikita P.
What is it? The Lakeview is one of those magical places you might see in an indie movie, with worn, penny-tiled floors and yellow-tinged light that make this 24-hour diner feel like a dream. Whether you're drunkenly craving brunch at three in the morning, or just want a casual dinner at seven in the evening, The Lakeview is "always open".
Why Go? This diner has seen its share of first dates and family suppers, and has been the beginning or end (or both!) to plenty a wild night since 1932. If nostalgic charm doesn't hook you in, the $3 mimosas and $4 caesars surely will.
Price Bracket: Average
Hungry for more dining options?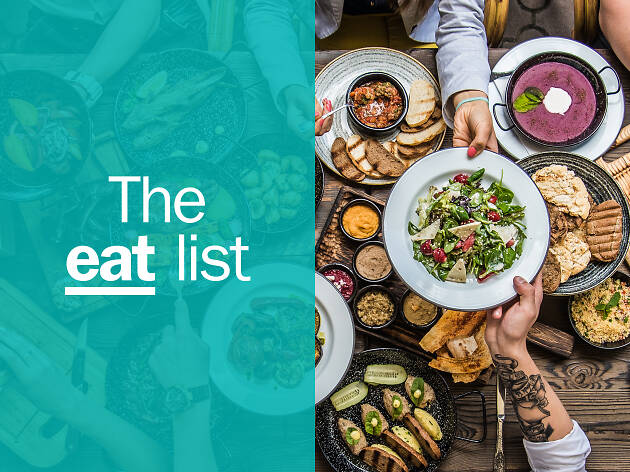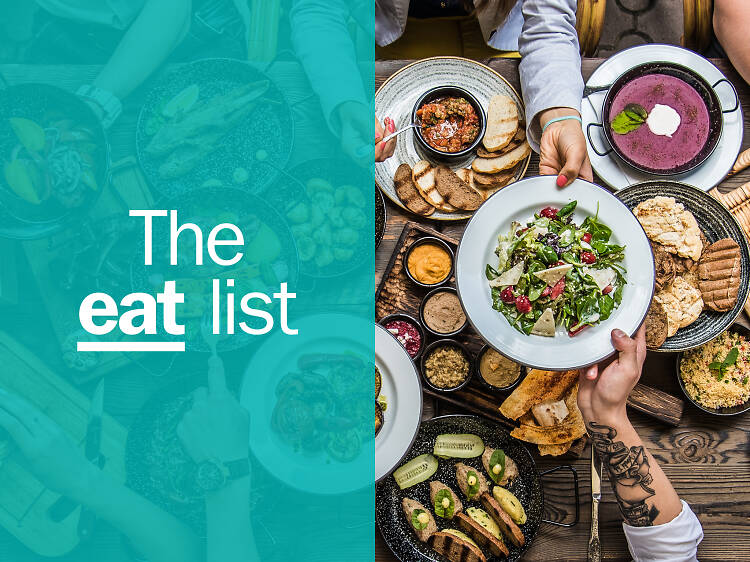 This food savvy city is quickly becoming a tourist destination for culinary connoisseurs and thrifty gourmands alike. From high-end fine dinin, to hole in the wall locales, Toronto's vast options for eating out offer something for all appetites and budgets. So, if you're running through the 6ix looking to fuel up, here are 20 of the city's best places to grab a bite.
More to explore