Heads up! We're working hard to be accurate – but these are unusual times, so please always check before heading out.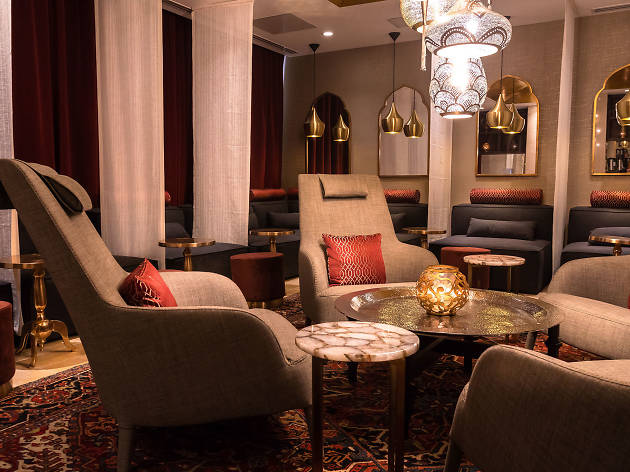 The 12 best spas in Toronto
You can even indulge in psychic readings and traditional Chinese treatments at the best spas in Toronto
This is a city that never sleeps, which makes our list of best spas in Toronto a chronicle of to-be-visited destinations, the only way to truly refresh and revive your body after a night spent at the best clubs and bars in town.
If done right, a visit to Toronto will include a walk through its many vibrant neighborhoods, satiating the belly at wonderful local restaurants (don't forget to eat loads of poutine, please) and taking in the nightlife downtown.
After those jam-packed days, a little TLC will be of utmost necessity and you're in luck: health and wellness have never before been this trendy in the Canadian city. Like its people, the spas in Toronto run the gamut in style, technique and personality. From high-glam spots to no-frills sanctuaries, find the one that's perfect for your needs.
RECOMMENDED: Full guide to the best things to do in Toronto
Best spas in Toronto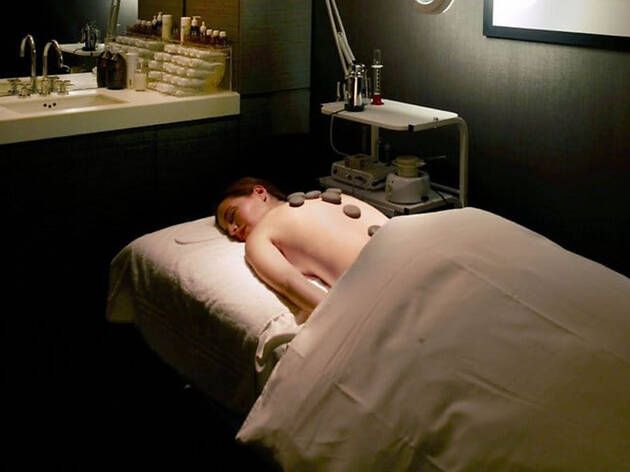 Photograph: Courtesy Yelp/Spa By Valmont at The Hazelton
1. Spa By Valmont at The Hazelton
Located in Yorkville, Toronto's ritziest neighborhood, the Spa By Valmont at The Hazelton hotel has a high standard to live up to, and it doesn't miss the mark. This place knows how to give a high luxury treatment (it is, after all, a partner of Toronto Fashion Week) and the services are some of the most posh in the city. The signature Hazelton experience includes a Swedish deep tissue massage, a hydration facial plus a mani and pedi. For the traveler who really wants to go all out, the $625 facial is one of the city's most high-end beauty treatments and it doesn't cut corners. It includes two cleanses, three massages and no less than four face masks.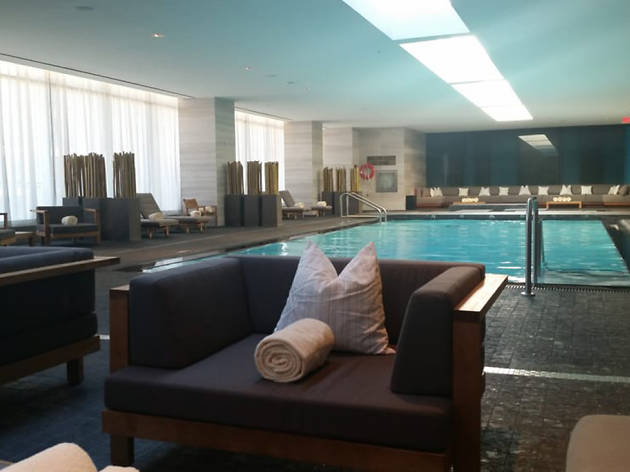 Photograph: Courtesy Yelp/Cece W.
2. Spa at the Four Seasons
The Four Seasons is sleek and sexy and exactly the kind of place where a person is going to want to unwind. Rose gold facials cater to the high-glamour style traveler. The element facial, on the other hand, is a true treat with a mineral-rich mud mask inspired by Canada's natural elements. Of course, your face isn't the only part in need of some self care and here, steam rooms, a pool, sauna, massage treatments, and a hair and nail salon will leave you feeling pampered. Hey, this spot even offers psychic readings and traditional Chinese medicine. Bonus: the outdoor relaxation deck has an incredible view of the city, so bring your phone for an enviable selfie.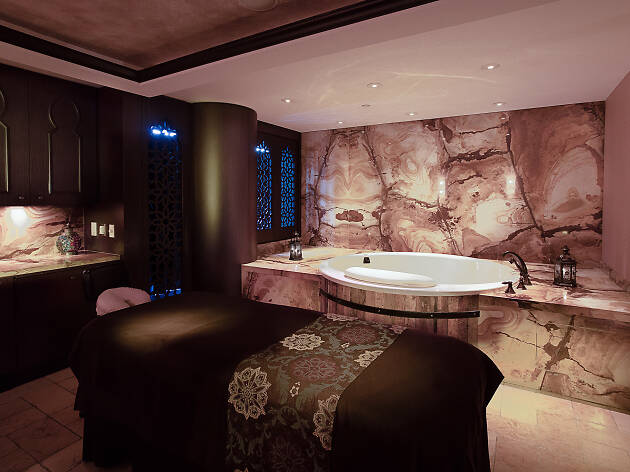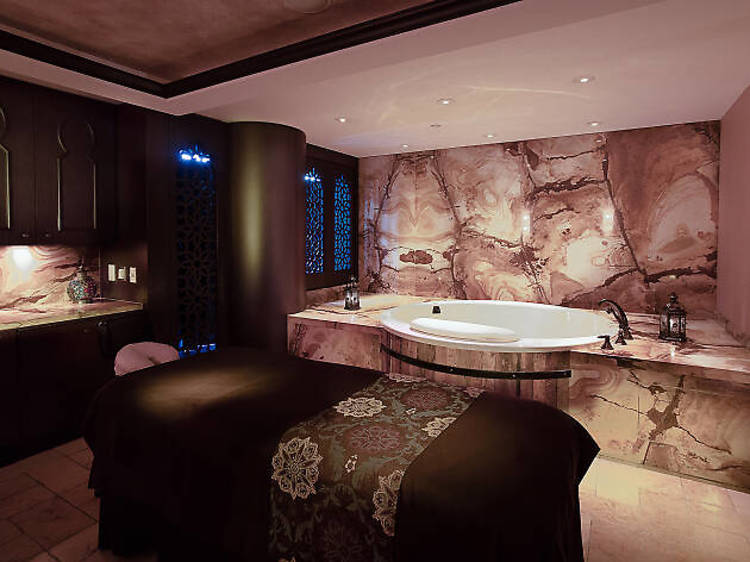 Photograph: Miraj Hammam by Caudalie Paris/MacIntyre Communications
3. Miraj Hammam by Caudalie Paris
Waltzing into the upscale spa inside the Shangri-La Hotel will make you feel as if you've been transported to Paris, Marrakech or Istanbul. The Miraj Hammam Spa takes architectural and design inspiration from each of these destinations (the decor even includes Persian rugs) and its treatments are borrowed from old world Middle Eastern traditions. While the spacious mosaic-tiled hammam is clearly amazing, this spa is notable for its "vinotherapy" – wine-inspired signature treatments like the crushed cabernet scrub, honey and wine body wrap and the vinoperfect facial treatment. FYI: the Miraj is one of two spas in North America that has partnered with Caudalie, a French skincare brand that blends vine extracts from bordeaux, champagne and Burgundy vineyards.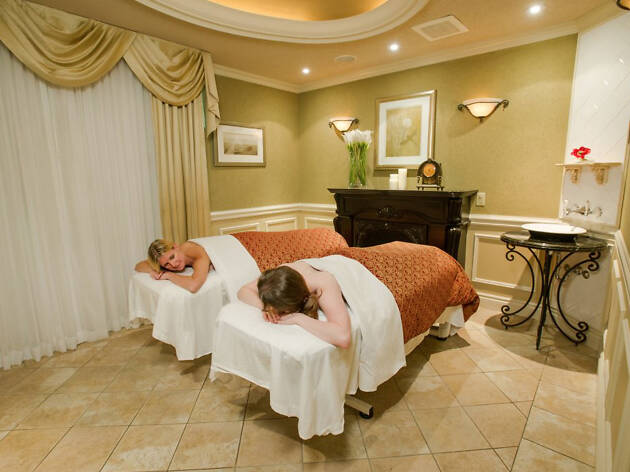 Photograph: Courtesy of TripAdvisor.com
4. The Spa at the Old Mill
Set foot on the property of Toronto's Old Mill and you'll feel as though you're in the setting of a Jane Austen novel. This hotel has a romantic, old fashioned feel to it, with elegant decor and gardens in full bloom. Its river valley setting makes it a tranquil place for a day at the spa. Services include warm stone treatments, aromatherapy massages, lavender manicures and rosemary mint pedicures.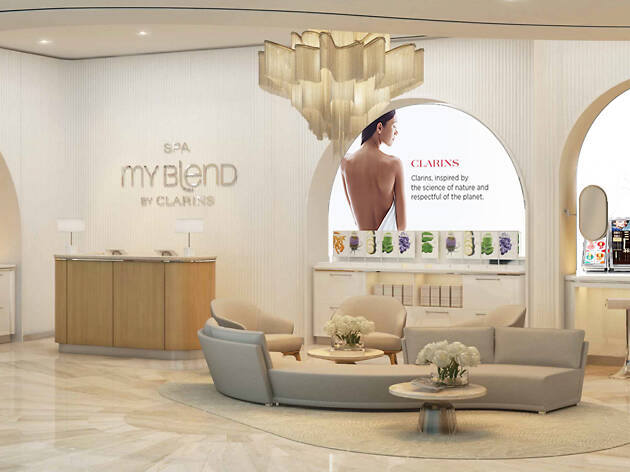 Photograph: Courtesy Spa My Blend by Clarins
5. Spa My Blend by Clarins
Inside the Ritz-Carlton, Spa My Blend by Clarins is a lap-of-luxury sanctuary. Kudos to them for not letting the dudes feel left out. Not only do we love the cleverly-named "Man-E-Cure" but the "Blokes and Beers" package that includes post-massage cold beers is the perfect touch. Also expect a champagne nail bar, massages from around the globe, head-to-nail holistic treatments and facials that'll have your skin looking like it went back in time.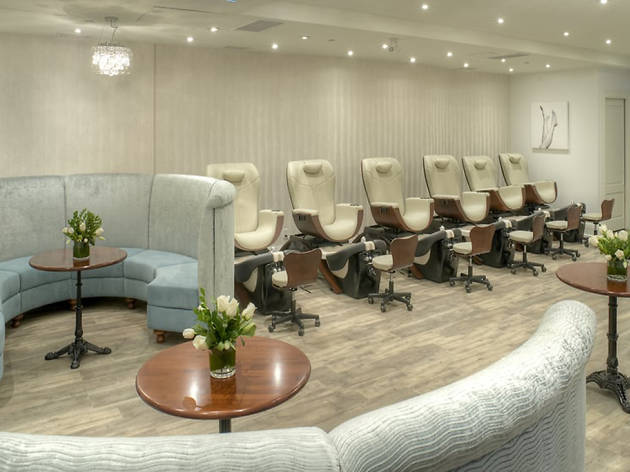 Photograph: Courtesy Yelp/Elmwood Spa
Tucked away in a heritage building on Elm Street, Elmwood has four spacious floors with two restaurants, a juice bar, 34 treatment rooms, 50 registered massage therapists and a plethora of hydrotherapy facilities (swimming pool, whirlpool and steam rooms included). The ultimate experience, though, is the six-hour indulgence retreat that includes water therapies, a facial, an 80-minute Tuscan citrus with herb body scrub with massage, and a mani and pedi to top it off. You'll leave feeling like a brand-new person.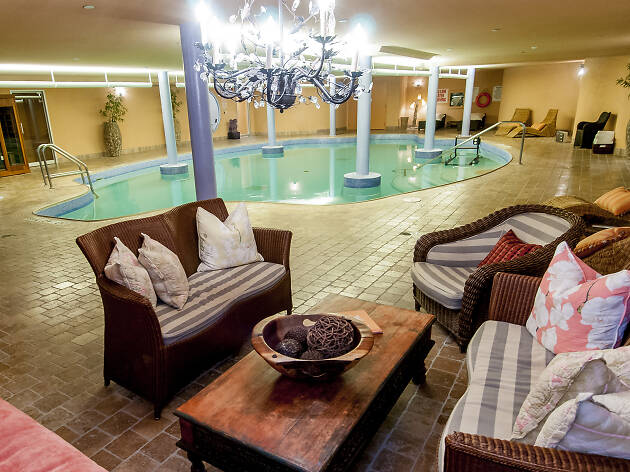 Photograph: Mike Day
Inside a restored 1850s chocolate factory on Adelaide Street East is Sweetgrass, a luxurious, women-only spa that provides a great escape for the day. The treatment menu is extensive, featuring everything from mani-pedis to warm stone massages to reflexology and body wraps. One of the most talked about treatments is the 24-karat gold organic facial, a gilded masque that makes your skin glow. If that feels a little extra, opt for the classy rosewater ice mask to rejuvenate the skin instead.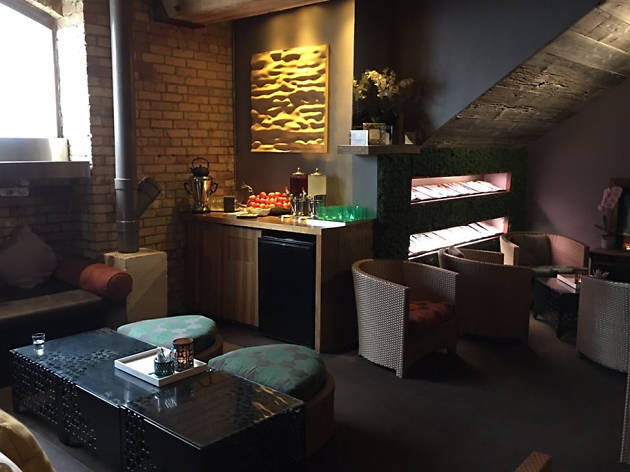 Photograph: Courtesy Yelp/Jenn C.
The King West neighborhood of Toronto is slick and trendy but it's also quite busy. No wonder the city's hard-working professionals need a slice of heaven to escape to in the downtown core. That's exactly what Hammam Spa is. In fact, though you're in one of Canada's most brag-worthy cities, you may feel as though you've escaped to Europe or the Middle East. Enjoy the traditional Turkish baths and 500-square-foot Hammam steam room, where you can blissfully bathe in aromatic mist at 102 degrees.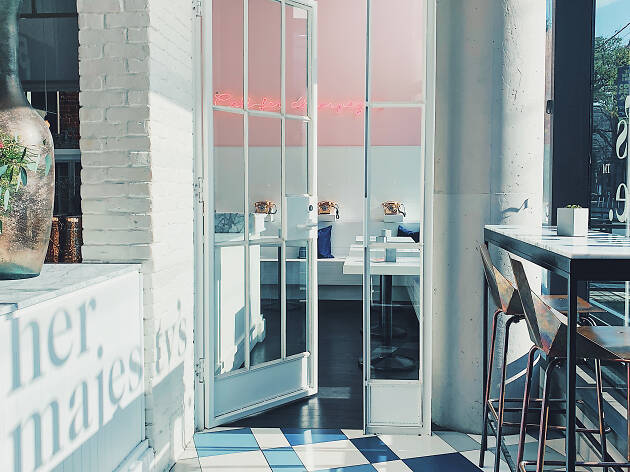 Photograph: Her Majesty's Pleasure
9. Her Majesty's Pleasure
If you're looking for a boozy afternoon with gal pals that includes a luxurious mani, pedi and blowout treatment, look no further than Her Majesty's Pleasure. This beauty bar is on-trend and, in an incredibly in-vogue city like Toronto, that says a lot. The city's King West Village doesn't accept anything less than perfection and this fashion house has risen to that challenge. Her Majesty's Pleasure offers an array of spa services, from hair removal to facials to full body massages. The big selling feature? Get primped and pampered while charming bartenders serve creative cocktails, champagne and sweets to you and your friends.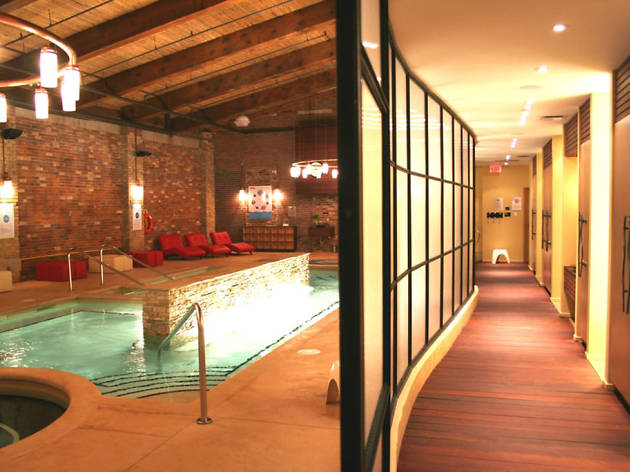 Photograph: Courtesy Yelp/Body Blitz Spa
This heavenly spa touting "health by water" is just for the ladies. With two locations in the city, Body Blitz helps women get zen with various hydrotherapies, including a warm Dead Sea salt pool, a hot Epsom salt pool, a eucalyptus steam room and an infrared sauna. There are also plenty of treatments, ranging from body scrubs to massages to body muds, available.
Photograph: Thomas Skrlj
Leave it to Toronto to do the hipster spa right. Dew Sweat House is a recently-opened spa that will help get your wellness game on point. It uses infrared heat techniques popular in Japan and Germany that are designed to help visitors sweat to detox their bodies and revitalize their cells. An afternoon spent here will include a 55-minute session wrapped in heat blankets with tea while viewing Netflix. That suddenly gives Netflix-and-chill a whole new meaning.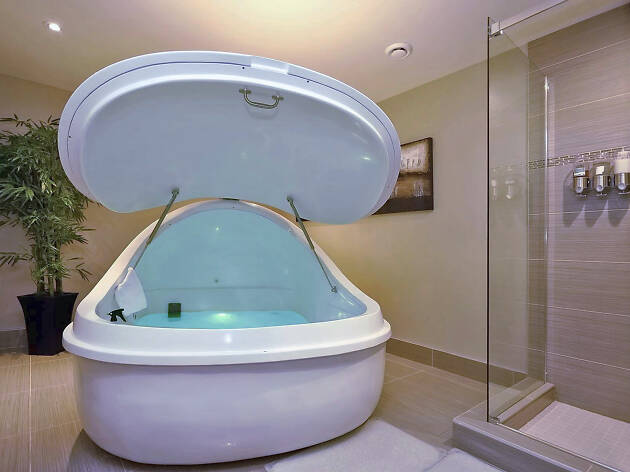 Does floating in a water-logged pod appeal to you? Head over to H20 Float Spa on Danforth Avenue for some "float therapy," where you drift weightlessly on your back in a pod filled with 10 inches of water and 1000lbs of Epsom salt. The idea here is to deprive the senses, which will actually let you fully zone out for once. A single session leaves your skin silky and soft while promoting total relaxation, thanks to the zero pressure on your body. Pro-tip: the spa can accommodate couples floats, so bring your bae along and revel in a tub as big as a queen-sized bed.
Relaxed enough to tackle Toronto's cultural offerings?
Most first-comers are sure to visit the famed CN Tower, but there is so much more to see in this vast, vibrant city.