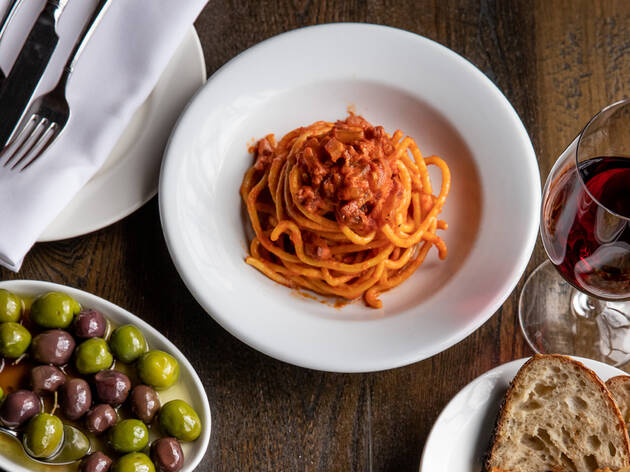 The 15 best Italian restaurants in Toronto
Italian-born chefs serve regional dishes as varied as their country of origin at the best Italian restaurants in Toronto
Once upon a time, the best Italian restaurants in Toronto used to be… generic. Hybrid dishes like spaghetti and meatballs dominated the gastronomical scene, alongside fluffy, North-Americanized pizzas. To get a taste of "home," older Italian men would gather in neighborhood Italian bakeries to sip on espresso and frothy cappuccinos. Back then, these were considered exotic coffee options in Toronto but, today, they're as ubiquitous as a bowl of freshly made pasta.
Times have changed: thanks in large part to the influx of Italian immigrants landing on our shores through the 1970s, the local restaurant scene has flourished into a destination for top-notch Italian dishes that folks from all over the country flock to. Today, eateries helmed by Italian-born chefs or first-generation Canadians with ancestral roots in the boot of Europe choose to serve regional dishes that are as varied as the landscape that originated them – co-existing alongside poutine and other only-in-Toronto delicacies to be embraced by frequent travelers.
From a mushroom gnudi that will send shivers down your spine to eclectic wine lists that pair perfectly with spuntini (that's Italian for snacks), we dare say that dining at these spots should be added to the activities mentioned on our lists of best things to do in town. Don't you agree?
RECOMMENDED: Full guide to the best restaurants in Toronto
Best Italian restaurants in Toronto
Photograph: Rick O'Brien
Where: King West
What is it: Classy and contemporary, yet warm, the original Buca Osteria & Enoteca (there are four outposts peppered all over town) equally embraces tradition and modernity, skillfully combining the two into remarkable dishes.
Why go: Come for the house-made salumi, displayed in the windowed curing rooms, and stay for the in-house made pasta, including the incredible pork-blood and 'nduja spaghetti. Consistently ranked as one of Canada's best chefs, chef Rob Gentile spends weeks traveling to the far corners of Italy, learning regional delicacies from the best cooks in Italy. A unique cheese board and award-winning desserts will ensure you leave satiated.
Price: Blowout
Photograph: Courtesy Yelp/CL L.
Where: Junction Triangle
What is it: A bakery, pizzeria and bodega where pizzaiolo David Mattachioni and his team make some of the city's best pizzas, breads, paninis and salads. Carb avoiders will have a hard time skirting the house-made sourdough or the naturally leavened, blistered-to-perfection pies.
Why go: For the quality in everything you'll eat, from the flavorful margherita to the texturally terrific salads that eat like a meal (the cannellini beans with tuna and arugula is a stand-out). Bonus points for half-price bottles of vino on Sundays.
Price: Bargain
Photograph: Courtesy Yelp/Sud Forno
Where: Financial District
What is it: A sleek, well-designed, two-level space that's oh-so-sophisticated. On the main floor, grab to-go paninis, sweets and coffees. Upstairs, expect a sit-down dining room. This bakery/restaurant is the second-wave of the Terroni empire, started by two friends inspired by the food and culture of Puglia.
Why go: One good reason to visit is the truffle and mushroom gnudi made with handmade ricotta, semolina, mixed wild mushrooms, Parmigiano and truffles. You're pretty much guaranteed a hit with chef Giacomo Pasquini at the helm. If you're on Queen West, you can stop by that outpost, too.
Price: Average
Photograph: Courtesy Yelp/Speducci Mercatto
Where: Design District
What is it: Equal parts upscale market and restaurant, this hidden jewel offers no nonsense, incredibly tasty pizzas, pastas and the best lamb speducci for miles.
Why go: Chef Gabriele Paganelli is an award-winning cook, garnering the Gold and Silver Spoon awards for his risotto. The classic pastas and pizzas here are delicious, though the grilled meat and speducci are second to none. The calamari fritti is also a thing of beauty. Should you decide that you need more of these flavors than you can handle in a sitting, difficult decisions await amongst the jars of homemade ragu, hanging handmade salumi (including venison and boar) and well-stocked cheese fridges. And don't forget the speducci at the butcher's counter.
Price: Average
Photograph: Courtesy TripAdvisor.com
5. Massimo Bruno Supper Club
Where: Liberty Village
What is it: Quite simply, the best reason to plan a dinner in advance. Communal tables and a BYOB policy only add to a raucous and celebratory village atmosphere at this Pugliese, self-taught chef's regional Italian supper club nights.
Why go: Hands down one of the most memorable dining experiences you'll have anywhere. Massimo Bruno, who learned his trade from his mother and grandmother, makes delicious regional specialties – and large quantities of them at that. Key to his evenings is the host himself, a raucous ball of energy who introduces his dishes and makes guests part of the family. If you're fortunate enough to be around in the summer, look out for the al fresco Tuscan evenings.
Price: Blowout
Photograph: Courtesy Ardo Restaurant
Where: Corktown
What is it: One of the few restaurants in Toronto that focuses on Sicilian cuisine made by chef/owner Robert Marrotta, whose family hails from the island's northeast coast. Start with freshly baked sourdough bread (made with Sicilian organic flour) to dip in golden Sicilian olive oil and a plate of burrata, that luscious, cream-centered Italian cheese served with crisp celery root and wine-preserved plums.
Why go: The cocktail and wine lists coupled with the "spuntini" or snacks menu are reason enough to venture east. Try snagging a chair overlooking the open-concept kitchen where you can watch the magic happen and chat with the chef while he transports you to the Mediterranean.
Price: Average
Photograph: Courtesy Yelp/Famiglia Baldassarre
Where: Dovercourt Village
What is it: A local favorite amongst pasta aficionados and chefs alike (who order from their wholesale business), the handcrafted selection at this West End spot will impress even the most jaded diner. There are just under thirty shapes available for you to choose from, from inventively filled ravioli to mezzelune and classic tagliatelle.
Why go: Open at noon until 5pm only, the lines can be long, but oh-so-worth it. Order a plate of perfect pasta, perhaps a seasonal side salad and some paper-thin, sixteen-month D.O.P. Parma crudo slices. Then slow down and enjoy the ride.
Price: Bargain
Photograph: Courtesy Yelp/Paul E.
Where: Leslieville
What is it: Named after the famous Italian race car driver Alberto Ascari (a huge fan of food and wine), chef John Sinopoli's East side enoteca shines bright with his love of fresh, hand-made pasta. Warning: you may just fall head over fork for his spaghetti alla carbonara with guanciale and (spoiler alert!) charred corn.
Why go: The shared plates are fun to order when visiting with a small group of folks. Taste everything while sipping on your selection from a well-curated wine list that offers some yet-to-be-discovered gems.
Price: Average
Photograph: Courtesy Yelp/Jessica T.
Where: Harbord Village
What is it: In late 2015, Toronto chef Victor Barry closed his fine-dining, city staple Splendido. He re-opened and re-branded the West side spot as the more whimsical and family-friendly Piano Piano without losing the former restaurant's sophisticated vibe.
Why go: For great meals to be enjoyed with friends and family in a playful space. Some must-trys include the perfectly crisp, well-balanced pizzas; the silver platter, an impressive charcuterie spread aptly named after the dish it's served on; and just about anything on the family-style menu, which features house favorites intended for sharing.
Price: Pricey
Photograph: Rick O'Brien
Where: Little Italy
What is it: Giulietta sits in the space that formerly housed steakhouse Bestellen. Chef Rob Rossi partnered with the same design team behind Buca to create a fresh, new space that offers lighter, family-style sharing plates in an elegant setting.
Why go: While the focus is on shareable dishes, Giulietta's menu still features plenty of delicious pizzas and pastas to be enjoyed singularly. Psst! Save room for dessert!
Price: Pricey
Photograph: Jesse Milns
Where: Dundas West/Little Portugal
What is it: Toronto's ode to all things Roman, Enoteca Sociale captures the Eternal City's proud sense of community and neighborliness. Focusing on fresh ingredients, humble dishes and honest cuisine, this West End hotspot celebrates simplicity and il dolce far niente.
Why go: This is a quintessential Italian enoteca, focusing on the dishes as much as the joy involved in sharing them. Classics like vitello tonnato vie for your attention, competing with rib eye steaks and grilled branzino.
Price: Average
Photograph: Courtesy Yelp/IS Palette S.
12. Gio Rana's Really Really Nice Restaurant
Where: Leslieville
What is it: Affectionately known by locals as "the nose," given the Romanesque nose hanging out front in lieu of a sign, this East Side gem has been around for decades. Renowned for its delicious, Italian-based sharing plates and quirky interior, this is a dinner party in full swing. And yes, it's a little loud sometimes, too.
Why go: For Italian comfort food in an unassuming institution that always feels like a party – even the restaurant's name pokes fun at itself. One thing that is serious? Consistently good quality food, service and hospitality.
Price: Pricey
Photograph: Courtesy Yelp/Diana S.
Where: King East
What is it: A simple and welcoming family-run osteria hidden away near one of the country's top cooking schools.
Why go: Hailing from Veneto, the brother-and-sister team behind the restaurant is inspired by traditional Italian recipes that call for local and, unashamedly so, imported ingredients when they can't find the right ones near home. Beautifully blistered pizza and house-made sausages crown classic pizza and pasta dishes with little fanfare: the food sings loudly enough on its own.
Price: Average
Where: Hillcrest
What is it: There are two outposts of these stylish, neighborhood gems that offer quality Italian dishes with a few innovative flourishes. For example, the homemade lasagna bianca with béchamel, pistachios and mortadella is a crowd-pleaser. The complimentary lupini beans that start the night off are always a nice touch, too.
Why go: There's a real local vibe at both the Hillcrest and Junction restaurants, where the service is attentive and the ambiance just right for a casual night out.
Price: Average
Photograph: Courtesy Yelp/Lester C.
Where: Church-Wellesley Village
What is it: A stylish dining room and lounge anchoring the main floor of Toronto's Anndore House hotel, co-owned by former Campagnolo chef Craig Harding and his wife, designer Alexandra Hutchison. Expect some Campagnolo favorites, which will close its doors to the public on June 1, and new Mediterranean twists on classics.
Why go: The saffron pappardelle "alla Milanese" with braised short-rib is one fine reason, as is the Ontario burrata with beets, pumpkin seeds and sourdough bread. The open kitchen's wood burning pizza oven and grill add seductively smoky undertones to the cacio e pepe pizza, flatbreads and other Mediterranean inspired dishes for breakfast, lunch and dinner. Cap the night off with a lovely cocktail or a "temperance libation" that's alcohol-free.
Price: Pricey
Hungry for more?
The city's diverse cultural landscape allows foodies the luxury of never having to settle for bland when it comes to choosing a great restaurant – especially when it comes to midday meals. Whether you prefer the tried and true classics or are looking to step out of your comfort zone, Toronto's melting pot of cuisine will deliver.