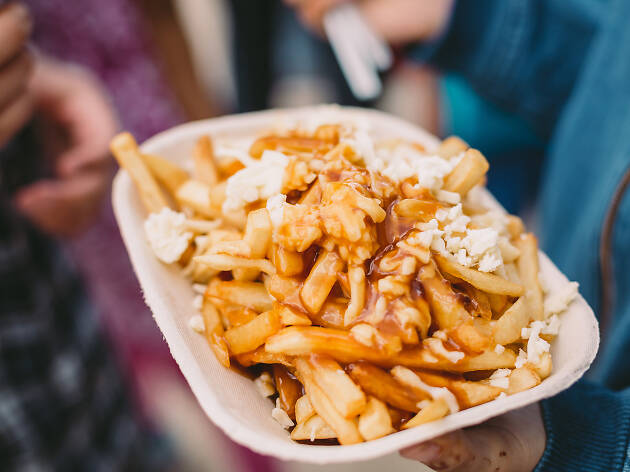 Eat the best poutine in Toronto at these 12 spots
Where to eat the best poutine in Toronto? Indulge in the mix of fries, cheese curds and gravy at these local spots.
The best poutine in Toronto is certainly fare to be bragged about. In case you're unfamiliar with the Canadian dish par excellence, poutine is a gooey, messy and absolutely delicious mix of fries, melted cheese curds and gravy that originated in the French-speaking province of Quebec in the 1950s. Specifically, it first appeared in kitchens in the small town of Warwick, located halfway between Quebec City and Montreal. The story goes that one local restaurant owner invented poutine by adding rich, squeaky cheese curds as a topping to fries and dousing them with beef gravy to keep the dish piping hot.
As much a pub menu staple as it is a go-to street food, the more sophisticated version of poutine is served at classy, high-end restaurants all across Canada, plenty of which get creative with toppings: expect varieties featuring mushrooms, bacon, onions and ground beef.
Although locals love to feast on the dish for dinner, we suggest ordering it as a rich, indulgent side dish or snack on it with friends after a night spent at the best bars and clubs in town. It is Canada's go-to drunk food, after all.
RECOMMENDED: Full guide to the best restaurants in Toronto
Best poutine in Toronto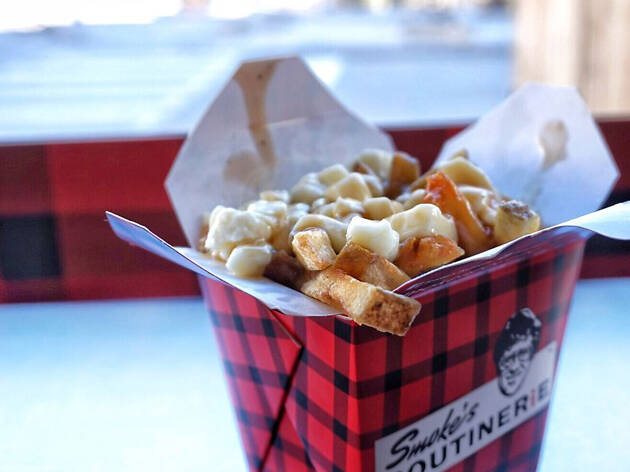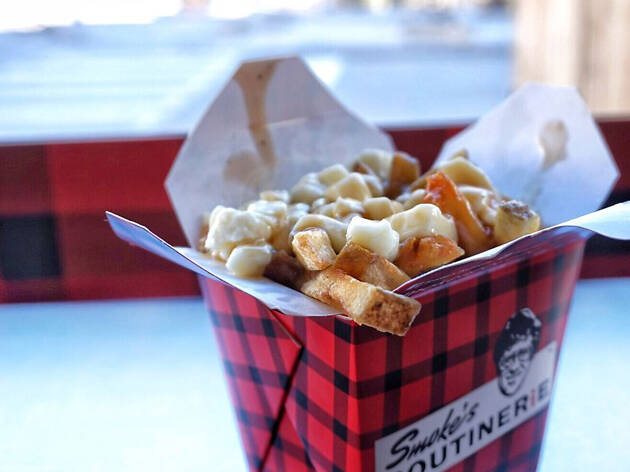 Photograph: Courtesy Yelp/Min C.
Smoke's Poutinerie (simply referred to as Smoke's by locals) is a Canada-wide operation that doles out some of the most satisfying spin-offs of Canada's favorite traditional dish. More of a grab-and-go kind of spot than a sit-down eatery, Smoke's focuses only on poutine with a variety of topping combinations seldom found at a typical club or bistro. Adventurous eaters will be impressed by the nacho, cheeseburger and pierogi options (think of them as two meals in one) while traditionalists will opt for the Hogtown, the Toronto-specific poutine that goes by the city's nickname and features mushrooms, onions, Italian sausage and double-smoked bacon.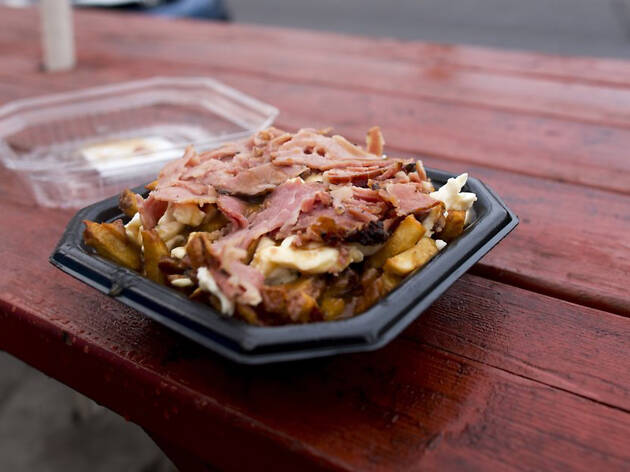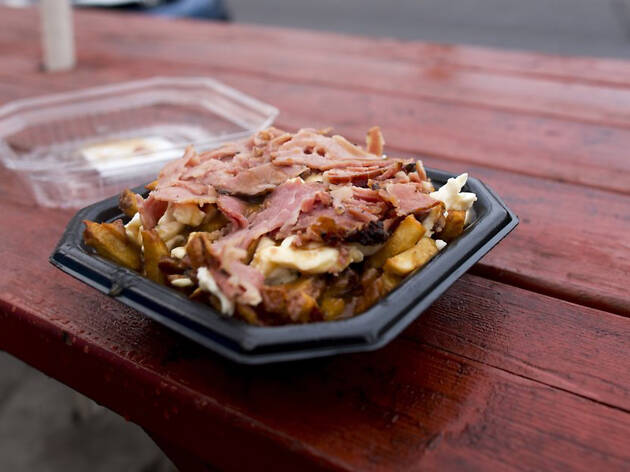 Photograph: Courtesy Yelp/David H.
A row of shipping containers that occupy a slice of Dundas Street West constitute a favorite hang out space for locals looking to lunch or sack in the summer. The poutine here, budget-friendly without compromising on flavor, is prepared with Quebec-made gravy, always a plus. Looking for the most authentic pick on the menu? Try Schwartz's Montreal smoked meat.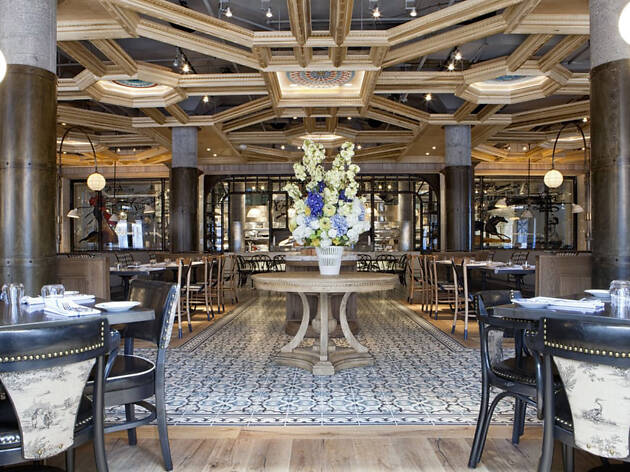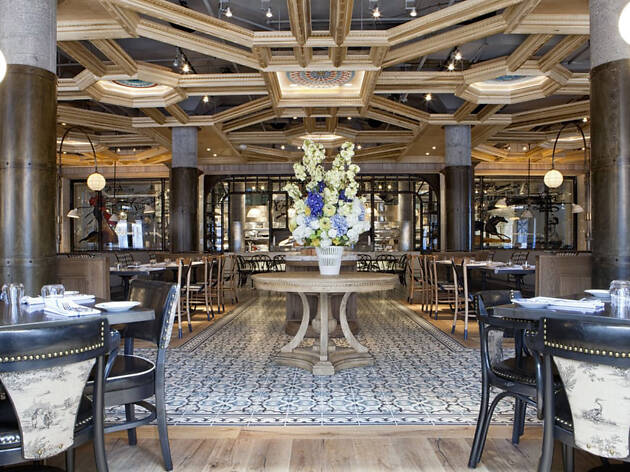 Photograph: Courtesy Yelp/Cluny Bistro & Boulangerie
The Distillery District, with its quaint old architecture and cobblestone walkways, is, without a doubt, one of the most Instagrammable portions of Toronto. Cluny Bistro stays true to this aesthetic with a charming decor (think exposed brick, dainty light fixtures and patterned tiles) that doesn't skimp on the details. The modern French bistro combines French-Canadian food with classical French cuisine in its "coq au vin" shared poutine that includes organic red wine braised chicken, sautéed mushrooms and bacon with cheese curds brought to Toronto from a Quebec fromagerie.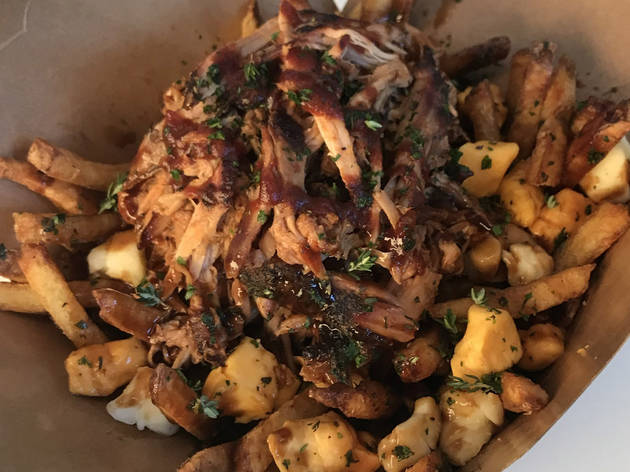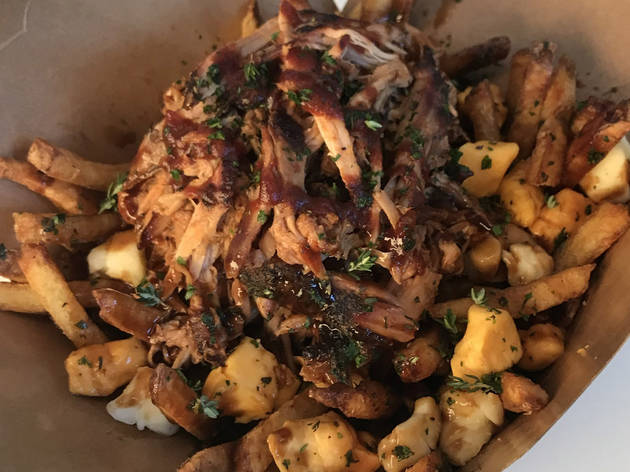 Photograph: Leslieville Pumps
Leslieville Pumps is a country-style restaurant, gas station and convenience store in the East End whose city-wide reputation relies on the outstanding mean BBQ flavors it creates. The poutine – which comes with squeaky Ontario cheese curds, dark, rich gravy and either baked beans pulled pork or brisket – is just as impressive as the list of sandwiches and Southern-style dishes on offer. Tourists with jack-packed itineraries and late-night hankerings for delicious eats, pay attention: the eatery is open 24 hours a day.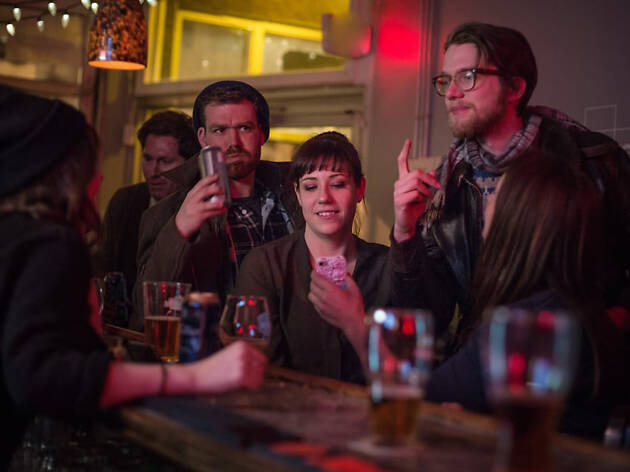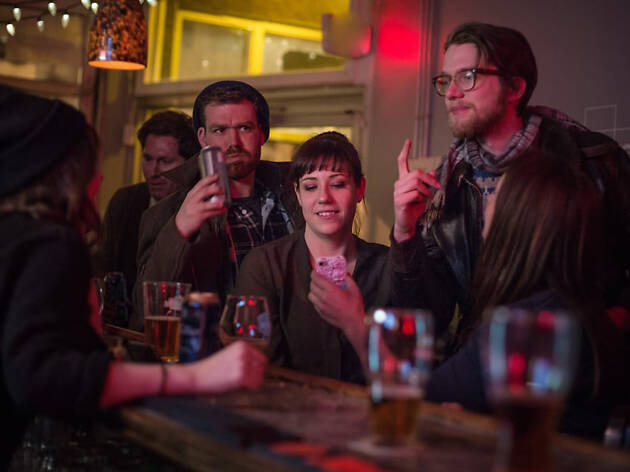 Photograph: Courtesy Yelp/Kevin K.
5. Tallboys Craft Beer House
A West End favorite, Tallboys is a sports bar and craft beer house that takes pub food favorites but elevates their yum factor with mouth-watering sauces and to-die-for toppings for a little extra pizazz. The vibe is laid-back and cozy, making this a go-to pub for many Torontonians no matter the time of year. As for the poutine, visitors can go with the traditional hand-cut fries topped with gravy and cheese curds or opt to kick the flavor up a notch by adding chicken, pulled pork, bacon, caramelized onions, chorizo or jalapeno to their dish. To round out the experience, try to time your visit to the next Toronto Maple Leafs game.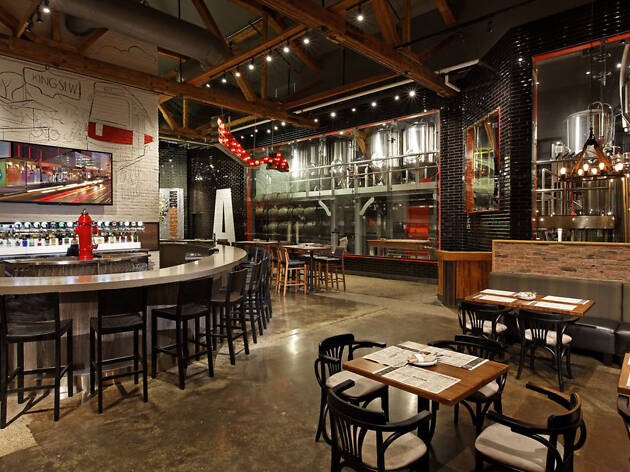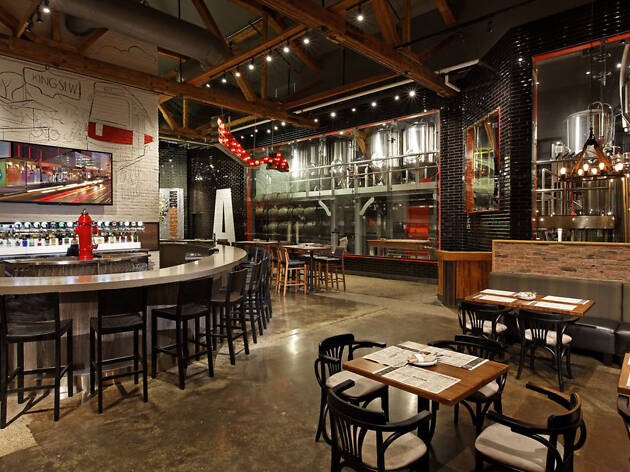 Photograph: Courtesy Yelp/Amsterdam BrewHouse
This is a brewery with a view and one that any tourist should make a point of checking out if they're visiting during the summer. The space is large, able to accommodate a big group that will revel in the classic poutine offerings, served with hand-cut fries, Ontario cheese curds and beef gravy – best washed down with a signature brew.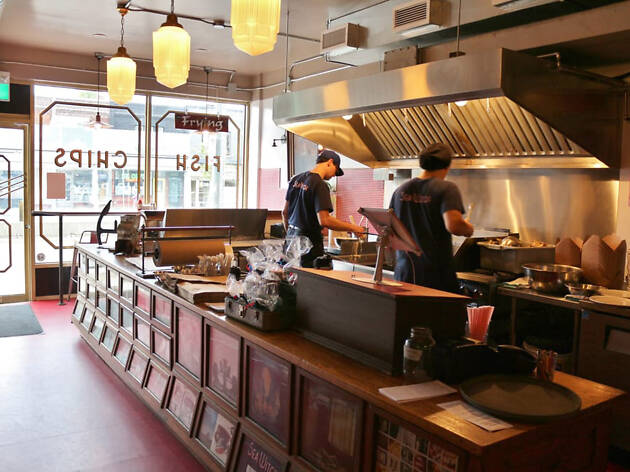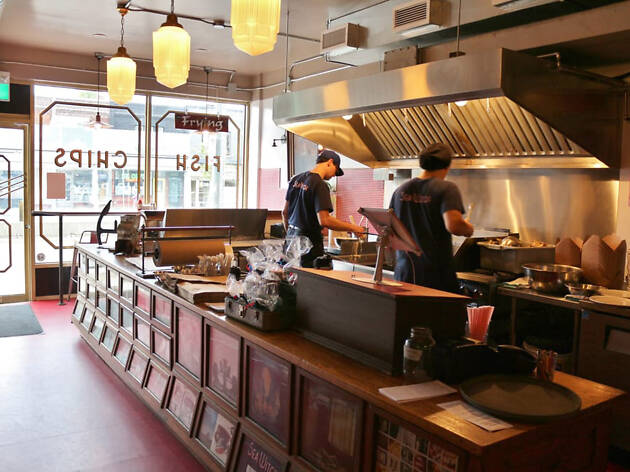 Photograph: Courtesy Yelp/Vickie C.
7. Sea Witch Fish & Chips
Sea Witch is must-visit for foodies who love a good, fresh fish 'n chips dinner. The restaurant has taken a classic menu item and given it a Canadian spin by pairing it with poutine. Fish options include haddock, cod, halibut, trout and pickerel and, most importantly, the chips are fried in beef drippings. You read that right.
Photograph: Courtesy Yelp/Shirley L.
One of the best times to eat poutine is after a round of drinks with friends and Poutini's speediness in delivering outstanding versions of the dish make it a regular visit among locals. Make no mistake, there's a lot of love involved in the preparation of the food here: the fries are cooked skin-on, double-fried and served with gravy that's left to simmer for no less than eight hours (beef gravy is the go-to but vegetarian and vegan options are available as well). Cheese curds are delivered every other day from Maple Dale Farms, a very Canadian thing to eat indeed.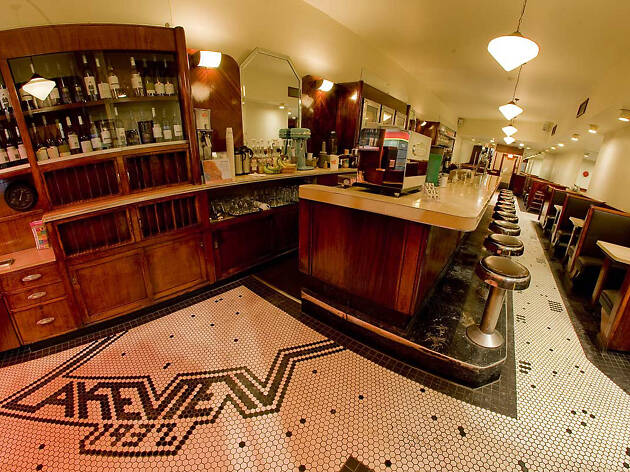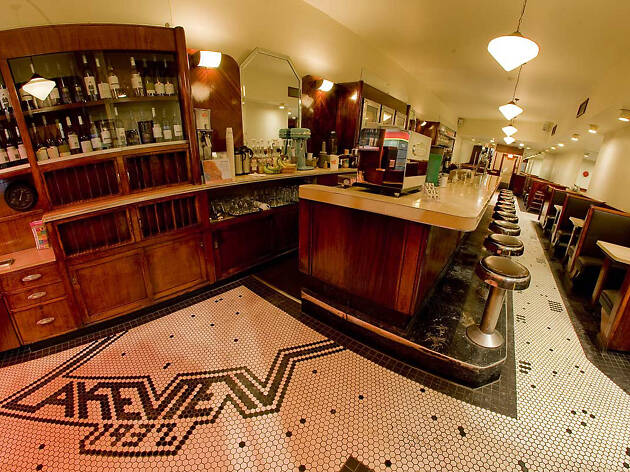 Photograph: The Lakeview Restaurant
9. The Lakeview Restaurant
This '50s-style diner is a breakfast joint popular among the locals given its delicious food and charming atmosphere. Sure, the poutine is the drunk food of choice for many Canadians, but it also happens to be a great hangover cure. After a night on the town, get the morning off to a proper start here by ordering the disco breakfast: poutine with sunny-side-up eggs, cheddar and havarti cheese, gravy, bacon and maple sausage.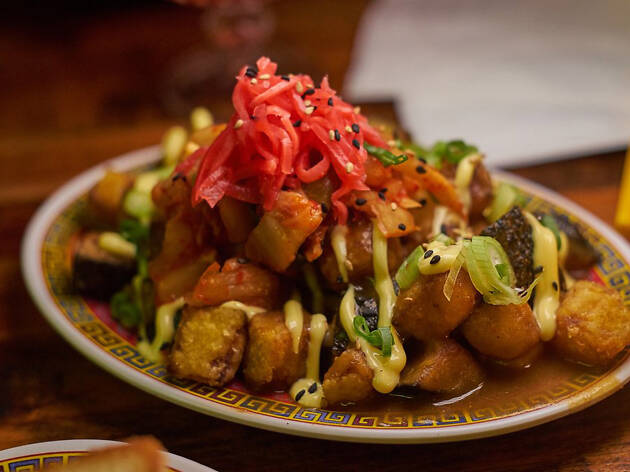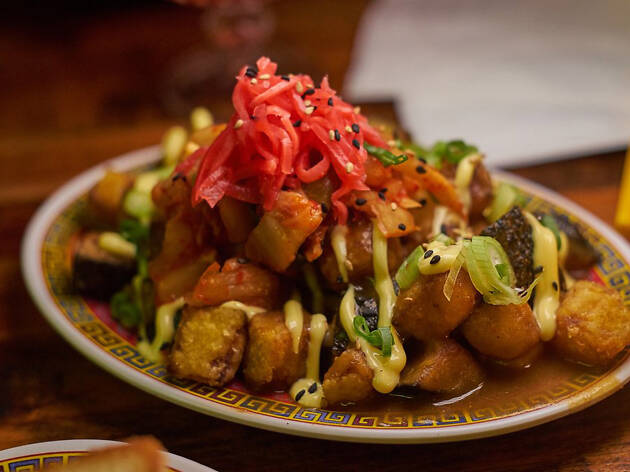 Photograph: Courtesy Yelp/Herman W.
Menus can get especially exciting in a multicultural country like Canada and Oddseoul is a perfect example of culinary fusion done right. The snack bar is a trendy joint on Ossington Avenue with a vibe that's as original as the menu. The Korean-Canadian poutine strays from the dish's French-Canadian roots but is a seriously delicious interpretation that's worth trying. The base is squash and instead of using traditional beef gravy, they've gone with a curry version that's topped off with green onions, kimchi, sesame and pickled ginger. No, it's not at all traditional but then again, neither is Toronto.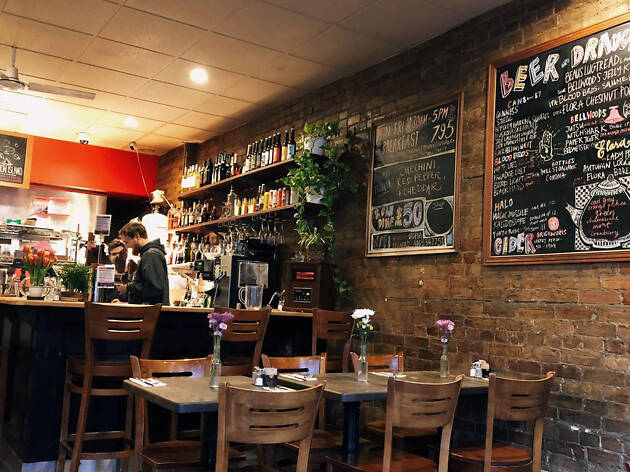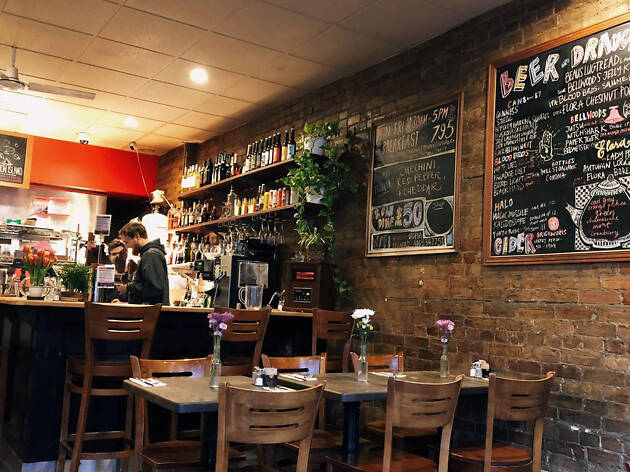 Photograph: Courtesy Yelp/Jonathan C.
This gem inside little Italy is budget friendly, delicious and offers quite a range of foods that will satisfy any type of eater. The poutine is a choose-your-own-adventure meal and can be prepared with unusual toppings like shaved lamb, crispy fried onions, sirloin steak or even a tempeh bacon that will appeal to vegans. Bonus points: the location is easily accessible, on a streetcar route in a well-trafficked part of the city.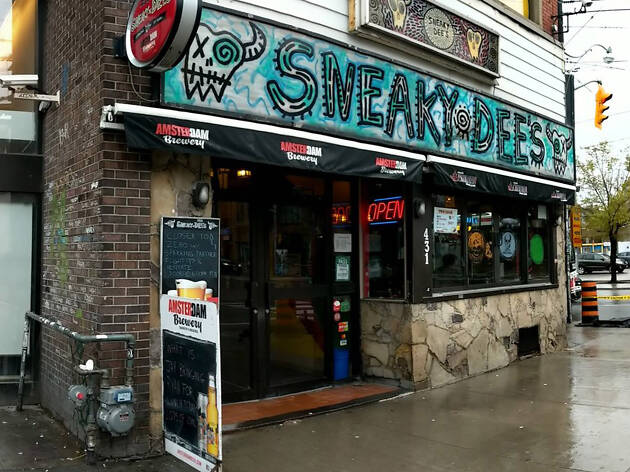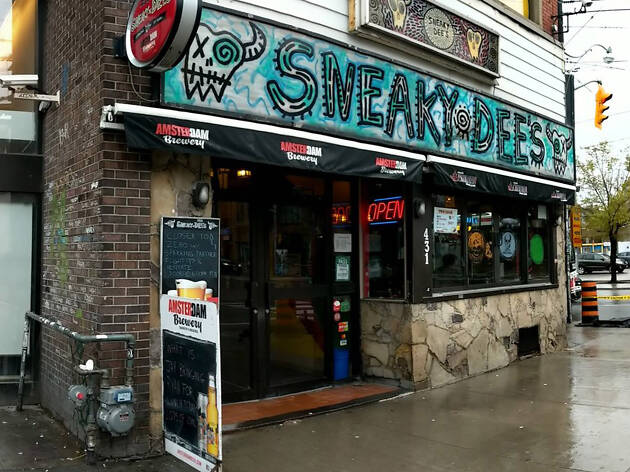 Photograph: Courtesy Yelp/Dan L.
Sneaky Dees is one of the most iconic restaurants and music venues in Toronto. It has been around since 1987, hosting musical acts the likes of Feist and Arcade Fire in its 30-year history. The destination is renowned for its affordable Tex-Mex food (the nacho plates are stacked deliciously high) but the staff also serves a mean traditional poutine. On the fence regarding your order? The Destroyer combines the best of both worlds using the traditional fries, gravy and cheese curds of a poutine before adding guacamole, sour cream, tomatoes, jalapenos and onions. Basically, it's a frat boy's dream come true.
Need to quench your thirst?
With complicated licensing laws and government-regulated retailers taking a hefty cut out of profits, the best Toronto breweries are getting in on the local drinking game by servicing patrons thirsty for interesting brews they might not find at neighborhood bars.