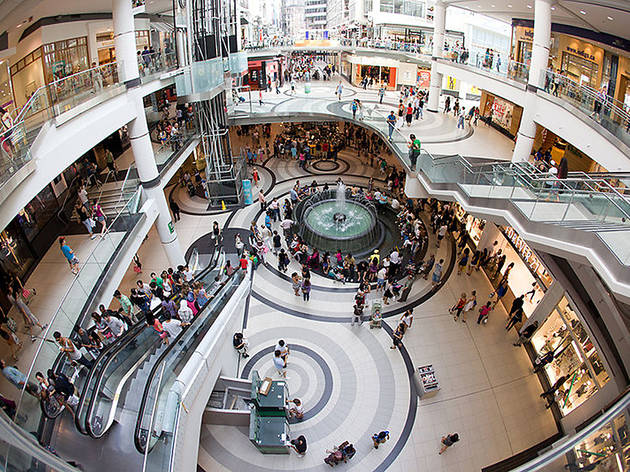 The best shopping in Toronto
Discover the most exciting markets, boutique stores and quirky shops that Toronto has to offer
Start your shopping spree at St Lawrence Market. Spread between two buildings, the market has a little bit of everything, from antiques to a weekly farmer's market that has been named one of the world's best by National Geographic.
Also swing by the city's largest mall, the Toronto Eaton Centre. The vast shopping centre includes a range of stylish shops, including higher-end retailers such as Saks Fifth Avenue, Michael Kors and Nordstrom.
If you thirst for vinyl, look no further than Rotate This, which stocks vinyl both new and old, as well as slinging tickets for most major concert promoters in town. Sticking to the retro vibe, you can then head over to The Monkey's Paw, an antiquarian shop specialising in uncommon books and assorted printed weirdness.
Still looking for something to read? Toronto's independent bookstores are going strong, even in the age of the Kindle. Sleuth of Baker Street specialises in mysteries, crime novels, detective fiction and thrillers, while Bakka Phoenix Books, Canada's oldest science fiction and fantasy bookstore, is the spot to go for dystopian futures and post-apocalyptic zombie tales.
But if you're looking for a sweet souvenir, check out Kitten and the Bear, a bespoke jam and scone shop (sconery? Jamtique?). Whatever you call it, it's like a sticky winery, with a tasting room and retail boutique. It offers up all-butter scones made from naturally cultured buttermilk from Quebec, as well as handmade jams, jellies and marmalades using local, heirloom and sustainably grown fruit.
Nothing chases down a scone like a cup of tea, so don't miss Tealish, Toronto's very own tea emporium. With what feels like hundreds of varieties and flavours from around the globe, all in eco-friendly packaging, it has tea for sale as well as tea-tools and a tea-only café, you know, if you've become so excited by all that tea you need a moment to calm down… with a nice cup of tea.
Shopping and style details
Bakka Phoenix Books 84 Harbord St. 416 963 9994.
Kitten and the Bear 1474 Queen Street W. 647 926 9711.
The Monkey's Paw 1229 Dundas St. W. 416 531 2123.
Rotate This 620 Queen St. W. 416 504 8447.
Sleuth of Baker Street 907 Millwood Rd. 416 483 3111.
St. Lawrence Market 92 Front Street E. 416 392 7219.
Tealish 728 Queen St. W. 416 203 3301.
Toronto Eaton Centre 1 Dundas Street W. 416 598 8560.