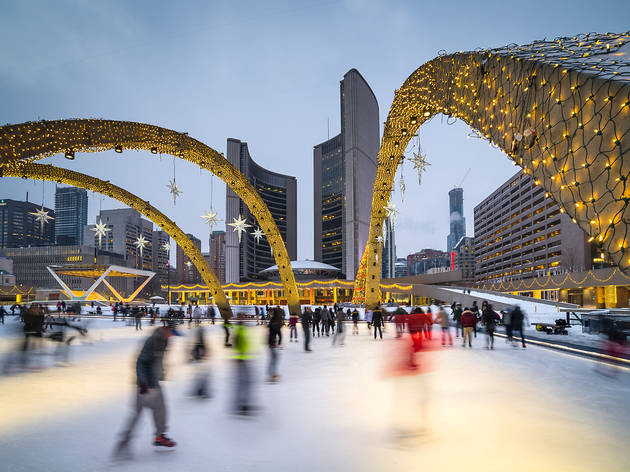 Sports and ice skating in Toronto
Sport lovers will feel right at home in Toronto: discover the best places to work up a sweat—or at least kick back with a beer while others do so
Despite Canada's reputation for fierce winters, Canadians love the great outdoors, and there's lots to do out and about in Toronto, year round. Winter brings the arrival of around 50 outdoor ice rinks around Toronto, including Nathan Philip Square, where the large water fountain turns into a giant outdoor rink every winter. Lacrosse might be Canada's official sport, but hockey is a national obsession, and pick-up games of shinny occupy many rinks.
If watching is more your thing, a trip to the Hockey Hall of Fame to bask in the warm glow of the Stanley Cup should do the trick. You'll need that warm-and-fuzzy feeling if your next stop is the Air Canada Centre to watch the Toronto Maple Leafs. One of the original six National Hockey League members, they've won thirteen Stanley Cup championships, beaten for the record only by the Montreal Canadians, who've won twenty-four. Unfortunately, the last time they won was 1967. Even after a half-century-long dry spell (the longest in the NHL), their fans remain die-hard.
Those of you who have time to spare for sports other than hockey (what are you, American?) can always catch a Toronto Blue Jays baseball game at the Rogers Centre. Formerly known as the Sky Dome, it's conveniently located next to the CN Tower.
Sports venue details
The Air Canada Centre 50 Bay St, Suite 500. 416 815 5500.
Hockey Hall of Fame Brookfield Place 30 Yonge St. 416 360 7765.
Rogers Centre One Blue Jays Way. 416 341 3000.
Best selling Time Out Offers