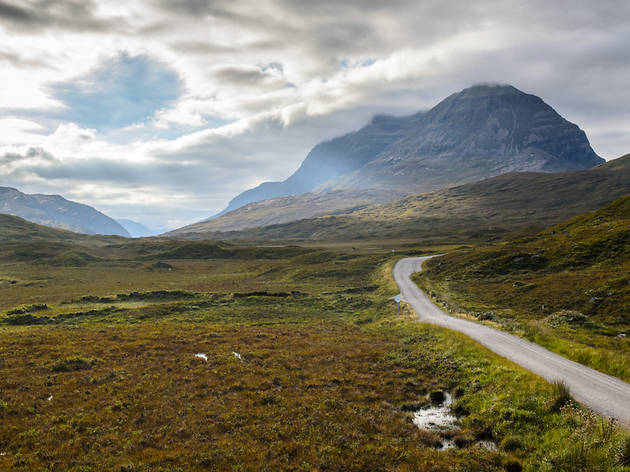 8 of the most beautiful bike trails in the UK
Hop on your bike and zoom down one of these epic cycling routes, spanning mountain-lined tracks, scenic coastal paths and a handful of hill climbs
Good for the environment, wonderful for your health and a safe, well-ventilated way to get about: can bikes get any better? Cycling has boomed in the past year as people ditched their usual commutes to head out on two wheels. With many of us also forgoing international holidays this year, biking around is a brilliant, bracing way to explore the UK's rural countryside, hills and coastal paths. So, now travel around the UK is back on the cards again, it's time to start planning a few big cycle rides for the warmer months.
From suburban waterside paths to cross-country treks, these are some of the best bike rides in the country for all abilities, taking in pretty villages, isolated scenery, natural wonders and historic landmarks. Clip in, saddle up and live out your lycra-clad dreams.
Please note: Some businesses in the towns and villages we mention may be closed at the moment. Please be mindful of the people who live locally. If you decide to travel, check whether car parks you might use are open before you set off and adhere to social-distancing guidelines on your rides.
Beautiful bike trails in the UK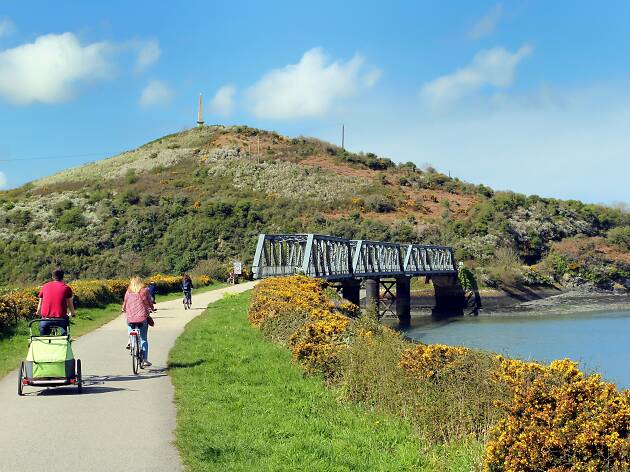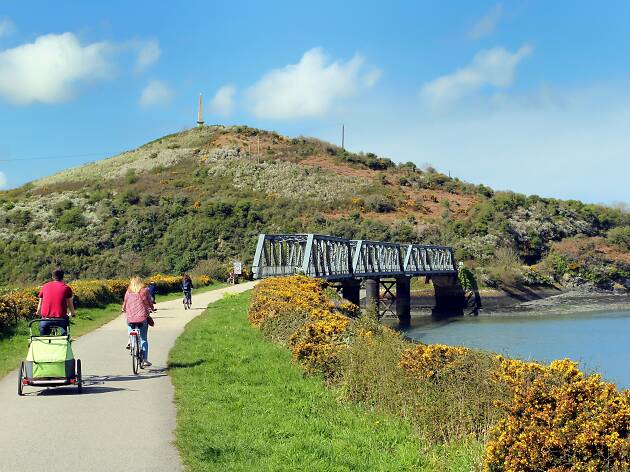 Gary Perkin / Shutterstock
The Camel Trail, Cornwall
Total distance: 19.5km

Difficulty: Easy – a level, traffic-free trail for all abilities.

If you're after a cycle route with sunny coastal views and stretches through wild Cornish Cornish countryside, plus plenty of seafood spots, quaint seaside villages and heritage sites along the way, this should be your go-to route. Running the length of a disused railway line, once the Atlantic Express Rail Route from London to the West country, this flat, smooth trail is perfect for cyclists of any ability. The first, and most popular, section begins at picture-perfect Padstow and runs along the banks of the Camel Estuary – a designated Area of Outstanding Natural Beauty – to Wadebridge, taking in vast nature reserves and sea views. The second stretch is slightly more challenging, whizzing further inland to Bodmin (full of excellent pubs for a well-deserved break). If you're feeling really adventurous carry on through to the quaint moorland village of Blisland right in the shadow of atmospheric Bodmin Moor.
Highlights: You can't beat a sunny day cycling beside the mudflats and salt marshes of the Camel Estuary.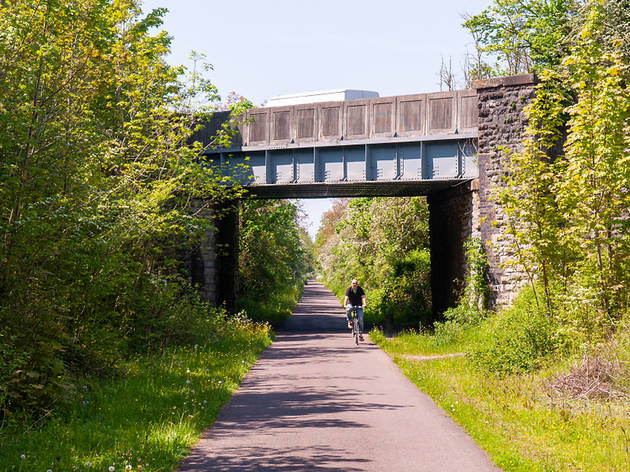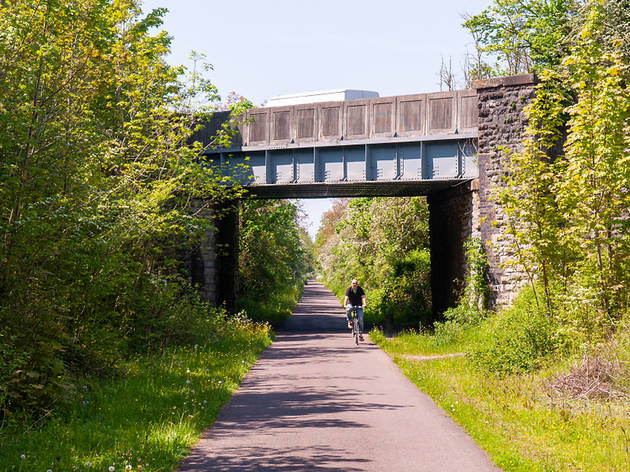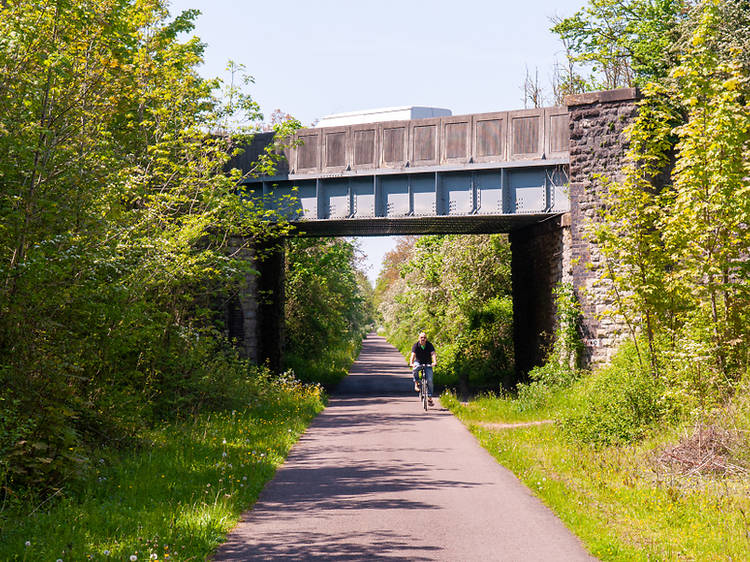 Photograph: Joe Dunckley / Shutterstock.com
Bristol and Bath Railway Path, Somerset
Total distance: 21km

Difficulty: Easy – almost entirely flat.

Connecting two of the UK's most exciting cities, this smooth route follows an old train line through the Avon Valley's serene countryside. Created 40 years ago by volunteers as part of a pioneering project to link the cities, the three-metre-wide tarmac path starts in Bristol's historic port and winds through the countryside, taking you underneath Staple Hill tunnel (stretching over 500 yards). Rest your legs at the signal box cafe in Warmley and see working steam engines at the old train station at Bitton. The trail runs right through into Bath's centre. Take in the pretty spa town before cycling back, or returning via train if your legs are weary.

Highlights: Look out for colourful sculptures along the route, including a larger-than-life brick fish and a stone giant.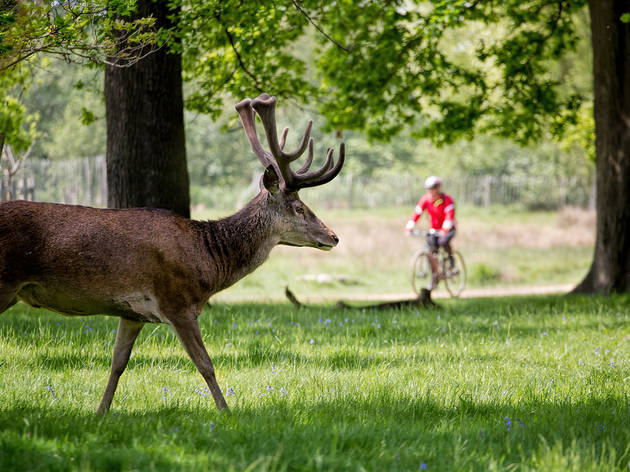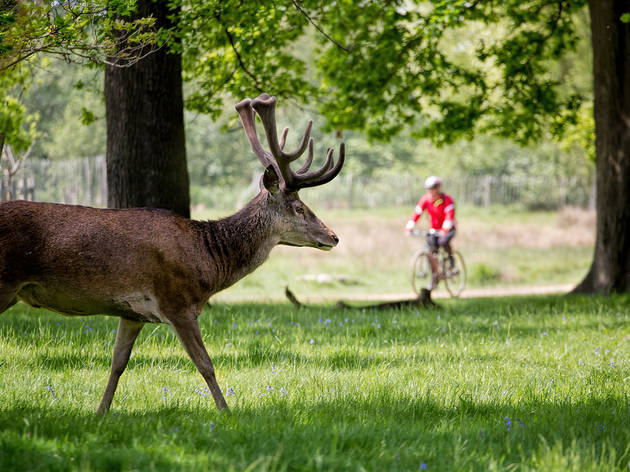 Photograph: Shutterstock
Big Ben to Richmond Park loop, London
Total distance: 38km

Difficulty: Hard – expect steep climbs.

One of London's most famous cycling spots, this rite-of-passage route starts on Cycle Superhighway 8 from Westminster to Wandsworth. Wind your way down the Thames, past Tate Britain and Battersea Power Station before joining up with the South Circular. From here, head down to the park and its 7.5-mile circuit. The clockwise route will have you huffing and puffing up the sharp climb of Broomfield Hill, while you'll have the slightly flatter-but-longer Dark Hill to contend with if you opt for the anti-clockwise loop.

Highlights: Being able to drop that you've 'done' Richmond into conversations.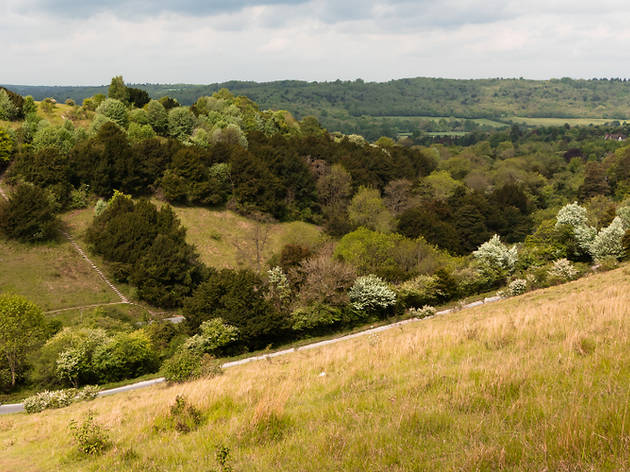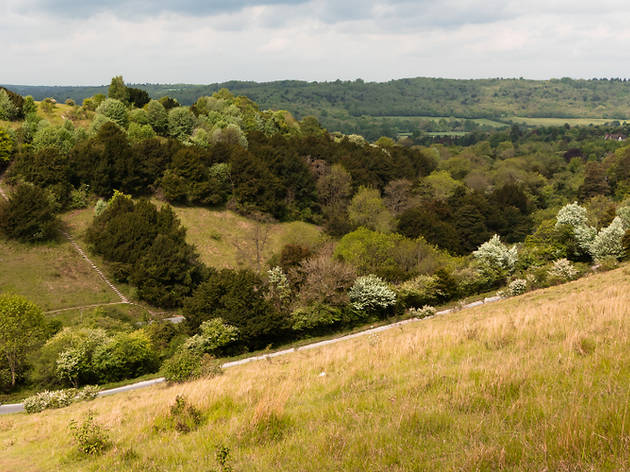 Photograph: Shutterstock
Westminster Bridge to Box Hill, London
Total distance: 42km (via Hampton Court Palace)

Difficulty: Hard – 'Zig Zag Road' was part of the 2012 Olympic road-cycling route.

Ditch the city for the verdant plains of Box Hill. Head out of London, past Hampton Court Palace and onwards into the green hills of Surrey. Box Hill's 'Zig Zag Road' may be likened to peddling up the Alps, but it's actually very doable. It climbs 120 metres, over a steady 1.6 miles, on a smooth tarmac road with amazing views.

Highlights: The views from Box Hill – you'll have earned them.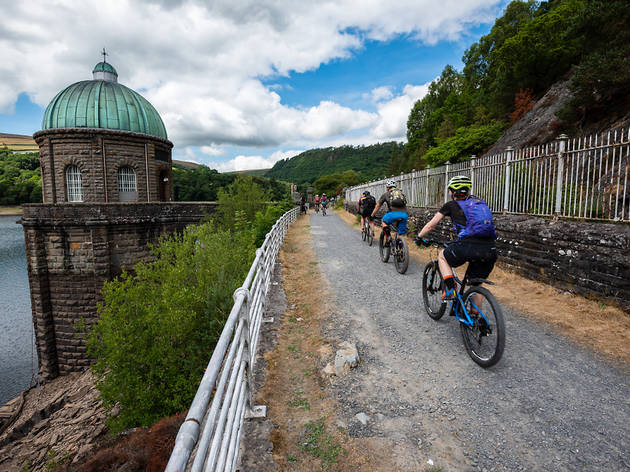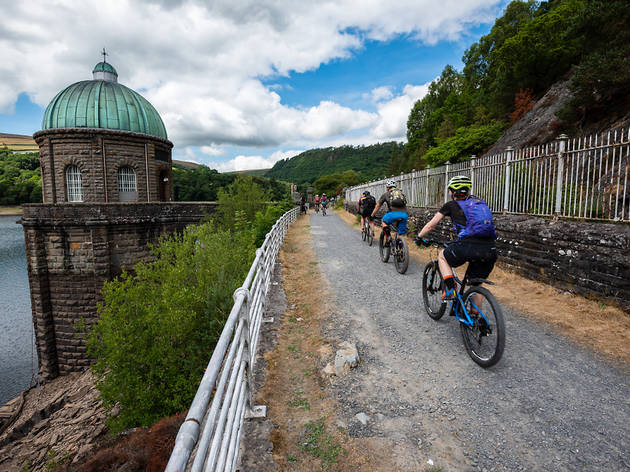 Photograph: steved_np3 / Shutterstock.com
Total distance: 29km

Difficulty: Hard – hills, hills and more hills.
Known as the 'Welsh Lake District', Elan Valley is the perfect backdrop for a long cycle ride with remote trails that wind through craggy hillsides, along Victorian railways and past serene reservoirs. Starting in Llangurig, a picturesque village just north of the market town of Rhayader, head on to the remote hamlets of Cwmystwyth and Hafod, before readying yourself for the climb up to Ffair-Rhos where you'll see sweet panoramas of the Cambrian mountains. From there, it's a swift descent around the sparkling Claerwen reservoir, past Victorian dams and back to Llangurig.
Highlights: The remote heights of Ffair-Rhos and the dizzying descent to Claerwen reservoir.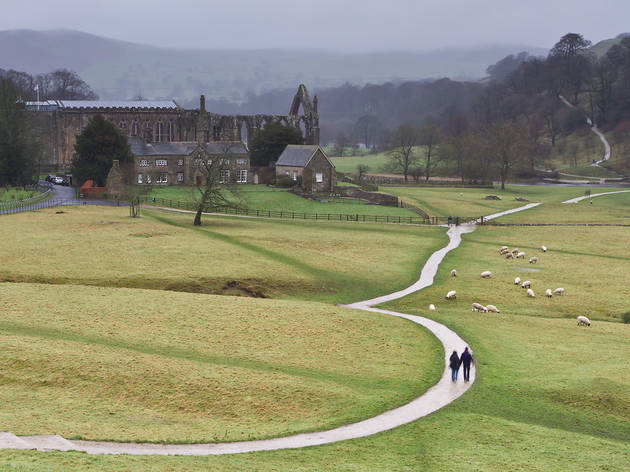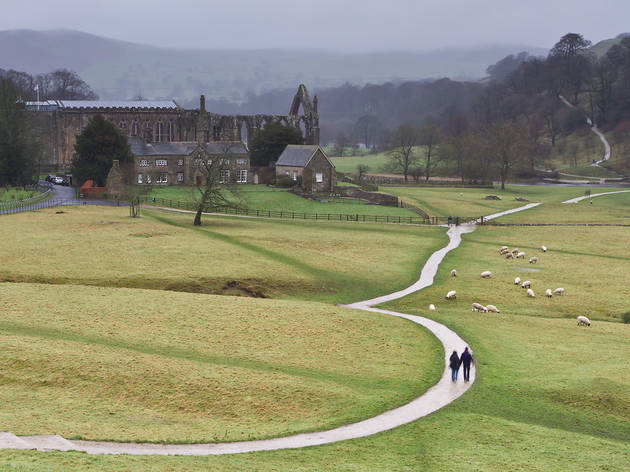 Photograph: Shutterstock
Yorkshire Dales Cycleway, Yorkshire
Total distance: 209km

Difficultly: Hard – a multi-day trip for seasoned cyclists.

As proven by Tour de France's visit to Yorkshire in 2014, the Dales makes fine cycling country and this circuit around the Yorkshire Dales National Park takes in the best of it. Starting and finishing in Skipton, the rural road route zooms up into the wilds of the Dales with some steep climbs up its undulating hills. You'll be rewarded with epic views over famous geological sites like Malham Cove – a staggeringly tall limestone cliff – and Aysgarth Falls, plus man-made marvels like Bolton Abbey. Take the route at a leisurely pace over five or six days. You'll pass through plenty of Dales villages packed with traditional pubs and B&Bs to rest your weary legs: Burnsall, Settle, Wensleydale, Kettlewell, Bolton Abbey and Grassington are particularly charming. All in all, it's a test of your cycling skills with eye-popping views and glorious countryside along the way.

Highlights: Stop for a pint at the Tan Hill Inn – the highest pub in Britain at 528 metres above sea level, and pause to take in the breathtaking views from the top of Low Sleights Road where the handsome arches of the Ribblehead Viaduct pop up among the rolling hills.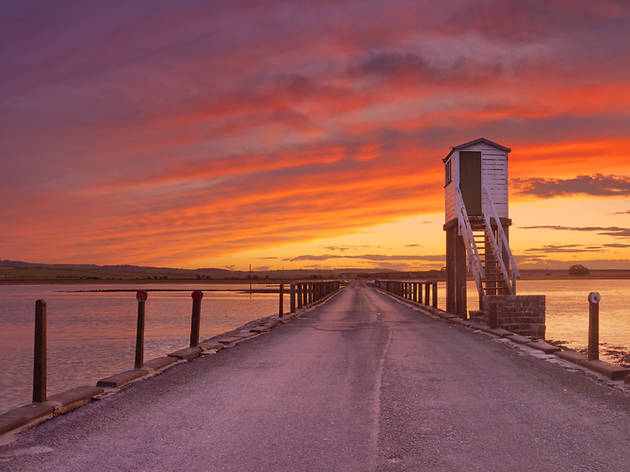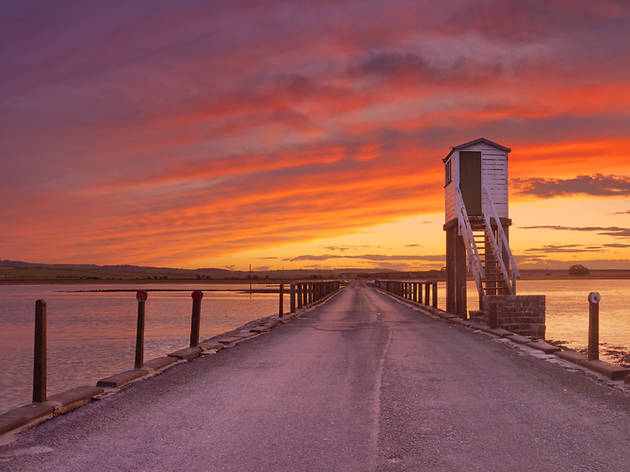 Photograph: Joe Dunckley / Shutterstock.com
Berwick to Lindisfarne, Northumberland
Total distance: 23.7km

Difficulty: Moderate – there's a range of surfaces, from tarmac to hard-packed gravel, that can be hard-going when wet.

A brilliant way to take in the wild scenery, ancient landmarks, golden beaches and tiny harbour towns of the Northumberland coast, this linear route links up two of the county's most renowned locations. Starting at the historic Berwick-upon-Tweed, make sure you take time to explore the ancient town's Elizabethan ramparts and charming Georgian architecture before heading from the train station over the Old Bridge to Spittal where you pick up the coastal path. Hugging the cliffside you'll speed by brooding views over the North Sea before joining the road again to pass through remote villages Cheswick and Goswick. From here you'll reach the Holy Island Causeway where you can cross over to Lindisfarne when the tide is out.

Highlights: Looking out across the causeway to see the magical silhouette of Lindisfarne Castle is truly breathtaking.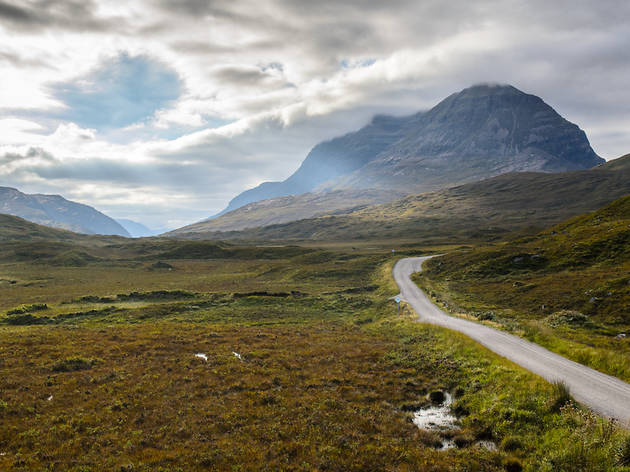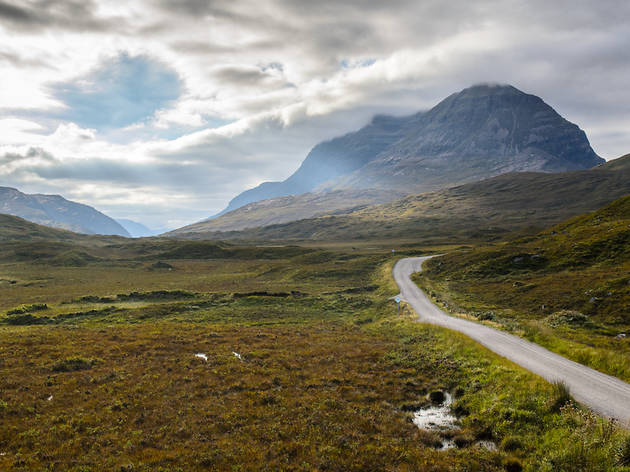 Photograph: Shutterstock
Total distance: 47km

Difficulty: Hard – mountain bikes and overnight stops required.

Highland cattle, stone bothies and brooding mountains dotted with waterfalls: zoom past all this and more on this loop taking cyclists straight through the heart of the Scottish Highlands. Beginning and ending at Torridon village, a mixture of rocky paths and slick tarmac descents will take you past glistening lochs and remote wild swimming spots, all in the shadow of three imposing mountain ranges. Some of the terrain is challenging, there are hard climbs up rough, rocky trails, but the loop ends in an easy, wind-whistling descent back to Torridon where the pub awaits.

Highlights: Annat Descent – a fast single track along a loch with sublime views.
More outdoor adventures
Can you smell that fresh arboreal scent in the air? That's the UK's forests imploring you to head out on a woodland wander.
We'll see you at the trail head.
There's no entry fee to these stunning landscapes.