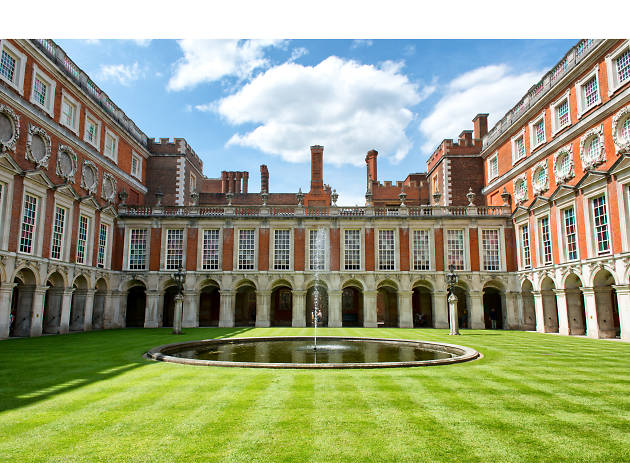 1/9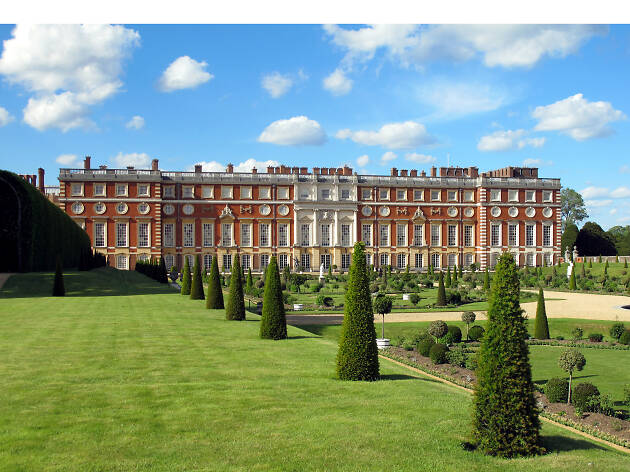 2/9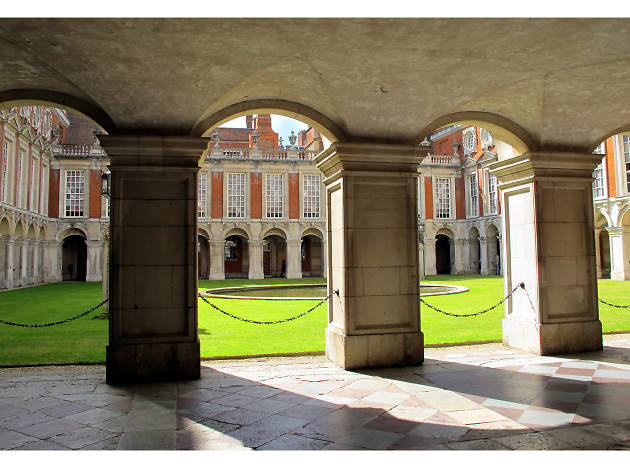 3/9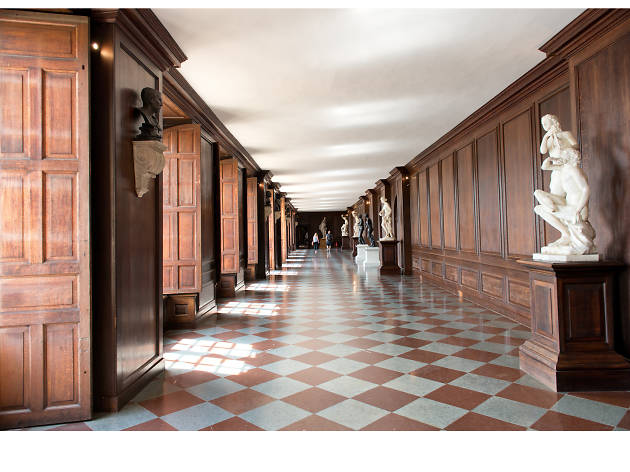 4/9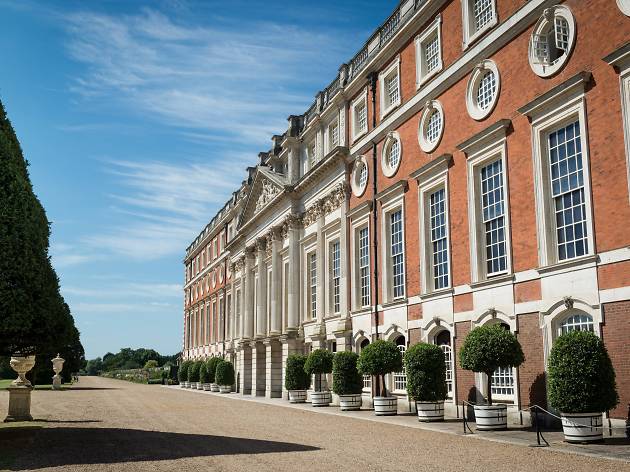 5/9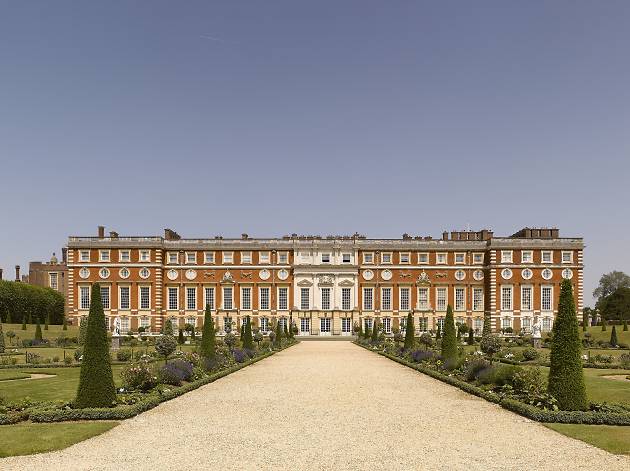 6/9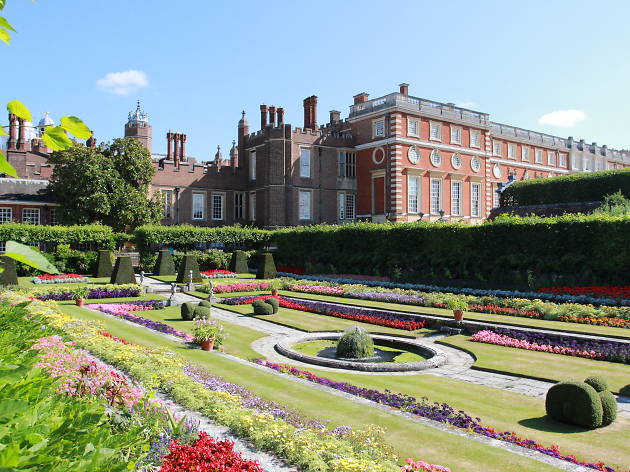 7/9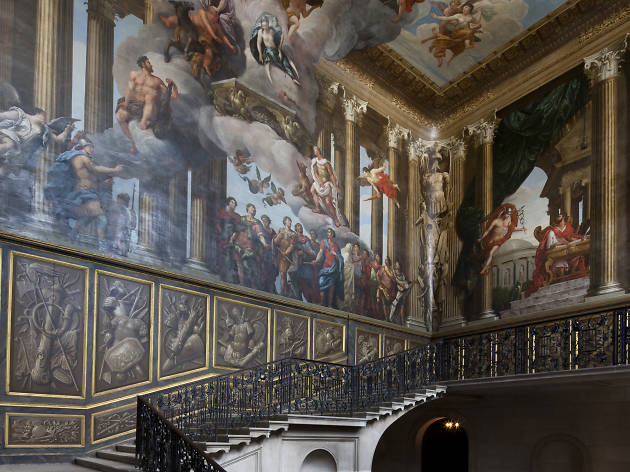 8/9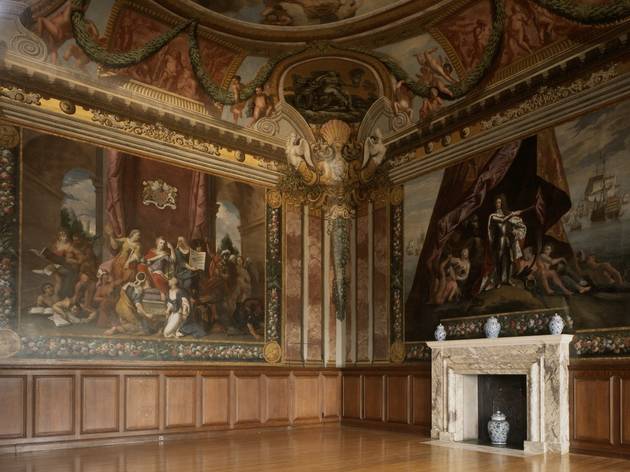 9/9
Frolic in the maze where kings and queens once played then see where Henry VIII ate his scoff
To cut a long story short, Hampton Court Palace was originally built by Henry VIII's Lord Chancellor, Cardinal Wolsey, as a showy country retreat to host state visits. Unfortunately, he did such a grand job of out-blinging the king, that Henry pretty much seized Hampton Court Palace from Wolsey as compensation when the Pope wouldn't let him divorce his wife Catherine of Aragon so he could shack up with Anne Boleyn.
Thus history was made. Hampton Court Palace has long been remembered as the Tudors' stomping ground and some of the wondrous sixteenth-century quarters that still stand proud remain the best bits to visit. Like the kitchens, which once housed the factory-sized production team that fed around 600 people in court twice daily. Or sniff out the spice rooms and cellars, where the king stashed his goodies, including French wine, local game and Italian olives.
For those wanting to delve deeper, see if you can track down and tack onto one of the free talks or tours, which run at regular intervals. Or, for a little more excitement, have a look for the resident LARPers, who act out 'encounters with the past' (including meeting Henry VIII's courtiers) in full costume in various places around the palace.
The history of this place isn't solely devoted to the Tudors, of course. The building's royal allegiance extended to King James, too, who invited none other than Shakespeare himself to host a series of Christmas plays at the palace. Following that the Georgian King William III and Mary II made new additions, including the grand staircase adorned with Italian fresco and a set of rooms that were used by George I's private chocolatier so that he could have drinking chocolate whenever he pleased.
From the Tudor indoor tennis court to the Royal Maze, from the King's private loo to the brand new Magic Garden adventure playground (inspired by the medieval joust), Hampton Court Palace is several different visits in one place. If you love history and art, buy the ticket for the Palace and the Gardens, or if you have children with you who just want to run around, buy the Magic Garden and Maze ticket. And while you decide what you want to do, wander the rose gardens for free and enjoy a coffee in the Tiltyard Café.
Venue name:
Hampton Court Palace
Address:
East Molesey
Surrey
London
KT8 9AU

Opening hours:
For 2017 Mar 26-Oct 28, 10am-6pm; Oct 29-Mar 2018; Magic Garden open Apr-Oct 29, 10am-6pm.
Transport:
Rail: Hampton Court
Price:
£23, £19 concs, £11.50 under-16, £41 family (1 adult and three children), £57 (two adults and three children). Online and after Nov 1 cheaper.
Do you own this business?
Given that 'Ice Age' director Carlos Saldanha hails from Rio de Janeiro, we can only assume this new Blue Sky Studios 3D animation was a personal project for him – a chance to celebrate his hometown and drum up some tourism along the way. He's mad...

Read more

Orphaned Harry (Radcliffe) is billeted in the suburbs with his cruel aunt and uncle until a blizzard of letters arrives from Hogwarts School offering a chance to study wizardry. He is yet to learn that he bears a famous name in that skill, and tha...

Read more

Another post-modern mix of myth, musical, comedy, romance and unfettered pastiche from the impressively inventive Luhrmann, here ransacking pop culture's iconographic archives - rather than the real Paris of 1900 - to mount a hyperkinetic update...

Read more

The title of Pixar's fabulous latest animation gives you its three elegantly dovetailed elements: rodents, food and French. Co-director Jan Pinkava's original idea was sweetly ridiculous – can a naive, ambitious rat (baby-eyed Remy, charmingly voi...

Read more

Pixar's animated marvel may not reach the same heights of wonderment as a 'Wall-E' or a 'Ratatouille', but those are tough boots to fill and this short, sharp and sweet fantasy still manages to reaffirm its makers as world leaders in the kind of p...

Read more

It's all in the mind in Pixar's latest, a delightful, frenetic, near-experimental animated film from the makers of 'Up' and 'Toy Story'. Pixar fans will be in seventh heaven with the film's bold thinking—and kids will be straining to listen to ima...

Read more

No, 'Trolls' is not a movie about the haters with terrible spelling who threaten people on the Internet. This musical kids' animation is based on the plastic dolls with frizzy hair that were big in the '90s. And against the odds, it's funny and sn...

Read more

This delightful animated feature from the studio behind the Minions movies takes a tired-sounding idea – a comedy set around a talent contest – and turns it into something winning and witty. 'Sing' is fast and frenetic, dashing from character to c...

Read more

The breakout star of 2014's 'The Lego Movie' now gets his own action-packed, completely batshit superhero spinoff. The first Lego film was a real surprise: what could have been a lazy cash-in turned out to be sweet, funny and fiendishly original i...

Read more
Hampton Court Palace Festival

This open-air concert series in the lovely ground of Hampton Court Palace offers a genteel take on the summer festival. There's no-one to frighten the horses and nostalgia will be fed in comfort (the concerts are all seated) with Lionel Richie, the Beach...

Music festivals

Tuesday June 5 2018 - Saturday June 23 2018

RHS Hampton Court Palace Flower Show

This high-summer flower show is back in the spectacular grounds of Hampton Court Palace.  See world-class gardens, explore marquees showcasing work by some of the country's leading designers and nurseries, and pig out on tasty food and drink and get your...

Consumer shows and conventions

Tuesday July 3 2018 - Sunday July 8 2018
You may be interested in:
Average User Rating
4.8 / 5
Rating Breakdown
5 star:

13

4 star:

3

3 star:

0

2 star:

0

1 star:

0
You really need to dedicate a whole day to this incredible jewel in historical Britain's crown. Internally there are 2 whole palaces to explore- Henry VIII's Tudor wing & William & Mary's Christopher Wren's extension. There's lots of fascinating extra's bringing it to life like cooks in the kitchen & wandering troubadours singing songs & performing in the Great Hall. The garden's are a day out in themselves with the iconic maze & the world's biggest vine all being tucked away besides beautiful at times intricate formal gardens & areas of what feels like expansive parkland. The whole site is fascinating & astonishingly well preserved.
Over the weekend went to Hampton Court Magic Garden.

It has a wide variety of activities for the children including a climb on dragon, a sand pit with water pumps, a climbing area with several towers and bridges and a couple of slides.
Tickets for the Magic Garden and Maze only can be purchased.
There is a small kiosk offering snacks and ice cream and a small seating area.


The children loved it and I would recommend a visit.

I recently went to Hampton Court Palace for the Hampton Court Palace Festival. It was amazing, the grounds are so beautiful! Walking through them you can smell roses and all the other beautiful flowers throughout the air. Henry VIII did a bang up job creating his holiday home!
The festival was fantastically laid out with a great deal of thought put into not only the aesthetics but also the use of space. Their choice of food and drink vendors was spot on, they were very high-end but also reasonably priced and great value for money. The palace itself is stunning and as a music venue it is a surprisingly large with very good acoustics. I was lucky enough to get tickets to go see Tom Jones, he was spectacular, as you would expect!
Outside the Palace there are beautiful views and lovely pubs to enjoy a beer or two in making the area as a whole well worth a leisurely pub crawl. The station was within easy walking distance to the Palace and pretty easy to get to from Central London from Vauxhall or Waterloo. I will be going back there to explore the palace further, it looks to be an especially good picnic spot!
A really beautiful building with stunning views. Firstly, It's near some great little restaurants so great to have a quick lunch before you head in (if you don't want to buy food in the palace restaurant!) The gardens are spectacular and you can stroll around for hours taking beautiful images! Or grab a seat on one of the many benches dotted around and watch the sun go down. Quick tip - if you go at the end of September/ early October it's free to get in!
This glorious building is spectacular and the gardens are stunning. It is by far one of the most worth while places to visit just outside of London. If I could, i'd move in, in a heart-beat.
The costumed guides and actors really engage younger visitors, bringing the history of the palace to life. Wonderful venue for ice skating too!
We visited when it was very cold and the huge rooms were even chillier but I have warm memories of that day, as it was like a travel back to time!