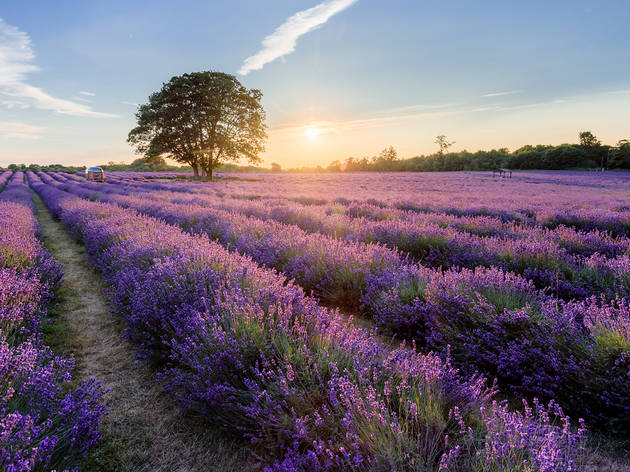 12 beautiful UK lavender fields you need to visit this summer
Make the most of lavender season with a trip to one of these bloomin' beautiful farms across the UK
Smell that? That heady aroma wafting on the breeze can only mean one thing: lavender season is here! We've already enjoyed fields of blooming bluebells. Wisteria Hysteria has gripped the nation. And now it's time for these fragrant little flowers to take centre stage.
All over the UK, fields are turning shades of silvery azure as the bee-friendly plant starts to blossom. And that distinctive, kinda soothing perfume we all know and love? It's here for the long haul: the flowers are usually in full bloom throughout summer, all the way from early June to late August.
Harvested for their oils – used in pretty much every form imaginable, from aromatherapy to toiletries and food products – various kinds of lavender are grown in the UK, with colours ranging from snowy whites to dusky purples.
The dazzling fields are ever-popular with visitors, who flock to farms across England, Scotland and Wales during the summer months to frolic among the blossoms. Reckon your Insta feed could do with a splash of colour? Then make a bee-line to one of these epic lavender farms across the UK: you'll be able to bask in full-on fields of the stuff.
Where to see lavender in the UK
Photograph: Shutterstock
This family-run farm in North Kent is basically England's version of Provence. With 130 acres of the purple stuff, it's the UK's largest lavender producer, selling all sorts of lushly scented products alongside hop garlands, lavender tea and honey at its Hop Shop.
Keep an eye on the farm's Instagram to hear when they'll be opening to the public for lavender season and book tickets for a stroll around the fields. Or even better, bag a slot for a sunset picnic among the flowers and sample the farm's homemade lavender ice-cream for dessert.
Photograph: Andrew Harker / Shutterstock
Ever wondered how they extract essential oils? Head to this third-generation family farm in Somerset later in the summer, when the flowers are being harvested, and pay a visit to the distillery to watch the oil distillation process happening right before your eyes (and nose!)
Be sure to check out the Lavender Garden, where you'll find 20 different varieties of the plant, and the Healing Garden, which is filled with aromatic and medicinal herbs and flowers.
Photograph: Shutterstock
This farm on the banks of Scotland's Loch Leven National Nature Reserve grows seven varieties of lavender alongside mint, rosemary, chamomile, calendula and a bunch of medicinal herbs. This place takes a sustainable approach to its work, harvesting all the lavender by hand, avoiding pesticides and planting wildlife corridors to support local species.
Book a guided tour of their traditional distillery and be sure to pick up some of their gorgeous, sustainable skincare products while you're there.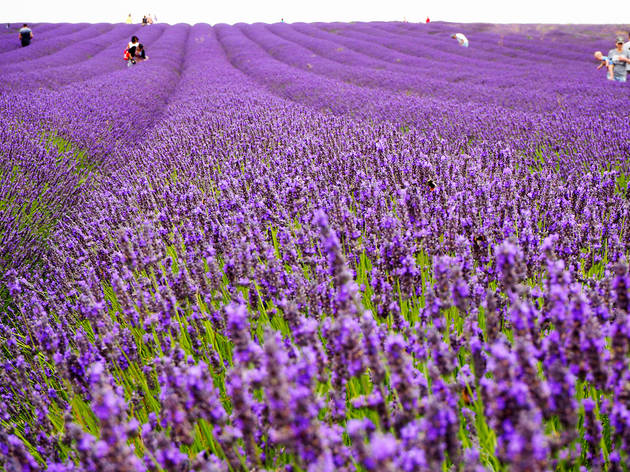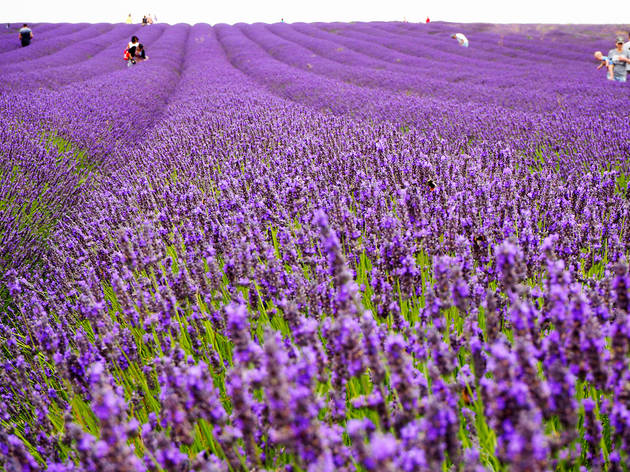 Photograph: Shutterstock
Hitchin Lavender, Hertfordshire
Cadwell Farm in the market town of Hitchin has been in the same family for more than a century and first started growing lavender in 2000. Tens of thousands flock to the farm during the summer months to stroll around nearly 30 miles of flower rows planted on the 30-acre plot.
The farm runs a range of craft workshops, including flower arranging and botanical lino-cutting, and sells a range of unusual products in its giftshop, such as lavender-infused gin and lavender jams.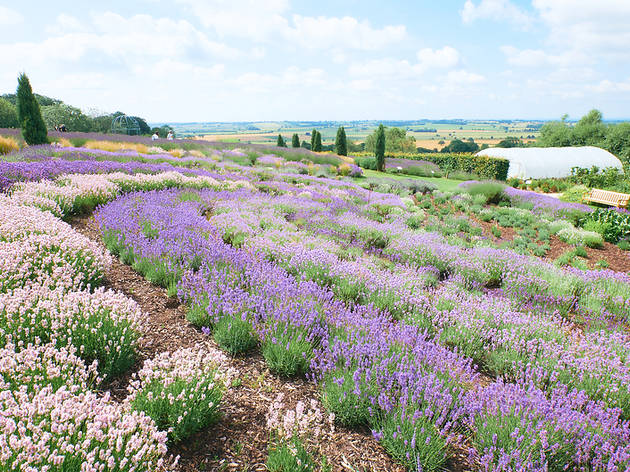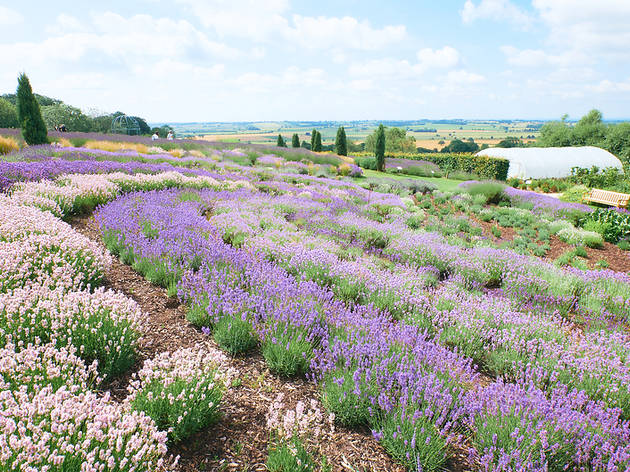 Photograph: Shutterstock
Yorkshire Lavender Farm, North Yorkshire
A 60-acre flower crop is grown on the rolling hills of this Yorkshire farm, where you can enjoy a lavender-themed cream tea, work your way around a lavender maze and sculpture park, stroll through several themed gardens, and take part in hanging basket and wreath-making workshops.
Make sure to pay a visit to the nursery, where you can pick up dozens of varieties of lavender in colours ranging from cream, pale pink and lilac through to dusky blue, purple and deep burgundy – each with their own distinctive scent.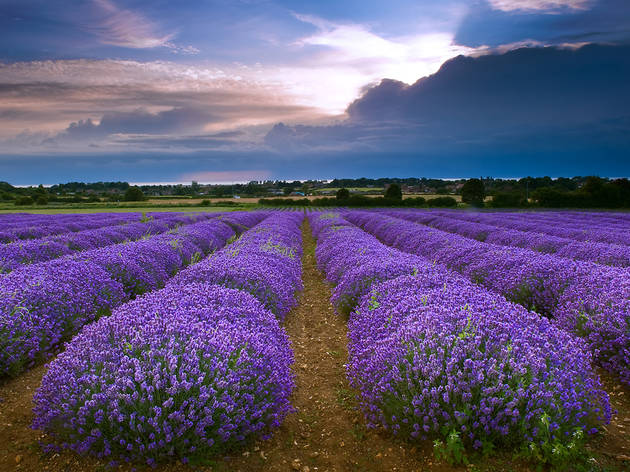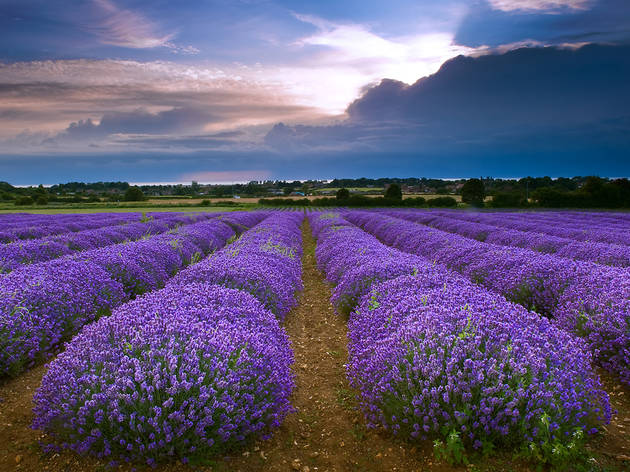 Photograph: Shutterstock
This Norfolk farm has been growing lavender since 1932 and boasts an impressive 100-acre crop. Run in conjunction with Plant Heritage, its National Collection of Lavenders conservation project has collected a whopping 100 varieties of the plant.
The farm offers guided tours throughout the summer, but it stays open year round. Elsewhere, you'll find a herb garden featuring more than 50 kinds of rare herb, an 18-acre mixed garden, an on-site distillery, tearooms and a gift shop. Should be enough to keep you entertained for a whole day of lavender lovin'.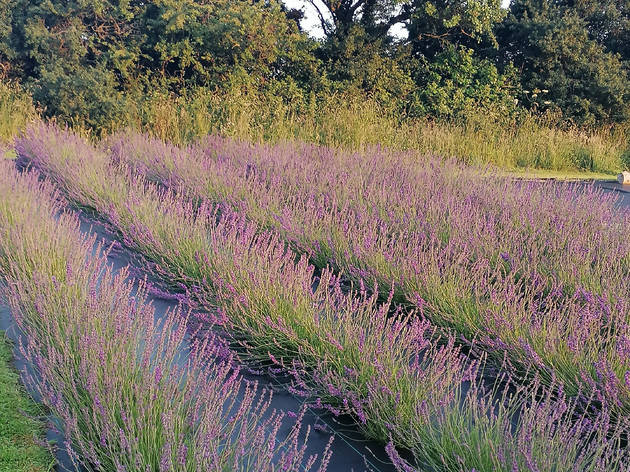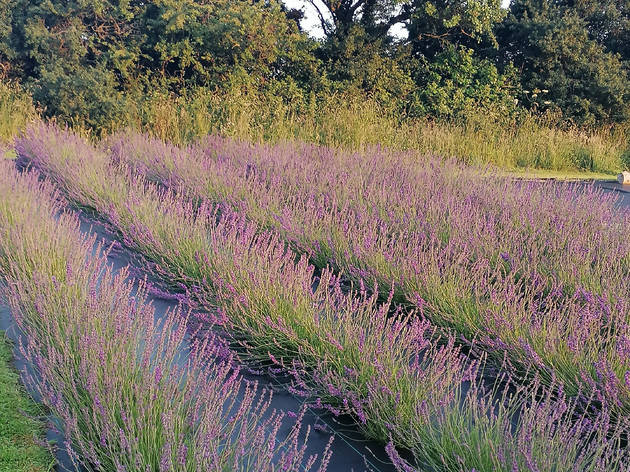 Photograph: Cornish Lavender
Cornish Lavender, Cornwall
This relatively new farm on the north Cornish coast grows maillette lavender, which flowers in dark lilac colours and is known for the intense, sweet aroma of its highly scented oil.
The farm is open to the public from mid-June to August, offering Cornish pasty lunches, cream teas and picnics amid the fragrant blooms. Visitors can also try their hand at cutting the lavender and operating machinery in the distillery, as well as making scented soaps, candles and crocheted lavender bags at on-site craft workshops. There's even a lavender slime-making class. For the kids, obvs.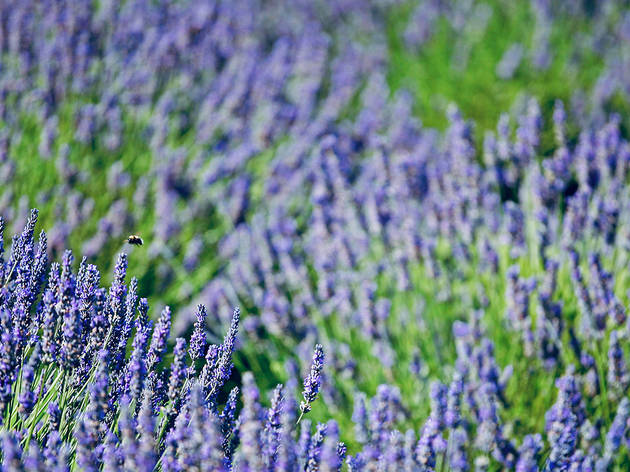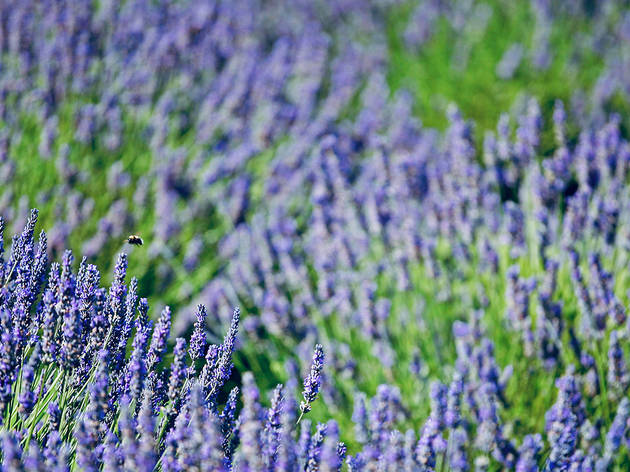 Photograph: Shutterstock
High in the hills just north of the Brecon Beacons, Cefnperfedd Uchaf Farm became the first lavender farm in Wales when its Canadian owners planted a solitary field of the purple stuff in 2003. The oil produced on the 2.5-acre plot is used exclusively in the farm's artisanal lavender chocolate and range of luxury toiletries and skincare products.
Visitors are welcomed year round, with distillery tours and a café open during summer. The farm also offers glamping in 'Pantechnicon Powys', a stylishly renovated former removal truck parked up right next to the distillery so guests can wake up to glorious scents and fantastic views over the mountains.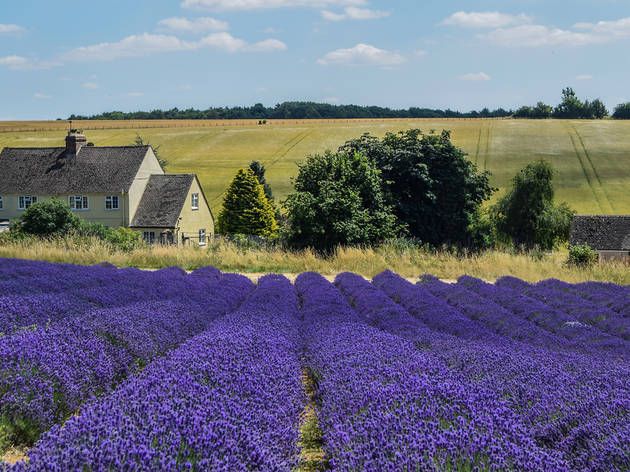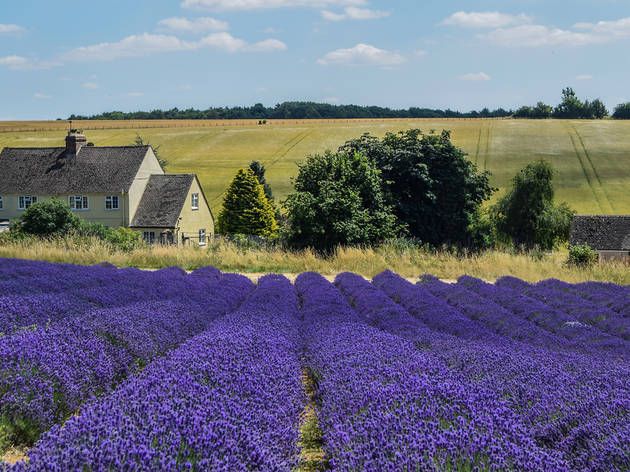 Photograph: Shutterstock
Hill Barn Farm, Worcestershire
This third-generation family farm near the village of Broadway in the north Cotswolds has been planting lavender since 1999 and now boasts an incredible half a million plants in 40 varieties, with the rows totalling 140 miles in length. They also cultivate two varieties of calming chamomile, whose large daisy-like flowers are equally picturesque.
The farm's fields are open to visitors from mid-June to early August, with a tearoom serving local produce and a gift shop selling all the usual fragrant stuff – plus dried culinary lavender and lavender sugar. Yum.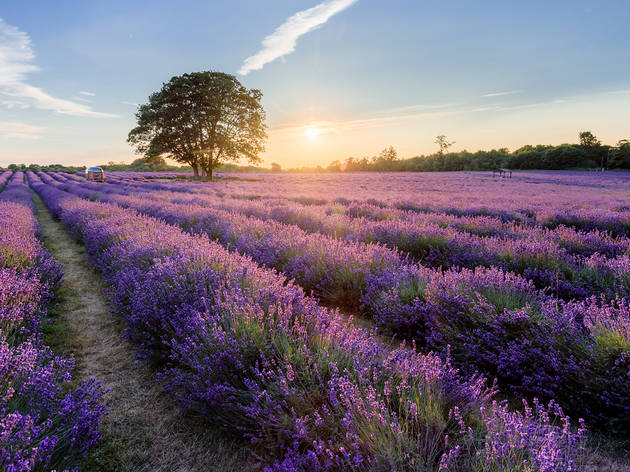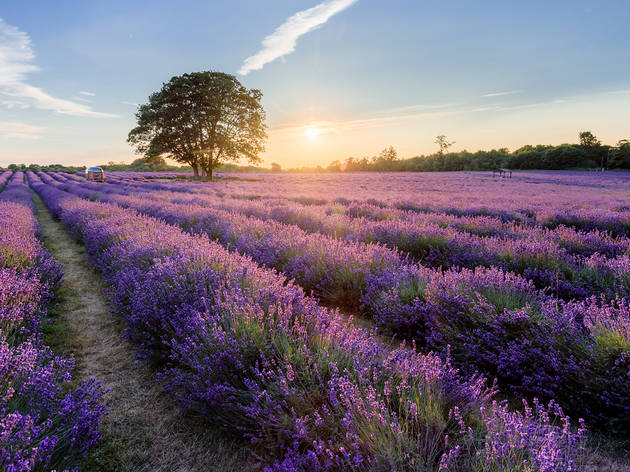 Photograph: Shutterstock
Mayfield Lavender Farm, Surrey
This 25-acre farm just south of London started as the passion project of the managing director at a fine fragrances brand, though he eventually retired from the corporate world to run it full-time. During summer its incredibly Instagrammable fields get pretty busy, with the farm running a competition for the best photos taken each year.
On-site, you'll also find an alfresco café serving lavender cream teas, paninis and the farm's own lavender cider, as well as a gift shop selling oils, toiletries and all sorts of foodie treats including lavender liqueurs, teas and shortbread.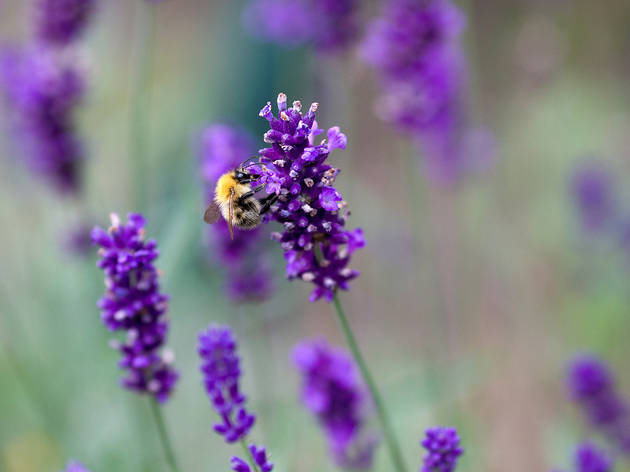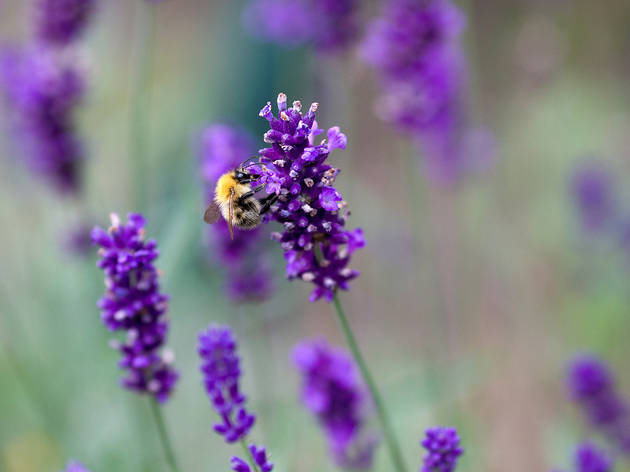 Photograph: Shutterstock
Lothian Lavender, East Lothian
Based on a family farm below the Lammermuir Hills in East Lothian, this small but picturesque lavender plot is harvested to produce a range of products including hand cream, soap and pillow mist – all of which are handcrafted in the adjacent workshop.
The field is open to visitors on special open days throughout the flowering season. They're announced via the farm's Facebook page.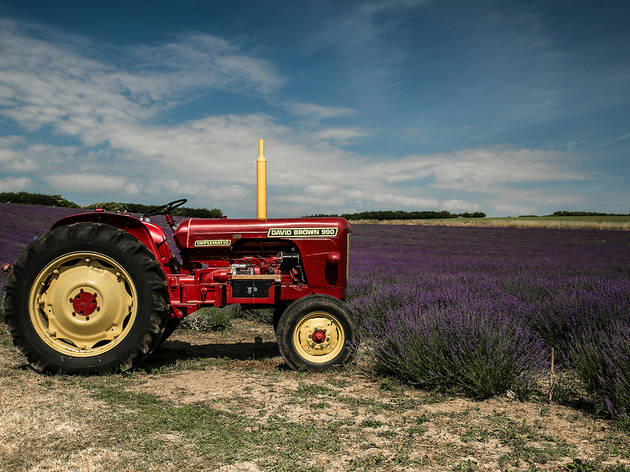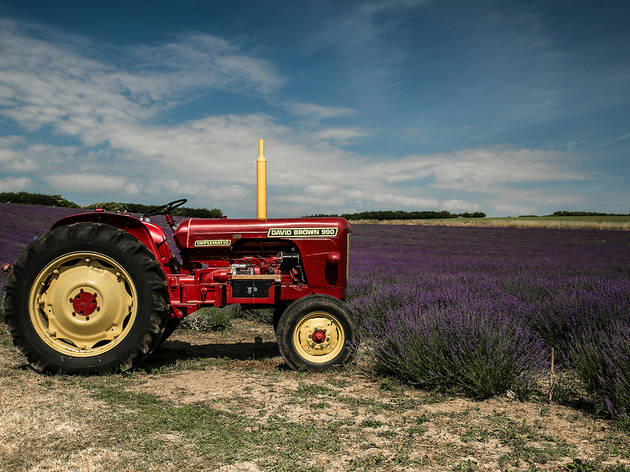 Photograph: David Whidborne / Shutterstock
Lordington Lavender, Sussex
Nestled in Sussex's South Downs, this former dairy farm now grows four acres of organic maillette lavender, used to produce toiletries and aromatherapy products. It welcomes guests for one week only each summer.
As well as opening during the day, the farm runs a series of evening events, where visitors can enjoy live music, drinks and a steak barbecue as the sun sets over the lavender fields. And for the real lavender lovers out there, the farm is available to book as a wedding venue.
More beautiful blooms you simply gotta see
From trees dusted with cherry blossom to woodlands swimming with bluebells, the UK is full of places to get an eyeful of beautiful blooms.
Best selling Time Out Offers