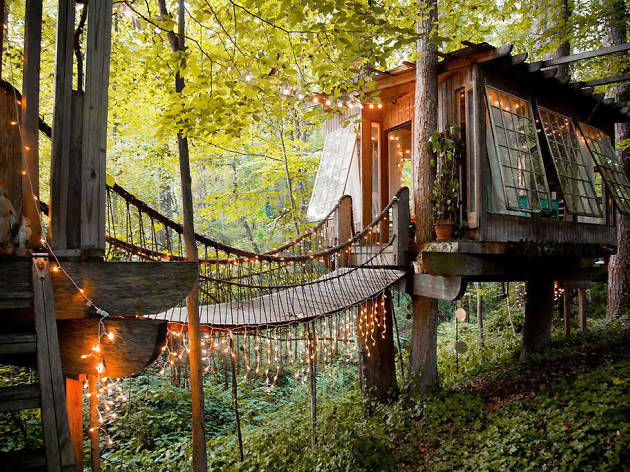 The most impressive Airbnb treehouses in the U.S.
Give into your inner kid and sleep close to nature when you rent one of these beautiful Airbnb treehouses in the U.S.
Craving some serious nature immersion right now? We're not surprised. Thankfully, rest and relaxation is on hand, with our selection of ten whimsical Airbnb treehouses in the U.S. Each of these treehouses offers a unique experience, so whether you're searching for water views, tropical climate or total off-the-grid forest seclusion, you'll find it here. They range from the simple and affordable to treetop luxury, from San Diego to the Adirondacks. So if you're planning a roadtrip, camping excursion or national park adventure, add these stunning outdoor-indoor accommodation options to your itinerary.
RECOMMENDED: The most unique Airbnbs in the U.S.
This article includes affiliate links. These links have no influence on our editorial content. For more information, click here.
Best Airbnb treehouses in the U.S.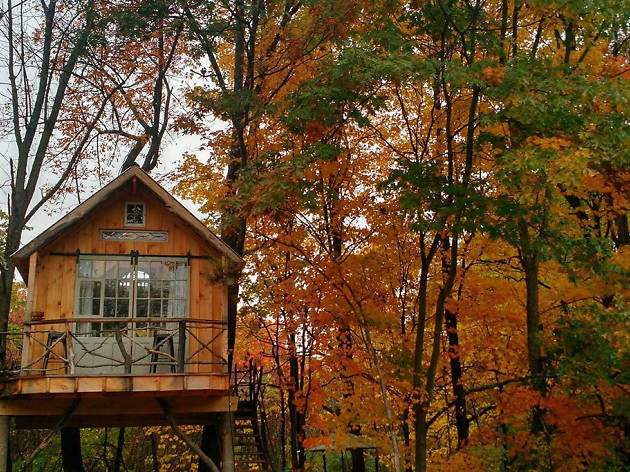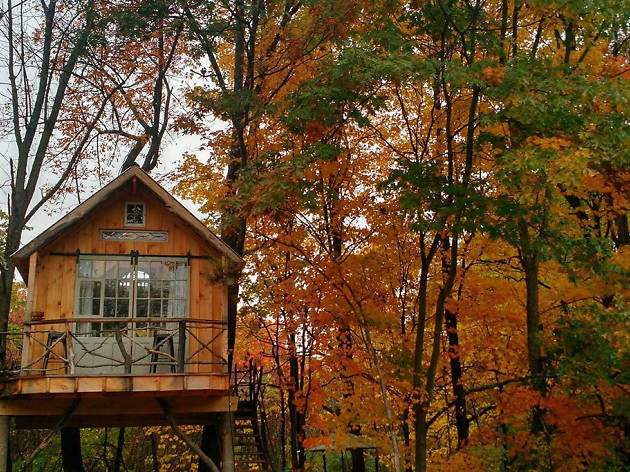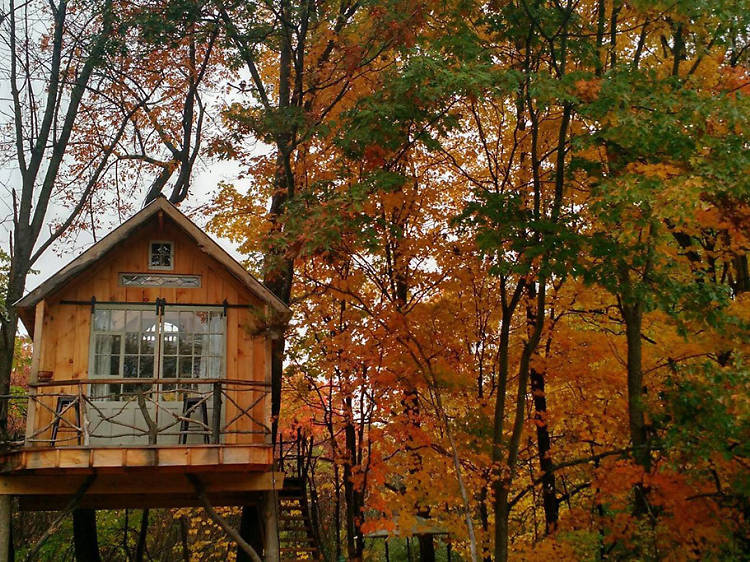 Photograph: Airbnb
1. Argyle, NY: The whispering wind treehouse
This treehouse just outside Glen Falls is totally off the grid: no electricity, no Wi-Fi and a sleeping loft with a clear roof. The light-filled space also boasts a cozy living room and an attached deck with cafe table. Guests have access to an outdoor kitchen, outdoor shower and all of the host's tranquil five-acre property. (And if you do need to plug in, you can do so at the host's nearby yurt).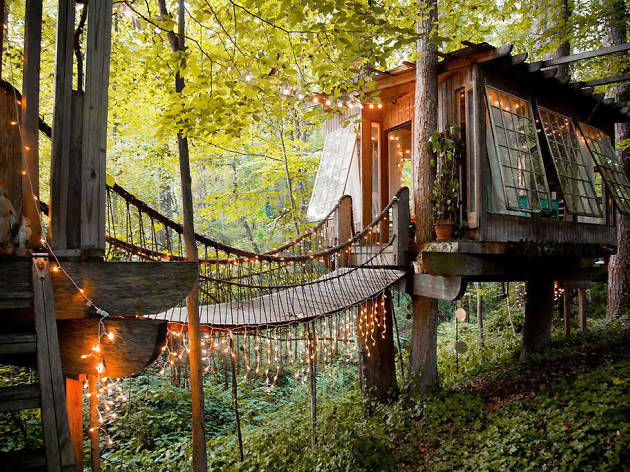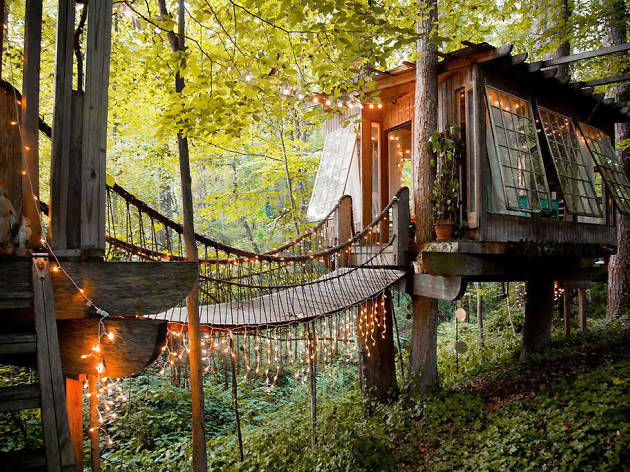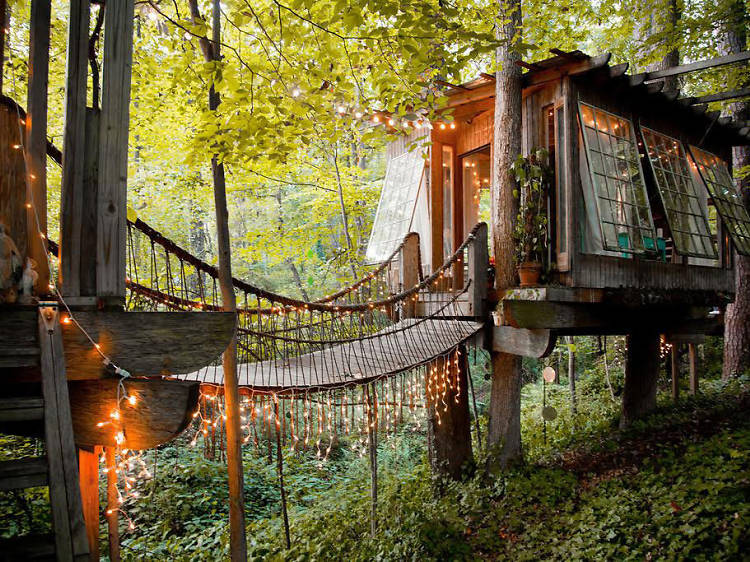 Photograph: Airbnb
2. Atlanta, GA: The Insta-famous treehouse
This pricy treehouse is Airbnb's most wish-listed property in the entire world. The dreamy space features three rooms connected by rope bridges hung with twinkling lights and a hammock deck built around "Old Man," a 165-year-old pine. The breezy, light-filled space is totally secluded, making for a relaxing, nature-filled stay you'll never forget.
Discover the best things to do in Georgia
Photograph: Airbnb
3. Bellingham, WA: The Pleasant Bay lookout
The spectacular view of the sparkling Salish Sea is the real star of this small, yet stylish Airbnb in Bellingham. Simplicity is key in this 121-square foot room, with an entire glass wall looking out from the trees and a generously sized terrace for admiring the view and the songbirds. The property is close to Chuckanut Mountain trails and beaches – but you'd be forgiven for simply sitting back in your treehouse and letting the setting wash over you. There's also access to the hot tub in the host's main house – what more do you need?
Photograph: Airbnb
4. Lyons, CO: The little red treehouse
This stunning red house built into the trees is a Colorado gem. A wraparound deck includes an umbrella-shaded breakfast nook that looks out over the land and an outdoor shower means you never have to stop admiring the view. A hummingbird feeder hung outside ensures a steady stream of tiny, fluttering guests all day long.
Discover the best things to do in Colorado
Photograph: Courtesy Airbnb
5. Park City, UT: The treehouse at 8,000 feet
The spacious two-story home is built into an enormous Douglas fir and outfitted with luxury finishings such as an electric fireplace, a full kitchen and an outdoor grill. In warm weather, hang out on the deck and peer over the nearby Unita mountains.
Discover the best things to do in Utah
Photograph: Airbnb
6. Miami, FL: The treehouse on a farm
The host of this spacious, finely crafted treehouse is a permaculture farmer whose Little Haiti property is populated by goats, emus, honeybees and more fauna. Nestled into a giant pithecellobium tree, the tri-level treehouse features wraparound balconies and an outdoor shower. Common areas include an outdoor kitchen, a volleyball court and coin-operated laundry.
Discover the best things to do in Florida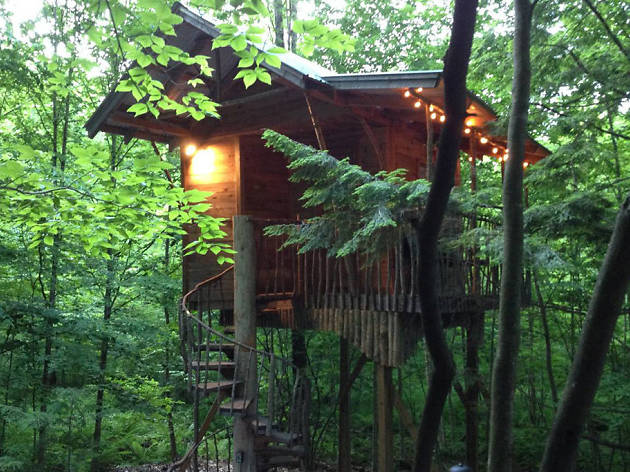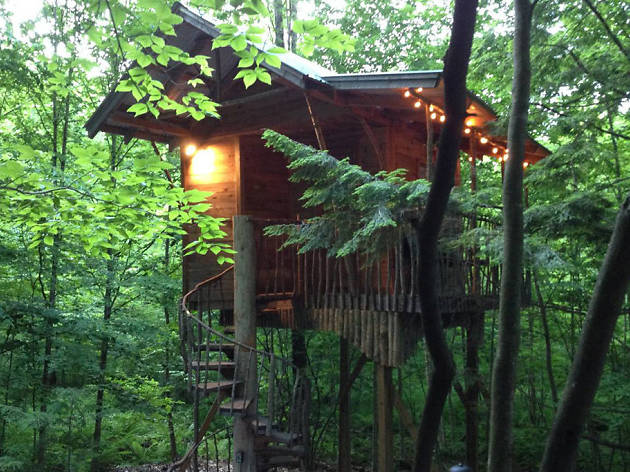 Photograph: Airbnb
7. Middle Grove, NY: The mountainside retreat
Nestled in the foothills of the Adirondack Mountains right near Saratoga Springs, this adorable treehouse is accessed by a spiral staircase and hung with twinkling strands of lights. Apart from the bedroom and attached porch, guests have access to shared areas, including a full bathroom and outdoor kitchen equipped with a charcoal grill. The area is ripe with great hiking trails, lakes and swimming holes for watery recreation.
Photograph: Courtesy Airbnb
8. Bend, OR: The floating bed
This unique treehouse has two bedrooms: a conventional indoor one, and a sleeping deck hung with a floating bed. Drift in the breeze as you sleep and awaken to the fresh air and morning birdsong. A little river floats lazily by the property, with some chairs on the bank for relaxing and observing the current while taking in the shade of the property's giant ponderosa pines.
Discover the best things to do in Oregon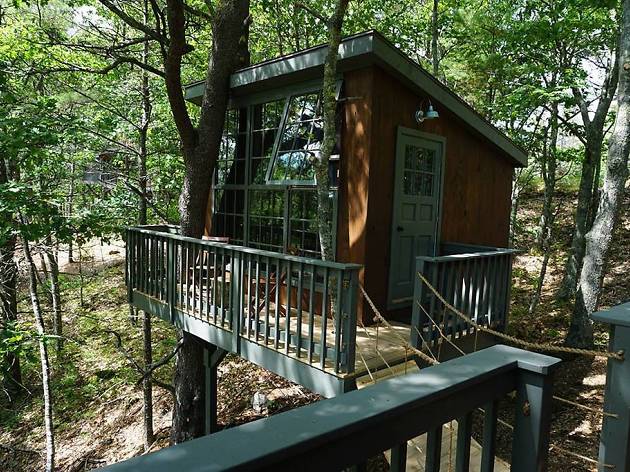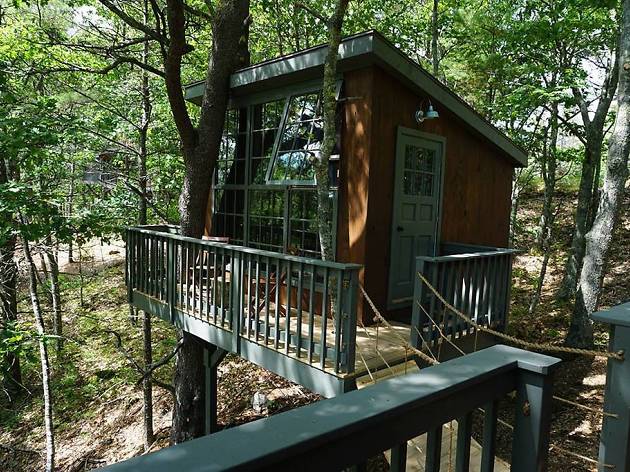 Photograph: Airbnb
9. Georgetown, ME: The treehouse with water views
There's no better time to visit coastal Maine than in fall, when the forests turn into a blush of rust and crimson and the cool air flows through the trees. Immerse yourself fully in this gorgeous setting by renting this custom-made treehouse, which consists of two elevated dwellings connected by a cute rope bridge. Relax on the screened-in porch overlooking Back River, then head out to explore the 21-acre property and nearby Reid State Park beaches. Kayaks and canoes are also included free of charge.
Discover the best things to do in Maine
Photograph: Courtesy Airbnb
10. San Diego, CA: The tropical treehouse
Located just a short walk away from downtown San Diego, this in-tree oasis boasts an outdoor living room chock-full of colorful, overstuffed easy chairs, a working fireplace and stunning views of San Diego Bay (the shower is also outside, so you can soak in views while you scrub). Guests have access to a completely renovated kitchen as well as several flower-filled common areas, one boasting a big propane grill perfect for impromptu BBQs.
Discover the best things to do California
Need more travel inspiration?
Winter is here, but the getaways don't have to stop.
Warm weather isn't as far away as you might think.