As folks around the United States reckoned with a pretty different holiday season—one mostly devoid of extended family meals, hugs and cross-country trips—they found solace in what will arguably be remembered as the very best transition into a new year: Shonda Rhimes' first Netflix effort, Bridgerton.
RECOMMENDED: Starbucks just added two (extra-sounding) new winter drinks to its menu
Among the variety of heart-warming and time-filling shows that defined a 2020 that most of us would like to forever forget, Bridgerton stands out as just the right mixture of entertaining, soap-opera like romance, period costumes, beautiful scenery, sexy accents and—well—sex to help us drift away from the everyday catastrophes that have been dominating our TV screens for close to a year now.
The 8-episode period drama based on Julia Quinn's novels focuses on London's high society world, specifically looking at the debutante season through the eyes of the very rich and very good looking Bridgerton family. Daphne Bridgerton (Phoebe Dynevor) is the eldest daughter who makes her splash into society at the start of the first episode. Searching for a husband has never looked sexier: with her defining short bangs (sorry, we had to mention those), Daphne meets, greets, waltzes and baroque steps with a slew of potential suitors but she just can't keep her eyes off the at-first emotionally unavailable and oh-so-good-handsome Simon Basset, Duke of Hastings (Regé-Jean Page).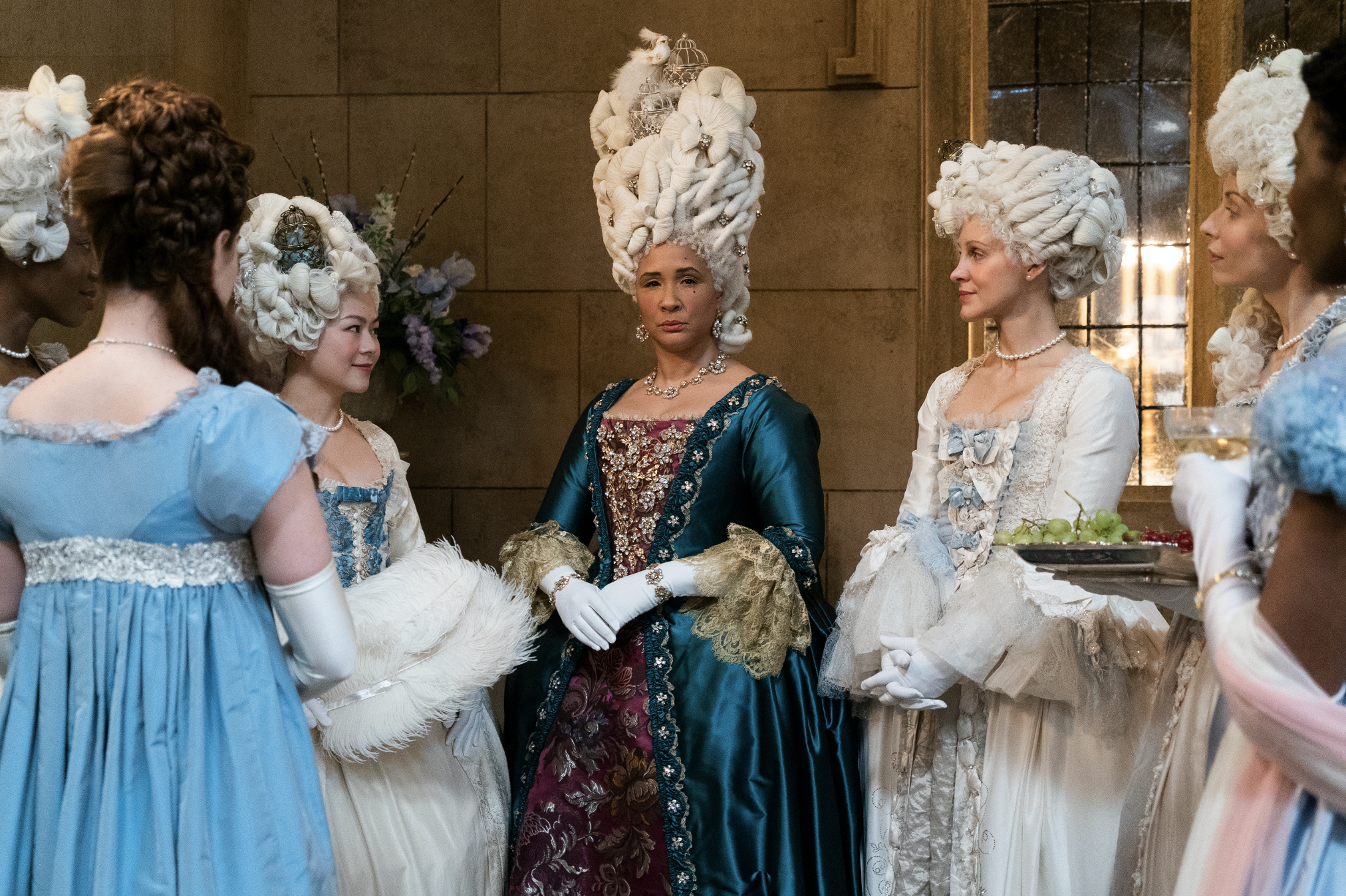 The obviousness of what happens next is one of the reasons why the show is so addicting: we're surrounded by unexpected turns of events in the real world... some predictability feels familiar and comforting these days—especially during these odd holidays. But plot line predictability doesn't seem to be the only aspect of the series that has contributed to its success: a setting so different both in time and geography from what any American is used to, aided by period costumes that are as magnificent as they are unfamiliar, turn each episode into the very definition of escapism. We're stepping inside a world not only free of lockdown measures, petrifying viruses and sought-after vaccines, but also filled with colors and passions that remind us of an existence that once was.
Although cagey about specific numbers, Netflix's recent comments about the popularity of the series clearly reflect its broad appeal. According to Variety, the Shondaland-produced series has reached the number one spot on Netflix's top 10 ranking in the United States and about 70 other countries. Overall, the outlet reports that Bridgerton is projected to reach 63 million households within a mere month of its debut.
But, maybe, those statistics aren't solely reliant on the dreamy quality of the show. At its finest, Bridgerton has been praised for its race-blind casting. A White Daphne falls for a Black Duke and—at least during the first half of the production—the interracial pairing is treated as a mere fact. No conversations about diversity feel needed, audience members focusing on other aspects of the show, which paints a world in which racism isn't even an after-thought. What's more: The most powerful person in the depicted social order, Queen Charlotte (Golda Rosheuvel), happens to be a Black woman.
And, perhaps, the draw of Bridgerton for American audiences is just that: a beautiful, different world in which black lives really matter, protests for basic rights aren't needed and society order is independent of skin color. Upon the start of 2021, that fictional, fantastical world order is all we can wish for our country and beyond.
Most popular on Time Out
- Fall in love all over again with these unexpected, romantic getaways in the USA
- The most stunning castles in the U.S. for pretending you're in Europe
- The darkest, clearest places to stargaze in the U.S.
- These U.S. cities will make you feel like you're in Europe
- The most romantic, under-the-radar honeymoon destinations in the U.S.