Knowing that this month's sky will host multiple meteor showers, we started wondering if there were any hotels where you can stay to really get a good look at them. It turns out, there's a whole International Dark-Sky Association that has designated Dark Sky Places and the places you can stay within them. (It's like the Good Skykeeping Seal of Approval!)
At these areas, you can be reassured that light pollution won't interfere with your sprawling vista of the heavens and all the fascinating constellations, nebulae and planets. As of January, there are 195 certified International Dark Sky Places in the world, and some of them have hotels or other lodging positioned right inside them. Here's a look at three different ones in the US, found in midwest, the west and the east coast.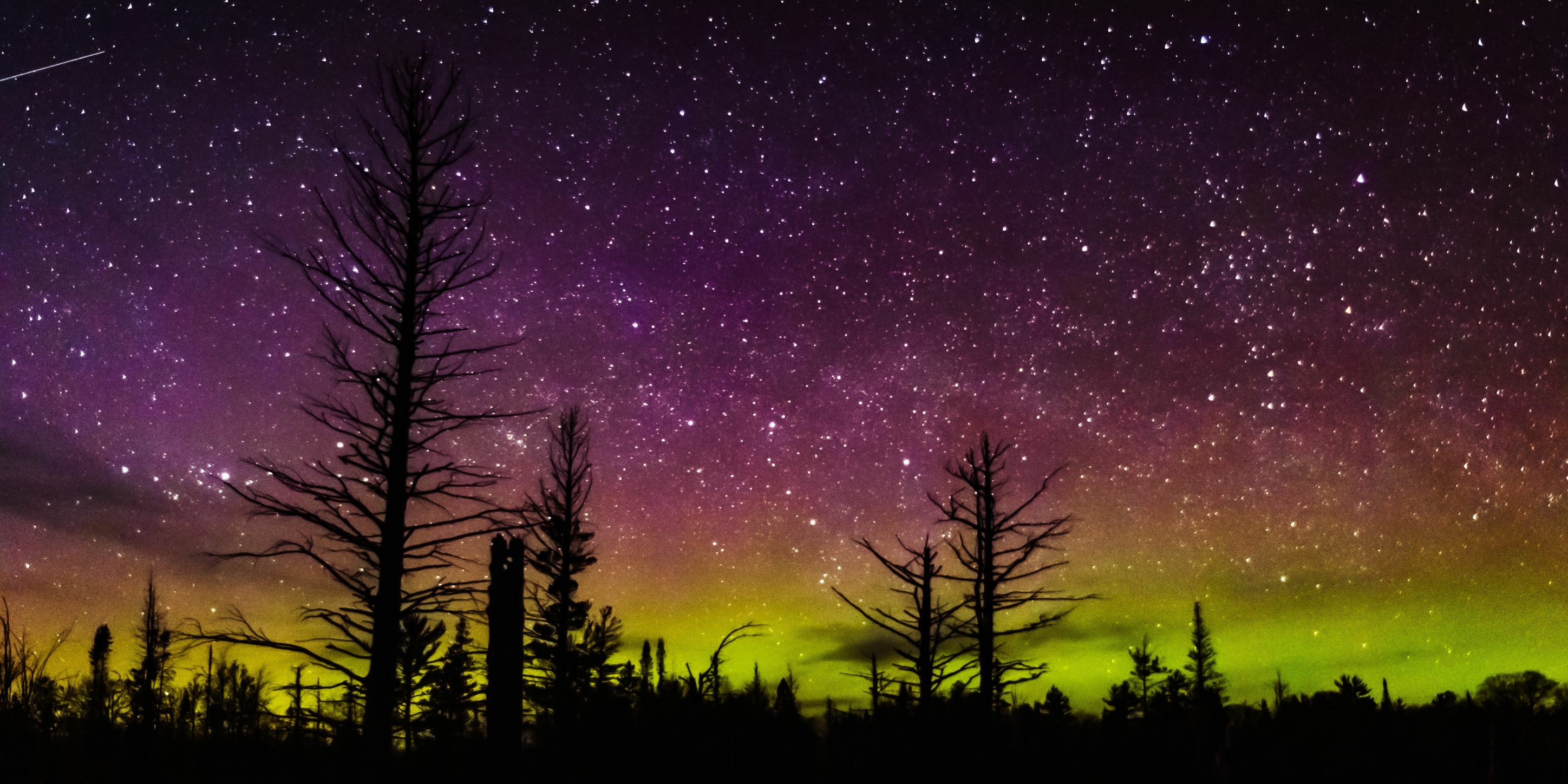 First, we want to look at the Keweenaw Mountain Lodge in Copper Harbor, Michigan. This historic property built in 1934 is a rustic lodge with prix-fixe dining crafted by a Lebanese-American chef, and log cabins open year-round with contactless check-in. The 24 WPA-built cabins are all slightly different, and small dogs are welcome for a fee. The best part, of course, is access to an incredible wilderness and the vast expanse of dark skies above. With very little artificial light in the Keweenaw, a peninsula that juts into Lake Superior, the lodge offers spectacular viewing. Some of its offerings include moonlit snowshoe hikes, night sky photography workshops, new moon parties, and more. The property can also be accessed at night for stargazing by those who aren't staying at the lodge. You can borrow a telescope through the telescope lending program and access a map with best viewing locations. The lodge prefers that you use a red flashlight to walk around the grounds to not interfere with others' stargazing; you can borrow one if you don't have one. Moreover, the top of the Keweenaw is an excellent vantage point for seeing the Northern Lights between October and April (props to the lodge for its website warning, 'There isn't a light switch which turns on the lights.') The lodge is working on a webcam that in the future will show online viewers the stars and the Northern Lights. But of course it's best to go in person.
Next, the ADERO Scottsdale Resort, Autograph Collection, in Scottsdale, Arizona, is a more luxurious way to experience the constellations in this certified Dark Sky Community. It's a AAA Four Diamond resort perched with views over the Sonoran Desert, and high-definition telescopes at the hotel are aimed to best capture stellar phenomena. The town of Fountain Hills has membership in the Dark Sky Association and puts on events relates to stargazing. Soon, the city will host a 15,000 square foot International Dark Sky Discovery Center with an observatory and planetarium. Currently, the hotel offers nightly stargazing and outings over its 17-acre sprawl (its neighbor is the SunRidge Canyon Golf Course). There are 177 rooms with 16 oversized suites with private balconies to stargaze and contemplate the desert's beauty. The onsite restaurant Cielo offers American dining with a 'farm to table to sky philosophy' and views of the McDowell Mountains.
And finally, at the historic Gorman Chairback Lodge and cabins in Greenville, Maine, you'll be earning your right to contemplate that expansive sky if you visit in the winter. Why? To get there, you need to ski, snowshoe or (get this) dogsled in. But it sounds amazing. Starting at Gorman's 35 miles of groomed trails, you can cross-country ski or snowshoe 'hut to hut' to the Little Lyford Lodge and the Medawisla Lodge. There are no linens so you'll have to bring a down sleeping bag, but your car and your luggage will be shuttled between the lodges so you don't have to backtrack. Breakfast, a trail lunch and dinner are included. It'll be quite the adventure as GPS is unreliable so deep in the woods, and you'll need studded snow tires or a 4WD vehicle (and logging trucks have the right of way!). You'll be deep in the heart of the Maine's '100 Mile Wilderness' on the shores of Long Pond, on Gorman's spirit-calming 66,000 acres of forestland permanently conserved by the Appalachian Mountain Club. The AMC Maine Woods International Dark Sky Park is the only designated sky park in New England.

Dark skies are wonderful for stargazing and connecting with larger thoughts about our role in the universe. And preserving its darkness by reducing ambient light pollution improves wildlife habitats and reduces death for migrating birds, says Outdoors.org. Around 1 billion migrating birds die each year because they get confused by city lights and lose navigational skills. We humans, too, fare better with dark skies: we produce more cancer-fighting melatonin and sleep better.