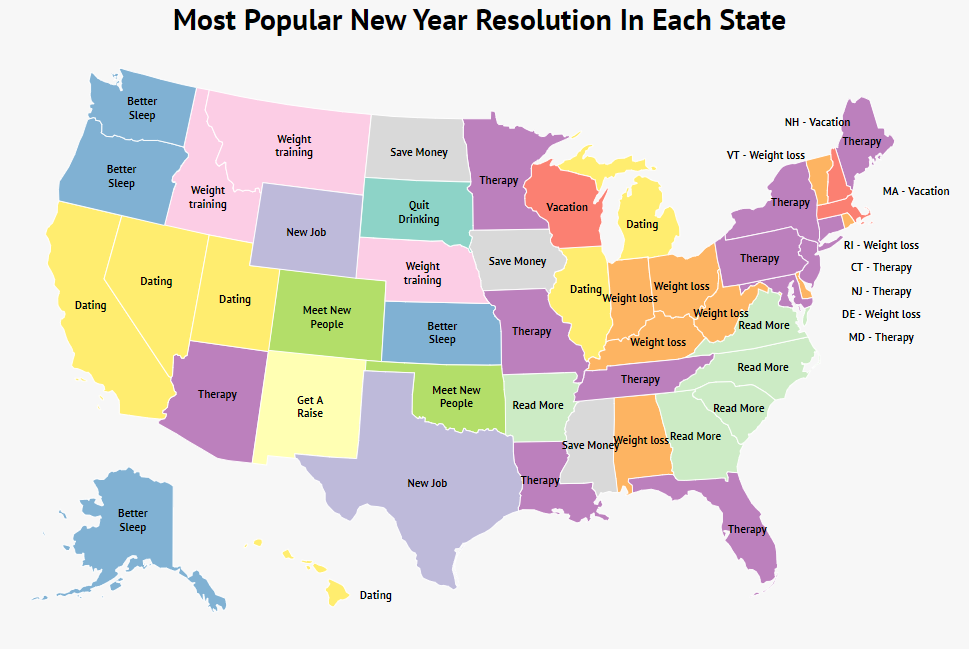 Spoiler alert: A whole lot of Americans are looking to go into therapy this year—at least according to a new map by career website Zippia highlighting the most popular new year's resolution in each state.
RECOMMENDED: Every single national park will be offering free entry on these 6 days in 2021
The company delved into Google Trends data to come up with the results, specifically examining "search queries related to common new year's resolutions, such as 'weight training' and 'weight loss.'"
Overall, going to therapy seems to be the most popular go-to option across the land—the top pick in 12 states. The runner-up (pretty unsurprisingly) is weight loss, with a total of 8 states mentioning it as their goal.
But here's some data we found to be pretty interesting: folks in Arkansas, Georgia, North Carolina, South Carolina and Virginia vowed to read more throughout 2021. That's a resolution we can wholeheartedly get behind!
Sadly (or, perhaps, truthfully), four states (Alaska, Kansas, Oregon, Washington) mentioned "better sleep" as their 2021 goal.
Feel free to look through the map above and, below, we've got a state-by-state breakdown for you. Happy new year to all and here's to hoping that all our resolutions become realities!
Alabama: Weight loss
Alaska: Better sleep
Arizona: Therapy
Arkansas: Read more
California: Dating
Colorado: Meet new people
Connecticut: Therapy
Delaware: Weight loss
District of Columbia: Dating
Florida: Therapy
Georgia: Read more
Hawaii: Dating
Idaho: Weight training
Illinois: Dating
Indiana: Weight loss
Iowa: Save money
Kansas: Better sleep
Kentucky: Weight loss
Louisiana: Therapy
Maine: Therapy
Maryland: Therapy
Massachusetts: Vacation
Michigan: Dating
Minnesota: Therapy
Mississippi: Save money
Missouri: Therapy
Montana: Weight training
Nebraska: Weight training
Nevada: Dating
New Hampshire: Vacation
New Jersey: Therapy
New Mexico: Get a raise
New York: Therapy
North Carolina: Read more
North Dakota: Save money
Ohio: Weight loss
Oklahoma: Meet new people
Oregon: Better sleep
Pennsylvania: Therapy
Rhode Island: Weight loss
South Carolina: Read more
South Dakota: Quit drinking
Tennessee: Therapy
Texas: New job
Utah: Dating
Vermont: Weight loss
Virginia: Read more
Washington: Better sleep
West Virginia: Weight loss
Wisconsin: Vacation
Wyoming: New job
Most popular on Time Out
- Starbucks just added two (extra-sounding) new winter drinks to its menu
- Shake Shack has launched Korean-style Fried Chick'n in the U.S.
- Take a closer look at McDonald's three new fried chicken sandwiches
- Did you know you can donate your recycled Christmas tree to a goat to eat?
- 'Bridgerton' on Netflix is what the U.S. needed this holiday season