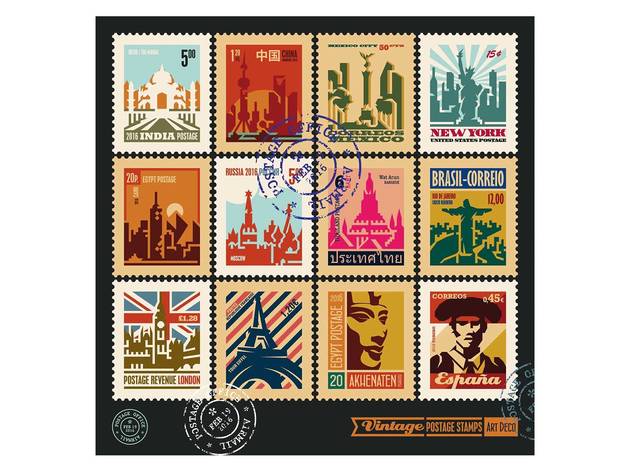 Why are people all across the country buying stamps right now?
Let's #saveUSPS together.
Posted: Tuesday April 14 2020, 10:41am
As industries around the country have been benefiting from cash stimulus plans and business loans, the United States Postal Service (USPS) has, unfortunately, not been doing so well. Following a drop in revenue that's been years in the making, the service has asked Congress for funding to continue properly delivering Americans' mail, especially during these harsh times.
Although the government's help remains fundamental, in true American spirit, folks all across the country have been showing their appreciation for postal workers by buying endless amounts of stamps and taking to social media to praise the postal system as a whole and their trusted mailmen in a variety of creative ways.
After all, while we're spending more time at home, packages that we receive in the mail have somehow attained an aura of euphoria. They have become happy daily distractions—so why not pay homage to the people that allow for them to reach our front doors?
Check out the USPS store and grab some stamps—from the classic to the original—and then take to Twitter to virtually clap your hands at postal workers around the country. That's exactly what the people below have been doing:
#USPostalService My dad, Mailman Mike Tedesco, Syracuse NY. Probably early 1960s. Honest, modest, dependable and true.

Still kickin' at 98. pic.twitter.com/6soCLlkvik

— Bill Tedesco 🌊 #Resist (@tedescobill) April 12, 2020
I thought I was the only one working today but the U.S. postal service is out working on Easter .
I was shocked.. #USPostalService pic.twitter.com/YMDQ6WG57O

— Michael (@mcmmm25) April 12, 2020
#USPostalService 26 years of service & just helped coordinate delivery of 25,000 Chrome Books for public school students K-12 to maintain education while schools remained closed for #COVID19 We are essential & over 225 years the life line in rural communities #USPostalService pic.twitter.com/wB8hlJA8KL

— realKY Derby Divas (@KYDerbyDiva) April 12, 2020
I've been trying all day but I finally did it. I bought stamps online. #USPostalService pic.twitter.com/2EO8J6DMrd

— Stephanie Smith, RRT (@stephsmith) April 13, 2020
Since #USPostalService is trending.
Here's EJ.
He's been my mailman for years.
Out here in pandemics & hurricanes.
Looking fine. pic.twitter.com/yjTCz3UM6V

— dawn renee (@SteelCityDawn) April 12, 2020
My mom was a single woman w/3 kids who struggled to make ends meet. For decades she delivered mail for the #USPostalService in the scorching heat, the pouring rain, with a bag way too heavy, she even delivered mail in our neighborhood bec she couldn't afford daycare. #saveusps pic.twitter.com/ju9L4Sbs7J

— InMinivanHell (@inminivanhell) April 12, 2020
I keep thinking about this @99piorg episode about the #USPostalService being the only entity that is required to deliver mail to *all* Americans, even the ones who live at the bottom of the Grand Canyon or in the Mojave Desert: https://t.co/t2WHsUf40w#SaveThePostOffice pic.twitter.com/vEAnnGoEJE

— Mandy Van Deven (@mandyvandeven) April 12, 2020
I just bought a book of Marvin Gaye stamps on https://t.co/BJB94tn1cK because, among other things, I want to be able to vote by mail.
Let's all buy stamps today and save the Post Office. #SaveUSPS #buystamps https://t.co/4q0PxvJRzo pic.twitter.com/u2LYMRasVR

— (((Claudia Miles❄️))) (@claudiamiles) April 12, 2020
No better time for small yet meaningful gestures; thank your local #USPostalService carrier. Then, get online and buy a book of stamps or two, because #USPS_is_essential. pic.twitter.com/OgbMe7qGaN

— jaime (@dissentingdrjc) April 13, 2020
Veteran letter carrier Tom Riley's unforgettable journey that touched many lives! Tom was 17 when he joined the Air Force. After retiring from the Air Force in 1963, he joined the #USPostalService as a carrier. Tom has written more than a dozen books. https://t.co/0Jo6YDOBAV #1u pic.twitter.com/FjFFryNkt3

— Letter Carriers (@NALC_National) April 12, 2020
Here's why we should #SaveThePostOffice:

The Postal Act of 1792 (signed into law by George Washington) made the decision that the post office would serve every community regardless of costs. pic.twitter.com/DHyyASOtwo

— Mehrsa Baradaran (@MehrsaBaradaran) April 10, 2020
Most popular on Time Out
- Take a guided meditation class with actual sheep right now
- You can now name the first baby sloth born at the Virginia Zoo
- Here is what people have been asking Google this week
- Learn how to draw with Faber-Castell, maker of the world's best artist pencils
- Chrissy Teigen dropped her recipe for chocolate orange rice pudding and it's the comfort food we all deserve
Share the story