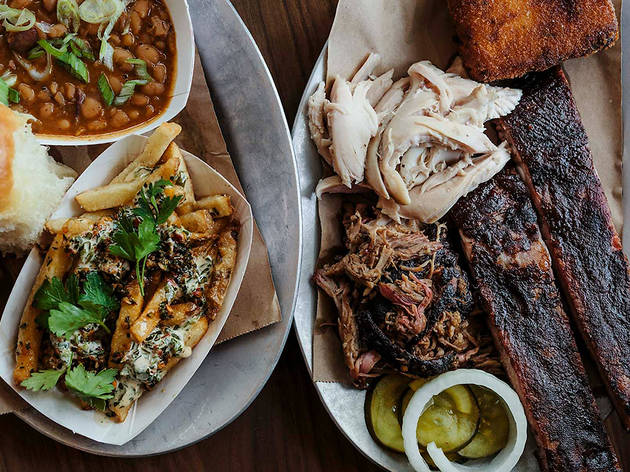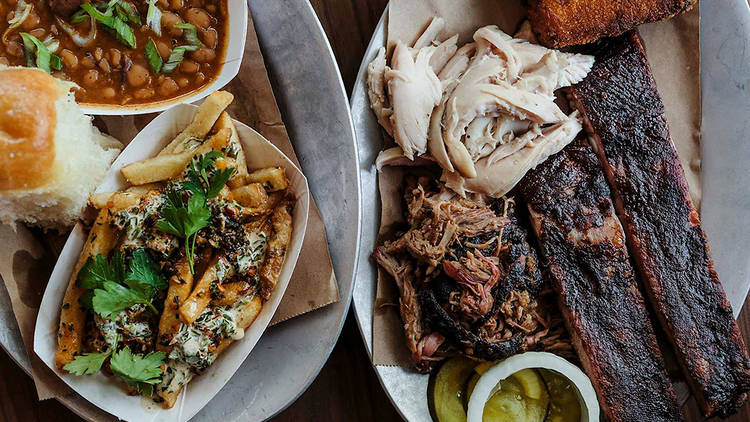 The 28 best BBQ restaurants in America
Feast on saucy smoked ribs, brisket, pulled pork and slow-cooked meat at the best BBQ restaurants in America
Few native food traditions are as robust as America's obsession with barbecue: highly seasoned, long-smoked meats that arrive on the plate tender, juicy and irresistible. BBQ has its roots in the South, but luckily for meat lovers everywhere, authentic smokehouses have proliferated across the nation. While it's possible to find barbecue-style dishes at the best diners in America, the best steakhouses in America and even at the best brunch restaurants in America, when the craving strikes we go straight to the source. From roadside shacks to sprawling eateries serving saucy smoked ribs, brisket and pulled pork, here are the best BBQ restaurants in America.
Best BBQ restaurants in America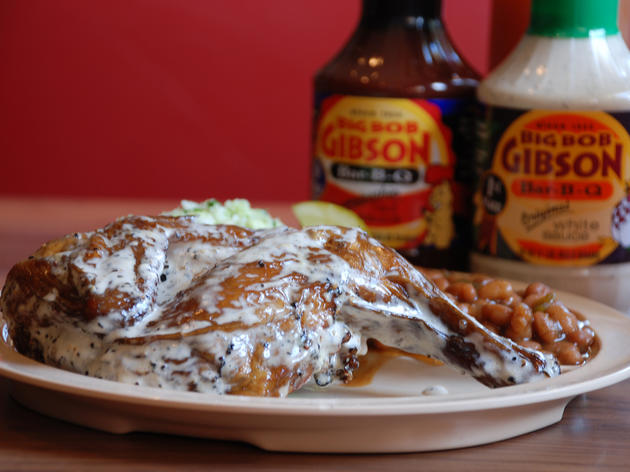 Photograph: Courtesy Big Bob Gibson Bar-B-Q
11. Big Bob Gibson Bar-B-Q in Decatur, AL
Pit master Chris Lilly is a legend in barbecue circles. He has taken 10 World BBQ Championships and six world titles at the Memphis in May 'cue cook-off. Lilly helms the hickory at 90-year-old institution Big Bob Gibson, best known for smoky barbecue chicken in his trademark tangy white sauce. Never one to let smoking coals lie, Lilly later introduced traditional red sauce at Big Bob Gibson—and promptly took home the American Royal prize for the world's best barbecue sauce.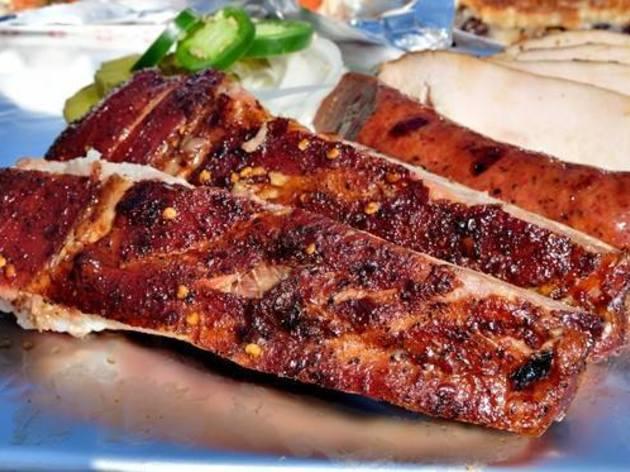 Photograph: Courtesy CorkScrew BBQ
12. CorkScrew BBQ in Spring, TX
Served out of a colorful trailer just north of Houston, CorkScrew serves up beautifully smoky brisket, spicy sausage, ribs and smoked turkey, and you can get them in a platter or turned into sandwiches or tacos. (Yeah, tacos may not be traditional, but roll with it.) Then add a slice of pie, and sit down to a feast at the cluster of picnic tables.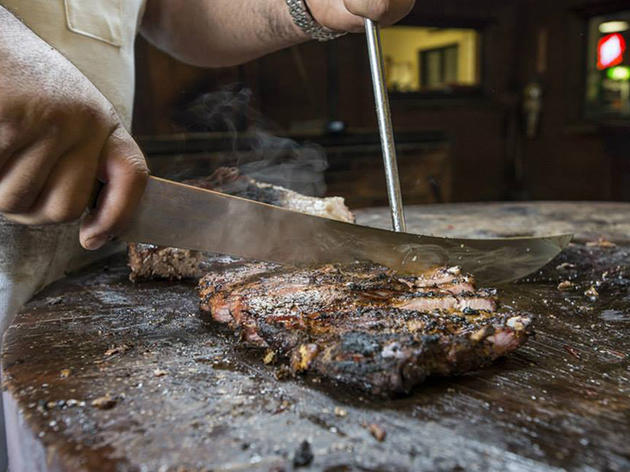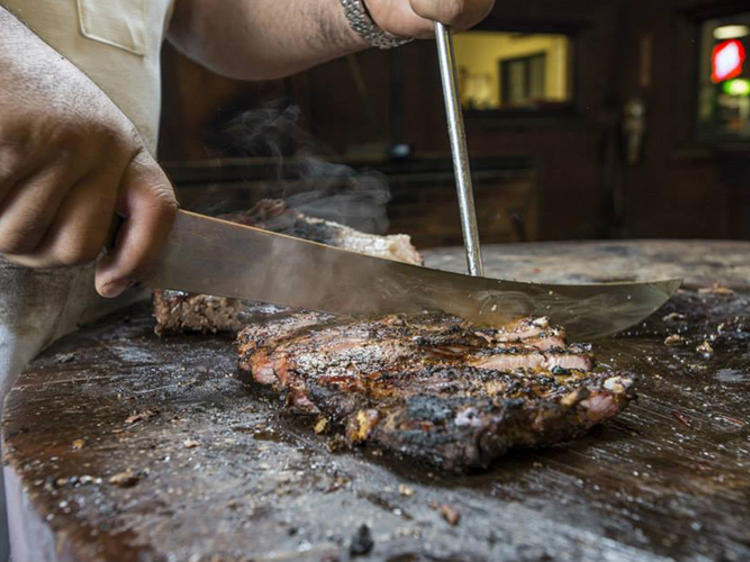 Photograph: Courtesy Kreuz Market
13. Kreuz Market in Lockhart, TX
Anyone seriously into Texas barbecue makes a pilgrimage (or just moves) to Lockhart, a tiny town between Austin and San Antonio, where you'll also find Smitty's Market and Black's Barbecue dishing up classic 'cue. Kreuz may not have the charming old-school ambiance of Smitty's (which occupies the former's original premises), but it's been around since 1900, so they've had time to figure out how to master fat-laced brisket and meaty, juicy sausages.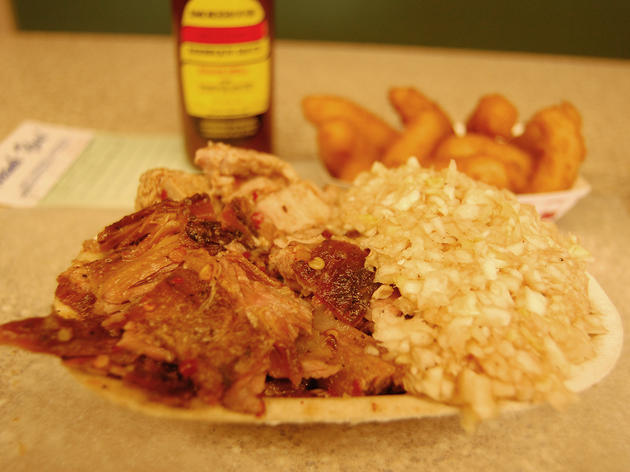 Photograph: Courtesy Creative Commons/Flickr/Southern Foodways Alliance
14. Lexington Barbecue in Lexington, NC
Since 1962, Piedmont-area mainstay Lexington Barbecue has been producing tangy pork barbecue sandwiches, served sliced or chopped (or, for the ravenously committed, one of each). Occasionally referred to as "The Honeymonk" after the owner Wayne Honey Monk, the roadside spot roasts pork shoulders over hickory and oak coal, giving them a sweet, toasted taste that's subtler than their smoky brethren. Don't skimp on the tart, cider vinegar-based cabbage slaw, which locals scoop directly atop sandwiches.
Photograph: Courtesy Creative Commons/Flickr/Southern Foodways Alliance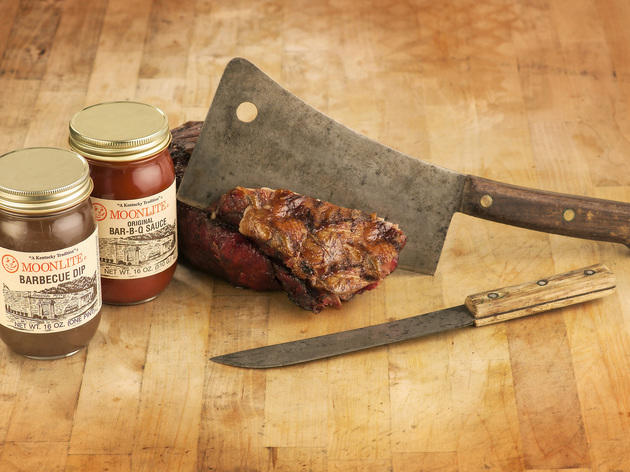 Photograph: Courtesy Moonlite Bar-B-Q Inn
15. Moonlite Bar-B-Q Inn in Owensboro, KY
Uninitiated outsiders may not consider Owensboro a barbecue hub, but Moonlite presents a strong counterargument. The enormous establishment combines a lunch and dinner buffet, an à la carte dining room and a takeout operation selling sandwiches and meats by the pound. The house specialty is Kentucky's hickory-smoked barbecue mutton, served sliced or chopped, alongside more traditional fare like ham biscuits, pork sandwiches, smoked catfish, corn muffins and lemon icebox pie.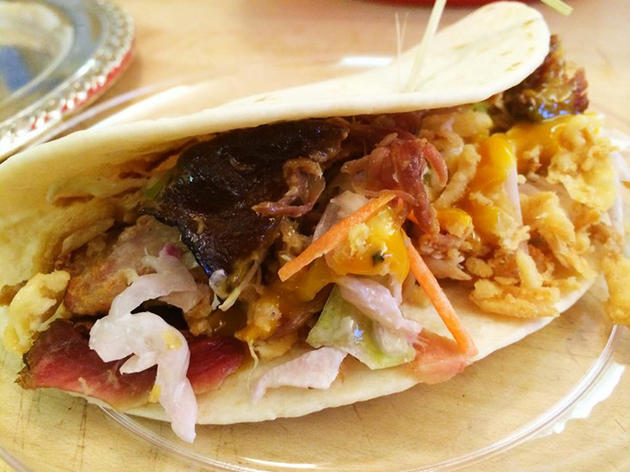 Photograph: Courtesy Doc's BBQ and Southern Buffet
16. Doc's BBQ and Southern Buffet in Columbia, SC
South Carolina has four regional barbecue sauce styles, and around Columbia, Carolina Gold reigns supreme. The sauce starts with yellow mustard and adds tang from vinegar and sweetness from honey and sugar. It's usually doused over pulled pork, and Doc's version is terrific. Eat as much as you want from the affordable buffet, which also stocks mac and cheese, collards and other staples.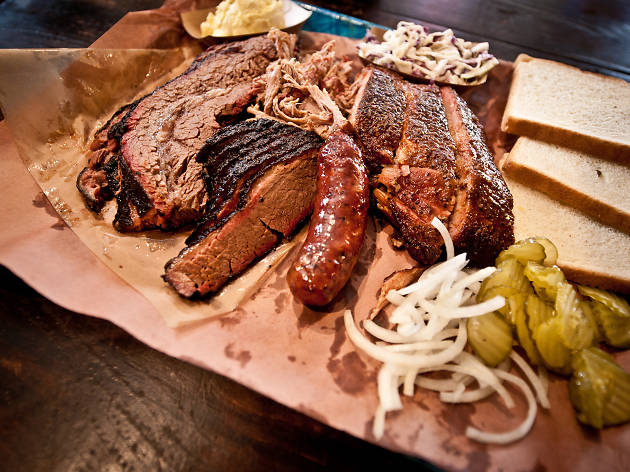 Photograph: Courtesy Franklin BBQ
17. Franklin Barbecue in Austin, TX
If there were an Austin award for "Most Hyped Restaurant," it would go to Franklin Barbecue. It might, in fact, be the most hyped in all of Texas. How could a barbecue joint reach this level of notoriety? James Beard Award winner Aaron Franklin honed his craft for years before opening the BBQ trailer that he quickly outgrew. The line started back then and hasn't stopped; the line starts at 6:30am every morning without fail—with waits up to four hours—and lasts until the food runs out. The brisket is seasoned and smoked to juicy perfection. The pulled pork will ruin your palate for any other pulled pork. Franklin's house-made sausage is spicy, flavorful and oozing with juices. The hype is real, and you should really believe it.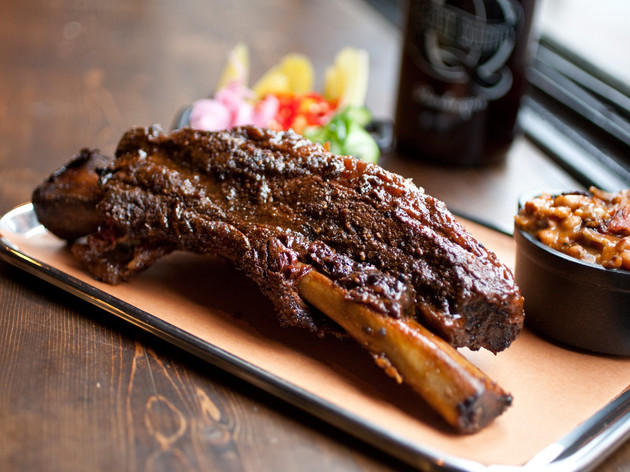 Photograph: Virginia Rollison
18. Mighty Quinn's in New York, NY
Drummer turned chef Hugh Mangum first hawked his Texalina (Texas spice meets Carolina vinegar) specialties at his immensely popular Smorgasburg stand. Now Mighty Quinn's has six brick-and-mortar locations. At the steel-tinged East Village location, black-gloved carvers give glistening meat porn a dash of Maldon salt before slinging it down the assembly line. Paprika-rubbed brisket, slow-cooked for 22 hours, boasts a quarter-inch smoke ring and a girdle of fat that will have your taste buds cheering. The thick campfire bark of the pulled pork elevates it from the usual saucy porcine slop you're used to, and the Jurassic-size beef rib is so impossibly melt-in-your-mouth tender, one bite will quiet even the pickiest of BBQ hard-liners.
Open since 2000, Frisco's oldest BBQ restaurant is a critical darling that's equally adored by local eaters and visitors from California and across the country. The Haight standby crafts true wood-smoked BBQ, slow-roasting its pork shoulder, beef brisket and andouille sausage over white oak logs for four to 18 hours. Don't forget to dip into excellent sides such as smoky beans, candied yams and rich mac 'n' cheese.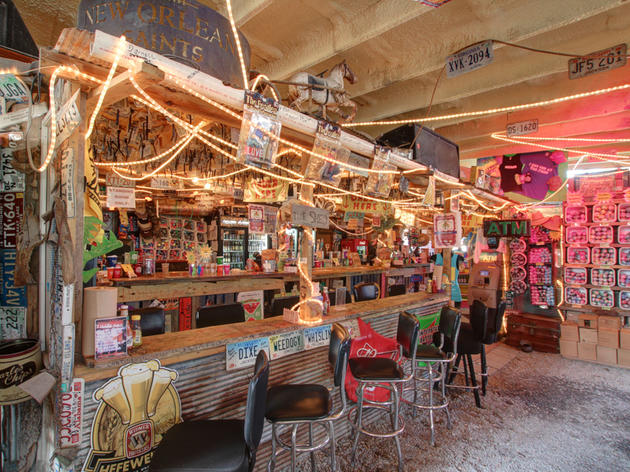 Photograph: Pivot Media LLC
20. The Shed Barbeque & Blues Joint in Ocean Springs, MS
A larger-than-life establishment with two branches 30 miles apart in southern Mississippi, The Shed began as a humble, family-run affair built from dumpster-diving spoils in 2002. The Ocean Springs original has grown from a one-room riverfront shack to a 9,570-square-foot campus, whose expansive digs include a stage that has been graced by the likes of T-Bone Pruitt, Voo Davis and the late Percy Sledge. (Performance schedules vary by venue, so check the website for upcoming shows.) House specialties include meltingly tender baby back ribs, plus pecan-smoked brisket and wings in sweet, largely tomato-based house sauces.
Show more
See the best BBQ restaurants in American cities
Best selling Time Out Offers