Heads up! We're working hard to be accurate – but these are unusual times, so please always check before heading out.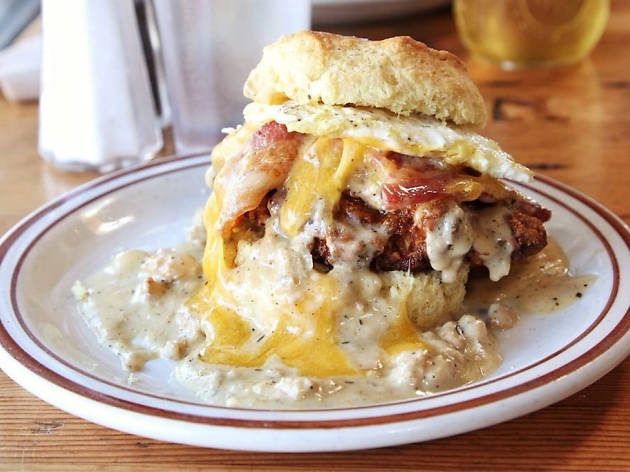 The best hangover food ever across America
Nurse yourself from too much drinking with the best hangover food in America, from burgers to grilled cheese
We've all been there, perhaps more often than we'd like to admit: hangover land, with blurry eyes and splitting headaches. The morning after a big night out with way too much drinking at one (or all) of the best wine bars in America is always rough and requires all to chow down on the salty, greasy fare that reliably loosens the vice from our skulls. Whether burritos at one of the best Mexican restaurants in America or smoky ribs at the best BBQ restaurants in America, these foods across the country will cure your hangover in no time.
Best hangover food ever in America
The mission burrito has its roots in 1960s California, but it went on to conquer the entire country: these massive, overstuffed "little donkeys" filled to bursting with rice, beans, guacamole, cheese and other ingredients are surely what come to mind when you think of the genre. While there are hundreds of taquerias in the Bay Area, many of which serve a killer burrito, we're partial to the bad boys plated at El Farolito, a staple on Mission Street since 1982. $7.75
Po' boy loyalty is fierce in NOLA: ask a dozen locals where they chow down on the loaded French bread sandwiches and you're likely to get 12 different responses. But many residents and tourists alike can agree that one of the very best is to be found at Parkway, a family-run joint that's been slinging excellent, seafood-piled po' boys since 1911. It's tough to decide between the fried oyster and fried shrimp iterations, but we usually go for the latter, the plump crustaceans sheathed in a crisp golden crust and tucked into an airy loaf and "fully dressed" with lettuce, tomato, pickles and mayo. $7.85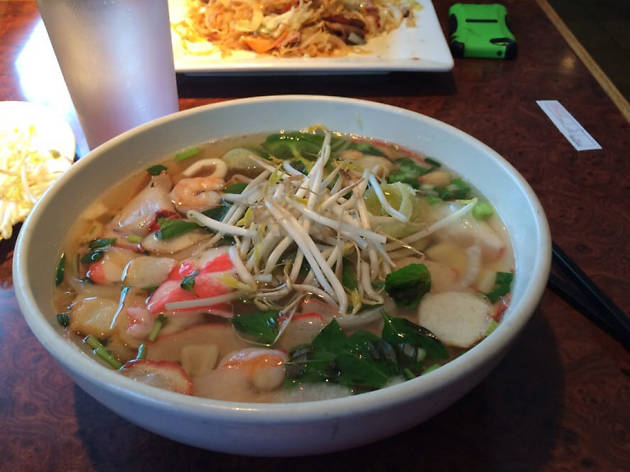 Photograph: Courtesy Yelp/Joella B.
3. Pho at iPho by Saigon in St. Paul, MN
St. Paul is home to the country's largest population of Hmong, an ethnic group hailing from mountainous regions of Southeast Asia, including Vietnam. Many of these immigrants have opened restaurants serving pho, that fragrant noodle soup that provides safe haven for hangover sufferers everywhere. While allegiances are divided amongst the area's many soup spots, we love this curiously named joint serving up deep bowls brimming with deeply fragrant broth, toothsome noodles and tender cuts of meat. Spritzed with fresh lime juice and loaded with bright herbs, they are surefire hangover-banishers. $6.50-$7.95
Photograph: Courtesy Yelp/Joella B.
Locals and visitors alike line up daily at this uber-popular biscuit pit stop, which originated as a roving food truck in 2012. Its buttery, super-flaky specialty graces a plate of steak and eggs, is made into French toast or sandwiched around hot chicken—but, when we're feeling groggy, we go straight for the Southern benny. The voluminous platter, a take on eggs Benedict, features a split biscuit smothered in sausage gravy, shaved country ham and two fried eggs. It'll fix you up in no time. $10
Located a mere 150 miles from the Mexican border, this San Antonio eatery is (unsurprisingly) highly influenced by its southern neighbor—albeit with a twist. Take, for example, the puffy taco: a hyper-local San Antonio specialty, it's neither a soft taco (like you'd find in Mexico) or a hard taco (which we Americans invented), but something in-between. Think of a fluffy, pillowy fried tortilla loaded with all the fixin's. It's hard to think of a better hangover cure than the glorious specimen served by Ray's Drive Inn, a 60-year-old spot where you can choose from fillings such as picadillo (seasoned ground beef) and a super-smooth guacamole, all buried under a mountain of lettuce, tomato and shredded cheese. $1.90-2.20
In the mid-1800s, Polish immigrants flocked to Pittsburgh to work in the city's exploding steel industry and, while their numbers in the 'Burgh have since dwindled, they've still left their mark on the city with a handful of little Eastern European shops, cafes and lunch counters. Our favorite is S&D, a grocery store located in a strip mall boasting a full-service deli counter plating fresh, hot stuffed cabbage, borscht and more. We love the plump pierogies, stuffed with fluffy mashed potatoes and cheddar cheese, farmer cheese, sauerkraut or mushrooms. Hangover tip: get 'em fried. $6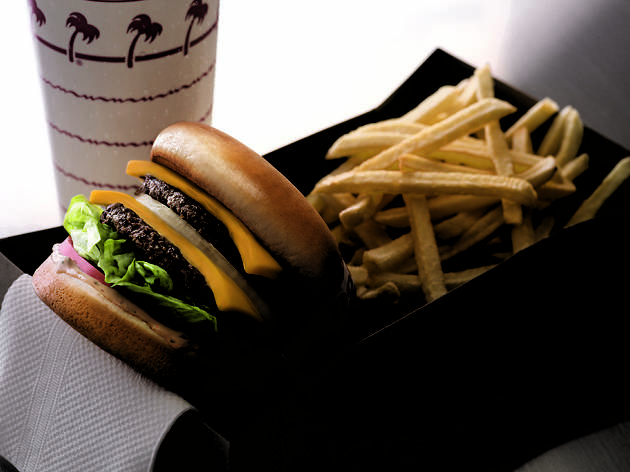 Photograph: Courtesy In-N-Out
7. Animal style burger at In-N-Out in California and other western states
Californians—as well as some lucky dwellers in Arizona, Nevada, Oregon, Texas and Utah—are rightfully fanatical about their home state's most well-known native burger, the griddled patties served at In-N-Out. A quintessential fast-food chainlet that opened in 1948 (and was California's first drive-thru), In-N-Out is still going strong with its straightforward menu of burgers, fries and shakes. Tame the morning-after blues with the patty of your choice gone "animal style," grilled with mustard, slathered with extra special sauce and heaped with grilled onions. Prices vary by location
This Lower Manhattan favorite is helmed by temperamental chef/owner Kenny Shopsin, as famed for his interesting approach to hospitality (his rules include no menu substitutions and no seatings for parties larger than four) as he is for his wild interpretations of comfort food classics. Shopsin's entire menu is stacked with items that would be more than appropriate for curing a hangover—think pastrami hash sandwiched between two mac 'n' cheese pancakes and short rib sliders on sourdough toast—but when we're feeling "under the weather," we go for the "So Good." A cheese sandwich that's soaked and griddled like French toast, it arrives as a double-decker stack topped with poached eggs. $16
Fans of Cuban cuisine flock to this Miami standby, serving up classic comida cubanasuch as ropa vieja, picadillo and mashed green plantains since 1971. Its convivial, expansive dining room hung with twinkling chandeliers is the perfect place to recover from a hangover while sipping sweet, hot cafe con leche and wolfing down one of the city's best Cubano sandwiches: sliced ham, roast pork and Swiss cheese pressed inside soft Cuban bread with mustard and tangy pickles. $6.50
Known as both a good-time town and a major foodie destination, it's no surprise that Portland is awash in great options for licking your day-after wounds, with great doughnuts and seemingly better coffee available all over the city. For a more savory cure to what ails you, head to Pine State Biscuits, one of Portland's most beloved brunch spots, for some exemplary biscuits stuffed with everything from flank steak to pulled pork and sausage gravy. We're partial to the Reggie Deluxe, a bronzed, flaky specimen split and layered with fried chicken, bacon, cheese and a fried egg, all doused in rich gravy. $9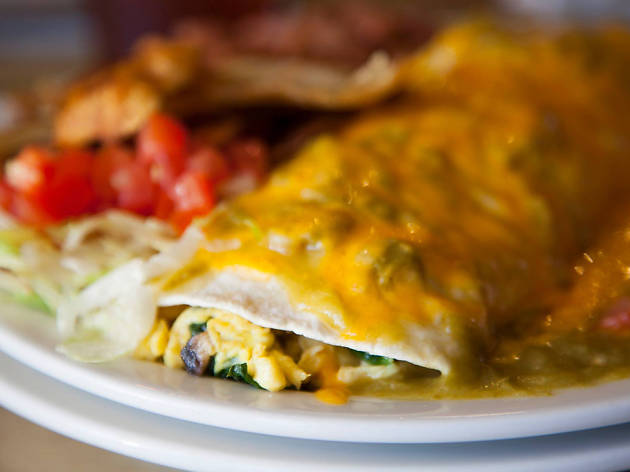 Photographer: L. D. McCleary
11. Breakfast burrito at Tecolote Cafe in Santa Fe, NM
We may call it Tex-Mex, but the soulful fusion cuisine proliferates all across the southwest. At breakfast, it reaches its apex at Tecolote, a family-friendly cafe in Santa Fe that opened back in the '80s. The breakfast burrito here is a classic: stuffed to bursting with eggs scrambled with your choice of breakfast meats, it's smothered in red or green chile sauce and tucked under a comfy blanket of melted cheddar. Hangovers don't stand a chance. $10.50
With its sheer concentration of places serving some of the best coffee in the nation, it comes as no surprise that Seattle is a doughnut-loving town. Options abound, from old-fashioned fryers to newfangled artisanal spots, but our sweet tooth favors this chainlet whose cafes feature retro decor and downright craveable doughnuts. Serving straightforward cake and yeast styles in flavors like apple fritter, chocolate glazed and Bavarian cream, the doughnuts are neither too light nor too dense, featuring just the right amount of sweetness. $1.29-$2.69
Ask any native Detroiter what the local hangover cure of choice is, and you'll get a resoundingly unanimous answer: a Coney dog. Named, of course, after the franks available on Brooklyn's boardwalk, a Coney dog features an all-beef frank loaded with chili, raw onions and a squirt of mustard. The dogs are notably slung downtown on West Lafayette Boulevard, where two neighboring—they're literally next door to each other—rival institutions sell thousands of dogs daily. The call between Lafayette and neighbor American Coney Island is a tough one, but our loyalties lie with the former, whose chili is perfectly balanced and just a little spicy. $2.35
Chockablock with watering holes serving the overworked political set, our nation's capital necessarily offers its fair share of curatives for the morning after, too. One of our favorite spots in town for a big plate of comfort food—and possibly a little hair of the dog, too—is Brookland's Finest, a brassy bistro in Northeast. Solly's Biscuits and Gravy—flaky cheddar biscuits smothered in maple sausage gravy and served alongside a heap of potato hash—is our hangover morning (er, afternoon) go-to. $12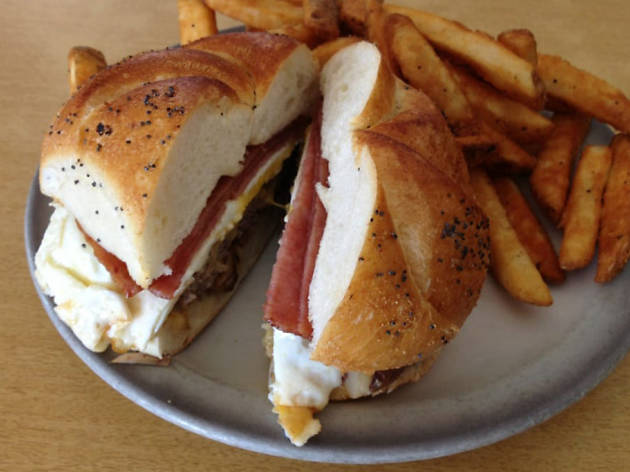 Photograph: Courtesy Yelp/Andrew G.
15. P&L Custom at Allenwood General Store in Allenwood, NJ
Move over, bacon: the breakfast meat of choice in New Jersey is the Taylor ham, colloquially known as pork roll. Cured, smoked and minced pork molded into a cylinder before being sliced and griddled, it's typically layered onto any number of breakfast sandwiches. One of the Garden State's favorite pork roll-slingers is Allenwood General Store, a homey spot with an entire menu section dedicated to the cold cut. One of the store's more extravagant offerings is the P&L Custom, a soft kaiser roll overloaded with sausage and bacon alongside the Taylor ham, plus home fries, eggs and cheese (yes, you read that right). $9
Photograph: Courtesy Yelp/Andrew G.