The 15 best ramen restaurants in America
Love the Japanese soup-noodle phenomenon? Then behold, broth-heads: the best ramen in America, from tonkotsu to mazeman.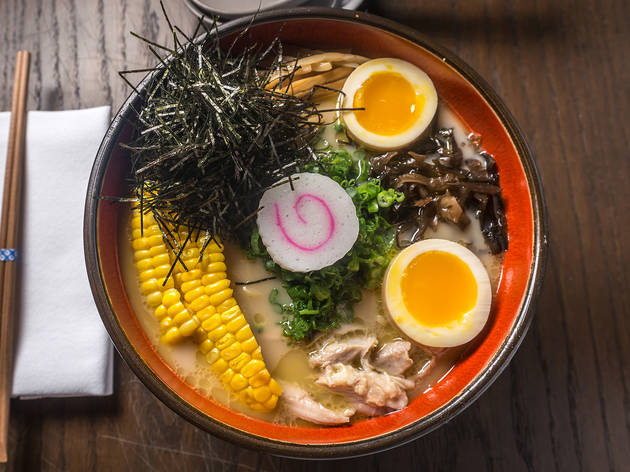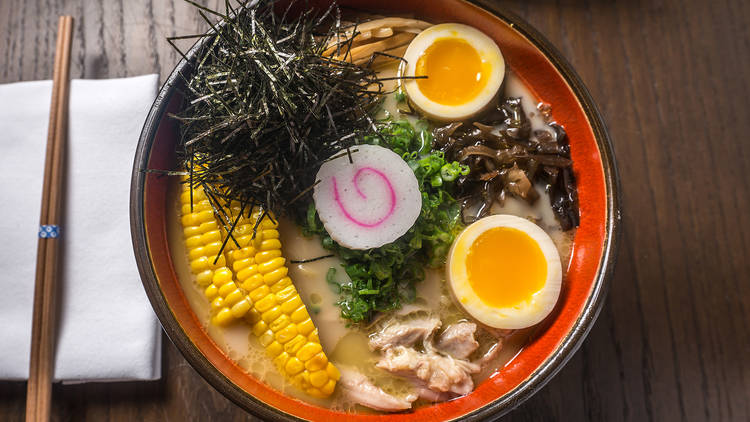 In recent years, Japanese food has emerged as one of the most sought-after cuisines in America, and Americans are becoming discerning—no longer are we satisfied by half-priced sushi rolls or sickly-sweet chicken teriyaki. As with those looking for the most authentic and the best Mexican restaurants in America, diners now seek out only the finest Japanese, from raw-fish temples (we've got you covered with the best sushi restaurants in America) to yakitori specialists and of course, joints offering the best ramen in the USA (and yes, we know there are questions about the exact origins of ramen—but no time for ramen wars here). The noodle soups have come a long way since they (like pizza and donut shop pastries) were merely thought of as a poor college student staple. Customized strands and slow-simmered broths ensure that these are as satisfying and slurp-worthy as their Japanese originals. Get ready to tuck into belly-warming bowls of the best ramen in America. Follow Time Out USA on Facebook; sign up for the Time Out USA newsletter
Best ramen in America
Tonkatsu—broth made from pork bones cooked for 20 hours—and house-made ramen noodles topped with chashu, bamboo shoots, marinated eggs, pork belly strips and other delicacies, are the hallmark of this immensely popular L.A. transplant, set on the second floor of the Japantown Center complex. The menu looks deceptively simple, but the complexity of flavors in the soups is anything but. Try the level 1-2-3 spicy or the Yamadaya. There's also an extensive sushi menu and bento box meals with karaage chicken and katsu curry.
Strings sets itself apart from the recent influx of ramen slingers by making its own noodles in the basement on a Japanese machine. They're firm, with a nice bite. Get them in a variety of ramen bowls, like the tonkotsu, which has a deep, meaty broth filled with garlic, sesame, scallions and thick slabs of pork. Add an egg and it'll come with a perfectly cooked yolk that spills into the broth. There's a happy hour from 3 pm to 5pm, when you can get three free oden sticks, which are skewers served in broth—we liked the soft egg as well as the fish ball.
13
Photograph: Courtesy Kaiteki Ramen/Chris Nguyen
Kaiteki Ramen, Oklahoma City, OK
Quality ramen from a food truck? That's the concept behind this roaming restaurant, which regularly pops up at local beer gardens and festivals. The menu is refreshingly simple, split into three snacks and two must-try ramens. Choose from the soy sauce-infused Kaiteki with tender roasted pork belly, Japanese fish cake and menma (fermented bamboo shoots), or a vegan option loaded with tofu, grilled enoki mushrooms, pickled fresno chilies and fried shallots.

Photograph: Courtesy Kaiteki Ramen/Chris Nguyen
True to its name, many of the dishes at Aloha Ramen are tinged with island flair, courtesy of chef and owner Lorenzo Rangel's Hawaiian-Japanese roots. Inside the orange-walled shop, noodle-lovers slurp up crocks of shoyu-based Kalua with cabbage and its namesake smoky pork, or spicy sesame tan tan noodles finished with a crispy pork katsu cutlet—the perfect soul-warming antidote to Seattle's notoriously rainy climes.
This sleek outpost of a Japanese ramen chain is packed mostly with Nippon natives who queue up for a taste of "Ramen King" Shigemi Kawahara's tonkotsu—a pork-based broth. The house special, Akamaru Modern, is a smooth, buttery soup topped with scallions, cabbage, a slice of roasted pork and pleasantly elastic noodles. Avoid nonsoup dishes like the oily fried-chicken nuggets coated in a sweet batter. Long live the Ramen King—just don't ask him to move beyond his specialty.
See the best ramen in American cities