Heads up! We're working hard to be accurate – but these are unusual times, so please always check before heading out.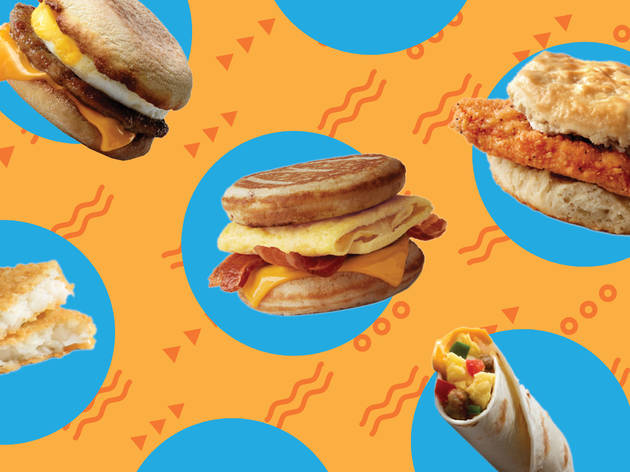 The entire McDonald's breakfast menu, ranked
Hitting the drive-thru for a morning meal? We ranked McDonald's breakfast menu from meh to marvelous.
There are few things in this world that are universally loved, but we're convinced that McDonald's breakfast menu is one of them. Possessing the power to cure hangovers and turn frowns upside-down, the fast-food chain's bevy of breakfast items ranges from hotcakes and hash browns to the maple-syrup–injected McGriddles. Day One favorites elicit nostalgia, while new creations are almost always met with intrigue. But not all of the selections on McDonald's breakfast menu are created equal. We put our taste buds to the test to rank the entire lineup of morning meals from "meh" to "I'll have another." Set your alarm clock and treat yourself to breakfast tomorrow—we have a feeling you'll be craving it after making your way to our No. 1 pick.
McDonald's breakfast menu, ranked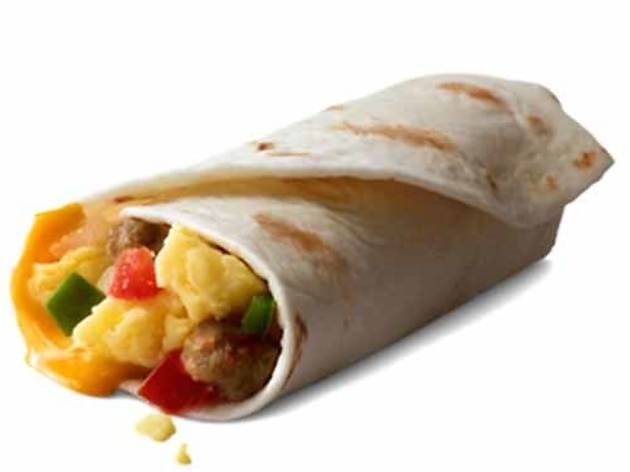 Photograph: Courtesy McDonald's
Breakfast burritos are inherently good, especially the ones that are as big as your bicep and packed with cheesy, eggy goodness. But at McDonald's, the menu item is a rare misstep due to its underwhelming size and taste. Unlike Chipotle's expert wrappers, this handheld is served flimsy and wide open on both ends, making it an impossibly messy order to devour in the car.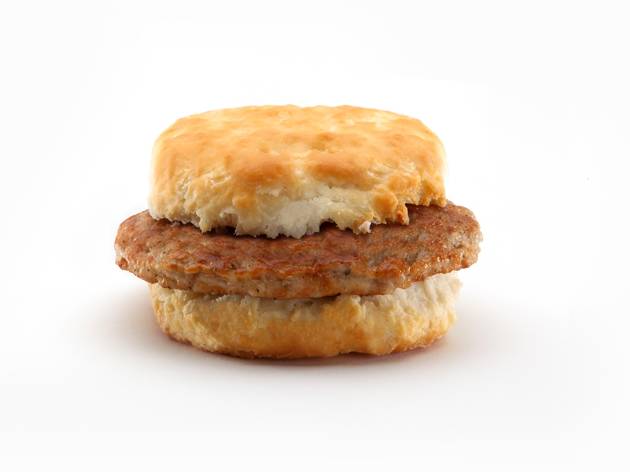 Photograph: Courtesy McDonald's
On their own, McDonald's sausage patty and buttery biscuit are two critical building blocks for the rest of the breakfast menu. But when they're paired together without any assistance, they leave much to be desired, particularly in the texture department. Both the biscuit and the sausage can lean dry and crumbly, a lackluster combination that's practically begging for a slice of cheese and a swath of sauce.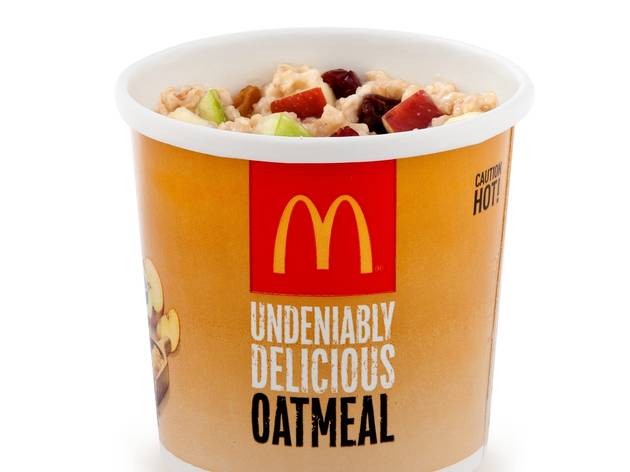 Photograph: Courtesy McDonald's
12. Fruit & Maple Oatmeal
If we're going to McDonald's for breakfast, it's certainly not for the oatmeal. That's something we can make at home in the microwave when we're trying to be healthy. But as far as fast food oatmeal goes, McDonald's version isn't half bad: The whole-grain oats are rendered silky with a touch of cream, and a smattering of brown sugar, apples, cranberries and raisins makes it feel substantial.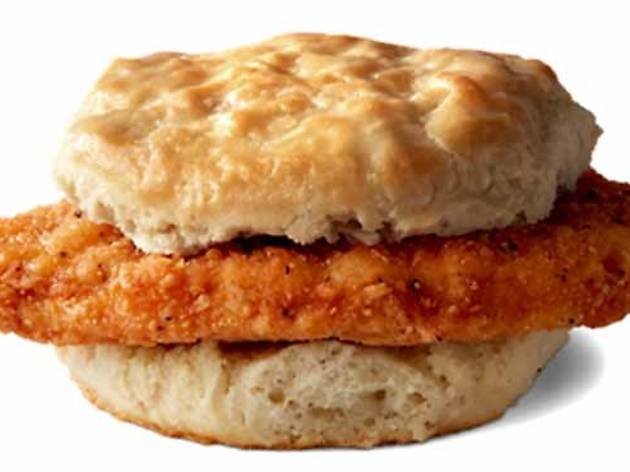 Photograph: Courtesy McDonald's
11. Hot 'n Spicy McChicken Biscuit
A newer addition to the menu, the Hot 'n Spicy McChicken Biscuit suffers the same fate as the sausage biscuit, though there's an easy hack to redeem the dryness. Comprised of McDonald's signature buttermilk biscuit and a spicy crispy chicken filet, this breakfast sandwich just needs some sauce to finish it off: Go sweet with honey or lean into the heat with spicy buffalo.
10. Bacon, Egg & Cheese Bagel
Mickey D's successfully takes on the BEC with a toasted bagel cradling applewood smoked bacon, a folded egg and two slices of American cheese. The secret ingredients? A pad of butter to keep the bagel from drying out as well as the chain's hollandaise-skewing, mayo-based "breakfast sauce." We're here for it.
Photograph: Courtesy McDonald's
Introduced to the masses in 2003, the McGriddle is one of McDonald's most polarizing menu items, but there's no denying that it works. Designed to seamlessly blend savory and sweet in one handheld morsel, the "buns" are actually syrup-infused griddle cakes. This version of the dish, which is stuffed with a single sausage patty, is a fine introductory option to dip your toes in the water. But to get the full experience, you're going to want to skip ahead to items 6 and 4.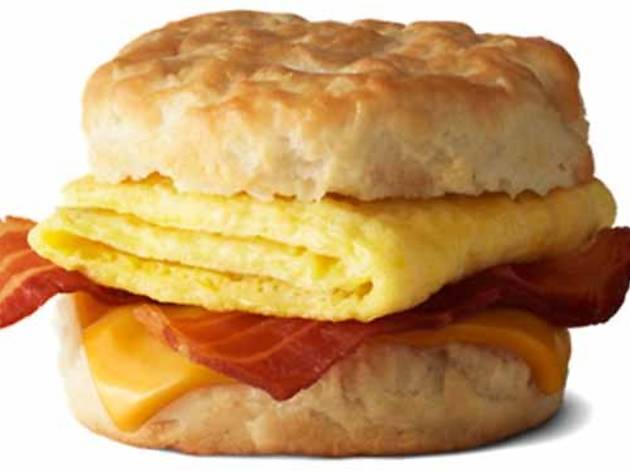 Photograph: Courtesy McDonald's
8. Bacon, Egg & Cheese Biscuit
A step up from its dry, sausage-filled counterpart (No. 13), this stacker proves the scientific claim that adding an egg to anything usually improves it. It also shows that cheese goes a long way to tame the dryness of the buttermilk biscuit. Toss in a few strips of bacon, and you're cooking with gas.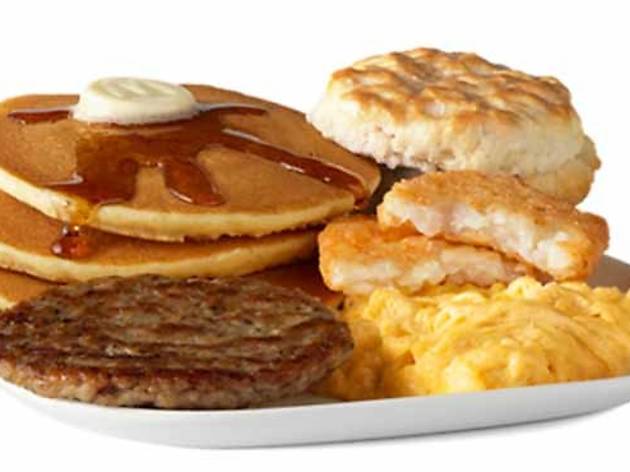 Photograph: Courtesy McDonald's
7. Big Breakfast with Hotcakes
A sampler platter of greatest hits, the Big Breakfast includes a flaky biscuit, a stack of hotcakes and syrup, a coveted hashbrown, scrambled eggs and a sausage patty. Weighing in at 1,340 calories (sorry), this reliable behemoth will probably leave you full until dinner time.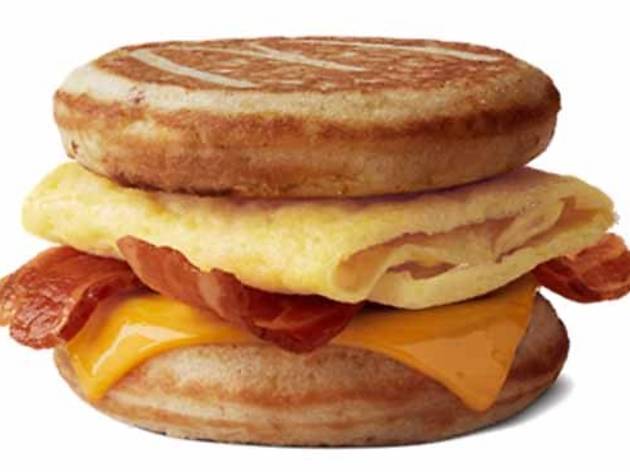 Photograph: Courtesy McDonald's
6. Bacon, Egg & Cheese McGriddle
Here, the McGriddle gets the breakfast sando treatment it deserves with a folded egg, a slice of American cheese and thick-cut bacon. Though the sweet, syrupy flavor in the griddle cakes is subtle, it plays nicely with the smoky meat—it's exactly why we love dragging our bacon through leftover syrup from an order of pancakes at brunch.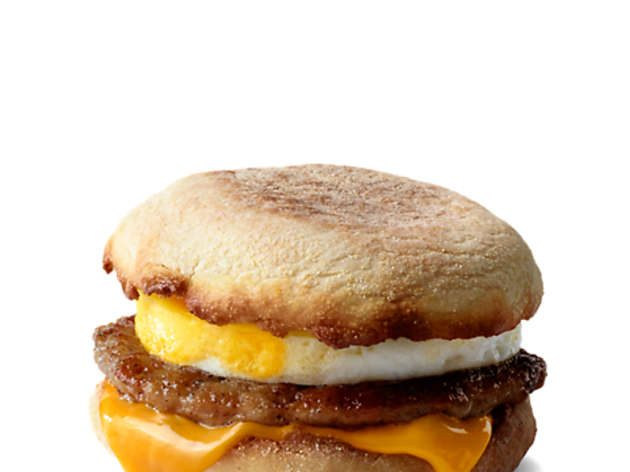 Photograph: Courtesy McDonald's
Mmm, smells like Americana for breakfast. There's no denying that the sausage McMuffin is a fan favorite that's built to showcase everything we crave in the morning: A crispy, craggly English muffin, melted American cheese, a peppery sausage patty and fluffy eggs. It just works.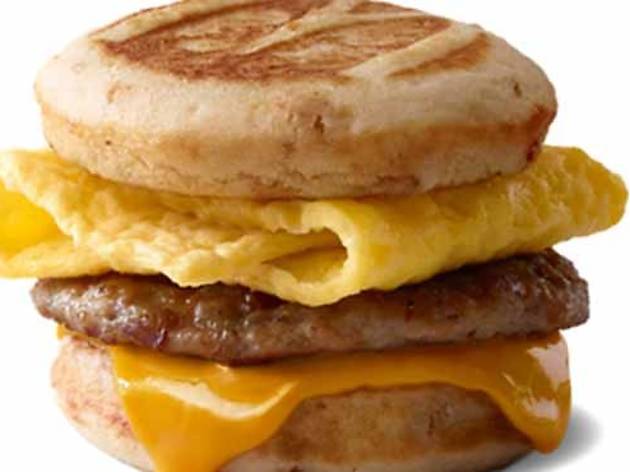 Photograph: Courtesy McDonald's
4. Sausage, Egg & Cheese McGriddle
No, your eyes are not deceiving you: McDonald's does indeed have three McGriddles to choose from, but this version is tops. While bacon can slip and slide, the perfectly shaped, expertly seasoned sausage patty stays put while you chow down. Plus, the savory-sweet pork plays brilliantly with those hotcake buns. A folded egg and a layer of melty cheese seal the deal, making this an indulgent sando worth getting up early for.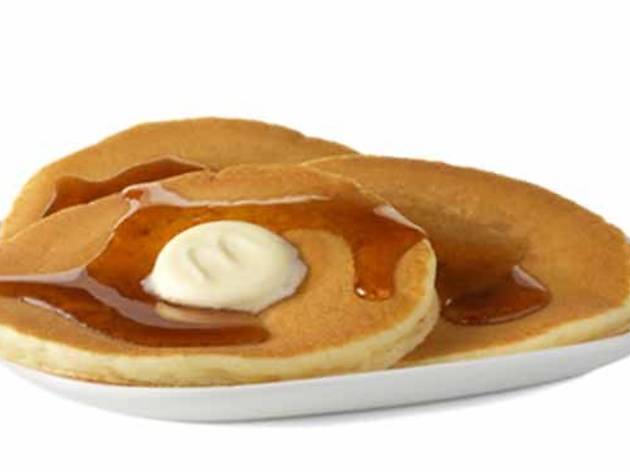 Photograph: Courtesy McDonald's
If you grew up in the '80s or '90s, there's a good chance you have an emotional memory tied to McDonald's signature hotcakes, which were introduced to the core lineup way back in 1977. You can get 'em paired with a side of sausage, but what's the use? These fluffy, golden-brown pancakes are great on their own—just be sure your order includes a pad or two of butter and syrup for dunking before you exit the drive-thru.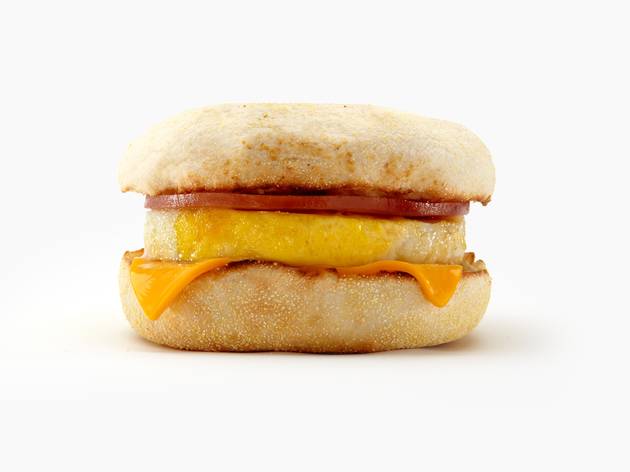 Photograph: Courtesy McDonald's
An undisputed classic, the Egg McMuffin was invented in the 1970s as McDonald's answer to the eggs Benedict. It finds a puck-shaped egg cozied up with a round of Canadian bacon and American cheese inside a toasted English muffin. In many ways, it's the Old Faithful of the menu, the breakfast sandwich you can always count on to sop up any wrongdoing you did the night before. There's a reason it's been on the menu for decades: The flavors, textures and overall composition are spot on.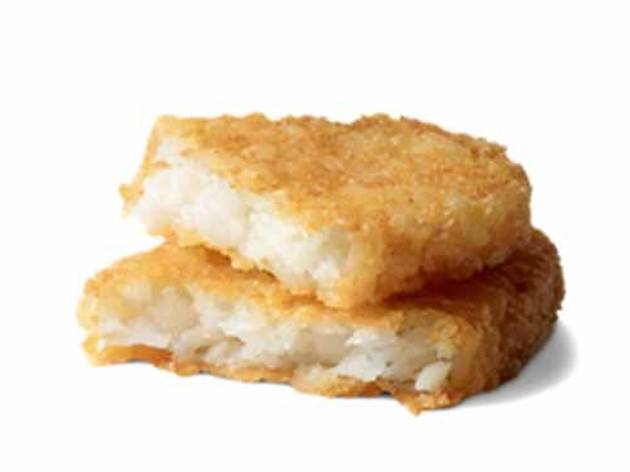 Photograph: Courtesy McDonald's
What's this? A side dish tops the list? Give us a chance to explain. Served solo or paired with a McMuffin, McDonald's hash browns are the cornerstone and the pinnacle of the entire menu. The unassuming oval-shaped patties are fried to crispy, crunchy perfection on the outside, but one bite reveals a delightfully fluffy potato core. Dip 'em in ketchup or toss them into any sandwich on this list for a seriously decadent upgrade. Whatever you do: Save yourself the heartache and order just two so that you don't have to make a second trip through the drive-thru.
Crack Starbucks' secret menu
Starbucks secret menu items have become a myth of sorts. It's no longer just about the flavor of the (usually, very sweet) treats but also about how to properly access them. We're here to put an end to that mystery.