Heads up! We're working hard to be accurate – but these are unusual times, so please always check before heading out.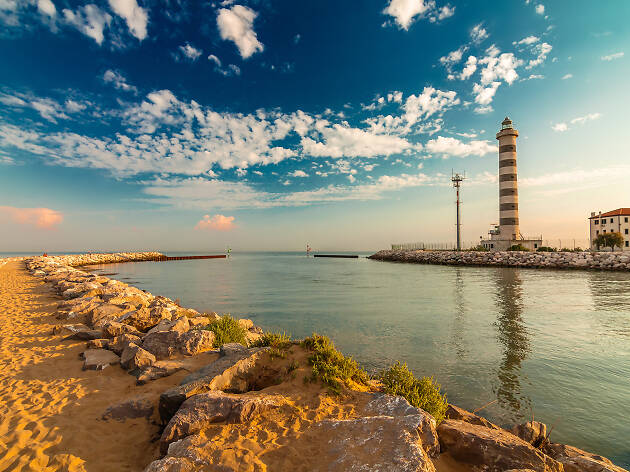 The 10 best beaches in Venice
Most of the best beaches in Venice are refuge destinations still in their raw, natural, beautiful state: visit them all.
Keep an open mind when deciding to add the best beaches in Venice to your list of must-see attractions in this beautiful Italian city. For the most part, these are quiet places of refuge and extraordinary beauty that are often not easily accessible. Sure, there are some sandy stretches around the Lido (on our list of best things to do in Venice, of course), but plenty destinations are in their raw state, with large barrier rocks and stunning native lagoon flora as stand-ins for endless lounge chairs and beach umbrellas.
Although we suggest renting your own boat to reach some of these barrier islands, there are a fair amount of reliable ferry services to shuttle you to and from these excellent beaches, which also double as top-notch day trips from the city centre.
RECOMMENDED: Full guide to the best things to do in Venice
Best beaches in Venice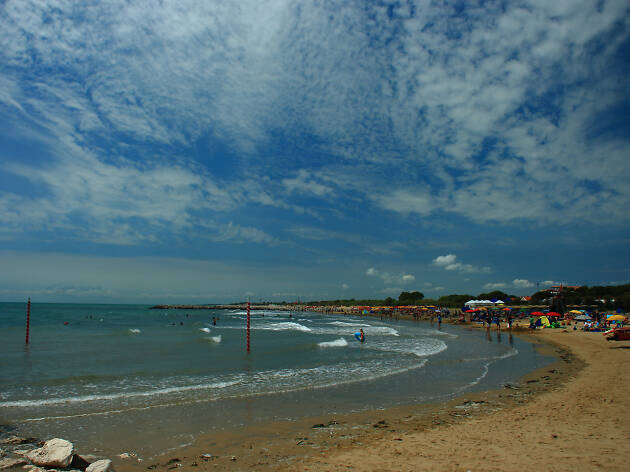 Photograph: Courtesy Flickr/CC/dmytrok
Many travellers prefer Cavallino for its 15km of pristine white sand beaches and calm, clear waters. Others frequent this stretch of beach for the nature reserve on premise and the rich history of fishing practiced according to ancient Venetian methods. Cavallino is a camper's paradise too, with fully equipped campsites but also a good selection of restaurants, bars and shopping in the area's tiny seaside villages, Treporti and Ca' Vio.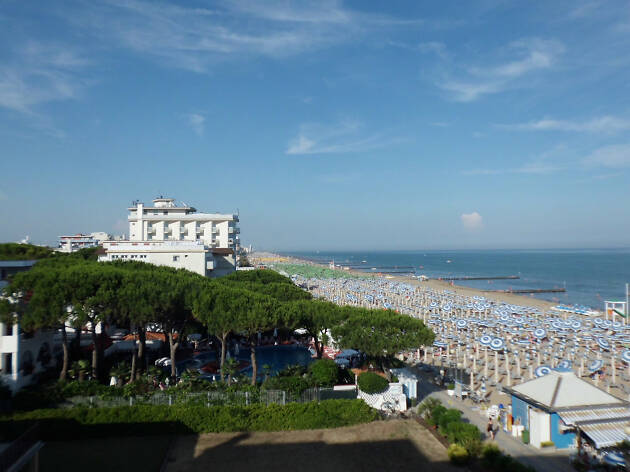 Photograph: Courtesy Flickr/CC/Julie Corsi
Venice's most popular nearby beach is, hands-down, Lido di Jesolo. Why? It's close to Venice and suits family vacations. That being said, the beaches here can be crowded and, during the summer months, traffic becomes a problem. It's also worth noting that the nightlife scene here is much more varied and exciting than Venice's own – expect bars open until later at night with prices that will be more in your favour as well.
Photograph: Wikipedia/Abbag
The beach at Sottomarina di Chioggia is superb if you're looking for wide, clean sandy stretches filled with restaurants, beach chairs and umbrellas, and bike rentals from the nearby Hotel Mediterraneo. There is also an excellent sea-front bike path that leads to the town to Chioggia (home to a fabulous fish market and restaurants), also referred to as "little Venice" given the similar baroque architecture, canals and bridges.
In Venice's northern lagoon, the private island Santa Cristina is really the ultimate beach experience for those seeking absolute privacy. The former Swarovski family compound boasts its own private beach access and a stunning pool and outdoor lounge for those who prefer experiencing the beach from a distance. The island itself is filled with vineyards and flowering gardens where wild peacocks and grouse scurry and roost.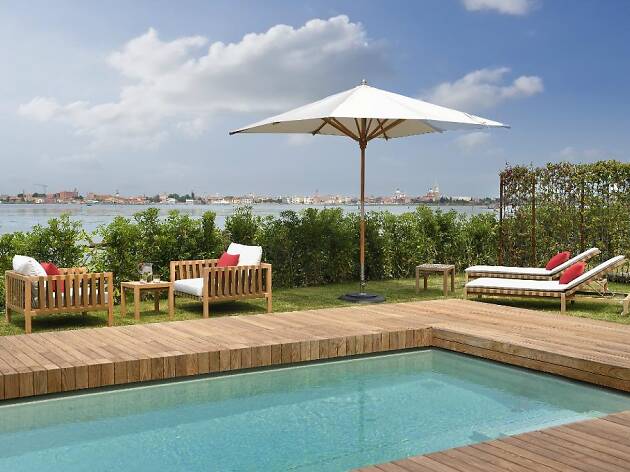 Photograph: Courtesy Tripadvisor/JW Marriott
One of the closest beaches to Venice is Isola delle Rose, a 25-minute ferry ride from San Marco that is freely accessible by island patrons. The JW Marriott rehabilitated the entire island a few years ago, also adding a Michelin-star restaurant and an outstanding spa to the local experience. You can spend the day here indulging in some of the island's posh services and enjoy the quiet of the private beach waterfront where very few tourists are found.
Photograph: Courtesy TripAdvisor.com
This is a lively port on the west coast of Cavallino-Treporti filled with chill (and undeveloped) beaches and aided by frequent ferry traffic to and from Venice. The lighthouse here is a spectral, key attraction that adds character to the nearby ruins of historic Venetian forts that were vital in protecting the city.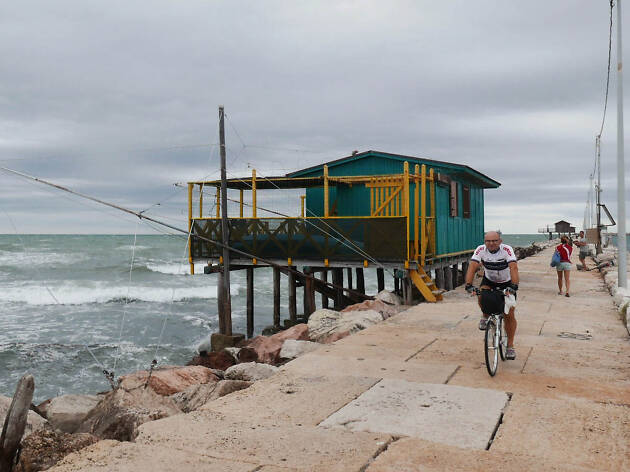 Photograph: Courtesy Flickr/CC/Antonio Fassina
You have to pay to enter some of Lido's beaches, but Alberoni, the barrier island's farthest beach, is totally free to enter. Set in a nature reserve, Alberoni is popular with beachcombers and naturalists who revel in the complete serenity of it all: the space is unencumbered by beach umbrellas and chairs. In late summer, the clear waters swell with moored boats and water sports enthusiasts. We promise the scene becomes tolerably crowded.
Photograph: Courtesy Tripadvisor
Just south of Chioggia is Rosolina Mare, one of the longest and widest beaches in the region, rarely crowded except on summer holidays and most of August. The seaside bike paths here are flat and easy to navigate and the local seafront hotels, of which there are quite a few, are home to pools and tennis courts used by plenty of visitors each day.
Photograph: Courtesy TripAdvisor.com
From Rosolina Mare, you can cycle along the bike path to Albarella, a stunning private island and nature reserve with vast groves of Poplar trees. The island is virtually free of cars and boasts Europe's largest saltwater pool. Full disclosure: you have to be a guest of the Albarella Golf Hotel to access the beaches. The resort's staff can also help you organize deep sea diving and sailing excursions.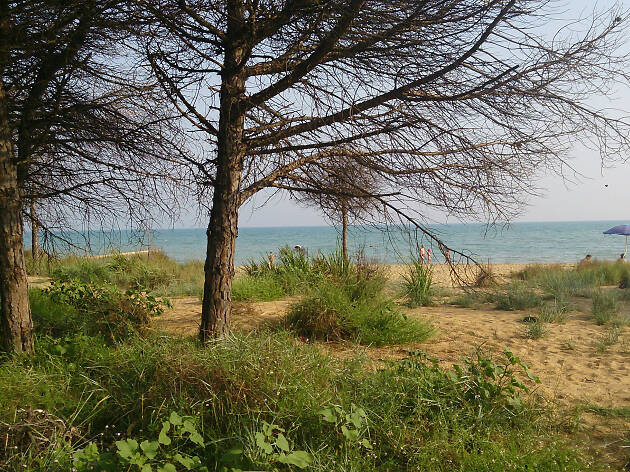 Photograph: Courtesy Flickr/CC/Jean-Marc Bolfing
Bibione is not as popular as other destinations near Venice, but the area still packs a lot of charm. The beaches here smell like heady pine from the nearby forests that cook in the sun all day. Yes, there are umbrellas and chairs for rent, and the option to escape the beach for a long, lazy lunch in its namesake town, Bibione, which you can access by train from Venice.
Prefer to stick around the city centre?
Venice isn't just a historic marvel (though there's plenty of history and a laundry list of museums here, for those looking), it's also incredibly romantic. The dreamy canals, old churches and alleys that seem to go for miles, dotted with shops and restaurants, are just a few of the unique perks in Venice. No cars are allowed on the island, so besides walking, everyone takes the public transport water boat (vaporetto). But the best things to do in Venice go beyond your typical gondola ride.