Pancake Day in London
Celebrate the flipping marvellous Pancake Day in London with a whole range of batter-based feasts on Shrove Tuesday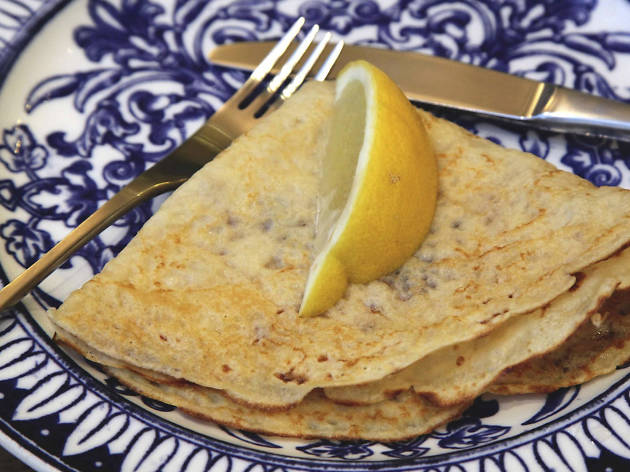 Frying pans at the ready, people. Pancake Day falls on
Tuesday February 28 2017
and this year's action need not be confined to the kitchen. Pancake Day sees restaurants flip some of
London's best pancakes
, while people across the city perfect their toss and head towards finish lines in races big and small. Check out our favourite pancake-based celebrations below – this is one party you'd be flipping mad to miss. Just don't get too battered in the process.
What is Pancake Day?
Shrove Tuesday marks the last day before Lent, traditionally a period of abstinence, associated with clearing your cupboards of things like sugar, fat and eggs. It's known as Pancake Day because it represents a good opportunity to use up such ingredients. Easy peasy lemon squeezy.
When is Pancake Day?
Pancake Day takes place 47 days before
Easter Sunday
. Because the date of Easter Sunday is dictated by the cycles of the moon, Pancake Day can occur anytime between February 3 and March 9. This year's action is on
Tue Feb 28 2017
.

Keep checking this page for all the latest activities and events
Pancake Day 2017 races in London
Participants in this annual charity race through the cobbled streets of Spitalfields are in for a flipping good time on Shrove Tuesday. This very silly fundraiser for the London Air Ambulance will see teams of four in fancy dress grab their crepes and run in pursuit of taking home the winner's frying pan, which is specially engraved. Entrants should register in advance by emailing info@alternativearts.co.uk (or enter on the day if they bring a donation) and will be rewarded with hot pancakes. Arrive at 12.15pm for a 12.30pm start.
Read more
Pancake Day's most high-profile tossers take place in an annual race fundraiser which pits teams comprised of MPs, Lords and members of the press against each other. The race is normally held in Victoria Tower Gardens and organised by the charity Rehab, which helps people with mental and physical disabilities rebuild independent lives.
Read more
Making pancakes on Shrove Tuesday?
Say goodbye to Shrove Tuesdays spent snacking on a burnt heap of lemon-soaked paste, and say hello to a day of delicious pancake perfection. This year, follow our step-by-step guide to making pancakes and you're guaranteed to serve up a fine battery feast. Our recipe below makes 4/5 pancakes and a scrappy last one one for the dog (double the ingredients if you want to make more).
Read more
Sponsored listing
Tay Do Café
Tay Do's vast dining room is often full, perhaps because this is the first available Vietnamese restaurant at the southern tip of Kingsland Road. The BYO policy undoubtedly helps too. Service is impersonal and brusque, but not unfriendly. The tome of a menu contains nearly 300 dishes (divided by ingredient: fish, poultry, vegetables, tofu…). It's easy to order wrongly. Few of our dishes matched the menu's promise; best was a starter of steamed pork-stuffed squid, which was generous with the well-seasoned, minced pork stuffing, and came with an excellent dipping sauce of lemon juice, salt and white pepper. Shredded pork skin and herb rolls included the appropriately rubbery skin, but was bland and seemed to lack the required freshness. Rarely found in London, southern-style hu tieu soup is here made with tapioca noodles; yet while the south of Vietnam may be known for its sweeter, cleaner flavours, this broth was unappetisingly sweet. Better was chargrilled goat on cold vermicelli, with a nice smoky aroma that compensated for the slightly overcooked meat. Dining here seems to be a hit and miss experience. While there's great variety, we'd rather choose from a smaller menu of consistently good dishes.