Pancake Day in London
Celebrate Pancake Day in London as it serves up a whole range of batter-based feasts on Shrove Tuesday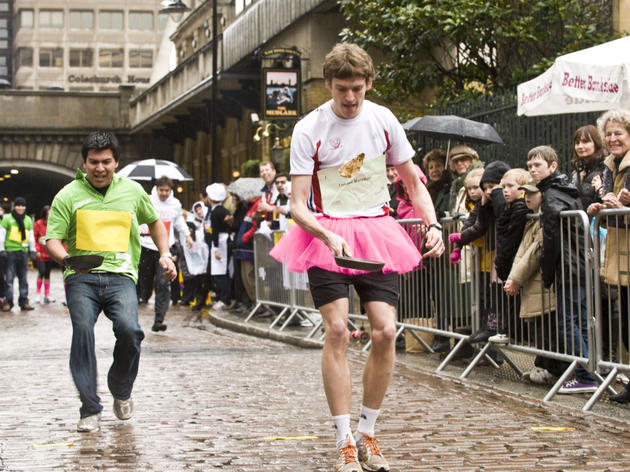 Get your frying pans at the ready, Pancake Day in London falls on
Tue Feb 28 2017
and this year's action need not be confined to the kitchen. Pancake Day activities see restaurants flip up some of
London's best pancakes
and everyone from hipsters to MPs toss towards the finish line in races across the city - this is one of the
London events in February
that you would be flipping mad to miss.
What is Pancake Day?
Shrove Tuesday marks the last day before Lent, traditionally a period of abstinence, associated with clearing your cupboards of things like sugar, fat and eggs. It's known as Pancake Day because it represents a good opportunity to use up such ingredients. Easy peasy lemon squeezy.
When is Pancake Day?
Pancake Day takes place 47 days before
Easter Sunday
. Because the date of Easter Sunday is dictated by the cycles of the moon, Pancake Day can occur anytime between February 3 and March 9. This year's action is on
Tue Feb 28 2017.
Making pancakes on Shrove Tuesday?
Say goodbye to Shrove Tuesdays spent snacking on a burnt heap of lemon-soaked paste, and say hello to a day of delicious pancake perfection. This year, follow our step-by-step guide to making pancakes and you're guaranteed to serve up a fine battery feast. Our recipe below makes 4/5 pancakes and a scrappy last one one for the dog (double the ingredients if you want to make more).
Read more