The flea-market staycation: Go shopping on this NYC flea-cation
One of the best parts of a vacation is the shopping. Save money on airfare and splurge on second-hand treasures with this flea-market staycation.
By Lisa Butterworth Tue Jun 12 2012
Granted, a shopping trip to Paris sounds quite nice, but New York boasts a world-beating collection of flea markets. Go shopping on this staycation for second-hand wares, antiques, vintage clothes and more trendy fashions at the Brooklyn Flea in Williamsburg and Fort Greene, Dekalb Market in Downtown Brooklyn and Hester Street Fair on the Lower East Side.
RECOMMENDED: Nine more ideas for a New York staycation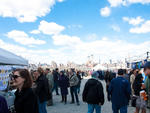 Scope threads at Brooklyn Flea
Admit it, your favorite part of vacationing somewhere is the shopping. Why not just do some damage close to home? And lest you think you've seen it all, there's a slew of new vendors at this year's edition of the Brooklyn Flea: In Williamsburg, ladies should browse MTA's vintage clothing booth (with a focus on the '60s to '80s), curated by three stylish Japanese gals. Or check out  the Yorkwood Line (yorkwoodco.com), selling sleek furniture made from reclaimed wood. • 176 Lafayette Ave between Clermont and Vanderbilt Aves, Fort Greene, Brooklyn. Sat 10am–5pm. • East River Waterfront between North 6th and 7th Sts, Williamsburg, Brooklyn. Sun 10am–5pm. • brooklynflea.com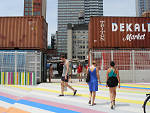 Brooklyn's only indie mart constructed of recycled shipping containers launches a new season of handmade delights: Upgrade your wheels with the cycling accessories at Eleanor's (eleanorsnyc.com), where you'll find a selection of feminine baskets, bells and hand-painted helmets. Or peruse the refurbished military equipment at Stockpile Designs (stockpiledesigns.com); the label takes items such as vintage bomb tail-fins and casings, and refashions them into lamps and other pieces of furniture. This year, Dekalb Market is also throwing a number of new events, including bike-in movies (The Triplets of Belleville, June 28 at 8pm), disco roller-skating with monthly Down & Derby events (Fri 15 at 6pm) and local bands playing every week.
138 Willoughby St, (at Flatbush Ave Ext), 11201
More info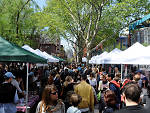 Price band: 1/4
Critics choice
Free
SuChin Pak and her three partners have retooled this Lower East Side outdoor market, now in its third year: Among the vendors added to her roster are skin-care products from Honey & Cocoa (honeyandcocoa.etsy.com) and printmaking studio Drive by Press (drivebypress.com). For a true indulgence, treat yourself to a fresh-cut flower arrangement from crafter-florist Jen Kim (jenkimmade.etsy.com). Or pick up a '50s party dress and a pair of color-blocked '80s heels from Wildfell Hall Vintage (wildfellhallvintage.etsy.com), an ideal outfit for a highbrow-cation. • hesterstreetfair.com
---