The best Airbnb New York City rentals
The best Airbnb New York City rentals let you experience Gotham in a Brooklyn brownstone or a West Village town house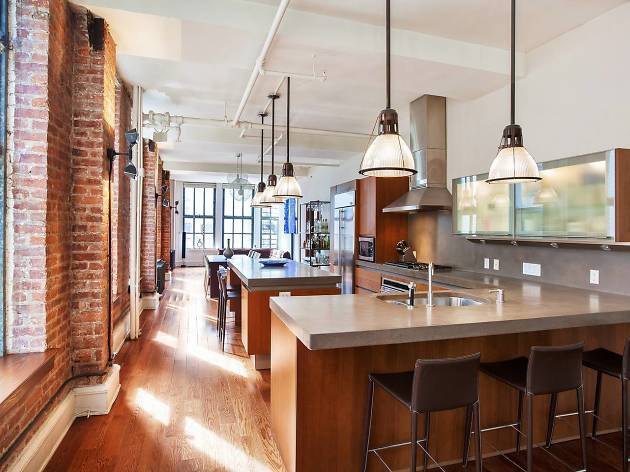 As any NYC resident will tell you, this city ain't cheap, so these Airbnbs in New York City will be a huge help. Though the best hotels in NYC also rank among the best in the world, they're not always the most affordable for travelers. And besides, aren't you curious how real NYC apartments compare to the ones you see on TV? (Spoiler alert: They're much, much smaller.) Whether you're a veteran traveler or a Gotham newbie, staying in an Airbnb rental is one of the best things to do in NYC to immerse yourself in the city's culture. Grab a studio near the best new restaurants in NYC or crash at a bachelor pad near the best New York attractions. From Long Island City to Williamsburg, here's where to find the best Airbnbs in New York City.
RECOMMENDED: Full guide to the best hotels in NYC
The best Airbnb New York City rentals
1
Photograph: Airbnb
Adorable rooftop cottage in the East Village
No matter how loudly they doth protest, every apartment-dwelling New Yorker has fantasized about owning an actual home. But where would one fit even a tiny house between all the skyscrapers, museums and more? You guessed it: smack on top of another building. A truly one-of-a-kind stay for residents and visitors alike, this three-story private cottage comes complete with charming decor (pressed-tin ceilings, a marble bathroom), a private porch deck for enjoying meals outdoors and to top it all off, windows on all sides to soak up all that rooftop daylight.
2
Photograph: Airbnb
Elegant hotel room overlooking Central Park
It's like staying in the presidential suite of a hotel but for half the price. Boasting panoramic views of Central Park, this suite sleeps five people and comes with all your hotel amenities, including an on-site gym and spa, housekeeping services, and concierge. The best part: it's steps away from a multitude of museums, restaurants, and the finest attractions in Manhattan.
3
Photograph: Airbnb
1894 restored house in Williamsburg
Straight out of an 19th century novel, this picturesque private house offers one of its floors for visitors (the hosts stay on a separate floor and promise to never compromise your privacy). Here, hardwood floors meet wood beams and the original brick walls. Even the kitchen has been preserved, with an antique, prewar stove and wood-burning fireplace. A stone's throw away from Williamsburg's bustling heart as well as the ferry to Manhattan, it's a fantastic way to get a bit of city and country all in one.
4
Photograph: Airbnb
Tropical getaway at a funky loft in Bushwick
If you get excited about highly Instagrammable palm-print sheets and old-school rattan furniture, this artist-owned loft—built not long ago in March 2017—is the private tropical getaway you need. Sitting in the heart of Bushwick, Brooklyn, the room features exposed brick walls, a sliding door for privacy, and a full-size memory foam mattress. Hosts Marcella and Antonio are on-site to assist with all your travel needs, and breakfast is included.
5
Photograph: Airbnb
Massive West Village townhouse
Four stories, six bedrooms, three baths. That's a whole lot of relaxation space—a rare commodity in this town—for families and larger groups visiting NYC. Situated in Manhattan's zig-zagging West Village, this home is within walking distance of the city's most critically acclaimed eateries and bars, as well as historic landmarks (there are 4,300 in the neighborhood alone).
6
Photograph: Airbnb
Co-op in a midtown hotel with all the perks
Stay in a four-star hotel for half the price. Ideal for a business traveler, this suite is well-decorated and, unlike the rest of the city, pretty quiet due to its location on a high floor. You'll also get the amenities you're used to in such a hotel, including a friendly front desk staff, a helpful housekeeping crew and a minibar when you need to unwind.
7
Photograph: Airbnb
Vintage home on Staten Island
Staten Island may oft get the short end of the stick with visitors, but the fifth and forgotten borough is notable as a stronghold of the "real New York" and home of pristine beaches that are less crowded than those in Brooklyn. Not ideal for first-time visitors, this lovely, vintage-style home does cater to folks looking for a suburban environment that is a reasonable distance—roughly an hour—from downtown Manhattan. The rooms take up the upper floor of the house, which also includes a kitchenette and bathroom for guest use.
8
Photograph: Airbnb
Airy loft with a chef's kitchen near Union Square
Planning on doing some cooking on your own? This chic loft comes fully equipped with a chef's kitchen, and luckily, it's also super close to the popular Union Square Whole Foods and Italian specialty goods purveyor Eataly. Bright and airy with 12-foot ceilings and an elevator that opens directly into the space, the full-floor apartment offers luxurious New York living that's simultaneously homey.
9
Photograph: Airbnb
Long Island City apartment with a hidden speakeasy
Queens' Long Island City is one of New York's fastest-growing neighborhoods, full of charm and hidden gems. This apartment is no different. Fitted with two bedrooms and one bathroom, the home also comes with a hidden speakeasy kitchenette (we won't say where) for your clandestine boozing needs. A short drive from the waterfront and some excellent eateries, it's also conveniently close to Manhattan (just two blocks from the subway and two stops into the city).
10
Photograph: Airbnb
Huge prewar Bronx apartment with super-helpful host
Dubbed by the owner as the "Liberty Lounge," this Bronx-set apartment is housed within a historic prewar building. At just $58 a night, it's a spacious and sensible option for couples or a solo traveler who don't mind the commute into Manhattan. Fitted with a Tempur-Pedic bed, large-screen TV and fully stocked fridge, the apartment offers comfort and a come-as-you-please environment for visitors.
Show more
Looking for more places to stay in Brooklyn?
These days, Airbnb is as authentically New York as the most iconic hotels