Eight fabulous Airbnbs with hot tubs in NYC
Rent one of these gorgeous Airbnbs with hot tubs in NYC to live the high life for a few days
Forget the best luxury hotels in NYC: You can get an equally fancy experience for a far better price at these Airbnbs with hot tubs. Sure, hotels might have high-end toiletries, some of the best spas in NYC and concierges to cater to your every whim, but they don't give you that authentic New York experience. Pretend you actually live in one of the coolest Airbnbs in New York City for a few days: Having a Jacuzzi or hot tub at your pad feels pretty sweet. Are you sure we can't move in permanently?
RECOMMENDED: Full guide to the best hotels in NYC
This article includes affiliate links. These links have no influence on our editorial content. For more information, click here.
Airbnbs with hot tubs in NYC
Airbnb
Beautiful Brooklyn Brownstone
Built back in 1905, but artfully restored, this pad has the original architecture with some serious modern upgrades. Inside you'll hard hardwood floors, original mouldings, pocket doors and a marble bathroom (swanky, right?). But when you step outside you get the really good stuff. The backyard has a fire pit, ping pong table, half a basketball court and, of course, a Japanese soaking tub.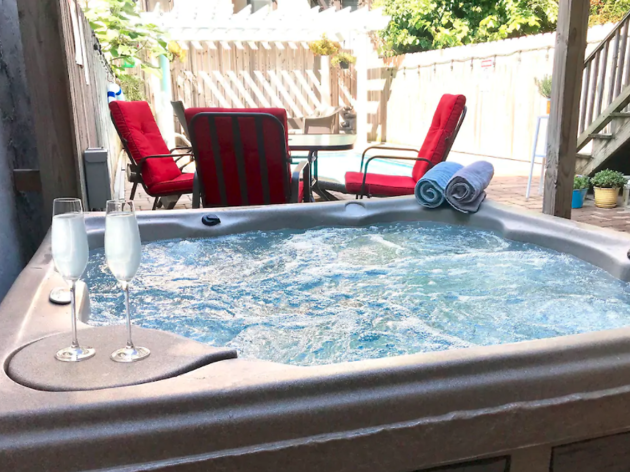 Airbnb
Flat with a hot tub and pool in Brooklyn
Sleeping up to four people, this place has two comfy-looking king-sized beds for you to stretch out in when you're not hitting the town. When you do want to go out, you'll find the metro just a five-minute walk away, allowing you to get to Manhattan in 25 minutes. As well as the all-important hot tub and pool, there are two smart TVs so you can Netflix and chill at your leisure.
Airbnb
If you want to be within easy reach of NYC without dealing with the bright lights (and loud noises) of the city, this is the spot for you. Just 10 minutes from JFK in Rockaway Beach, this apartment is ideal for a romantic getaway. You can get a ferry, bus or train into the city, or if you want a relaxing day out the beach is a five-minute walk away. But the best bit? The host will provide you with fresh bagels, as well as complementary wine and beer.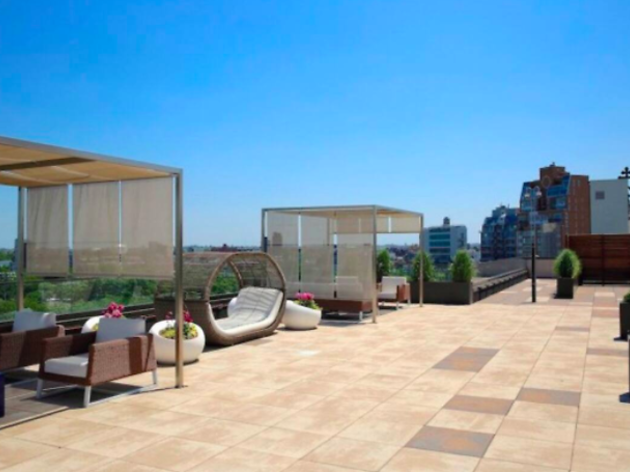 Airbnb
Luxury Williamsburg apartment
This ace apartment is a stylish place to rest your head. Ideal for a couple, the sleek interior will make you feel like you're living that NYC life, but the real treasure is having access to the entire building. Not only is there a hot tub, but there's also a pool, a sauna, a steam room, pool tables and plenty of space to chill in style.
Photograph: Courtesy Airbnb
Modern Trendy Duplex Brooklyn Loft
Few New York apartments include a staircase—fewer still include a Jacuzzi-style bathtub, updated appliances and tons of natural light. Throw in access to the indoor pool and a rooftop hot tub, and this Bushwick duplex becomes downright irresistible.
Airbnb
Located super-close to Manhattan, Mott Haven is a trendy place to stay – and you'll be getting a sleek one-bedroom apartment to match. The swish interior has a clean black and white theme, with large windows, dimmable lights and a monster 70-inch TV. Of course, you'll also have access to the hot tub, as well as a pool, gym, rooftop and games room.
Airbnb
Okay, okay, so this one isn't exactly in the heart of city. But we had to include it because, well, it's a freaking mansion! Seriously, this mega-pad sleeps up to 16 guests – and we'd bet every single one would have one heck of a time living it up here. There's a home theatre, gym, terrace and a pool. And, of course, a heated Jacuzzi where you can soak up the high-life.
Photograph: Courtesy Airbnb
Three-Story Brooklyn House
Traveling with the whole gang? Rent this three-story Fort Greene house that sleeps as many as 10 people. A recent renovation added modern appliances and amenities, but preserved much of the original charm—like the stone fireplace and crown moulding. It's a perfect jumping off point to explore the rest of Brooklyn, but don't miss the chance to grill on the back patio or soak in the hot tub.
Still looking for somewhere to say in NYC?
Want to stay cozy as f*ck during your trip to New York? Rent one of these Airbnbs with fireplaces