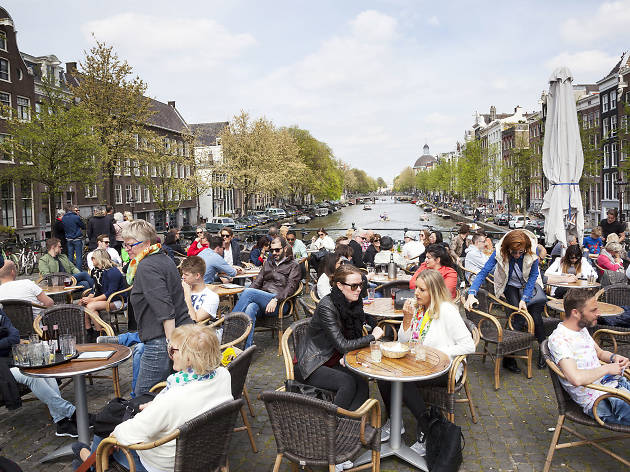 The 12 best cafés in Amsterdam
Caffeine fiend? Get your daily fix (and pair it with a Dutch cookie) at one of the best cafés in Amsterdam
First things first: If you want coffee or a light meal in Amsterdam, a coffeeshop is not what you're looking for. (Despite the name, those serve cannabis, not caffeine.) You want a koffiehuis or café. You'll have your pick of spaces from classic to modern, and from understated to grand. No matter which style you choose, keep in mind that Amsterdam's centuries-old café and restaurant culture is meant to be savoured – so settle in with a good book or one of the board games you'll almost certainly find for guests to use.
Try ordering a koffie verkeerd – a 'wrong coffee' that's the local latte equivalent – or a fresh mint or ginger tea. There are no free refills in this town, but at the very best cafés in Amsterdam your hot drink of choice may well come with a small cookie, and you're welcome to linger as long as you like. And frankly, with those canalside views, we couldn't think of anything better.
RECOMMENDED: Full guide to the best restaurants in Amsterdam
Best cafés in Amsterdam
Photograph: Courtesy Yelp/Cafe de Jaren
The tiled floors and bistro tables at Café de Jaren feel very Old Europe, but the huge floor-to-ceiling windows make the bright space feel very modern indeed. Perched on the Kloveniersburgwal canal, this former bank building offers classic Amsterdam views, especially from its two large terraces – and it's one of the few places in town where outdoor tables can be reserved.
Photograph: Courtesy Yelp/Melvi P.
This bright, high-ceilinged space in a former cinema that dates back to the 1920s is the perfect antidote to Amsterdam's perpetual rain. Yes, you can get both coffee and coconuts here, the latter served whole with a straw and lime on the side. But don't stop at drinks: the food here is just as spectacular. Try the coconut pancakes with whipped coconut cream, which are a standout and gluten-free to boot.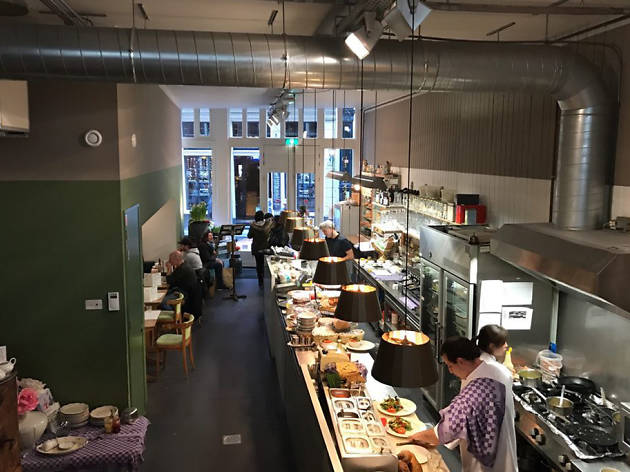 Photograph: Courtesy Yelp/Stephane B.
The star attractions at De Bakkerswinkel's three charming locations in Amsterdam are the freshly baked scones served with cream and homemade preserves (ask for the pineapple-basil jam). The Red Light District outpost is a quiet haven away from the bustling crowds and stag parties that pack the streets. Inside, you'll hear more Dutch than English – a rarity in this tourist-centric part of town – as you sit among tables of locals lingering over afternoon tea.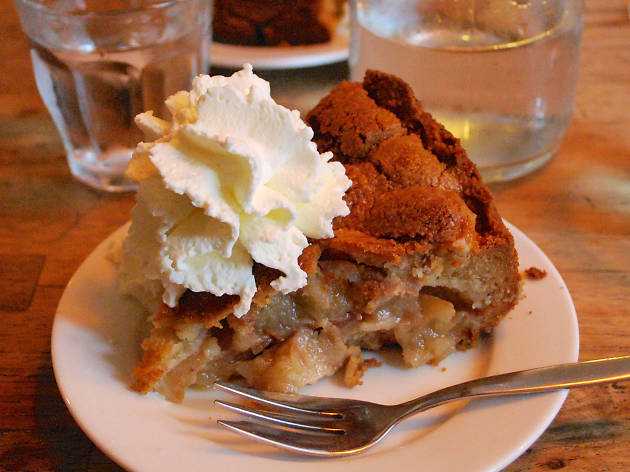 Photograph: Marco Metzler / Flickr
If you want to try the typical Dutch appeltaart (and trust us, you do), there's no place better than Winkel 43 in trendy Jordaan. This buzzy spot is hugely popular, and since they don't take reservations, you may find yourself in a queue stretching out the door. It's worth the wait for what's consistently hailed the best pie in town – even Bill Clinton said it was fabulous. They serve decent meals, too, so come hungry.
Photograph: Courtesy Yelp/Wendy E.
This darling 'coffee boutique' in Oost is the perfect spot for a coffee, glass of wine or light meal with a side of shopping. The food and wine are simple but fresh and moreish – and we recommend the reasonably priced Aperol spritz. Within the boutique you'll find unique jewellery, clothing and household items, beautifully displayed for easy browsing in an industrial-chic space with concrete floors, whitewashed brick walls and a skylight that floods the room with light even on the greyest days.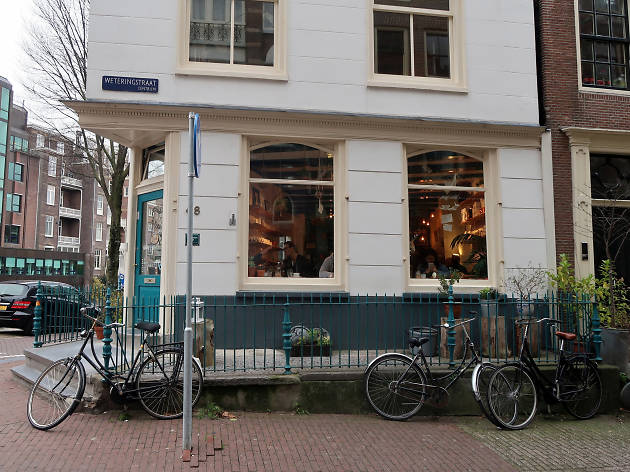 Photograph: Bex Walton / Flickr
Founded by two local women, Back to Black is known for its high-quality, house-roasted sustainable brews. There are two addresses in Amsterdam, but most visitors will find it easiest to visit the one on Weteringstraat in the centre. The large windows, long tables, dangling Edison bulbs and mismatched chairs make the space feel like a cool aunt's living room – if your cool aunt served some of the best coffee and cakes in town.
Photograph: Courtesy Yelp/Jurian S.
Spot this slanting old house on the Oudeschans canal and there's no doubt you'll want to head straight in. Built in 1695, it was originally home to the lockmaster, who controlled the flow of water into the city's canals. It's now a cosy bar and café, with wood beams, a wonky stone floor and large windows overlooking the canals. The food is mainly Dutch snacks like bitterballen (deep-fried meat-and-roux balls), kaasstengels (a stick-shaped cheese biscuit) and cheese tostis.
Photograph: Courtesy Yelp/Mechteld S.
This cheerful café in Oost boasts a long bar, a bright lounge area with sofas and a loft dining section – all, unsurprisingly, brimming with plants. In summer, a large, heated covered terrace extends seating space dramatically, with locals chatting outside well into the evening. The brunch here is especially good: try the scrambled eggs with truffle or the chia bowl.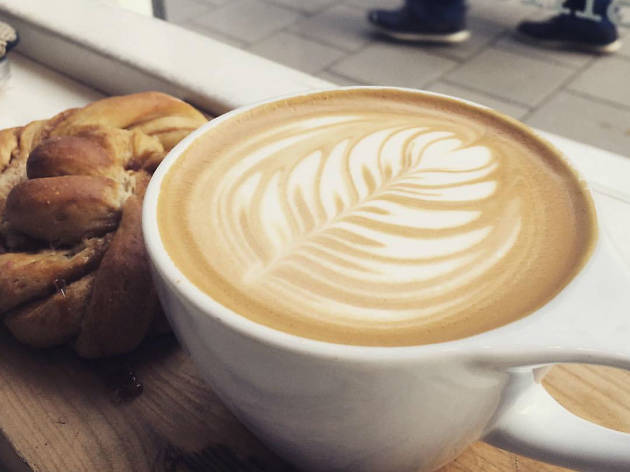 Photograph: Scandinavian Embassy
With Swedish owners and a Scandi chic aesthetic, this minimalist but cheery café lives up to its name. They source their beans from micro-roasters across Denmark, Sweden and Norway, and serve seasonal dishes inspired by Nordic cuisine. Weekend brunch can get very busy, but you can always pop in for a top-notch cappuccino paired with a delightful cinnamon bun.
Photograph: The Cottage / Instagram
The menu here leans British – think comfort foods like meat and veggie pies or Sunday roast – but the family owners are Dutch. They've blended English countryside décor with Dutch gezelligheid (their version of hygge) to create a warm and welcoming space that spills out on to an expansive terrace in summer. It's a delightful place to relax over brunch, complete with inventive seasonal scones, or a pitcher of Pimm's.
Photograph: Courtesy Yelp/Natasha M.
11. The Main Bar at Foodhallen
Amsterdam's first indoor food market, housed in a former tram depot, features more than 20 food stalls serving everything from Dutch bar-snack staples to dim sum to French pastries. Right in the centre of the action, the Main Bar serves an excellent cappuccino and offers ample people-watching opportunities, as well as a prime view of the live music on Tuesday nights.
Photograph: Courtesy Yelp/Zoku Amsterdam
12. Living Kitchen at Zoku Amsterdam
Zoku is a über-cool 'apartment hotel' and co-working space that also boasts an elegantly decked-out café and lunch space. Take the lift to the top floor and walk along a glassed-in hallway through the rooftop garden to The Bar, where you can grab a coffee or snack, or The Living Kitchen for a lavish lunch buffet (€19). Need to get some work done? For €25, you get a co-working space day pass that includes access to the buffet lunch.
Looking for a different kind of high?
Since coffeeshops were legalised back in 1980, this European city has slowly grown into the world's capital of cannabis culture.
Best selling Time Out Offers