The 11 best cafés in Amsterdam
Embrace the Dutch concept of "gezelligheid" when visiting the best cafés in Amsterdam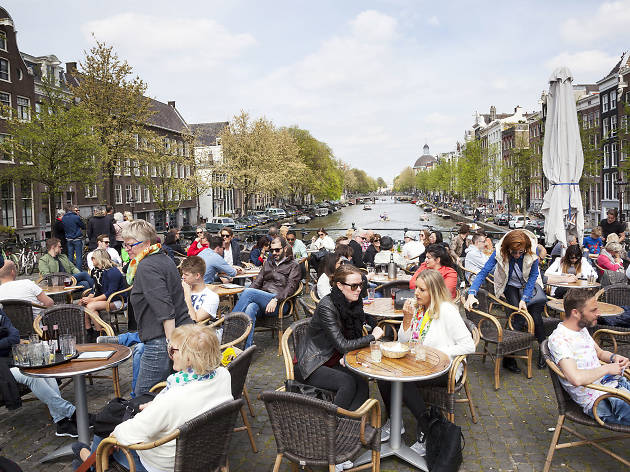 The first lesson of café culture in Amsterdam is that a coffeeshop is not your standard coffeeshop. The former offers a high that doesn't come from caffeine... and we are all for that. We are in the capital of cannabis culture, after all. But if it is a coffee break that you are looking for, you want a café. The choices are abundant, from cozy hideaways that embody the untranslatable Dutch concept of gezelligheid (a kind of cosiness) to bright and modern spaces in up-and-coming neighbourhoods. Not a fan of coffee? Order a mint tea: instead of a tea bag, your mug will be stuffed with fresh bunches of mint and served with honey—and probably a little cookie, too.
If you're looking for a fuller meal, you'll want to consult our list of best restaurants in Amsterdam. Want your coffee to be spiked? The top bars in town will help you out.
Best cafés in Amsterdam
The tiled floors and bistro tables at Café de Jaren feel very Old Europe, but the huge floor-to-ceiling windows and salad bar buffet feel very modern indeed. Perched on the Kloveniersburgwal canal, this former bank building offers classic Amsterdam views, especially from its two large terraces—and it's one of the few places in town where terrace tables can be reserved.
2
Photograph: Courtesy Yelp/Melvi P.
This bright, high-ceilinged space built in the 1920s in a former movie theatre is the perfect antidote to Amsterdam's perpetual rain. Yes, you can get both coffee and coconuts here, the latter served whole with a straw and a lime on the side. But don't stop at drinks: the food here is just as spectacular. Try the coconut pancakes with whipped coconut cream, which are a standout and gluten-free to boot.
The star attractions at De Bakkerswinkel's three charming locations in Amsterdam are the freshly baked scones served with cream and house-made preserves (ask for the delicious pineapple-basil jam). The Red Light District location is a quiet haven from the bustling crowds and stag parties that pack the streets. Inside, you'll hear more Dutch than English—a rarity in this tourist-centric part of town—as you sit among tables of locals lingering over afternoon tea.
4
Photograph: Courtesy Yelp/Keyva C.
Cut Throat Barber & Coffee
Look left as you enter this coffee bar off Dam Square and you may spot a fully horizontal man, eyes closed, with hot towels on his face. The yellow-tiled archways of this former stock exchange create some separation between barbershop and café, but it's nonetheless a one-stop-shop for your grooming and coffee needs. Known for its locally roasted espresso drinks, Cut Throat serves a New Zealand-inspired brunch and classic American diner food (like the appropriately named Man Bun burger).
5
Photograph: Courtesy Yelp/Natasha M.
The Main Bar at Foodhallen
Amsterdam's first indoor food market, housed in a former tram depot, features 20 different food stalls offering everything from Dutch bar-snack staples to dim sum to French pastries. Located right in the center of the action, the Main Bar serves a great cappuccino and offers excellent people-watching opportunities, as well as a prime view of the live musicians on Tuesday nights.
6
Photograph: Courtesy Yelp/Wendy E.
This darling "coffee boutique" in Amsterdam East is the perfect spot for a coffee, glass of wine or light meal with a side of shopping. The food and wine are simple but fresh and tasty—we recommend the reasonably-priced Aperol Spritz. Within the boutique you'll find unique jewelry, clothing and household items, beautifully displayed for easy browsing in an industrial-chic space with concrete floors, whitewashed brick walls and a skylight that floods the room with light even on the grayest days.
Spot this slanting old house on the Oudeschans canal and you'll surely want to pop inside. Built in 1695, it was originally home to the lockmaster, who controlled the flow of water into the city's canals. It's now a cozy bar and café, with wood beams, a crooked stone floor and large windows overlooking the canals. The food is mainly Dutch snacks like bitterballen (deep-fried meat-and-roux balls), kaastengels (melted cheese in a wonton wrapper) and cheese tostis.
8
Photograph: Courtesy Yelp/Mechteld S.
This cheerful café in Amsterdam East boasts a long bar, a bright lounge area with couches and a loft dining section, all of them packed with plants. In the summer, a large, heated and covered terrace extends the seating dramatically, and locals from the neighbourhood sit outside chatting well into the evening. The brunch here is especially tasty: try the scrambled eggs with truffles or the chia bowl.
9
Photograph: Courtesy Yelp/Zoku Amsterdam
Living Kitchen at Zoku Amsterdam
Zoku is a hypercool apartment hotel and co-working space also featuring some well-designed social spaces open to the public. Take the elevator to the top floor and walk along a glassed-in hallway through the rooftop garden to The Bar, where you can grab a coffee or a snack, or The Living Kitchen for a lavish lunch buffet (€19). Need to get some work done? For €25, you get a co-working space day pass that includes access to the buffet lunch.
This warehouse-style space in an old steam locomotive factory is located in the developing area of the Eastern Docklands. Its friendly vibe, very reasonable prices and industrial style make it a great place to stop by any time (open Thursdays through Sundays), but the space really shines during the monthly flea markets and vinyl fairs. Browse through neighbourhood treasures, then settle in with a coffee and appeltaart while listening to a grandfatherly D.J. spin classic tunes.
11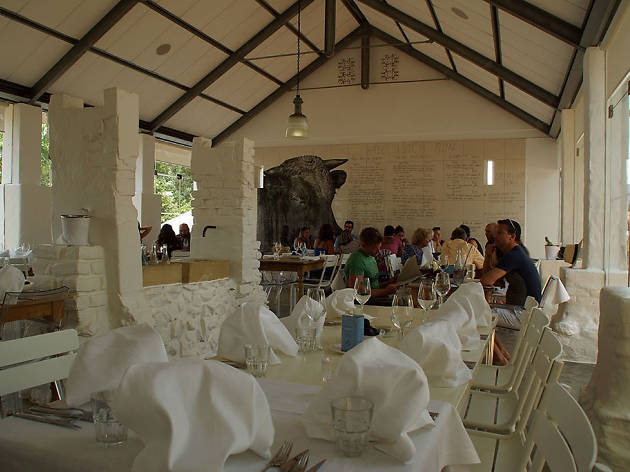 Photograph: Courtesy cc/flickr/Heribert Bechen
Restaurant Babel at OBA Oosterdok
The setting at this bright and modern café on the seventh floor of the Amsterdam Public Library's central branch is ultra-casual, but you can't beat the view. Sandwiches, salads, pizza and poke bowls are made on-demand but served cafeteria-style. Grab a tray and make the rounds, then find a table by the window or on the large terrace and look out over the houseboats and the Oude Kerk tower while you enjoy your meal.
Looking for a different type of high?
Since the official local legalization of coffeeshops back in 1980, the European city has slowly grown into the capital of cannabis culture all around the world.