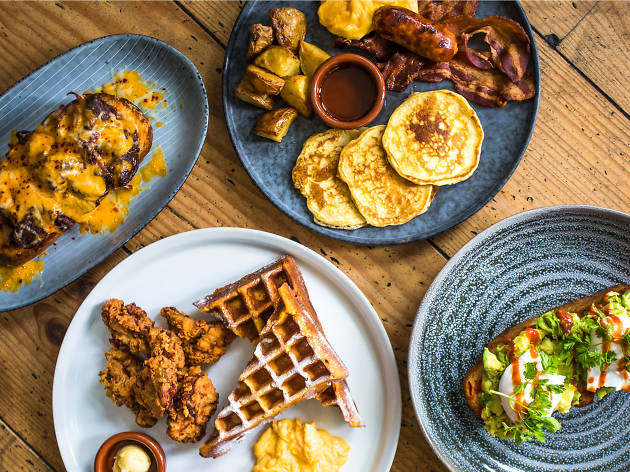 The 14 absolute best brunches in Amsterdam
Want to kickstart your day with a feast? Hotfoot it to one of the best places for a blowout brunch or breakfast in Amsterdam
As in all of Europe's foodie capitals, brunch has become very serious business in Amsterdam. And good thing – there are now effortlessly cool and stylish addresses serving up moreish mid-morning treats across all the city's major neighbourhoods, trendy, up-and-coming or otherwise. So while several of the best joints are to be found in fast-regenerating De Pijp and hip Oost, the centre and West are also well catered for, with sleek new cafés and restaurants opening up seemingly every week. And far from recycling the same, egg-and-meat-based classics, many of the newcomers are determined to outdo each other in terms of variety and innovation, as exotic salads and sumptuous sandwiches jostle for menu space with more traditional favourites.
Want to make like a local? Then kick back with a newspaper, some good coffee and lashings of first-rate grub at one of these brilliant brunch spots in Amsterdam.
RECOMMENDED: Full guide to the best restaurants in Amsterdam
Best brunch in Amsterdam
Photograph: Zoku
Voted one of the 25 coolest hotels in the world by Forbes, Zoku is no slouch when it comes to food either. In their rooftop restaurant you can order one of four warm brunch dishes – inventive takes on the classics that change daily – or tuck into the all-you-can-eat breakfast spread complete with unlimited coffee and juice. And once you're done, the multiple terraces with views over the city and supremely comfy sofas make this the perfect place to kick back for a few hours.
Price: High-end
Photograph: Bakers and Roasters
One of Amsterdam's brunch pioneers, Bakers & Roasters blends a typical 'Kiwi brekkie' with punchy Central and South American flavours – meaning eggs benny and the New Zealand version of a full English sit alongside Navajo eggs and huevos rancheros on their eclectic menu. Throw in fantastic coffee and a good range of homemade cakes, and it's no surprise queues start to form at both branches around 10am. Oh, and if the weather's nice, head to the one on Kadijksplein – they have a huge outdoor terrace.
Price: Mid-range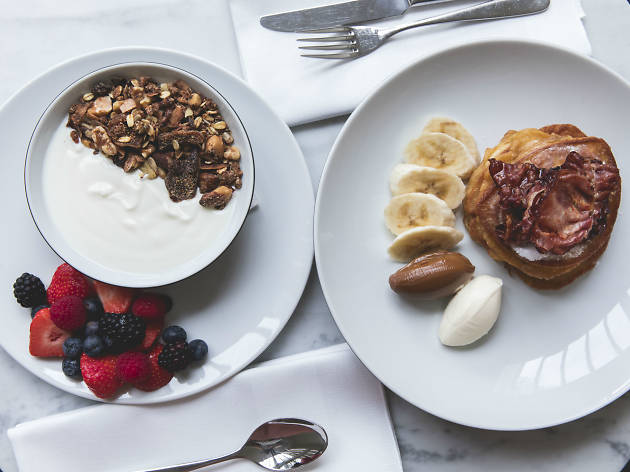 Photograph: New Werktheater
Eggs are the name of the game at this bright, airy, recently renovated old theatre, with a mighty shakshuka and three variations on eggs benedict taking centre stage. They also have a plethora of sweet and healthy options, a long communal table full of art magazines, and some of city's best coffee. Feeling rambunctious? Ask to peruse their Japanese-only whisky menu or get stuck into one of their signature 'day' cocktails.
Price: Mid-range
Photograph: The Breakfast Club
Whatever your preferred morning fuel, the Breakfast Club (five locations city-wide) has you covered; from cereal to fish tacos to pancakes and pies, their killer all-day menu offers mind-boggling variety. Those blessed with a sweet tooth shouldn't miss the buttermilk pancakes with berries and honeycomb butter, while meat-eaters can get stuck into the enormous breakfast burger with bacon and a fried egg. And if you're in need some hair of the dog, head to the Oost branch, where beer, wine and cocktails are on tap from morning till night.
Price: Mid-range
Photograph: Omelegg
Billed as 'the Netherlands' first omelettery', it's no surprise what the speciality is at this cute spot at the southern end of De Pijp (they also have a branch near Centraal, on Nieuwebrugsteeg). Starting at 7am, they serve every variation of omelette you could possibly imagine. Hungry? You'll need the Farm Boy, complete with bacon, salami and chipolatas. Like it hot? The Spicy Mariachi has you covered. Or if you're after something sweet, try the Banana Peanutbutter, which comes with lashings of honey and cinnamon. Their coffee ain't half bad either.
Price: Mid-range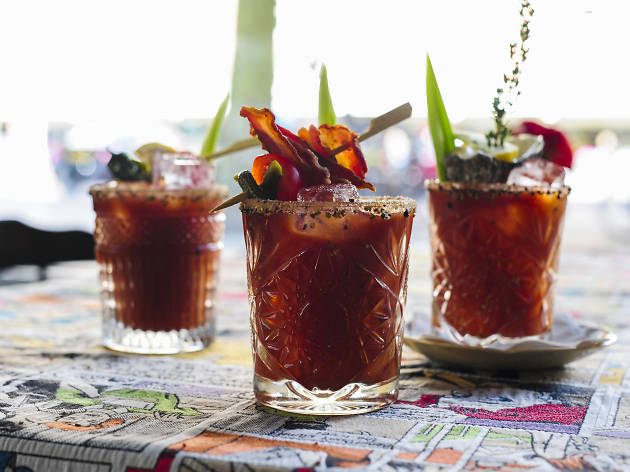 Photograph: Dennis Branko
Amsterdam is, of course, famous for its canals, and what better way to enjoy them than a leisurely two-hour brunch cruise? G's operates 'the world's only brunch boat', and it sails every weekend come rain or shine. The menu is a little short and basic, and portions not huge, but the food is excellent and, really, there's no more indulgent way to start the day than sipping on a mimosa as the world sails by. Booking is a must.
Price: High-end
Photograph: Little Collins
If Little Collins' hangover-busting Bloody Mary can't wake you from your stupor, then nothing will. This quaint address, nestled down a leafy street in De Pijp (they also have a branch in West), takes its name and inspiration from Melbourne's famous Little Collins Street, even though their brunch dishes have a more global feel. They do a wondrous kimchi and gruyère scramble, the health conscious will enjoy the fava bean hummus, and the waffles with potatoes, bacon and poached eggs is a sure-fire stomach-filler.
Price: Mid-range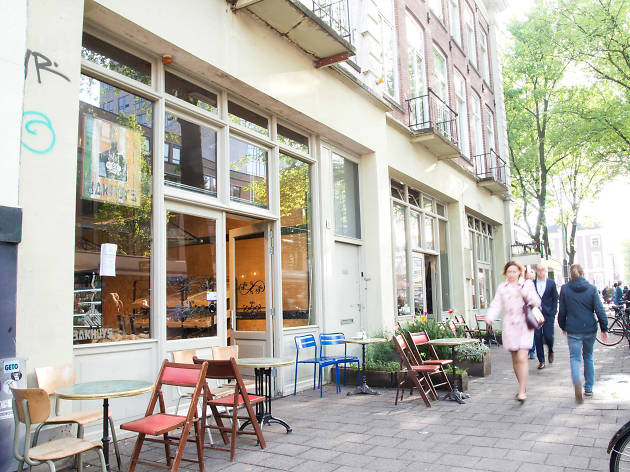 Photograph: Bakhuys
Those after a sweet start to the day should head to this large, open-plan bakery and café next to Weesperplein metro on Sarphatistraat. All manner of cakes, buns, loaves and treats are baked daily, and the alluring smell wafting out the door from 7am is enough to tempt any passerby. Their savoury goods aren't bad either, with pizzas, fresh soups and a range of hot and cold sandwiches catering to a buzzy lunchtime crowd of students and office workers. Excellent coffee and a decent range of beers and juices seal the deal.
Price: Budget
Photograph: CT Coffee & Coconuts
There's a Hawaiian vibe to this light-filled converted art deco cinema in De Pijp that promises 'food for the soul'. The main focus here is the humble coconut – they come juiced, squeezed and blended in all manner of thirst quenchers and cocktails – or served fresh and whole. When it comes to mains, expect rather out-there fusion plates: Korean tacos, 'Tijuana deli' sandwiches and coconut pancakes, plus eggs done all ways and a wide range of healthy bites and bowls.
Price: Mid-range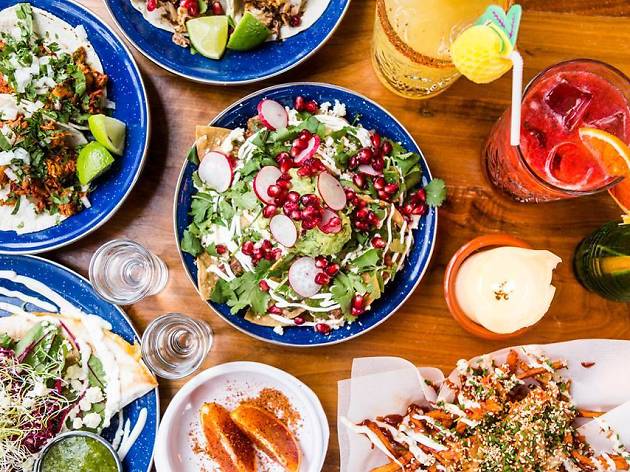 Photograph: Flora
If the night before has left you needing a kick up the culo, this Mexican brunch spot from the chefs behind Best Coast Tacos has you covered. Set in a park in Oud-West, Flora does everything homemade – right down to the tortilla chips. Tuck into mouthwatering tacos and chilaquiles, or opt for the nachos, a heavenly pile of goodness that goes way beyond the standard guac'n'cheese. And those feeling indulgent can wash all that down with a quirky mezcal cocktail, but be warned – they make them super-strong.
Price: Mid-range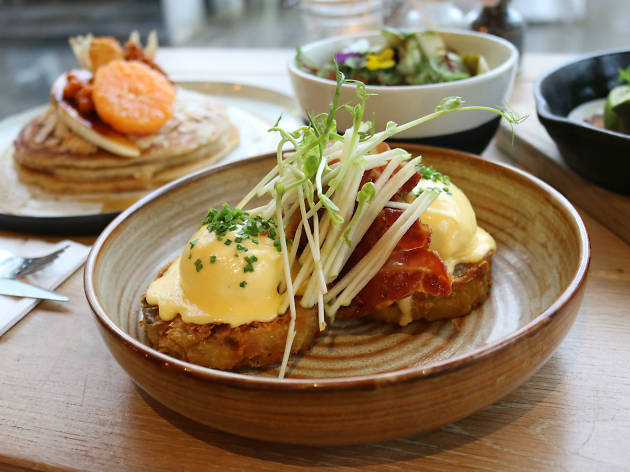 Photograph: Dignita
Set within the pristine gardens of Hoftuin, behind the Hermitage Museum, Dignita is the ideal relaxing spot for an al fresco brunch. The focus is very much on health and wellness here, with most dishes incorporating fresh organic produce and vegetables from their own garden. The menu features things like wholegrain granola with nuts and chia jelly, zucchini and chickpea fritters, and macrobiotic salad bowls, as well as more standard plates like umami avocado and eggs benedict. Kids are well catered for, too, with a special menu and plenty of space to run around.
Price: Mid-range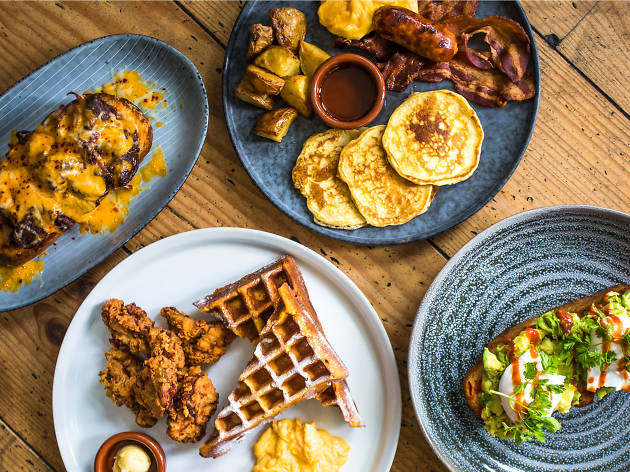 Photograph: Ku West / Staring at Jacob
This US-influenced café is where to head for huge, hearty, hangover-friendly comfort food. The star of the show is the fried chicken with buttermilk waffles, but they also offer tip-top poached egg dishes and a mean banana bread. If the morning after is proving particularly vicious, order the Dirty Dirty Bloody Mary – it'll sort you out in no time.
Price: Mid-range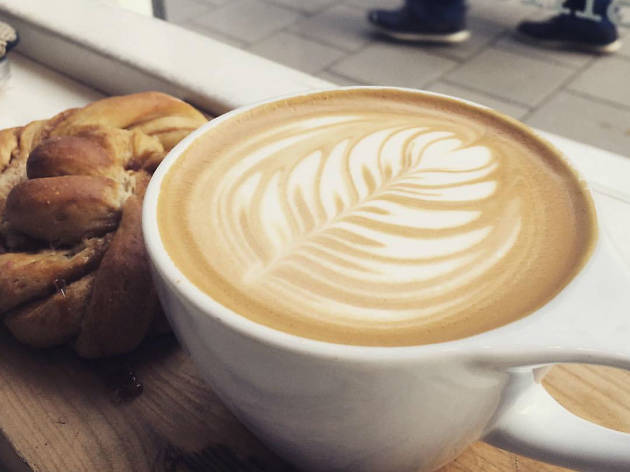 Photograph: Scandinavian Embassy
Tastefully decked out in white and blonde wood, this calm, cosy basement spot in De Pijp serves classic brunch dishes with a Nordic twist. Bear sausages and home-cured salmon with roe come with perfectly poached eggs, while the porridges and soups are hearty and bursting with flavour. Finish off with a slice of Amsterdam's best carrot cake and one of their award-winning small-batch coffees. If it's a nice day, grab them to go, then head across the road to the park.
Price: Mid-range
Photograph: Betty Blue
There's a reason sweet-toothed hordes descend on Betty's every weekend – their on-site bakery. A huge range of cakes, muffins, and pastries are made fresh every day – their cheesecake is legendary – but they've got the savoury side covered, too, thanks to breakfast pizzas, huge sandwiches and plenty of bacon and eggs. The stylishly done-out space fills up quickly, so come down early, and don't forget to try some of the locally sourced coffee.
Price: Mid-range
And if you're still hungry come evening...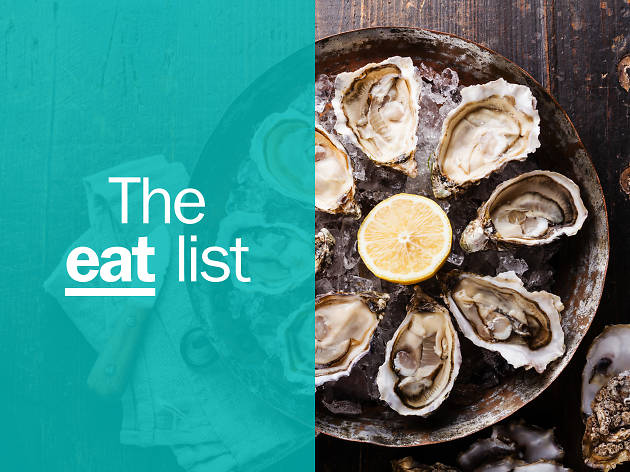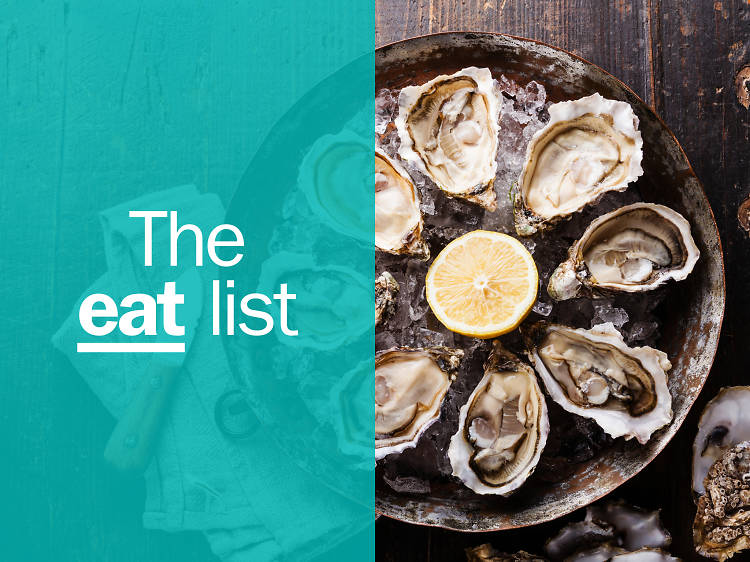 Though Amsterdam doesn't have a particularly distinguished culinary past, the current food scene could rival almost any city in Europe for gastronomic fun and flair. Over the past 15 years or so, an inventive wave of Dutch chefs have been updating classics and mixing things up in the kitchen.
Best selling Time Out Offers