Where to eat the best brunch in Amsterdam
Enjoy lazy mornings with this selection of the best brunch in Amsterdam, from vegan feasts to chicken and waffles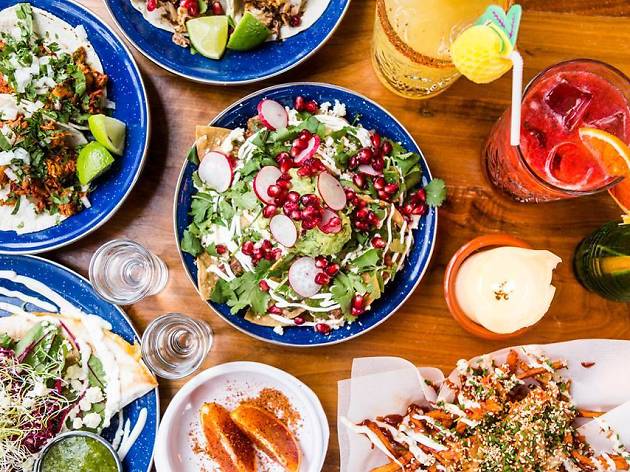 It took a while for the concept of brunch to catch on in Amsterdam, but the last few years have seen an explosion of hip, stylish new places serving up the latest trends, from shakshuka to chicken and waffles and everything in between. As development in the city has spread east, so have the restaurants – many of the best brunch spots are to be found in De Pijp and trendy Oost – and the locals are now hooked on the idea of spending lazy weekend mornings with good coffee, a newspaper, and lashings of great food. If you want to join in, these are the places to visit.
Best brunch in Amsterdam
1
Zoku
Voted one of the 25 coolest hotels in the world by Forbes, Zoku is no slouch when it comes to food either. In their rooftop restaurant you can order one of four warm brunch dishes – inventive takes on the classics that change daily – or tuck into the all-you-can-eat breakfast spread complete with unlimited coffee and juice. And once you're done with the food, the multiple terraces with views over the city and supremely comfy sofas make this the perfect place to kick back for a few hours.
Price: High-end
2
Bakers and Roasters
One of Amsterdam's brunch pioneers, this joint's USP is a 'Kiwi brekkie' crossed with a healthy dose of Brazilian flair. Eggs Benny and the New Zealand version of a Full English sit alongside Navajo Eggs and Huevos Rancheros on their eclectic menu. Add in delicious coffee and a range of ever-changing homemade cakes, and it's no surprise that queues start to form at both branches after 10 am. Oh, and if the weather's nice head to the one on Kadijksplein – they have a huge outdoor terrace.
Price: Mid-range
3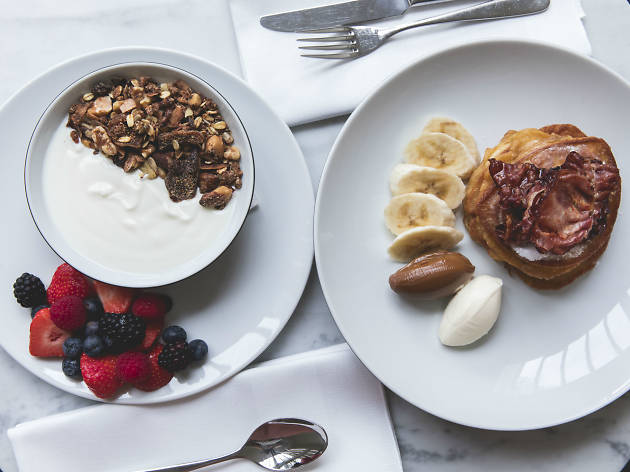 New Werktheater
Eggs are the name of the game at this bright, airy, renovated old theatre, with a mighty shakshuka and three variations on eggs benedict taking centre stage. They also have a plethora of sweet and healthy options, a long communal table full of arty magazines, and some of the city's best coffee. Feeling rambunctious? Ask to peruse their Japanese-only whisky menu or get stuck into one of their signature 'day' cocktails.
Price: Mid-range
4
The Breakfast Club
Whatever your preferred choice of morning fuel, The Breakfast Club has you covered; from cereal to fish tacos through pancakes and pies, their killer all-day menu has a mind-boggling variety of dishes. Those blessed with a sweet tooth shouldn't miss the buttermilk pancakes with berries and honeycomb butter, while meat eaters can get stuck into the enormous breakfast burger with bacon and a fried egg. And if you're in need some hair of the dog, head to the Oost branch, where beer, wine, and cocktails are on tap from morning till night.
Price: Mid-range
5
Billed as 'the Netherland's first omlettery', it's no surprise what the speciality is at this cute little spot at the southern end of De Pijp. Starting from 7 am, they serve every variation of omelette under the sun. Hungry? You'll need the Farm Boy, complete with bacon, salami, and chipolatas. Like it hot? The Spicy Mariachi has you covered. Or if you're after something sweet, try the Banana Peanutbutter, which comes with lashings of honey and cinnamon. Their coffee ain't half bad either.
Price: Mid-range
6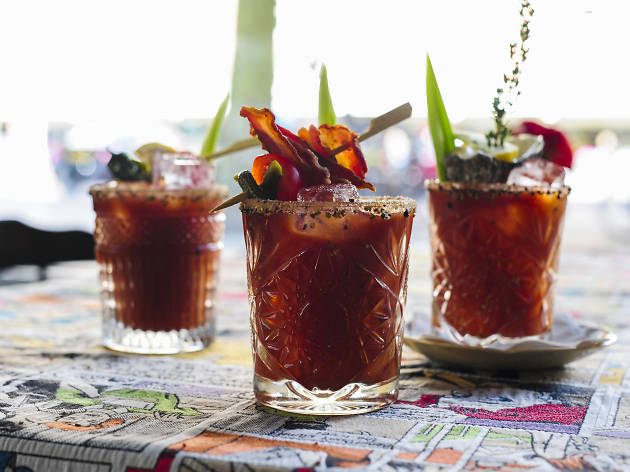 DENNIS BRANKO
Amsterdam is, of course, famous for its canals, and what better way to enjoy them than a leisurely brunch cruise? Gs operate 'the world's only brunch boat', and it sails every weekend, come rain or shine. The menu is somewhat short and basic, and portions not huge, but the food is delicious and really, there's no more indulgent way to start a day than sipping on a mimosa as the world sails by. Booking is a must.
Price: High-end
7
Little Collins
If Little Collins' hangover-busting Bloody Mary can't wake you from your stupor, then nothing will. This gem, nestled in a lovely, leafy street in De Pijp, takes its name and inspiration from Melbourne's famous Little Collins Street, even though their brunch dishes have a worldlier feel. They do a wondrous kimchi toastie, the health conscious are served by a cauliflower and freekah salad, and for the truly gluttonous, the mighty chipotle braised beef cheek should satisfy even the most ravenous of appetites.
Price: Mid-range
Brunch gets a Southern US-style revamp at this bijou corner spot, tucked away in the heart of Oost. It's all about the chicken 'n' waffles here, but the menu's full of tempting treats; dreamy French toast, steak and eggs, delicate fish tacos, and sides of chicken wings and mac 'n' cheese. It's normally pretty packed, but if you have to wait, just pull up a bar stool and order one of their moreish cocktails; a suitably decadent way to start your day.
Price: Mid-range
9
CT Coffee & Coconuts
There's a Hawaiian vibe to this light-filled converted art deco cinema in De Pijp that promises "food for the soul". But it really is all about the coconut; they come juiced, squeezed, or blended in all manner of thirst quenchers and cocktails – or pure and fresh, served as a whole coconut. Food-wise, think exotic; breakfast burritos, coconut pancakes, and egg and noodle carbonara alongside eggs all ways and a whole range of bites and bowls.
Price: Mid-range
10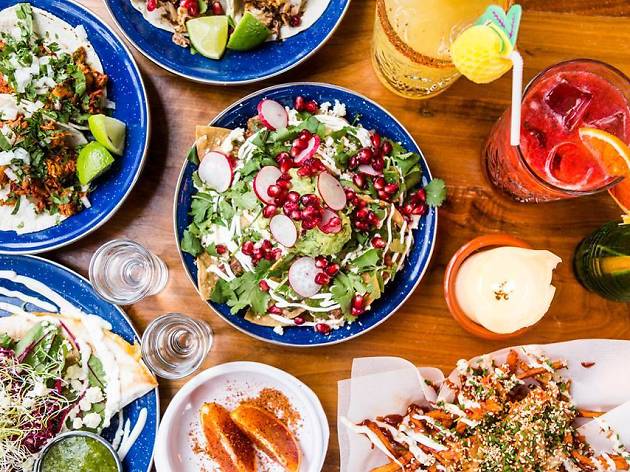 Flora
If the night before has left you needing a kick up the culo, this Mexican brunch spot from the people behind Best Coast Tacos will sort you right out. Set in a leafy little park in Oud-West, everything here is homemade – they even make their own tortilla chips. Tuck into mouthwatering tacos and chilaquiles, or opt for the nachos, a heavenly pile of goodness that's goes way beyond the standard guac 'n' cheese. Those feeling indulgent can wash all that down with a quirky mezcal cocktail, but be warned – they make them super strong.
Price: Mid-range
11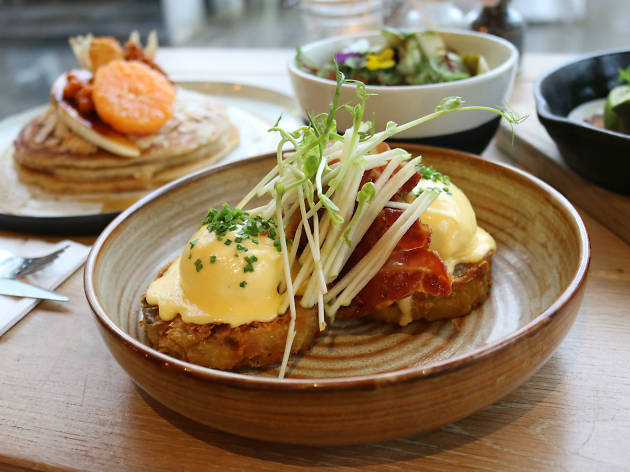 Dignita
Situated in the pristine gardens of Hoftuin, behind the Hermitage Museum, Dignita is an oasis of calm – there's nowhere better for an al fresco brunch. Health and wellness are the priorities here, using seasonal organic produce and vegetables from their own garden; quinoa and buckwheat porridge, zucchini and chickpea fritters, and macrobiotic salad bowls sit alongside more standard fare like smashed avo and eggs benedict. Kids are well catered for too, with a special menu and plenty of space to run around.
Price: Mid-range
12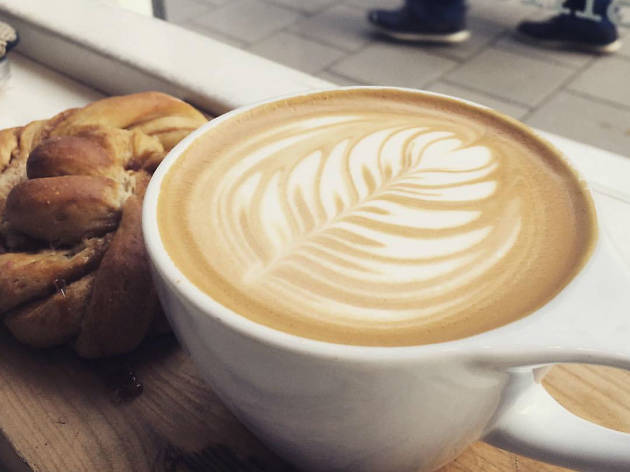 Scandinavian Embassy
This calm, cosy basement spot in De Pijp is tastefully decorated in white and blonde wood and serves up classic brunch dishes with a Nordic twist. Bear sausages and home-cured salmon with roe come with perfectly poached eggs, while they also specialize in hearty porridges and soups. Finish your brunch with a slice of Amsterdam's best carrot cake and one of their award-winning, small-batch coffees – if it's a nice day, grab them to go and then head over the road to the park.
Price: Mid-range
13
Betty Blue
There's a reason sweet-toothed hordes descend on Betty's every weekend; their on-site bakery. All manner of cakes, muffins, and pastries are baked fresh every day – their cheesecake is legendary – but they've got the savoury side covered too thanks to breakfast pizzas, huge sandwiches, and plenty of bacon and eggs. The warm, funky space fills up quick, so go early, and don't forget to try some of the locally sourced coffee.
Price: Mid-range