The 11 best markets in Amsterdam
From flea to flower, eats to antiques, here's where to find the best markets in Amsterdam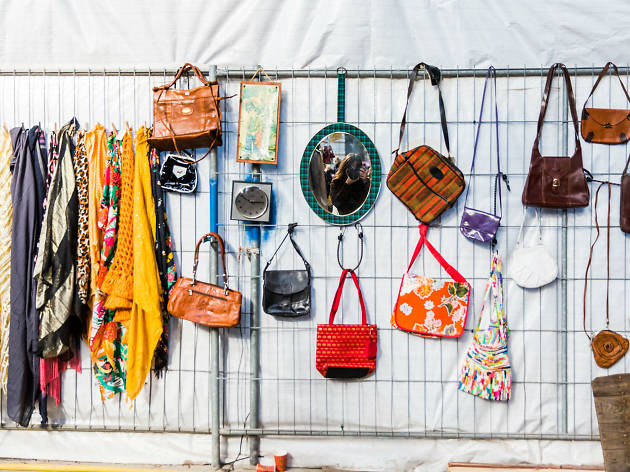 A rich history as a trading nation means the Dutch are all about good value, and know how to bargain. They also have a strong entrepreneurial spirit, as evidenced by the abundance of markets that can be found in just about every neighbourhood in Amsterdam; it's a must thing to do if you're exploring the city by foot. Whatever you're on the hunt for – vintage clothes, fresh flowers, bargain bric-a-brac – Amsterdam has a market for it, some of which have existed for close to 100 years. Plus, you can find the finest local produce in the city, much of which appears in the menus of the best restaurants in Amsterdam. So make like a local and browse the stalls at these unmissable markets.
Best markets in Amsterdam
1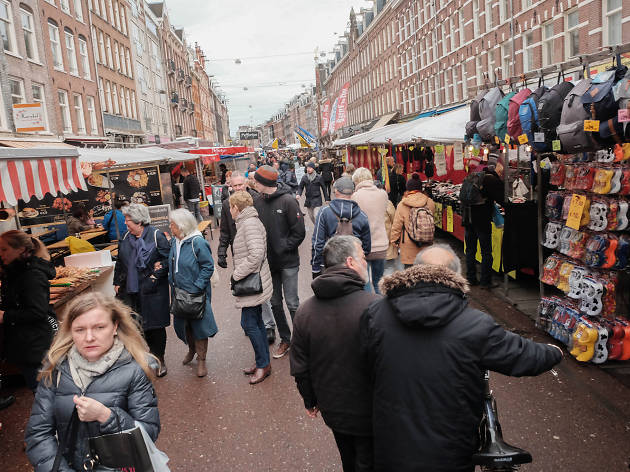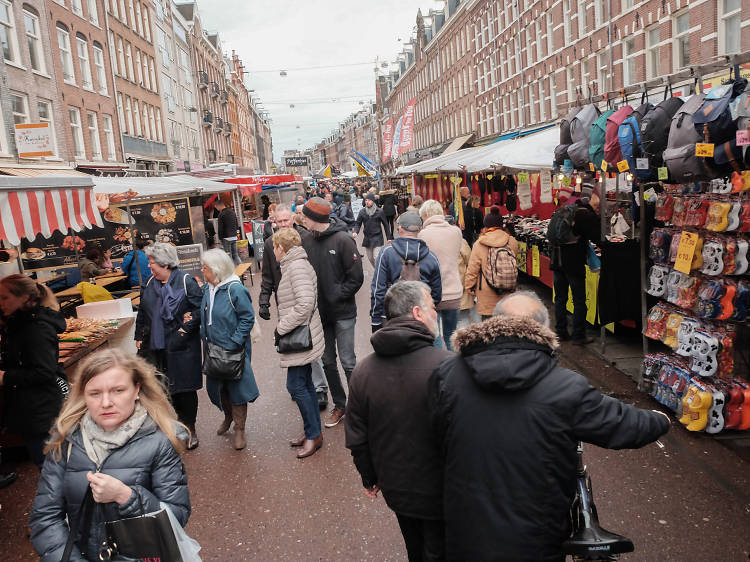 Photograph: Courtesy CC/Flickr/Franklin Heijnen
If you only visit one street market while you're here, make it 'the Cuyp'. Operating since 1905, it's a one-stop shop for fresh meat, fish, vegetables, fruit, clothes, jewellery, and just about everything else, and is well worth wandering around simply to soak in the atmosphere. If you're peckish, do try the roast chicken or the herring and stroopwafels will do the trick for those with a sweet tooth. Linger at the intersection between Albert Cuypstraat and Eerste van der Helststraat; it's awash with cafes, bars, and cool little boutiques.
2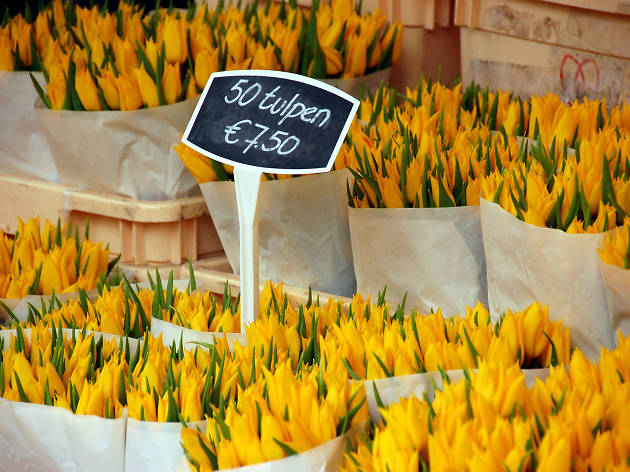 Photograph: Courtesy CC/Flickr/Deborah Guber
Tulips are synonymous with the Netherlands, and if a visit to Keukenhof is out of the question, Bloemenmarkt – a rich burst of colour and scent – is the next best thing. The world's only floating flower market consists of a huge number of stalls strung together along one of the centre's longer canals, selling all kinds of blooms and flora. Tulip bulbs are an obvious gift, but you can also find roses, orchids, seeds, and intricate bouquets for every occasion.
3
Photograph: Courtesy Waterlooplein
Originally known as the 'Jewish market' because of its location in the former Jewish district of the city, this site has seen stallholders gather since 1885. More than 300 now trade here, the focus on vintage clothes, cheap bric-a-brac, and second-hand goods. Bargains are plentiful – particularly bikes, antiques, and jewellery – and you'll find plenty of colourful locals hanging around what's known as the biggest and best flea market in Amsterdam.
4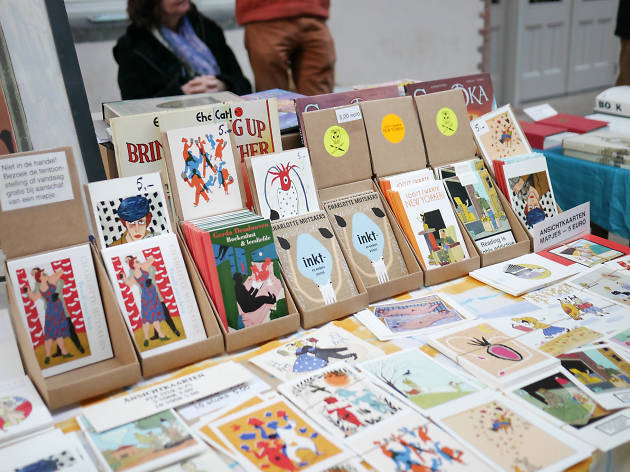 Photograph: Courtesy CC/Flickr/Franklin Heijnen
Forget about dog-eared copies of old books that no one cares about –Boekenmarkt is run by experts who really know their stuff. Merchants here travel from all over the country to man their stalls on Fridays selling rare and out of print books, vintage maps and postcards, and hard to find periodicals. If you're a collector or after something specific, ask around; chances are, somebody here can help. Or simply browse the beautifully organized stacks of books; they're all killer, no filler.
5
Photograph: Courtesy Noodermarkt
A haven for foodies, Jordaan's Noodermarkt brings together local farmers and the freshest, organic produce every Saturday. It's not cheap, but everything here is premium quality, and utterly delicious. Before you go, check what's in season – asparagus in May, mushrooms in October – or simply ask what's good; stallholders are more than happy to advise. Many offer tastes of their wares or small snacks to go too, should your hunger get the better of you.
6
Photograph: Courtesy Niels Brink
Held in a converted shipbuilding warehouse one weekend every month, this is the largest flea market of its kind in Europe. Boasting more than 500 stands – which anyone can rent – they have one simple rule; everything must be second hand. For some, it's a chance to offload whatever junk is clogging up their home, but there are plenty of vintage finds to be had for the intrepid bargain hunter; clothes, furniture, records, and books prime amongst them. It's worth a trip for the free ferry ride from behind Centraal Station alone.
7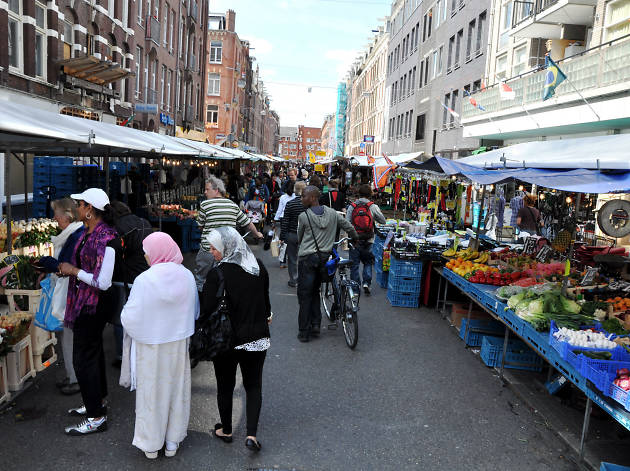 Photograph: Courtesy CC/Flickr/Carolina Georgatou
A real local gem, this is where many Amsterdammers choose to do their grocery shopping. Food is obviously the real star here – great value meat, fish, fruit and veg, alongside delights such as hummus, cheese, and a number of West Asian grocers – but there are also stalls selling home essentials, clothes, and electrical good. Some great cafés, exotic grocers, and restaurants can be found in and around the area too, making whiling away a few hours a very pleasurable experience.
8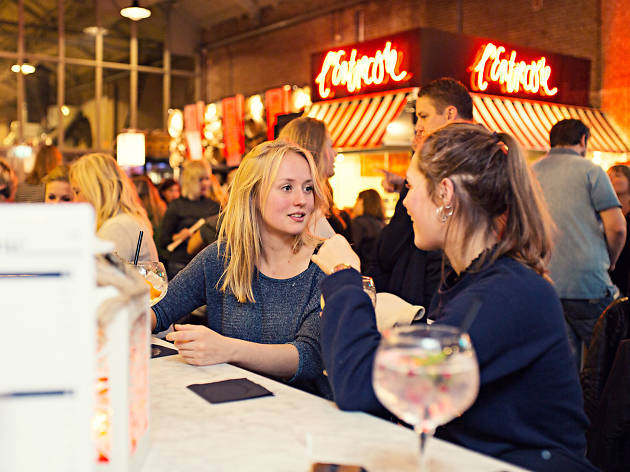 Photograph: Courtesy Typhoon Hospitality
Not strictly a market as such, this indoor street food mecca is still unmissable. Housed in a refurbished tram depot, the food-truck-style stall and bars that sit in the main hall provide cuisine from all over the world, from Mexican to sushi, BBQ to Italian. There's plenty of seating, but if the weather is nice many choose to get their food to go. A number of independent stores sit alongside the food hall, and there's a multiscreen cinema next door too if you want to make a day of it.
9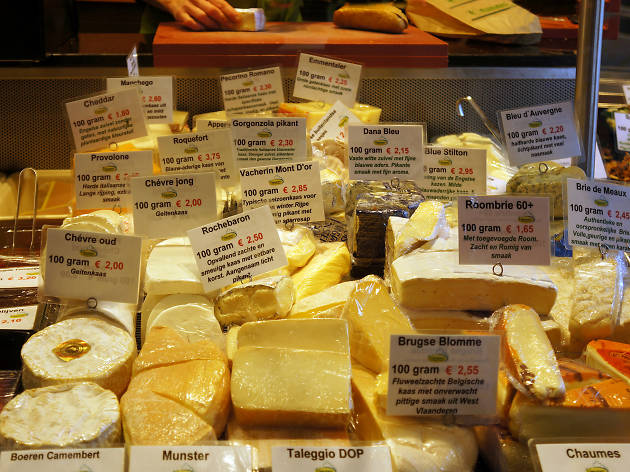 Photograph: Courtesy CC/Flickr/mooste
It might be smaller than Noodermarkt, but the quality is just as good at Nieuwmarkt. Farmers have been coming here, the site of an old city gate, since the seventeenth century, and many still prefer this location over its glitzier Jordaan rival. Ultra-fresh organic produce is on offer every Saturday – and at wallet-friendlier prices too – alongside a few flower and wine vendors. Don't miss out on the stall doing freshly squeezed orange juice, and hunt down the corn on the cob, boiled in front of you and slathered in rich, salty Dutch butter.
10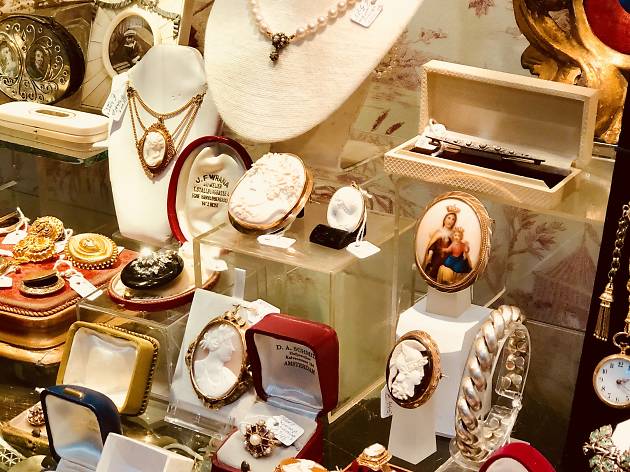 Photograph: Courtesy Antiekcentrum Amsterdam
On Sundays from May to October, the site of Nieuwmarkt turns into a haven for budding Lovejoys. Ornaments, furniture, and assorted bric-a-brac jostle for position in stalls crammed full of curios, and there's plenty of vintage clothing vendors too. It's not quite as eclectic as the Waterlooplein Market, but the standard of goods sold tends to be higher – you can find some amazing period pieces and rare delights buried here. The pace is also somewhat more relaxed, with a definite 'Sunday vibe' encouraging idle browsing.
11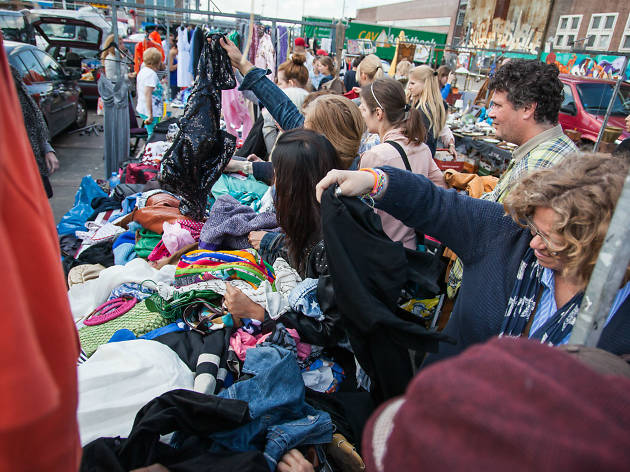 Photograph: Courtesy Nichon Gleurum
Vintage clothing will always have a certain cachet, and those in the know head to the site occupied by Noodermarkt every Monday morning for Lapjesmarkt. Really two markets in one, there's a clothing side – shoes, denim, leather, and fur coats are just some of the delights on offer – and a craft market selling fabric, textiles, buttons, ribbons, yarn, and anything else you might need to do a spot of sewing. If they don't sell it here, chances are you'll never need it.
Ready to explore the rest of the city's musts?
Explore the regal, fashionable Jordaan, hang out in the shabby chic environs of De Pijp, or head to up and coming Oost where old-school Turkish greengrocers sit side by side with achingly hip restaurants and boutiques. Culturally, it's one of Europe's most diverse, eclectic destinations, and with many bijou renovations and regeneration projects now complete, it's more vibrant than ever.
WithLocals Universal Widget