The 10 best parks in Amsterdam
Steeped in history and offering a respite from urban life, the best parks in Amsterdam are must-see attractions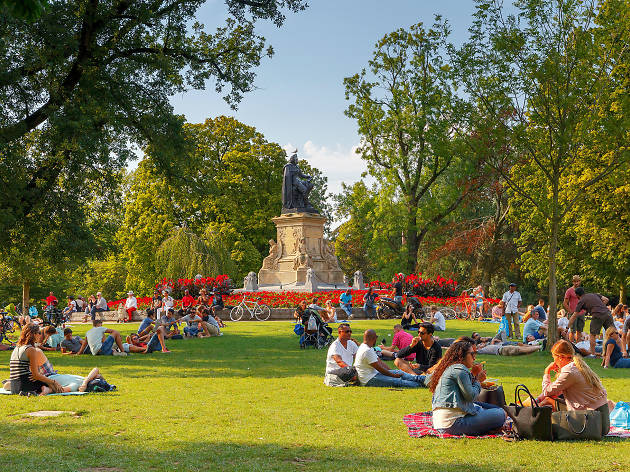 In Amsterdam, you don't need to wander far to stumble upon a green space: from cultural hotspots near the city's top attractions to green areas drawing families in with an abundance of playgrounds and pettings zoos, the best parks in Amsterdam are all outstanding.
Many local green spaces are steeped in history, too: expect to notice sculptures by famous artists adorning a seemingly meaningless patch of grass or beautifully grand windmills looming overhead. Spending time at these superb parks is certainly one of the best things to do to learn about Amsterdam's cultural connections. Are you ready to explore?
P.S. If you're craving a different kind of outdoor activity, check out our list of best beaches in Amsterdam.
Best parks in Amsterdam
Attractions, Parks and gardens
What is it: The most popular park in Amsterdam attracts around 10 million visitors per year—and for good reason. Brimming with scenic lakes, ancient trees and a charming rose garden, it's easy to find a quiet corner to yourself despite the high visitor count here in Vondelpark.
Why go: There's a neat selection of bars and cafés within the grounds, plus free open air concerts throughout the summer and ice-skating in the winter. Look out for Picasso's fish sculpture, too.
2
Photograph: Courtesy Yelp/Jessica C.
What is it: As part of the Westergasfabriek complex, home to some of the city's coolest bars and restaurants (plus an arthouse cinema), Westerpark hosts an all-star line-up of food and music festivals throughout the year.
Why go: Besides offering plenty of space and trees to perch under, park staff encourages visitors to hire a boat and cruise along the Harlemmerweg canal into the city centre. The green space adjoins an enchanting community garden complex, open during the summer.
What is it: Originally created to host the 1972 world garden fair, Floriade, Amstelpark still draws foot traffic likely given to its perfectly manicured botanical gardens, including a rose garden and rhododendron valley.
Why go: Play a round at the mini-golf course, check out the brass Rembrandt statue and see the monumental Rieker windmill, which dates back to 1636. If you're only in town for a short trip and want to see a few iconically Dutch sites, this is the place for you.
4
Photograph: Courtesy Yelp/Oana M.
What is it: Located on the outskirts of the city you'll find the largest local park, Amsterdam Forest. It's home to the "Geitenboerderij Ridammerhoeve," an organic goat farm and petting zoo that's loved by kids and grown-ups alike.
Why go: Alongside the many winding bike paths and lush meadows to take in, you can also explore the lake by pedal boat or catch a rowing competition at the park's canal, Bosbaan.
5
Photograph: Courtesy Yelp/Jessica C.
What is it: A little further west than most tourists would venture, Rembrandtpark is just the kind of bucolic place you'd expect the world-famous artist to enjoy. Revel through the dense woods and sparkling lakes, plus the oldest petting zoo in Amsterdam.
Why go: During the longest days of the year, locals flock to the park with their portable BBQs to make the most of the pleasant weather and enjoy biertjes (a few beers) with friends.
6
Photograph: Courtesy Yelp/Ilona H.
What is it: Frankendael is the last 17th-century country home in Amsterdam, so history buffs shouldn't miss it. The surrounding grounds have been meticulously maintained and include two unique, historical gardens.
Why go: After wandering the gardens, stop for lunch at De Kas, the stylish organic restaurant located in an old greenhouse. There's also an organic market on the last Sunday of every month.
7
Photograph: Courtesy Yelp/Marianne V.
What is it: Though just steps from the busy Albert Cuyp Market (open every day except Sunday), this small park is a quiet, bike-free oasis with a large lake at its centre and a lively duck population to boot.
Why go: Great for people watching or to enjoy a picnic on the grass, the park also happens to be in one of the city's trendiest neighbourhoods, De Pijp.
8
Photograph: Courtesy Yelp/Richard V.
What is it: Well and truly under the radar, this modern park—opened just recently by Dutch standards (1938!)—is scattered with sculptures, chestnut trees and dog walkers. Families love the on-premise children's paddling pool.
Why go: There's a romantic "Doctor's Garden" filled with medicinal herbs and wild vegetables to forage. How cool?
9
Photograph: Courtesy Yelp/Daniel D.
What is it: At this expansive park in the multicultural Oost neighbourhood, you can spot wild birds including ducks, parrots and grey heron, and glimpse sculptures from Dutch and Surinamese artists.
Why go: Every Sunday at 1pm, locals gather at the "speaker's stone" to witness people take advantage of the designated free-speech time and place. It makes for an out-of-the-ordinary park day indeed.
10
Photograph: Courtesy Yelp/Salome H.
What is it: A serene escape in the bustling West, the park is intersected by a series of canals making it a unique blend of nature and urban design.
Why go: Look closer and you'll see there's more than meets the eye here. The park was designed to follow the style of famous Dutch artist Mondrian, with harmony in the colours, lines and dimensions of the plants and landscape.
Want to spend even more time outdoors?
World-class beach clubs abound, while the North Sea swell ensures ideal conditions for water sports. Closer to the centre, a selection of swimming spots and artificial beaches make for a fun day out.