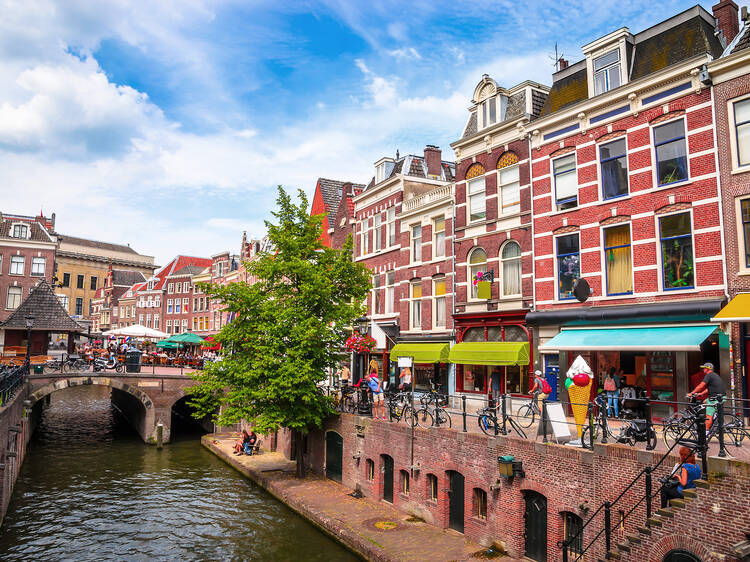 Photograph: Shutterstock.com
This lively medieval city feels like a mini-Amsterdam, though its beautiful canals and gorgeous streets are untroubled by the hordes of selfie stick-wielding tourists. The picturesque Old Town is full of cool independent boutiques, bustling cafes and bars plus converted waterside wharf cellars and more, and it's no slouch when it comes to culture either: some of the country's best art and music can be found alongside the hundreds of historical monuments.
EAT
The chic, cavernous industrial space occupied by De Zagerij caters to every whim: morning coffee, cocktails, quick and tasty lunches, or a full five-course à la carte experience. The food is modern with a twist, prepared using only the freshest ingredients.
DRINK
Utrecht is a beer lover's paradise, and there's nowhere better to sip a few ales than Café Olivier, a converted church that offers a huge range of brews both on tap and in bottles. Pro tip: order Belgian beer, their speciality.
DO
The best way to take in the magnificent Old Town – particularly Oudegracht – is from the water, and you needn't restrict yourself to traditional canal tours (although they are great). Kayaks, pedalos and even gondolas are available to rent at various spots around the city centre.
STAY
Housed in a 17th-century mansion that used to be an eye hospital, the 36 rooms of the Eye Hotel are stylish yet homely and come in a variety of sizes to suit all budgets. Details such as walk-in showers and Nespresso machines make it a comfortable base for a day or two of exploring.
If you only do one thing…
Climb Dom Tower, known as the 'pride of Utrecht'. Some 465 steps will take you 95 metres to the top of the Netherlands' highest church tower, where you'll be rewarded with phenomenal views across the city and beyond. The guided tour also takes in the huge bells in the Ringing Attic and the beautiful St. Michael's Chapel.