Heads up! We're working hard to be accurate – but these are unusual times, so please always check before heading out.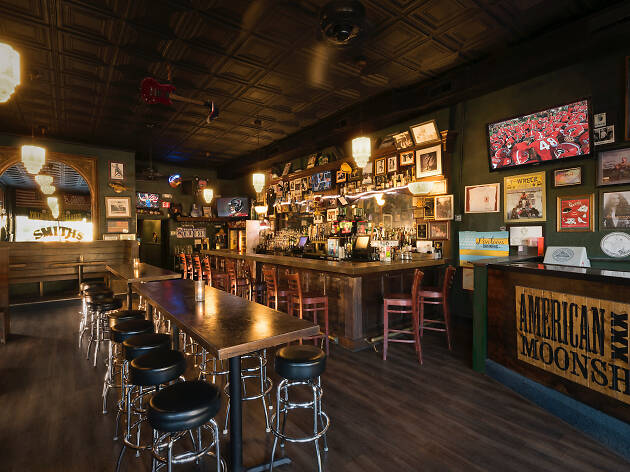 The 15 best bars in Atlanta
Some of the best bars in Atlanta are only open on Christmas and others are rooftop oases with sweeping views.
Atlantans are lucky to have a bustling food scene filled with top-notch restaurants that have made a dent on the country's culinary outlook, but the best bars in Atlanta ain't too shabby either. Even if you're just in town for a quick business trip, you're likely to have access to some of the best lounges and bars in the region just outside your hotel room. Why hang in your little space and depend on room service when you can belly-up to a local bar for a nightcap?
And if you're already a local, what are you waiting for? Step away from the smoke engulfing the best hookah bars and BBQ spots in town and opt, instead, for an excursion into the city's cocktail world.
Grab your pals and hit these happy hour hangouts before snagging a table at a nearby restaurant or partaking in Atlanta's humming nightlife scene. After all, as Mr. Jermaine Dupri, who was raised here, so eloquently explains: Atlanta fêtes don't end until the wee hours, leaving plenty of time for an after-dinner aperitif.
Best bars in Atlanta
Photograph: Courtesy Yelp/Michael B.
It should come as no surprise that the Westside's legendary dive, Northside Tavern, tops our list. Located on Howell Mill Road just steps from Atlanta's burgeoning design and residential districts, Northside Tavern might appear to be a dilapidated eyesore in the midst of renovated industrial splendor. And honestly, it is, which makes it a true Atlanta experience. The famed blues destination that draws a crowd for live music seven nights a week is a must-visit.
Photograph: Courtesy Yelp/Alex P.
2. St. Regis Bar at St. Regis Atlanta
If you're craving a classic martini surrounded by traditional luxury, look no further than the St. Regis Bar at St. Regis Atlanta. Located in Buckhead, one of the city's preeminent spots for business transactions, the St. Regis Bar is an ideal place to have a post-deal drink. The rich wood tones and leather textures are comforting yet posh, making the St. Regis Bar quintessential Atlanta affluence at its finest. Plus, the people watching opportunities are plentiful: you never know who you'll see.
Photograph: Courtesy Yelp/Bobby K.
An Atlanta music institution, Decatur's Eddie's Attic has been bringing tunes to ATLiens' ears since 1991. If time allows, plan your visit on a Monday to experience the bar's weekly, competitive open mic nights for aspiring musicians and songwriters. The winner receives a coveted spot in the bi-annual shootout, which is no small victory; previous winners have included John Mayer and Jennifer Nettles.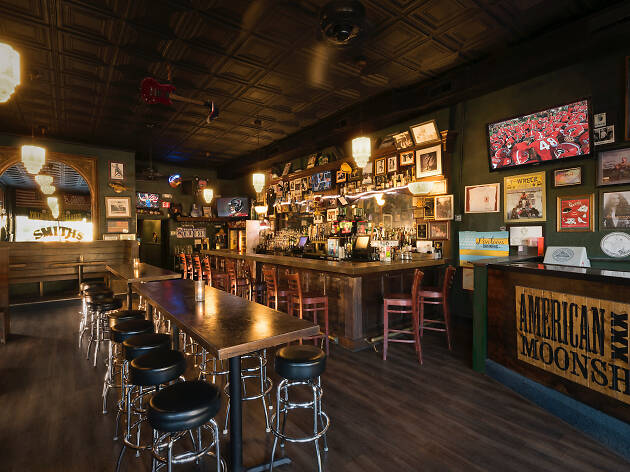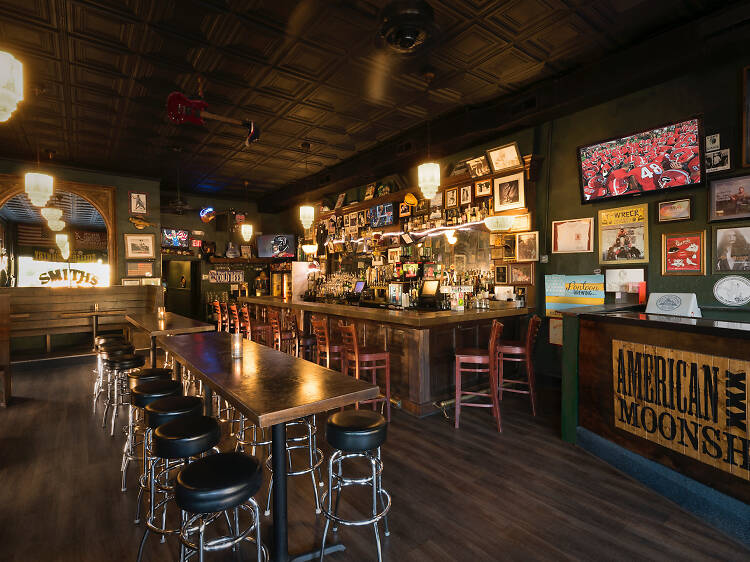 Photograph: Courtesy Smith's Olde Bar
While Eddie's edges Smith's just barely (it's an elders thing), a trip to Smith's Olde Bar is just as sweet as a visit to Eddie's. Over the years, the intimate music venue and bar has hosted the likes of Lady Antebellum, Bush and even the late David Bowie. Hometown boy John Mayer has also been known to play surprise shows for in-the-know fans here and there. If music isn't your thing (no judgement), the pool tables provide just as much entertainment. Kind of.
Photograph: Courtesy Yelp/Atlanta K.
The first of two rooftop bars on our list, Hotel Clermont earns top seed due to its storied past. In fact, technically speaking, Hotel Clermont boasts several bars, but the bookends are the most trip worthy. Head to the roof for breezy Poncey-Highland views while sipping on summer water (aka frosé). If you're seeking a little trouble, find the basement where you'll be treated to drinks and a show. After all, you've just stumbled into Atlanta's oldest strip club.
Photograph: Courtesy Yelp/Biltong Bar Buckhead
A bar specializing in cocktails and beef jerky is quite frankly a must-stop. Named after South African snack, biltong (it's basically dried meat), the bar features a nifty selection of house-invented libations along with classic remixes. They also proudly serve biodynamic wines and craft beers. For a unique liquor-free order, try one of the notable and on-trend zero proof elixirs. No one will ever know the difference except you and your non-existent next-day hangover.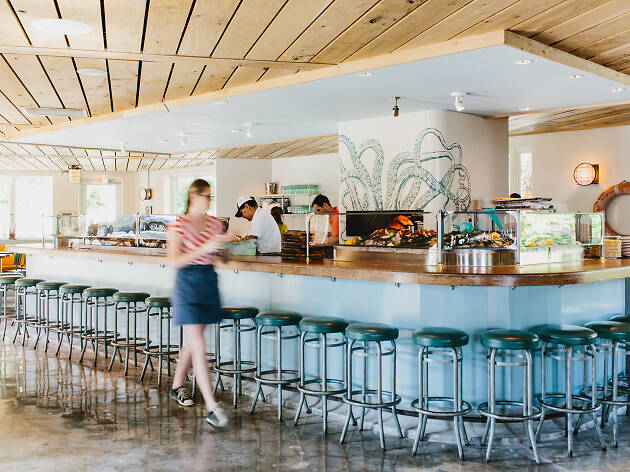 Photograph: Andrew Thomas Lee
7. Oyster Bar at the Optimist
If plump briny oysters, casual celeb sightings and seasonal batch punches are your style, you'll love Ford Fry's Oyster Bar. Dubbed a fish camp and touted as a more laid-back version of big sister restaurant, The Optimist, Oyster Bar is an upscale trip to the sandy coast without ever leaving Atlanta. Indulge in salt water specialties while sipping on local brews complete with complimentary, branded drink huggers. They make the perfect, packable souvenir.
Photograph: Andrew Thomas Lee
Two Ford Fry bars on one best bar list? Yes. JCT Kitchen & Bar is the first, the original. Therefore, it earns a spot, too. Located above its parent eatery, JCT Kitchen, JCT Bar is the place to catch skyline views while savoring a fine glass of wine or your favorite beer. Plus, you can enjoy live music from local DJs and bands. Looking to get started early? JCT Bar opens at 3pm each Saturday during the summer.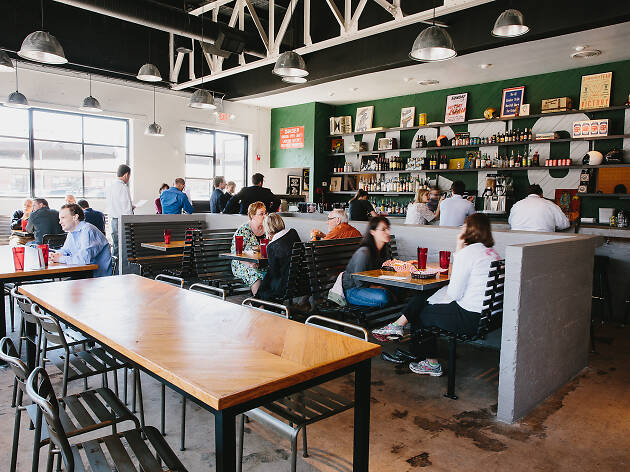 Photograph: Courtesy Victory Sandwich Bar
9. Victory Sandwich Bar Inman Park
Don't let the sandwich bar name get in the way of what's really the star of the menu: soda bottle cocktails and a slushie-inspired whiskey and coke. With two locations, there's plenty of Victory to go around, but we're partial to the Inman Park spot because of its BeltLine accessibility and plentiful outdoor seating. Spiked sodas are served in their glass bottle vessels while the whiskey coke slushie comes in the go-to Southern drinking glass, the mason jar. Be sure to order a sandwich, too—because who doesn't love a snack?
Photograph: Courtesy Yelp/Nine Mile Station
Designated Atlanta's "elevated beer garden," 9 Mile Station earns that label honestly. For one, it's more like dining in al fresco sophistication than in brewski bliss. For another, it's quite literally elevated. The venue sits atop Ponce City Market, a former Sears, Roebuck & Company building turned food hall and shopping district. While it's more luxurious than its more common German beer hall cousin, 9 Mile Station does deliver on a robust beer menu. Order a flight to sample multiple varieties.
Photograph: Courtesy Yelp/The Painted Pin
While the words "upscale" and "bowling alley" should rarely be used in the same sentence, in the case of The Painted Pin, it's actually a spot-on description. This is an excellent choice for adults who want to act like kids without their kids. The boutique bar and lounge offers traditional sips like beer and wine, but you'd be remiss not to try their frozen Moscow Mule. It's the quintessential cool-down after a heated match on the lanes.
Photograph: Courtesy Yelp/Cypress Street Pint and Plate
12. Cypress Street Pint and Plate
Cypress Street Pint and Plate is the place to watch a televised game, bask in a few hours of sunshine or catch-up with friends. The neighborhood dive is known for having 17 beers on tap and 40 more in bottles. The staff also uses local beers in some of the food recipes. Take the fried mushrooms, for example: battered in locally made SweetWater, they are then dunked in a blistering oil bath.
Brought to us by and located above revered parent restaurant, Staplehouse, Paper Crane Lounge is the peak of cool. While usually buzzing with those anxiously awaiting their highly anticipated tasting menu dinner below, Paper Crane deserves a visit independently from your dining plans. The space is intimate and the cocktails are intriguing: they're often described by taste, not ingredients.
Photograph: Courtesy Yelp/Alex P.
Leave it to the lounge named after the word for "secret" in Japanese to pique curiosity. The reservation-only, dimly lit lounge is a sexy spot in a covert location. To secure entry, email a request following the specifics as directed on the website. Once confirmed, you'll be given directions for access where an interesting menu of Japanese cocktails and small bites awaits.
Photograph: Courtesy Yelp/Taylor A.
The only seasonal bar on our list, Miracle Bar rounds-out the top bars in the most festive way possible: the spirits of the holidays (see what we did there?). The ever popular pop-up bar opens two locations in Atlanta each holiday season to serve as many Christmapolitans, Bad Santas and Jingle Ball Nogs as imbibing elves can handle. With an explosion of twinkling lights and your favorite holiday tunes on loop, it's literally always Christmas at Miracle Bar.
Want to party during the day?
There is a festival for everyone: from craft beer enthusiasts to art fiends, lovers of comedy to book nerds, all personalities will find something delightful in town.