A guide to Fareground, Austin's first food hall
Downtown newcomer Fareground is Austin's very first food hall—and already one of the city's top dining destinations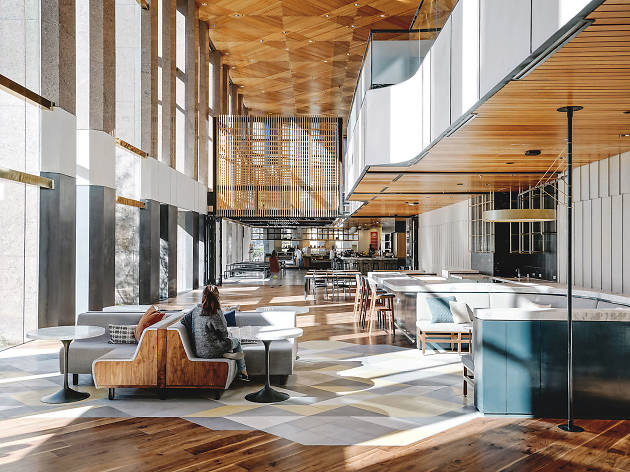 While the rest of the country has Eataly and Grand Central Market and Pike Place Market, Austin has been anxiously awaiting a food hall of its own. Well, it's finally here: Fareground is the first of its kind in the Texas capital, a downtown dining destination that houses multiple vendors, a bar and plenty of seating to sit and take it all in. It's home to a few offshoots of Austin's best restaurants, but before we introduce the vendors, let's break down some basics.
Fareground is located at 111 Congress Avenue, in the subterranean level and plaza of One Eleven at the corner of Congress Ave and Second St. Coming in from the street, you might first notice the sprawling patio that serves as a comfortable place to eat, drink and chill on a nice day. Inside the Michael Hsu-designed space, you'll find a semi-circle of vendors curated by the ELM Restaurant Group and anchored by Fareground Bar in the middle—the latest addition to downtown's bar scene, and helmed by ELM's beverage director (and master somm) Craig Collins. Wine and cocktails (everything from French 76s to Bloody Marys) are all available. A second bar—this one located at street level—is still in the works.
Get to know the vendors currently slinging kolaches, ramen, rice bowls, tacos and more at Fareground, and be sure to pay the food hall a visit from 7am to 10pm weekdays and 9am to 10pm on weekends.
More downtown Austin activities
There's something for everyone right here in the city's center.