Sofia Castellanos: "People are like butterflies because we are changing all the time"
Rising Mexican street artist talks about on her artistic journey, her standpoint on street art and her impressions of Bangkok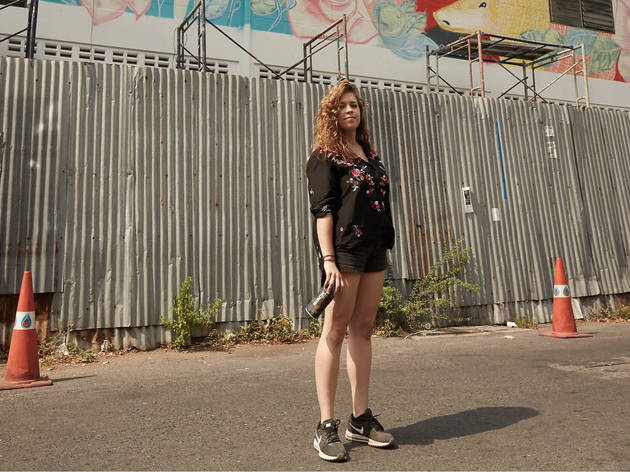 The revitalization of Charoenkrung into Bangkok's most creative neighborhood is rolling on full speed, spearheaded by the relocation of TCDC from Sukhumvit to the Central Postal Building, and the opening of Warehouse 30, a mix-use complex powered by creative icon Duangrit Bunnag. But before we get to see a glimpse of them when they open this May, Warehouse 30's collaboration with the Embassy of Mexico, Creative District Foundation, Bangkok River City, Royal Orchid Sheraton and P.Tendercool brings to the city famous Mexican street artist Sofia Castellanos, who's been invited to paint the walls of the complex with her vivid graffiti art.
Tell us a bit about yourself?
I was born in Mexico City, but grew up in a town called Cuernavaca, which is also known as a spring city. It's surrounded by nature and the weather is really nice.
How did you become interested in art and graffiti?
It's difficult to figure out what you like at a very young age. But I've been one of those lucky people who've known what I like for nearly my whole life. I first started doing street art three years ago when I was a graphic design student at Universidad Ibero. It was in a mural party that created a mural called "Fantasías Posibles" (possible fantasies) about a town in Mexico called Cholula. That was the beginning of my graffiti journey.
Tell us about the projects you worked on prior to this one in Bangkok.
I was working on a big commission for a collaborative project called 31 Women We Love between Chanel and Mexico's leading lifestyle magazine Revista Quién. I painted the portraits of 31 successful women working in different careers to celebrate International Women's Day.
We noticed a lot of your drawings involve butterflies.
I find butterflies very interesting. The butterfly is a symbol of transition, a positive change. I think people, in a way, are like butterflies because we are changing all the time, evolving to become another version of ourselves. That's why I like to put butterflies in each of my paintings.
Do you try to convey a particular message through your work?
I don't like to go political. I think it's very important to talk about such things but I don't think my artwork should be about it. I like to make people feel good while looking at my art. My work is a celebration of the beauty of this world. That's why I like to portray nature and people.
What are you painting on Warehouse 30's wall?
The brief was open. But since it's March, a month for celebrating International Women's Day, and I'm here representing Mexico, I decided to deliver a touch of Mexico in my painting as well as portraying my signature. The result is like a Mexican oasis with a lady in it. You will notice elements like butterflies, plants, Mexico's typical animal, armadillos, and a face that represents the colorful side of every woman. If you look closer, she is metaphorically the mother of nature, in a way. To me, nature is feminine.
As a graffiti artist, what's the difference between vandalizing and wall painting?
The only difference is, artists will paint to express something creatively, and not to destroy. Although the result can look almost the same in some cases.
What made you choose to paint on walls instead of paper?
I'd like my art to be part of the landscape and community. When I do a painting, not so many people can see it. But when I do graffiti, it is displayed on a much larger scale and that gives people a totally different impression. That's what I like about mural art: it is for everybody and everyone can be a part of it.
How do you find Bangkok so far?
Colorful, spicy—although I'm from Mexico—and hot.