Jidanun Lueangpiansamut: "Winning a writing award won't get you anything."
Meet the proud yaoi fiction author who became the youngest Thai to win Southeast Asia's most prestigious writing award.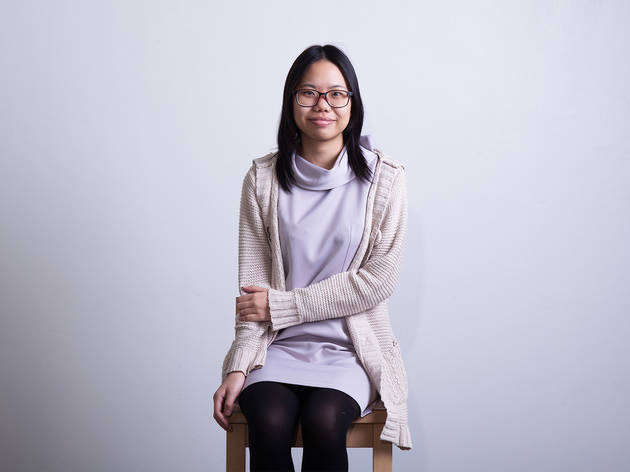 At 25, Jidanun Lueangpiensamut is the youngest Thai writer to ever win the S.E.A. Write Award, the most prestigious writing award in Southeast Asia. But Jidanun is no rookie despite her tender age. The storyteller started writing at the age of 12 and never stopped. From her first written piece (a fictional story about a magical world) to her latest, Jidanun's 13-year journey on the road of literature has been filled with fantasy, variety and, most importantly, awards. Prior to S.E.A. Write, Jidanun earned more than a few accolades for her many short stories and books she's released over the years. She's definitely no amateur.
It was Singto Nokkrok, a book of nine dystopian short stories, that won her the top prize at last year's S.E.A. Write Award. "Each story in this book talks about outcasts, [people] who are different from others in the society they live in," says the winning writer, hinting of the political and social undertones in her stories.
Awards, however, aren't her life goals. "S.E.A. Write wasn't the first award I earned. But have you seen my face on papers? No. So personally, winning a writing award won't get you anything. It won't [always] put you in the limelight. Your fanbase won't grow. You won't get more likes on your page." Awards don't pay bills, either, nor do these guarantee that your books will sell. "You might learn from conversations with the judges, but it doesn't actually honor you. Being famous from writing involves various factors. I believe in writing what people would want to read."
Until recently, the young writer has been living a double life, working full-time in an established company while writing during off-hours. "We writers are aware that you won't get rich being a literature author. It was only last year that I saw my works continuously get published. That I could actually earn a living out of it," shares Jidanun. "But I also write yaoi fiction. It's trending and I make more money from that."
Jidanun is a devoted yaoi (Japanese fiction focusing on homoerotic romances usually written for and by women) fanatic and author—and she's proud of it. Originally a manga lover, Jidanun started getting into yaoi when she was in high school. "There was a point [when] I started thinking that maybe the male protagonist may not fancy the lead female but his own boy mate. In many manga fiction, the girl only makes an appearance once in a while. His buddies, on the other hand, are with him most of the time."
Despite presenting same-sex characters, yaoi fiction has long been criticized by the gay community for not accurately reflecting real gay relationships. "They don't," says Jidanun. "Yaoi fiction is mostly written by women for women. The characters are, therefore, more representative of heterosexual relationships in same-sex bodies."
She's so passionate about yaoi fiction to the point that one of her biggest dreams is to have one of her stories translated into a live-action series. "People may think I'm insane. I had just won the S.E.A. Write yet I'm so obsessed with having my yaoi fiction made into a series," Jidanun laughs. She particularly wants to see Good Morning Mr.Bad Love, a story centering on a love affair between two boys both named Chulakiat, on the small screen.
Her literary journey hasn't always been rosy and smooth-sailing, but the 25-year-old is still happiest when she's writing stories. "When I was 12, I wrote everything with great delight and happiness. I am, at some point, still happy being able to write and finish [my stories]. Doing it is now a profession; I now have to deal with adulthood or self-censorship. But when I can get the words to flow, it still makes me happy, just like the old days."