Architectural and planning company Urban Design and Development Center (UDDC) has teamed up with landscape architecture experts Landprocess and design firm N7A Architects to turn an abandoned railway project into a green pedestrian bridge that brings a new dimension to green public spaces in the city and can change the way Bangkokians appreciate nature.
Time Out sits down with Niramon Serisakul, UDDC's director and the project leader behind the Chao Phraya SkyPark, an elevated garden bridge that connects the Bangkok and Thonburi sides of Bangkok's most majestic waterway. She reveals the challenges involved in constructing such an ambitious project and what to expect from this new green space, which is scheduled to open to the public at the end of the month.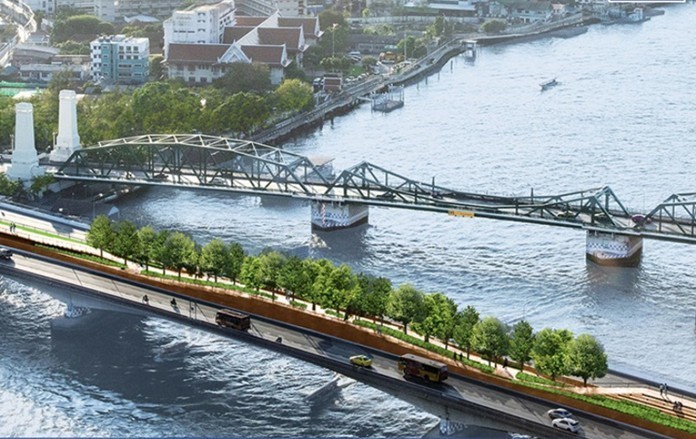 How did the idea of turning an abandoned rail bridge into an elevated garden bridge come about?
It all started with a project called Bangkok 250, which is all about recovering the city. We listened to the voices of the community and Pradit Huayhongthong, chief of the Buppharam community, suggested the unfinished Lavalin Skytrain project. He indicated that if it was transformed successfully, there can be a great connection between Bangkok and Thonburi sides in many aspects: economic, cultural and tourism. My team and I saw this as a rare opportunity so we grabbed it.
What were some of your inspirations?
Actually, building an elevated garden bridge over a river has been a big dream of architects all over the world since the 19th century but no one has succeeded. [There were plans for ] the Garden Bridge, a pedestrian bridge over the River Thames in London; The Pier 35, an eco-park located in New York City; and the 11th Street, a bridge park across the Anacostia River in Washington, D.C. However, the dream and hope still existed within us so we started to research and review successful projects of a similar construction. The High Line, a 1.45 mile-long elevated public park in New York, and The Viaduc des Arts, a repurposing of the Paris-Bastille-Vincennes train line into a public space for artisans in Paris, were the modified structures that can be counted as our major inspirations. These projects were also converted from existing structures into more functional green spaces.
What were your ultimate goals and expectations for this project?
Our greatest goal was to improve Bangkok's green public spaces, [to create] better walking and bicycle routes between Bangkok and Thonburi, as well as to bridge both districts to support a better distribution of income in the communities. Moreover, these two sides can also team up and put on entertainment events on the bridge. Since the space connects both sides, social and economic opportunities could flourish along with the cultural aspect.
What were challenges and limitations involved with this project?
The biggest challenge was the construction because there was no way to get the vehicles and machinery on the rail bridge, so the working process was like ants slowly collecting sugar. Also, the weight the bridge could take on, with respect to the security standard, was limited.
What else can we expect from this project?
First, I wholeheartedly want to say that I am glad that Bangkok will have good public space . The park will soon open and welcome visitors as a spot for field trips, educational tours and for entertainment purposes.