This is the third consecutive year that Time Out has successfully staged Awakening Bangkok. And it seems that third time's a charm because, this year, the lighting festival is bigger and brighter as ever!
The 2020 edition includes over 35 masterminds, from emerging artists to veteran virtuosos. We challenged them to reflect on the trials and tribulations of the past year under the theme "RE/WIND/FAST/FORWARD". The result is 40 visually engaging artworks, scattered across the Charoenkrung and Taladnoi neighborhoods, that reignite passions and encourage everyone to find the strength to break through these tough times and walk into 2021 armed with hope.
But we don't think it's enough to just caper along four kilometers of bright lights to truly appreciate what it means to "rewind" and move forward. So we called in some of the artists who helped us light up the city, and asked them to tell us about the inspirations and stories behind their incredible creations for Awakening Bangkok 2020.
We recently sat down with Digital Picnic, the visionary team behind Carp Tale, that illuminated spectacle at So Heng Tai Mansion that beautifully shows koi fish evolving into an elegant dragon in the sky. Digital Picnic comprises five brilliant young things—Warrawat Kajitwitshayanukul, Nutisa Sripirojthikoon, Rati Silanil, Thunchanok Phutthaphaiboon, and Thanapon Jaturongtawatchai. All products of the Edutainment and Socio-Interaction Computing Laboratory (ESIC Lab) at King Mongkut's University of Technology Thonburi (KMUTT), these artists have collectively embarked on a creative journey that explores the coalescence of art and technology.
Can you tell us a little bit about your team?
We started out at ESIC Lab at KMUTT, which is run by Dr. Priyakorn Pusawiro. All of us have experience and expertise in lighting installation, and we decided to team up and open our start-up business under the name Digital Picnic.
What made you guys jump onto the Awakening Bangkok bandwagon this year?
All of us have been die-hard fans of Awakening since year one. This type of art show is our thing and our job revolves around making interactive lighting installations. We got inspired from [what we saw in the] previous years and wished for our own work to go on display some day.
And here you are! How do you feel about your work for Awakening now that it has come to fruition?
It was actually difficult. It was the first time we created something this huge. There were many challenges along the way, but we did our best to show that we're capable of giving the best experience to everyone who comes to see our work.
What was the inspiration behind Carp Tale?
The Chinese legend of the koi is, in essence, all about diligence. We are fascinated by how one particular red koi in the story attempts to swim against the tide in order to become better and stronger, like a dragon. In these difficult times, we need to push through all obstacles and try to adapt in order to survive. It's such a brilliant story that fits this year's theme.
What is it about Carp Tale that will make people say "wow"?
Apart from the goal of showcasing our interactive signature, we also wanted to make sure that anyone who comes to the show feels as if everything they see on the screen is especially created for them. The card you'll receive at the entrance helps personalize your experience. Each card carries a distinct color and QR code, which will be decoded into the pre-programmed graphics—dragon, koi fish and other features in a different color—on the water.
We want to give a shout-out to Lenso Intertrad who lent us the projector, and Dr. Priyakorn, Waranthorn Khayanying and Tossawat Mokdara for helping us make this happen.
Looking at the number of visitors to Song Heng Tai, it seems your hard work has really paid off...
Carp Tale is a product of our passion. We put so much effort into bringing this Chinese tale to life. Whether you like to take photos or just appreciate art, we're confident that you'll never get bored of our work.
Life these days is really hard; we have been bombarded with PM2.5 and COVID-19, and our economy is so fragile right now. All we can do is be patient and try to go out, learn new things and get inspired like the fish in the story. We will see the silver lining soon.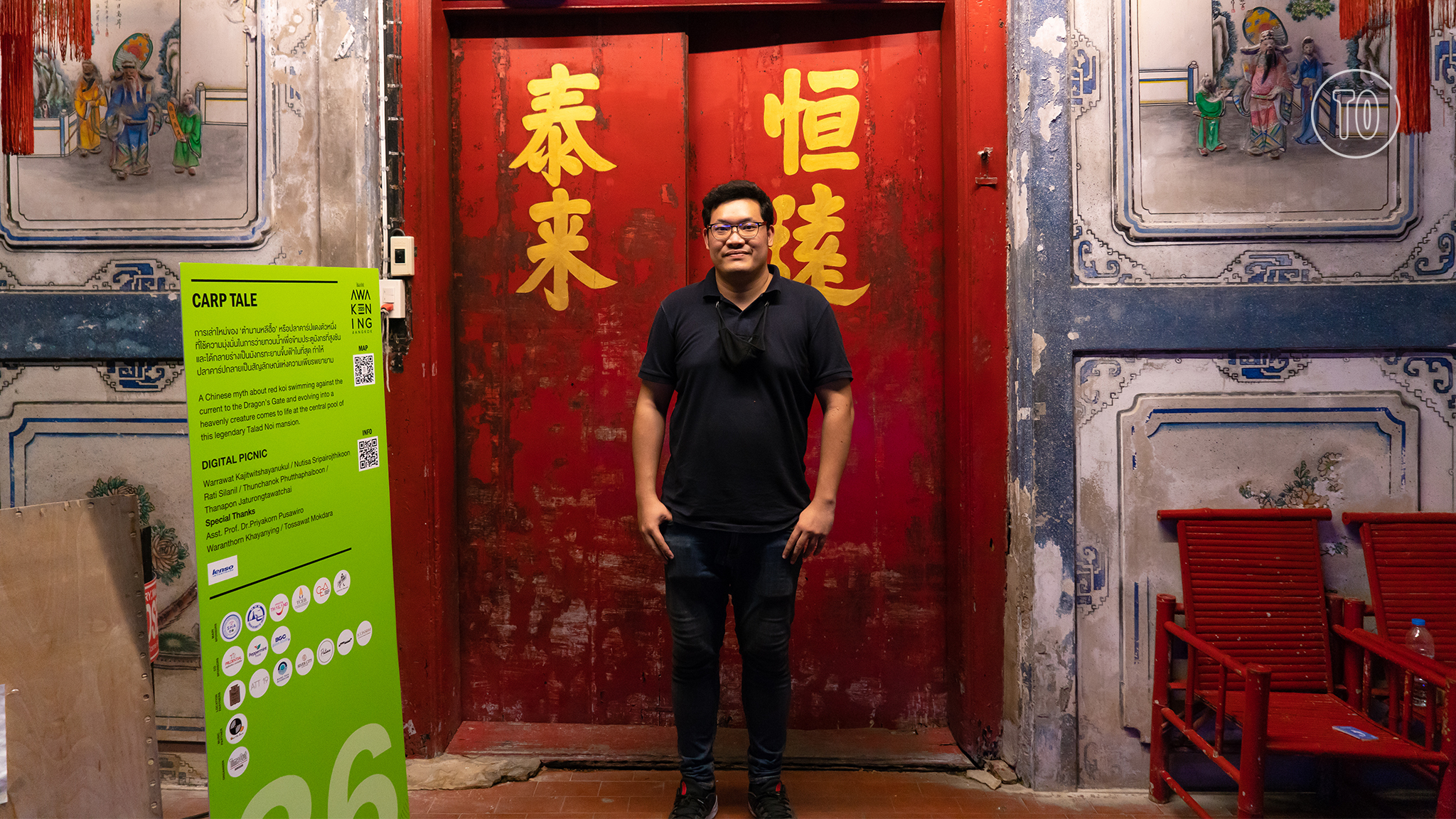 Carp Tale is lighting installation number 36 on the list of all artworks of Awakening Bangkok 2020. The installation will be displayed at So Heng Tai Mansion in Taladnoi until 20 December. Entry fee is B50 and includes one free soft drink.
You can also find out more about the festival of lights by Time Out Bangkok from this link.