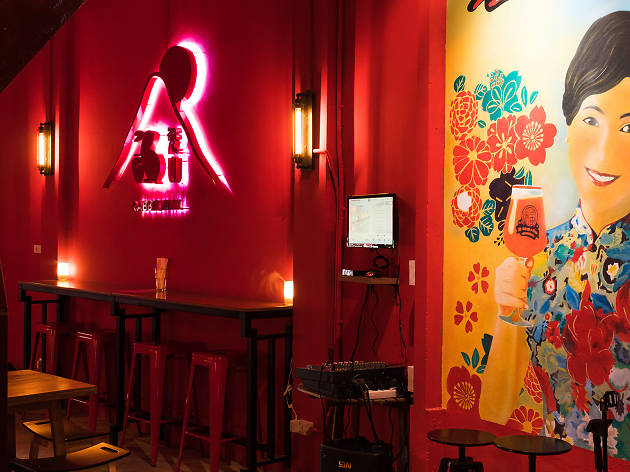 1/6
Sereechai Puttes/Time Out Bangkok
2/6
Sereechai Puttes/Time Out Bangkok
3/6
Sereechai Puttes/Time Out Bangkok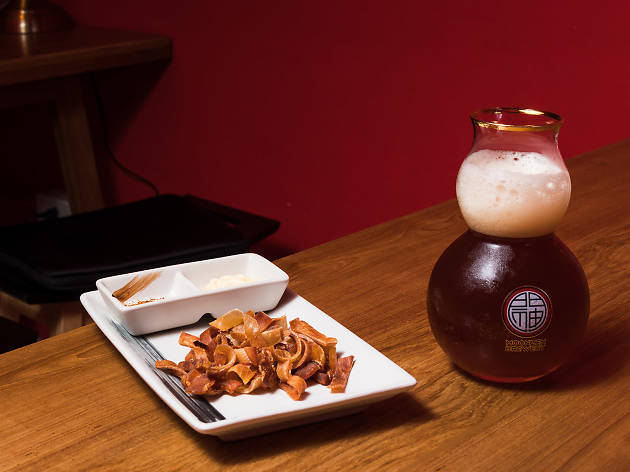 4/6
Sereechai Puttes/Time Out Bangkok
5/6
Sereechai Puttes/Time Out Bangkok
6/6
Sereechai Puttes/Time Out Bangkok
An Asian-themed beer bar gives Chinatown proper the quirky edge it deserves
While new waves of watering holes on Soi Nana have been lauded for giving Chinatown a modern upgrade, one new bar has recently sprung up much closer to the street food-centric Yaowarat stretch, giving this rather traditional part of the neighborhood a chance at becoming a cool nightlife destination.
In an area packed with rustic shophouses, the undistinguished minimal entrance of Rabbit Hill—consisting of a red wooden door and classic Chinese circle window—leads to a whole different world. The red hues and Oriental elements typical of a Chinese-style bar dominate the dimly lit space. Here, however, everything has been injected with a bit of cool. Gigantic paper lanterns hang over a colorful mural—inspired by vintage Chinese advertising posters—depicting a woman (who happens to be one of the owner's girlfriend) enjoying a glass of beer.
Liquor and spirits made all over Asia are up for grabs, Rabbit Hill puts a spotlight on famous Hong Kong-born craft beer Moonzen. If you want a brew that easy to drink yet still manifests hints of complexity, go for Monkey King Amber Ale (B250 half pint/B340 a pint), Moonzen's take on amber ale with caramel and vanilla notes, and a hint of peach (the beer is inspired by a Chinese tale in which the Monkey King or Sun Wukong steals the Peaches of Immortality). Also boasting a fruity note is the Dragon King Fujian Radler (B300), an IPA with a hint of pomelo, the native fruit of Fujian. Those looking for a more intense flavor can go for the Jade Emperor Imperial IPA (B250 half pint/B340 a pint), a heady brew with the delicate aromas of tropical flowers and citrus.
To accompany your beer, Rabbit Hill has a selection of simple and comforting Chinese-style bar chow like fish maw soup with a deliciously flavorful broth (B300), Hakka-style fried pork balls (B150), and marinated fried chicken wrapped in paper packets, a common appetizer in a Chinese banquet (B180).
Venue name:
Rabbit Hill
Contact:
Address:
1
Santiphap Road
Pom Prap Sattru Phai, Yaowawat
Bangkok


Opening hours:
Open daily 17:00-24:00