Time Out Loves... Photogenic Thai Cocktails
Sip your way through Bangkok's best cocktail bars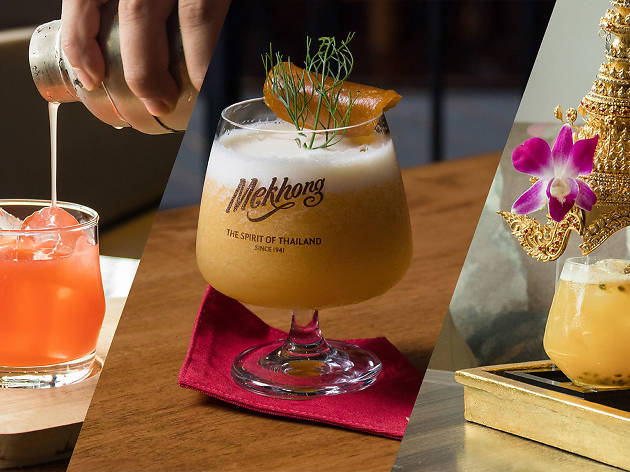 Mixologists at some of the best Thai restaurants in Bangkok celebrate Mekhong in their own ways, reinterpreting the Thai spirit with finest ingredients and mind-blowing techniques to create awe-inspiring drinks that are pleasurable to your taste buds as much as to your eyes (and your camera). Instagram-loving foodies, here are three of the most beautifully-created drinks in Bangkok you shouldn't miss to check out.
Mango of Himapan Forest, Tep Bar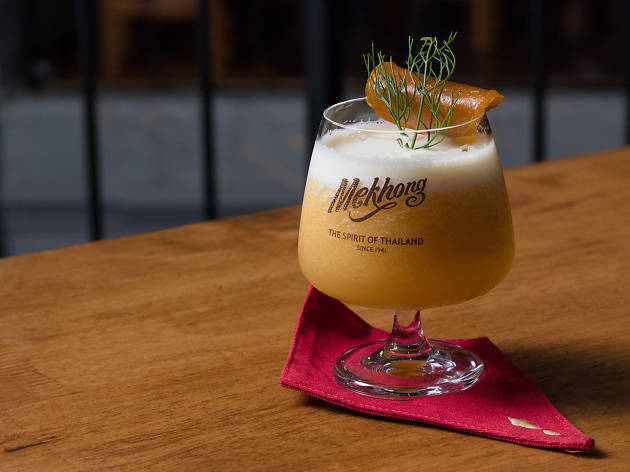 Tep Bar has been known among bar crawlers for amazing Thai musical performance and Thai spirit-based cocktails with traditional Thai spin that boasts strong-yet-balanced result. Mango of Himapan Forest is a heady mix of mango with Mekhong rum, coconut sugar, honey and egg white, with drops of lime juice adding a hint of acidity. The mellow cocktail outstands in the subtle sweetness from mango and coconut sugar.
Sour
A hint of sourness from few drops of lime juice.
Sweet
Coconut sugar adds aromatic sweetness to the mixture
Creamy & Cloudy
...thanks to egg white and mango puree, which give a smooth, silky texture to the drink
Recommended with... kite-sized rice cracker
The cocktail goes really well with the all-time bestseller kite-sized rice cracker snack that also has slightly sweet flavor and served with spicy chili dip.
Tep Bar, 69-71 Soi Rammaitri, Maitrijit Road Pom Prap, 098 467 2944
Chada, Osha Thai Restaurant & Bar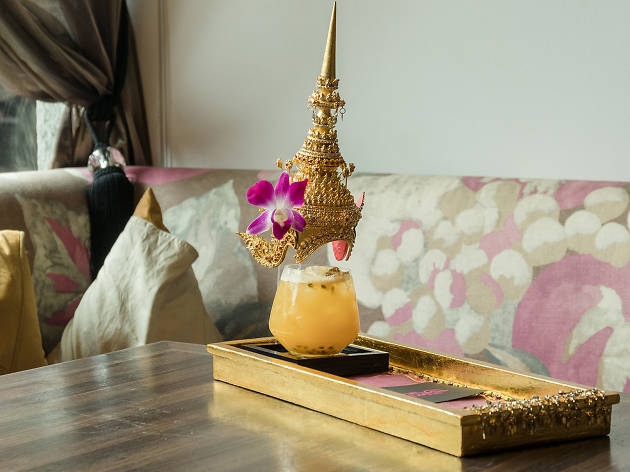 Thai fine-dining establishment Osha Thai Restaurant & Bar has long been praised for its sophisticated and avant-garde treatment to Thai cuisine as well as concoctions inspired by Thai cultural elements. Chada, its crown jewel, is a noteworthy example. The photogenic drink is a mixture of Mekhong, passion fruit, apple juice and vanilla syrup, promising to please lovers of sweet-and-sour tastes. The cocktail is served with Instragram-fulling golden chada headpiece and an ice cube attached with edible gold.
Sour
Fruity sourness from passion fruit and apple juice
Sweet
Vanilla syrup sweetens up the drink aromatically
Refreshing
It's sweet and sour, and it's great to freshen up your afternoon
Recommended with... fried squid with Suratthani salted egg sauce
The Thai-inspired goes well with fried squid with Suratthani salted egg sauce. Each bite is an explosion of creamy, spicy, and salty note. The dish is served on a coconut shell wrapped with plastic with a small hole to let the squid get soaked with coconut smoke for aroma.
Osha Thai Restaurant & Bar, 99 Witthayu Road, 02 256 6555
Flirt, Apinara Thai Cuisine @ Groove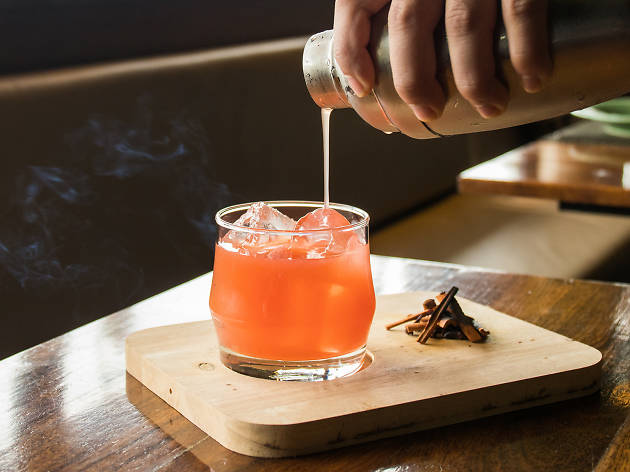 The refined upgrade of the Thai restaurant chain Nara, Apinara Thai Cuisine @ Groove churns out authentic cuisine with a touch of luxury that comes with a list of Thai-inspired concoctions. Flair, the fruity sweet cocktail, is a mix of Mekhong with the refreshing combination of watermelon juice, lychee juice, vanilla syrup and a splash of lime juice. The glass is smoked with cinnamon and basil leaves at the table prior serving for an aromatic and Instagram-worthy experience.
Sweet
Watermelon juice, lychee juice, and vanilla syrup
Sour
And there's the splash of lime juice
Refreshing
Fruity, sweet, and sour, the drink gives a refreshing touch
Recommended with... seared duck breast with tamarind sauce
If you're aiming for the dish with a similar sweet flavor profile, go for the best-seller seared duck breast which is laden with sweet and sour tamarind sauce.
Apinara Thai Cuisine, 2nd floor, Groove@CentralWorld, 02 252 0063