Time Out Loves... Classic Cocktails with a Mekhong Twist
Timeless concoctions are given an elevated, modern touch with the spirit of Thailand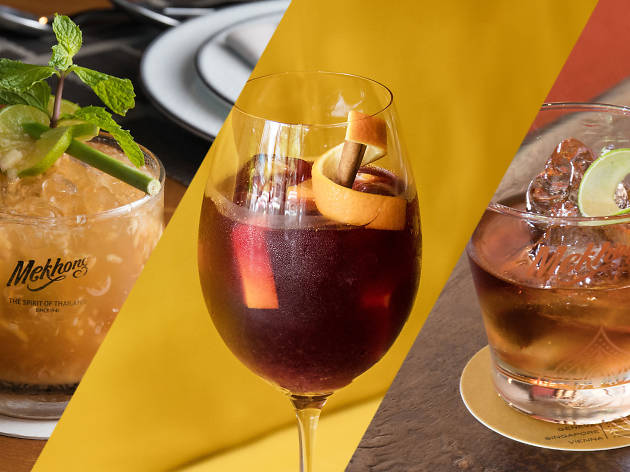 Thaijito at Saneh Jaan
The beach-friendly mojito, which mixes white rum, mint, soda and brown sugar is drastically transformed into a very Thai tipple by substituting mint with lemongrass and ginger. The result is a version with tart and tangy flavors.
Recommended with… Free-range Chicken Curry with Wild Basil Leaves
This mint-free, sugary and spicy alternative to mojito is a good complement to Saneh Jaan's signature curry dish which sees pieces of free-range chicken mixed with tongue-burning spices and fragrant herbs.
Glasshouse at Sindhorn, 130-132 Witthayu Road, 0 2650 9880. Open daily 11:30-14:00, 18:00-22:00
Samui Sangria at Supanniga Eating Room
Sangria, the quintessential Spanish beverage with the wine base and strong fruity flavor, becomes Samui Sangria at Supanniga. To make the punch-like drink more pairable with Thai cuisine, Mekhong, which already has a subtly spicy flavor, and cinnamon syrup is mixed into the cocktail, resulting in a perfectly balanced blend that's easy to drink.
Recommended with … Ka Prow Nue Lai (stir-fried marbled beef with basil)
Suppaniga gives simple push-cart fare like pad ka prao an upgrade with the use of high-quality beef mixed with spicy herbs. The sweet and tangy Samui Sangria is a fun complement to the dish's heat.
160/11 Soi Thonglor (Sukhumvit 55), 0 2714 7508. Open daily 11:00-14:00, 17:00-23:00
Heavy Metal at Patara Fine Thai Cuisine
Heavy Metal, Patara Fine Thai Cuisine
The Manhattan, a favorite spirits-focused drinks is typically served with whisky, sweet vermouth and bitters. This time, it's given a Thai touch as the whisky is replaced by Mekhong and lime juice is added. The ice cubes, meanwhile, have been infused with spicy flavors, making this drink more appropriate to be paired with piquant Thai fare.
Recommended with… Slow Cooked New Zealand Lamb Shank in Massaman Curry
This beloved Indian-influenced sweet and spicy coconut-based curry leads whets the appetite with a strong cumin aroma and satisfies the palate with fall-off-the bone lamb. The bold and fragrant curry is perfect with the Heavy Metal cocktail as it doesn't overshadow the drink.
375 Soi Thonglor 19, Sukhumvit 55, 0 2185 2960/-1. Open daily 11:30-14:30, 18:00-23:00
Sip your way and discover how Mekhong cocktails are the perfect compliments to authentic Thai cuisine! Ready to embark on a new culinary journey?
More to explore