"I still remember one thing a member of the audience once said: 'The way that FULLFAT creates something beyond convention allows the staff, not only to create a new space to explore new possibilities, but to open up new opportunities for the audience to experience a new, innovative type of art they've never seen before.'"
You don't need to be part of the FULLFAT Theatre team to understand the value of these words, imparted to Airin "Oil" Sirawichetku, one of the indie acting group's members. They are welcome words of appreciation for anyone who puts so much effort and passion into creating something different and impactful. For Oil, the comment only reinforces all the good moments that she, along with her co-members, experienced a while back, when they could still perform.
It's been three months since FULLFAT last put out a show for Bangkok's art and culture enthusiasts. Their last production, Siam Supernatural Tour 2021, wrapped up right before the third wave of coronavirus infections—and the ensuing government restrictions—hit. For a small but productive company, three months can be a very long wait, especially if you're used to performing steadily in the last four years.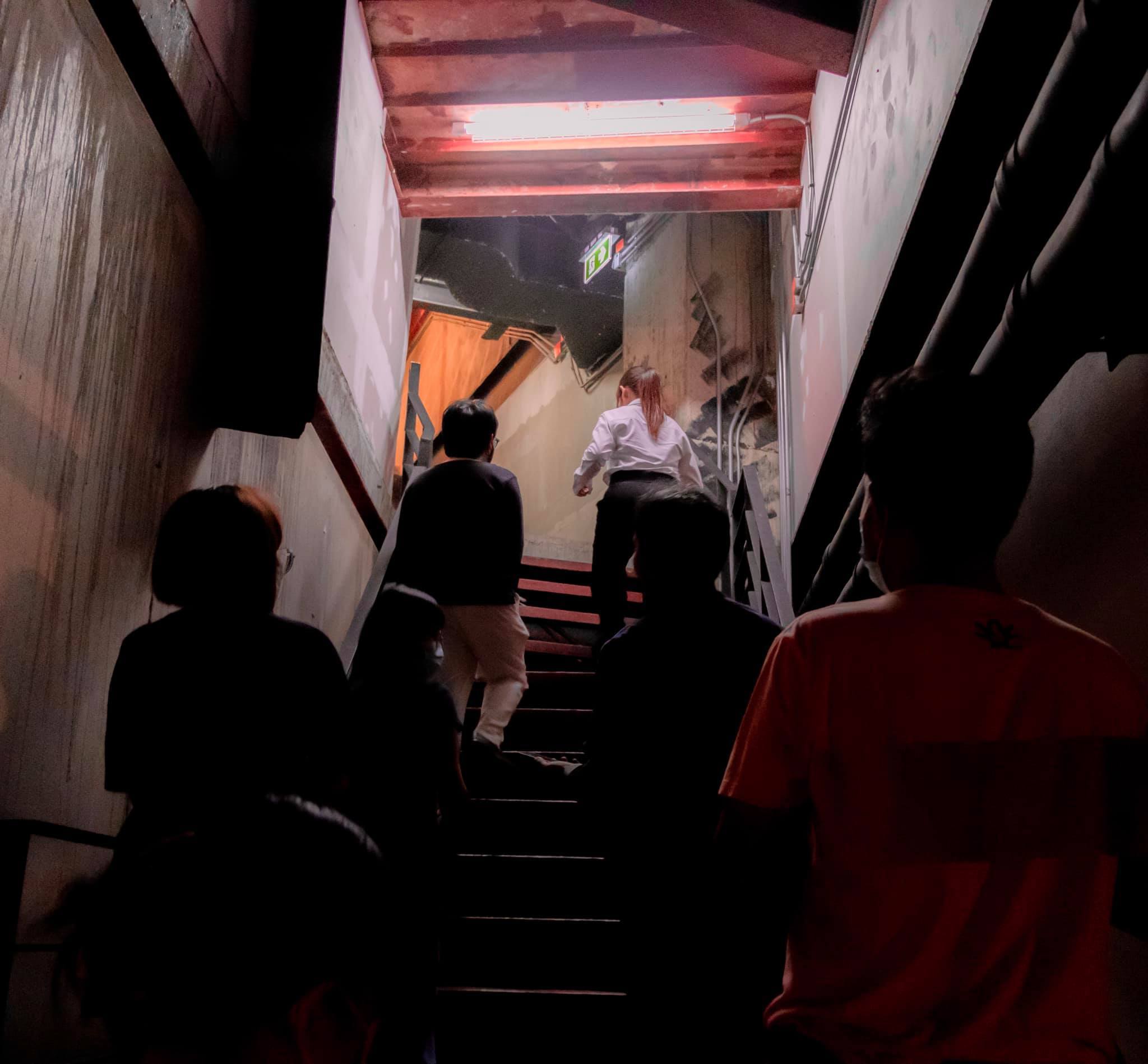 FULLFAT first launched in 2017 as a small-scale theater with the mission to upend the usual traditions involved in staging and watching performances. By using innovative and unconventional approaches, the theater club creates a more immersive experience for the audience, instead of just having them sit in a chair watching what unfolds onstage.
Founder Nophand "Aon" Boonyai recounts how he initially wanted to create a space for youngbloods with a passion for theater. "The core objective of FULLFAT is to create unconventional shows," he says. Many of FULLFAT's past productions did cut through the traditional sit-and-watch experience and introduced the audience to a whole new one. A production called Save for Later, for instance, was stylized as a single-audience show, wherein one viewer was engaged by performers throughout the play.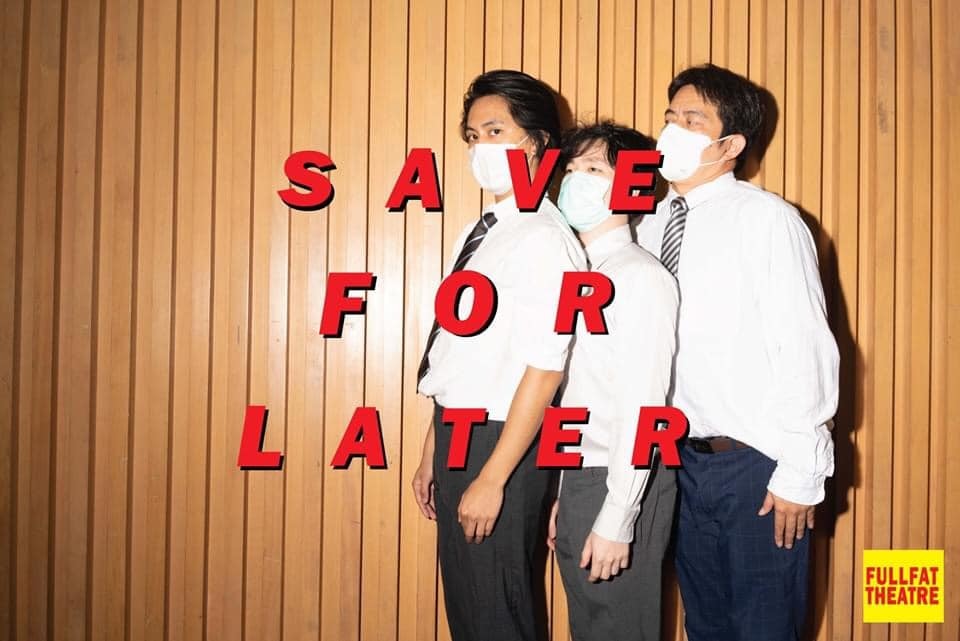 Aon also explains that most of their shows can be considered "site-specific theater." With many venues dedicated to theater shutting down, most of their productions are set up in makeshift mutli-use spaces like Warehouse 30 or smaller performing arts centers like KBank Siam Pic-Ganesha.
"FULLFAT has a strong brand positioning," says Aomthip "Alice" Kerdplanant, another member. "We always go for a boundary-breaking approach and don't follow the typical formula of most productions. We have fans who love the way we do things, because they're confident they will always discover something new. But, of course, because of our experimental nature, there are some audiences who don't get what we're doing and are, thus, unimpressed."
But the mixed reception from the audience never prevented the theater group from pursuing its conviction to push the boundaries of Bangkok's arts scene. "Of course, it's hard. What we're doing is totally different and new, but we always believe that new things always attract people," Aon says. "When people experience new things in art, it's not about their feelings, whether they like it or not. It's more about what that experience communicates to them on the subconscious level, which could take time for them to process. So it's no wonder why there are both people who like and don't like our work."
It's not our duty to make everyone understand what we're trying to do, but it's our duty as artists to convey a message, to provoke people to think," FULLFAT's founder adds.
Getting their message across however is sometimes difficult, given that theater and performing arts isn't a huge priority for locals and tourists in Thailand. "Through the lens of doing business, a small theater isn't the most profitable venture, and it's even harder for us because what we're doing isn't getting any recognition or support," Oil weighs in.
FULLFAT believes that the arts scene in the country has the potential to take off, but the lack of tangible support from the government has been a major issue for Thailand's creative set—and this is a "painful wound" that Aon doesn't want to add more salt into. "How can we talk about the arts and culture scene here when people are struggling with basic everyday problems?"
"It's mainly because of the current political and economic systems that force Thais to work around the clock," Alice opines, jumping into the discussion. "It's understandable that people don't have enough money and time to spend on something they don't need for everyday living. Moreover, when they do want to seek entertainment, there are many cheaper choices than going to a theater, like Netflix or the cinema."
The government's response to the pandemic hasn't made things easier for the performing arts industry—or the rest of the country, for that matter. "It's not about COVID, but it's about the people who run the country," Aon exclaims with apparent frustration. "It's completely nonsensical how they keep buying weapons like submarines when these things can't be used to fight the virus. I can say that everything is falling apart because the government is incompetent."
Criticisms, political frustrations and pandemic restrictions aside, the trio still agrees that performing arts and culture are still very much needed in what they deem "a cruel, capitalist world." "Art gives you the space to explore new identities and languages. The new generation doesn't want to be bombarded with old beliefs and values," Aon puts forth. "And by creating and experiencing art, the youth is able to decode and open up possibilities in order to become more of themselves."
He goes on to add: "We have every right to think and be our true selves, which art allows us to achieve."
What we have in this world—language, value, gender norms—don't fully represent who we are. This is why we have to come up with new things, new art, to express ourselves.
Staging of theater productions is still restricted in Thailand. Yet, for FULLFAT, the show must go on. For now, the group is busy with offstage work, cooking up new productions for that time when they can go back onstage. "We have a show coming up entitled Home, but we can't give any details yet," says Aon. We just have to wait for safer times to make it happen."
You can follow the FULLFAT team on their official Facebook page.