The many facets of Piyarat Kaljareuk
The Kantana heir on continuing the company's legacy, dealing with depression, supporting LGBT equality, and launching the localized version of RuPaul's Drag Race.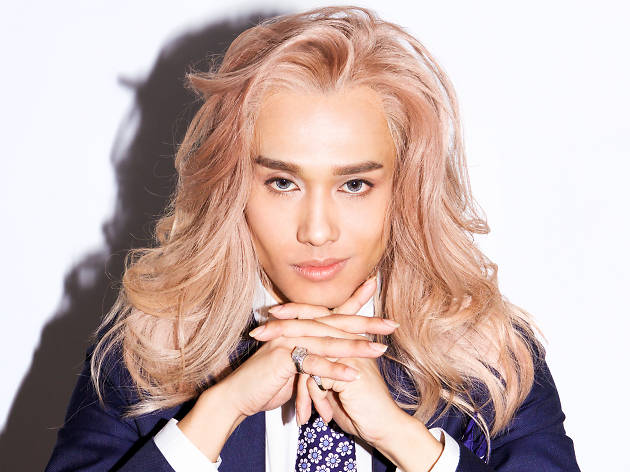 Last month, Kantana Group, one of the country's largest entertainment conglomerates, hosted a press conference to announce their line-up of new programs for the year. While many were excited to see the return of their favorite contestants in The Face Thailand All Stars, others, especially the LGBT crowd, were drowning in happy tears when it was announced that Thailand will be the first country in the world to have its own version of RuPaul's Drag Race, an American reality competition show and an international LGBT phenomenon hosted by one of the world's most recognizable drag queens. The mastermind behind the Thai adaptation is no one but Piyarat Kaljareuk, the Kantana heir and the man behind other Thai reimaginations of popular American series, including Gossip Girl Thailand and Ugly Betty Thailand. Two years ago, Piyarat introduced us to The Face Thailand, which quickly became an overnight sensation and with which we've developed a love-hate relationship. Would the multi-faceted exec be able to do the same with Drag Race?
To write this article, I had to meet Piyarat three times. All three meetings weren't what I expected. Usually portrayed on TV as a fierce persona wearing makeup, a wig and classy outfits, Piyarat was nice, warm and charming when he first met up with Time Out. The second meeting took place at Maggie Choo's when Kantana collaborated with Line TV to host a casual media roundtable on the club's popular Sunday gay night. To my surprise, Piyarat was wearing a casual black tee and matching jeans. No wig. He was very casual and easy-going, and gave the impression of being a fun-seeking individual—one you'd like to have as a friend. Our final meet-up was at a cozy downtown cafe. He came to meet me after finishing with a long meeting, but his eyes still shone bright and he still managed to turn on the charm. A professional through and through.
Not everyone can live the life of Piyarat Kaljareuk. Born into a family of entertainment moguls, raised among superstars, gifted with innate talent, you may think Piyarat, better known as Khun Tae, has it all. Yes, he does have it all, probably even more than he needs.
How did it feel growing up in a house where there was always some kind of filming going on?
It was…annoying [laughs]. You know, I would wake up seeing actors outside of my bedroom. To be honest, I was bored of seeing actors. I didn't want to speak to them. This turned me into a bad boy of sorts. Aggressive, I might say. Don't people like being attended to? I do. Seeing that people know you isn't a bad thing. So don't get me wrong, I like it when people love me. No one would hate that. But while attention only means attention for other people, attention comes with expectations for me. They expect me to be as good as my father. It came to a point where I couldn't handle it anymore and ran away. Until one day I knew I had to come back and learn to live with [expectations]. It worsened to the point that I started suffering from depression.
Depression? I don't think we know about that.
I had to deal with depressive disorder, only I never spoke about it. You have to understand I wasn't born into a "normal" life in the first place. I was born literally into the entertainment industry. I was born with a spotlight following me. Today, people come to me, praising me for my success but you know what, I'm not overwhelmed. Why? Because I've seen it all. I've seen circles of lives in this industry since I was young. Anything can happen to a person. Anything. I've seen so much I've learned not to adhere to these things. All I think about is what else I could contribute to the industry, and this is a reason I'm producing [Drag Race].
So how did you win your battle against depression?
It was difficult. Doctors would give a treatment but not a cure. When I hear how people would kill themselves because of [depression], I feel for them. I know what it's like when you're depressed, when you go deep down into depression. It feels like you're falling into a deep, dark hole. Everyone tries to throw in a rope, but it would never reach you. But once your mind's strong enough, once you're ready, you'll be able to pull yourself up from the hole—all by your own. And if you can win over that, the next step is to springboard yourself upward. Therefore, I'd like to encourage everyone who's dealing with [depression] to talk to yourself, carefully. No one can help you but yourself, speaking from experience. At the same time, friends and family must always stand by for support. I'm lucky I got over it, but it took time, a long time. I think I got back on my feet when I started working at Kantana. Before that, I never felt happy staying in Thailand. I was ink-bullied by reporters. You know, there wasn't social media back then, and I could still feel it. But when I got over it, I changed my way of thinking. I was like, "Whatever, I don't care." Changing the way you think can really change your life. It's hard to explain, you have to deal with it to know.
Now I feel like we only know a slice of you.
You do. You know, people—including me—often judge others from appearances, from images we see. This isn't wrong. It's just the way we're brought up in a society where first impressions can mean everything. If you backtrack, you'll know I went to one of the ten best boarding schools in the States. The students there were all rich heirs. Seven days a week, I was bullied. I was bullied to the point where I couldn't study in the classroom anymore. Every year, I had to sleep in a room right next to faculty because they were afraid of what could happen to me. All of these happened because I looked different. I've always looked different, and I have a big personality even if I'm not wearing costumes or whatever. I was an outcast. Not only was I Asian, I was also different. I was LGBT. I was an outcast because the school was this really conservative boarding school. These were some of the worst years in my life, yet some of the best years. I was a dance captain. I was in musicals. I sang. I joined activities. I needed to prove myself so bad.
In my senior year, I was assigned to write a paper for psychology class. I went up in front and addressed how I had been bullied, asking what was so wrong with me. At the end of the class, a football player, someone who'd always bullied me, came up to me, shook my hand and said, "Sorry. I apologize."
It seems like those difficult years in boarding school made you stronger.
They did. Those years molded me. I knew I was going to compete with foreigners from around the world. I did it and I did it well. I fought back with peace, with tolerance, with the abilities I had. I didn't get to study? Fine. I hid myself under the blanket, read with a torch. Those years made me strong as you see today.
What do you think the Thai LGBT community must get over to move forward?
Ok, this is my personal opinion. I don't mean to accuse anyone, but I'm saying what I feel. When I first came back to Thailand, I wasn't well accepted, even by the local LGBT community. We class even our own peers. This is gay, that is queer. Why on earth do you have to classify people? Do you even really know what [type] they are? I'd like to fight this. Without this [classifying issue] we would be able to fight other detractors far better. Sometimes I don't quite understand what we're doing. In my case, I can prove that I'm capable of doing well so people have changed their views towards me. But you know, I remember all the gossip behind my back [laughs].
With the [LGBT] society being like this, classifying each other, how could you ask for equality from society? I personally think this [way of thinking] goes back to our roots. Our generation must first learn to accept so we can pave a better path for the next generation. We can just ignore the older generation; it's difficult [to change them]. Let them be the way they've always been. Our generation is different. We can do as much as [the older generation] can, but we can do other things too. And we should judge people on their abilities, on the results. Anyway, I've come through these and today I'm going to be your voice, the voice for the next generation. And the next generation has to be better than today and yesterday. That's how I said I'd like to contribute. I just don't want to produce only hard-selling content.
Was importing Drag Race personal?
It is. I have a strong belief these people need a stage to present themselves in the right way. On top of that, I wish the Thai audience would accept and understand them as they are. Don't see them as funny queers. I don't wanna be a drag. I support LGBT. I am LGBT. But still, even you can see how clearly I present myself, I don't want to be labeled as G, B, T or whatever. I'd like to be just another human who's capable of doing great things. So you ask me if this is personal? It is. But it's also my passion because I like lifestyle and fashion. It's all in one place. It's undeniable. These things drive me, passions that are different from others. No one else would understand [LGBT] like I do.
"Even you can see how clearly I present myself, I don't want to be labeled as G, B, T or whatever."
What was the hardest part about bringing Drag Race to Thailand?
Finding brave hearts who'll join us on our path. We have to admit that [LGBT] is kind of, well, not sure if it still is, taboo. [LGBT] has, however, been part of us Thais—or even Asians—for a long time. I spent three years presenting to many to find these brave hearts, to find the perfect partners—the brave ones—to be our publishers, as well as our sponsors. Timing is also perfect. I don't think it would have attracted much attention if I had brought it in earlier. Now, content is king. People are encouraged to be different. We have more digital TV channels, we have more content providers. When I brought in The Face two years ago, people didn't have a clue what I was doing, and that's just a normal program. So I would need courage and time to prove myself.
Have you been a Drag Race fanatic all these years?
To be honest to you, I just started watching the show only two years ago when I started thinking about importing the show. My foreign LGBT friends recommended it me.
Why?
I moved back to Thailand nine years ago when Drag Race had just started. So there was a gap, big one, when I wasn't up-to-date with what was happening [in the US] at the moment. And when I was traveling abroad to buy [entertainment] formats, this program wasn't highly advertised. It's niche. So that would explain why I didn't know about the program earlier.
My friends, both LGBT and straight, told me about it and I, of course, found it entertaining. It's pretty addictive. But then, I thought, maybe I'm biased because I'm LGBT myself. So I went to Khun Moo Sasikorn [Chansate], Kantana's senior executive, to watch it. She told me that, at first she thought I was just biased. But once she watched the show, she fell in love with the drag queens. She agrees with me that [the show] possesses a high entertainment value and that it can be enjoyed by any gender. I decided to import the show once I received this affirmation. I think it fits the Thai audience. You know what, making The Face has earned me a big group of [LGBT] fans. Looking into their eyes, I was inspired, empowered.
You can look back at the timeline. I had planned everything. We accepted LGBT contestants into the third season of The Face. I took the risk because I was aware the world has changed. Obama gave everyone equality. And we [Thailand] are not that far behind. So I tried, and it turned out to be delightful. And now this. I have to thank Line TV and Nyx for being such great partners. I kind of believe it's about fate, too, that everything comes when everything is ready.
What is drag, in fact?
I'm not the best person to explain this because I wasn't in touch with them until recently. In this debut season with eight episodes, I handpicked top drag queens to educate the audience [on what drag is]. I believe that no one else understands drag like they do. It's like when a transgender says she was born into a wrong body and you say you understand. No, you don't. You might feel some of her feelings but not all. So I am taking time to educate myself the same time as the audience. Please allow me not to explain, but let them explain to you themselves.
At which point would you say that Drag Race Thailand is successful?
I'm already more than happy now. I'm talking about how [Drag Race Thailand] has been welcomed. How open the audience is, plus the international recognition we have had. Now, I leave the rest to the audience. They will be the judge. I don't produce a program for myself, but for the viewers. All I have to do is do my best, in my own way.
What's the biggest challenge in producing a program these days?
Choosing the product, the content. The Face and Drag Race, for example, are successful in social media. Now we know [that the audience] has welcomed the program. The rest—the next challenge—is if they will love it or not. People ask me how I choose an international format [to localize]. I choose formats that have proven successful in big countries, at least. You know, the viewing behavior isn't much different across the world. This means we're guaranteed 50 percent success. The rest is all about production and localization. Social media is all about getting your products always talked about. Engagement is most important. Two-way communication is needed. Watching and ranting? That's good.
People are saying that through social media response to your programs are high, traditional ratings don't seem to agree. What do you think about this?
I think this needs a collective re-think. I believe that if the content is bold enough, you can [publish] everywhere. Rating systems these days may not be the best indicator. Why? While ratings for my programs are at this [low] point, the viewing number doesn't seem to go the same way. In each season of The Face, I got 80 to 90 million views combined, while the [traditional] rating gave me only this [low rating]. So you think [the traditional rating system] is still accurate? Viewing behaviors have changed. We can't force people to watch a program at the time we want. They come to us when they want to. One hour after The Face was launched in the first channel, views reached five million because when one person watches it, he/she will tell his/her friends to do so to. That's how we got 90 million views in three months. So I'd rather look into the future.
How would you rate yourself—your growth—since the day you came back to work for the family business?
I have to say I wasn't a very good guy. I ran away [from Thailand] and I didn't want to come back. But I returned when my uncle passed away. My dad asked me, "Is it time?" And from that day, I never had the chance to return to my pad in New York to collect my things. I had them sent back. I settled down and started working. It was about time. I am a person who, when I want to do something, I'll give it my all. But if I don't want to, I don't even care about it. I'm a person that goes either way, no neutral ground. So when I said yes, I made up my mind to carry on the legacy of my grandfather and my father. And it was all about pressure. It's a believed stigma that the third generation will mess up everything.
[People thought] I wouldn't be able to do it. People said these without knowing me, without realizing that I always work hard. I've decided I would change the Thai entertainment industry. I wouldn't underestimate my viewers. I was bored of seeing old clichés. I'm not a follower. I'm a leader. I don't want to follow anyone.
As of today, I think I've come further than I've ever expected. Success came faster than expected. I thought I would need to spend up to ten years building up a new normal, a new behavior, a new culture. But, thanks to my family and my team, I was able to achieve my goal earlier.
So I would give myself five points out of ten. I leave the other five for what lies ahead. I need to keep going. I don't want to import programs. I want to export programs to other countries. I'd like to show that Thai people are great, creative. We have great artists, great actors, great designers. Why can't they step across the boundary and go to Hollywood? These are what lie ahead of me. There are milestones to achieve. I'm happy where I am now. But I can't stop. I have to keep going forward.
You're really close to your family and seem to enjoy a really good relationship with your dad such that many LGBT look up to you as a role model…
Yes, I am. But I've also been through that stage. Because of the generation gap there were times when we didn't see the same picture. We didn't understand each other completely. Luckily, I was brought up abroad, and visited the family in Thailand once in a while, so we gradually learned about each other. I've learned that he loves me so much so that's why he expected me to be the best in his eyes. I, instead, am my own version. If you ask me how long it took for us to understand each other? A long time. It was all about his expectations and I didn't quite meet his expectations of me. But, at the end of the day, can we tune in? Can I work? Am I a good guy? Do people accept me? I'm fortunate to be born in a family of artists so we have more sense of this [LGBT] issue.
It was when my father and I had problems that I started feeling depressed. So it all comes to now; I'd like to do this [producing Drag Race] to help others. Because I know what these people have to go through. I know because what I went through was much more than you think. I was in the limelight and people used this issue to dish dirt to my father and the company. So I probably went through a lot more than those who aren't public figures.
My dad did some research to understand what I am. We should be worried about families that have less understanding of the issue. That could drive a kid to the wrong path. We will be the bridge to help you, to connect you to those who don't understand who you are. The [Drag Race] program is part of it.
"I have a strong belief these people need a stage to present themselves in the right way. On top of that, I wish the Thai audience would accept and understand them as they are."
It's February and I think I have to ask this question, what's your perception of love?
I've never covered things up. But I've never uncovered it all either [laughs]. I would say I'm experiencing a lot. People think I have plenty [of boys], being in a position where I can pick whomever I want. But when it comes to [love and relationship], I am not the one making the move. I am quite conservative. Up until recently, I was against affairs between a producer and actors or models. I've just changed this mindset and now I don't think it's that bad.
Love should be unconditional, regardless of gender. It all depends on who you would like to spend time with, to live with, and to agree to have such a relationship. Love is complex these days. Love between men, between women, between a woman and a transgender, a tomboy and a man. There's all kinds of love. It all depends on the two of you. Make your decision, understand each other, communicate and move forward together.
What do you think about marriage equality?
I wish it would happen in Thailand. I don't think it's completely new. And Thailand is a developing country so this could be a standard. [Legalizing same-sex marriages] could also be good for the country's economy. Each year, we have so many visitors coming to travel, take a vacation, educate themselves—and even out themselves—in Thailand. And these people contribute a huge amount of money to the country. If we can make same-sex marriages happen, imagine how many of them would come here? For example, if you live in Asia, instead of flying all the way to New York, you can just come here to legalize your relationship so you can have children or whatever. Don't you think it's a good move?
Drag Race Thailand premieres on 15 Feb, exclusively on Line TV