Get to know The Gay Passport, Asia's hottest gay travel platform
LGBT travel is on the rise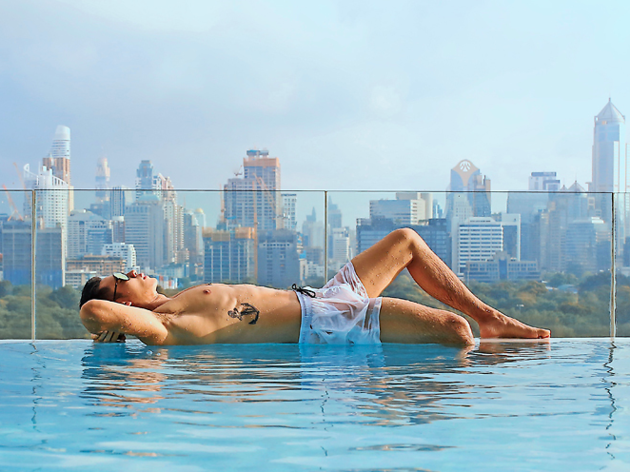 If you're gay, love to travel and into social media, chances are you've heard of The Gay Passport. You've probably trawled through its Instagram feed, which features a buffet of half-naked hunks posing in hotels, beaches and top attractions, or clicked on a feature of a cool gay-friendly destination on its website. The Gay Passport is not the first nor only gay-focused media platform, but it's one of the very few that's crafted for young gay readers—and that's probably the reason behind its fast-growing pace. Co-founder Calum Evans tells us more.
Before anything else, tell us more about yourself.
I'm from Scotland. I studied in Glasgow. I've always been in marketing for hospitality. My first internship was at Emirates, in marketing, and then in China, Beijing, and then I moved to Bangkok to work for BHM Asia for a few years.
How did The Gay Passport come about?
Living and traveling for a long time in Asia, as well as studying in Australia, I read a lot of travel advice while at a new destination and looking to go out. I didn't quite connect with them. I found them dated and wasn't written for my audience—for me. So that was one part. The second was when I was working with a hotel group. We were always looking to reach out to new markets, and for design hotels, the gay market is really important. We wanted to work with media who could reach regional Asia—Hong Kong, Singapore and Bangkok, too—and we couldn't find the right partner. That was when I wondered if I could do something updated, make it cool, fresh, and also help these hotels. That's kind of the essence of it.
How would you define The Gay Passport in a few sentences?
For a boring branding stereotype, it would be "refreshingly hot, something unusual." Actually—our essence—in everything that we want to do, we want to be up-to-date, honest, practical, but also entertaining. Making sure it's useful, but also entertaining is where the challenge comes in. But that's what we try to do.
Who is your audience?
Definitely regular travelers who are in a new city and looking to explore the gay elements of that city. That's what we specialize in: content creation. Actually, most of our readers are from Southeast Asia. So even for a city like Bangkok, most of the readers are from regional Asia. They're one of the largest travel groups here. But because I'm from the UK, people tend to assume that's who we're writing for, but most of our writers are Asia-based. Asia is our biggest market at the moment.
What's your biggest source of content right now?
Right now we're putting the focus on China—there are a few new destinations this month. For the rest of the summer, we're moving on to other capital cities. We're a small team so we focus on big destinations first. London, Paris, Berlin and Amsterdam are coming out in the next few months.
Which parts of Thailand are included in your website?
For Thailand, we've covered Bangkok, Chiang Mai, Samed, Samui, Phuket and Pha Ngan.
Which Thai destination is your personal favorite?
Having lived here for a number of years, it has to be Bangkok. There's always something new in the scene, even compared to real big cities like London and New York. There are new restaurants, new promotions, new events happening all the time here, and I love that. I also love it because it's a major tourist city. (Number one in the world, right?) You can go out any night of the week. If you feel like partying on a Tuesday, no problem. Everywhere is open. Some other cities don't have that element.
Scrolling through your IG, we see that you collaborate with a lot of gay couples….
We work with a lot of couples and a lot of singles, too! We do collaborate a lot with influencers, Instagram personalities and YouTubers. Coming back to the essence of what we're trying to do—up-to-date and fresh—we feature local guides to help us provide what it's actually like on the ground. They know their city better than travel writers. They can tell you where it's hot to go on a Tuesday. So that's why we work a lot with these guys.
How do you find these people?
Lots of hard work, going through Instagram. [Laughs.] We're very lucky that a huge number of people use #thegaypassport hashtag regularly, and we just look for inspiring travel stories from that hashtag. It features the best, and we share them. That's generally where we find most of our partners.
What kind of content are you looking for?
An inspiring travel story is number one. We want it to be entertaining. They have to be visually interesting, but I don't want that to be taken as it has to be gym [bodies] non-stop. It's more about having great photos. We try to balance.
Is it difficult to explain whatThe Gay Passport is all about to clients?
I think having a background in hospitality allows you to look at it from both sides. Having been a buyer of media on one side to becoming a seller of media on the other, I think it's useful to see and to understand what they are looking for, and you try to deliver that. From another angle, it's important to talk about LGBT. We work in many countries and not many countries are as accepting as Thailand. Business-wise, we find Thailand is culturally accepting. Worldwide, progress is still to be made.
What's your secret?
We understandour audience and provide them with what they actually want. Whenever we have a new story coming out, or a new article, I always ask the writer, "Would you, on the BTS going home after work, click on that and read it?" I think looking hard at what we publish—not how much we publish—has been a big factor.
What are you expecting for The Gay Passport in the near future?
We're launching European capitals. This is an interesting move because we've always been so focused on Asia. It's interesting to see how it goes and how we balance in a cross social media.
Where should we travel to this year?
I would say, if you're from regional Asia and have not been to Samed on a Thai public holiday weekend, that is your first place. I don't think it's famous enough for what it deserves…a DJ Station on the beach. If you're from Hong Kong, Manila, yougotta try it.
How will gay travel grow in the next few years?
In the few years we've been in the industry, there's definitely been a growing awareness. Many hotels are now aware of this key market. Travel has always been there. There's nothing new. [Gay travelers] are always traveling. But on the business side, companies and the travel industry are more aware, and are now trying to approach them.
What's the best lesson you've learned from running this media platform?
Trust your gut instinct and just keep going. There are hard moments but you have to keep going. That's the way to succeed.
Do you think people reveal too much on social media?
I would say no. If you feel comfortable to post, you should be able to do that, regardless of your body type or diversity or anything. The only thing that I would say that's gone too far is the possibility of sharing other people's content which you don't own, especially inappropriate content. That's not cool.