Q&A with Jojo Trasher
Bangkok's vibrant party planner is back in the director's chair with the return of the infamous, much talked-about gay series, Gay OK Bangkok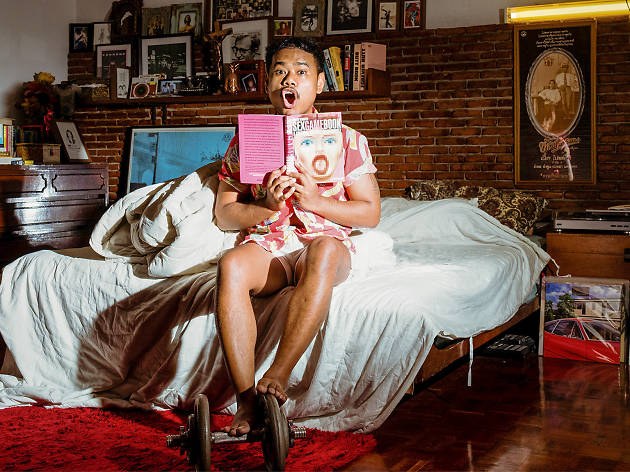 The name Tichakorn "Jojo" Phukhaotong is usually synonymous with the famous party series Trasher Bangkok. But apart from planning some of the city's coolest parties, Jojo also screenwrites and directs Gay OK Bangkok, an online series that discloses the lives and loves of gay men in Bangkok. The success of the first season has led to the return of the series to Line TV this month. We invade Jojo in his bedroom to talk about the inspiration behind his show.
How did Gay OK Bangkok start?
There weren't any series about the real lives of gay people in Thai media. I mean, there were, but I couldn't relate to any of them—either it focused on the fictional young love of high school students or something very dramatic like Club Friday. That's the reason I wanted to do this series. I pitched the idea to Test BKK and said that is perhaps another way they can convey their message to their audience. They agreed, and it became Gay OK Bangkok as we know today.
What is the key message of Test BKK?
Their main goal is to promote health issues and to encourage people to do blood tests, especially homosexuals. They also want to erase the stigma surrounding HIV patients. A lot of people still believe that these patients are already the walking dead. The truth is, some of these patients actually even live longer than other people if they know how to take care of themselves. I wanted to show this message but I didn't want it to be too serious or depressing. I wanted the message to come across naturally.
Where did you get your inspiration for your characters?
They are based on me and my friends. We can almost say that the first season is based on a true story. Most of the stories were inspired by people around me.
Some people compare Gay OK with Looking. What do you think?
It's okay because one of the initial inspirations for the series was Looking. I watched it and liked it so much and wanted to have this kind of show in Thailand. Looking follows the lives of ordinary gay people—their work, family and love lives. However something that Looking doesn't have is drama, which is what Thai people like. If you ask whether I copied Looking, the answer is no. There are many kinds of gay people around the world. We can be nerdy, well-mannered or even slutty but deep down, we are all human beings living in different places.
Are you happy with how gay people are portrayed in Thai media?
Not yet. There are few media outlets trying to take the third gender to the next level. Nowadays, Yaoi [a show created by women for women that focuses on homosexual male relationships] is more acceptable, however they are created to satisfy the female audience and don't actually represent us. I used to be frustrated feeling that we are dehumanized by the writers. Looking on the bright side, Yaoi helps the new generation to accept and normalize homosexual relationships. One day, Yaoi will hit the wall and I hope its producers can bring it to the next level.
Do you think Bangkok is gay paradise as people tend to say?
It is on the outside if you're talking about men holding hands on the street. We are in a better situation compared to other countries in Southeast Asia so I understand why Bangkok is called a gay paradise. But we still don't have rights. We can't get married, adopt children or even give medical permission when it comes to our partners.
I put the word "OK" in the title because I want to say that life is ok. Some people think that if you are gay, you won't be happy—your parents will worry, you will be cheated on. I just want to say that we have normal lives like other people—and it's ok. It isn't like we're going to end up alone. There are plenty of single girls out there too and I don't see any difference between our circumstances.