Who is he?
The young actor landed his first acting role in 2014 in TV show called Room Alone: The Series, but rose to fame for playing lead roles in yaoi (boys' love) series Dark Blue Kiss and Water Boyy.
He's a lover of both city and nature.
New was born in Bangkok but later moved to Yala and then Hat Yai with his parents. "Yala, in my memories, was so lovely," he recalls. "I can still remember my pleasant childhood in the province. There were times my parents and I would get up early, ride a bike around Pru Ba Koy public park, and feel the fresh southern wind on our faces. I remember the weather was so fresh, so pure."
The young actor has permanently relocated to Bangkok for school and work, but memories of his idyllic childhood in the South still stay with him. "It would be nice to split time between Bangkok and somewhere with an abundance of nature— Khaoyai, Hua Hin—where I can relax and do nothing."
Education is important to him.
In the last few years, New successfully balanced working as an actor and pursuing his studies, receiving a Bachelor's degree in engineering and an MBA from Chulalongkorn University. "Acting isn't a long-term career. I'll probably stay around for another decade, maybe even possibly "expire" in the next five years," he relates. "Acting is not reliable. I love it, but I have no control of the business, so I need a backup plan. A degree and education guarantee that I'll be okay."
He's also an active stock trader.
A love for numbers introduced him to the stock exchange, where he learned the magic of finance. "I am mesmerized by how everything—numbers, accounting, trading—is connected. Wouldn't it be awesome if you could control these numbers?" When he was younger, New was more bullish in his trading decisions, but shifted to a more conservative style later on.
He remains level-headed when it comes to his fans.
New has always been honest with his fans, and has never pretended to be anything he's not. "There are people who understand what's fiction and what's reality. I've always been true to myself from day one. If you like me for who I am, I'm all for you. If you're not, I can't help that."
He's proud of his first film role
New took on a new acting challenge playing a main role in the film Classic Again, a remake of the 2003 South Korean romantic drama The Classic, which tells the love stories of a mother and daughter in different times. New plays the mother's love interest, Kajorn, in Songhkla during the '70s. "I needed to learn how to walk, speak and act slower than my usual pace," he says. "I had to be Kajorn by heart without looking pretentious and that was very difficult. There were times when I would laugh at my acting, thinking I could have done better." Playing Kajorn, however, has become one of his proudest acting moments. "It's like I achieved another step in the career path I've chosen."
Classic Again opened his eyes to "vintage" forms of communication
The film helped New rediscover the beauty of communicating via letters, before there were mobile phones and the Internet. "People those days wrote letters. And it's perhaps these lengthy means of communication that helped our parents' generation bond over a deep, long-lasting love. But in the end, letters and mobile phones are just two different ways to send our love. "I miss you" and "I love you", whether in a letter or on a text message, are the same words with the same meaning. Tools don't matter; the message does."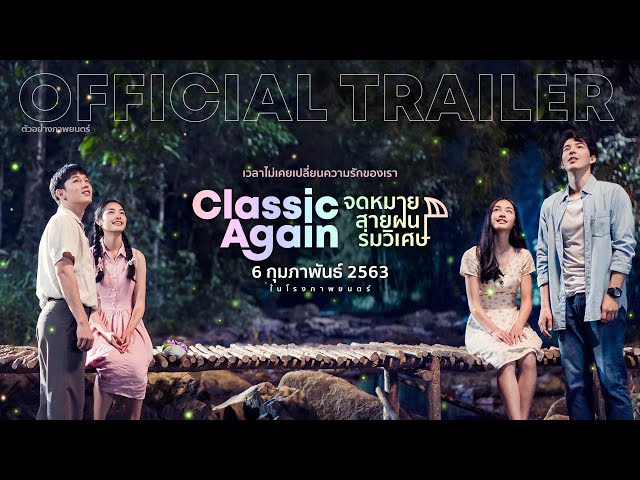 Classic Again opens in theaters on 6 February.