Katherine Waterston on Alien: Covenant
The Fantastic Beasts star on stunts, selfies and why she's too scared to watch herself in Ridley Scott's Alien: Covenant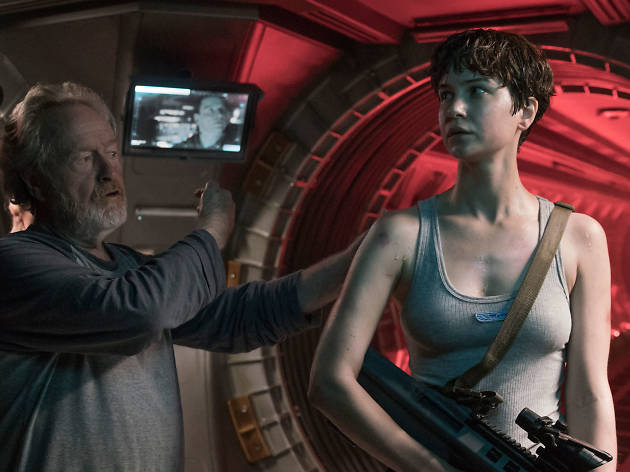 Katherine Waterston has a sizable screen CV. The 37-year-old New Yorker has been acting for over a decade. But I'd bet an enchanted suitcase that you know her from just one film, Fantastic Beasts and Where to Find Them, in which she played Tina, the disgraced Auror.
Like her character, Waterston is possessed with steely determination: "I've never had a hard time standing up for myself," she tells me. But she's quiet too, pausing between sentences to find the precise words she wants: "I can be pretty shy."
We're here to talk about the role you're going to know her for next – Ridley Scott's latest kickass lead, Daniels, in Alien: Covenant. "She's a scientist," says Waterston. "It's only when she's tested that she discovers what she is capable of."
Were you nervous following in Sigourney Weaver's footsteps in the Alien franchise?
No. You have to force yourself to not engage with your destructive self-loathing! I was in a black cab in London when my agent called and told me I'd got the part. I always feel like someone's got the wrong number or there's been a mistake.
Katherine Waterston in Alien: Covenant
"I felt nauseous after watching a preview clip of Alien: Covenant"
So you haven't felt under pressure?
I can't let those thoughts in when I'm working or I wouldn't be able to get out of bed in the morning.
Do you remember the first time you watched Alien?
Yes! I was ten and my friend's older brother lured us to the TV and traumatised us for life. I have a clear memory of the chestburster scene and the terror I felt, trying not to pee my pants.
Does it still scare you?
I scare very easily. I felt nauseous after watching a preview clip of Alien: Covenant. My hands were shaking. I know the plot, but that's not going to save me. Ridley really enjoys terrifying people.
How many of your own stunts did you do?
Oh my gosh. I loved doing stunts. Ridley had to tear me away. Letting someone else tell your character's story seemed insane to me. I'm also a middle child so I'm wired to feel as though I'm always missing out.
Katherine Waterston in Fantastic Beasts and Where to Find Them
"People don't notice me. I'm the invisible woman"
How has becoming part of JK Rowling's wizarding world changed your life?
It hasn't changed my day-to-day at all. I can walk down the street.
Really? You're not constantly stopped for selfies?
No. People don't notice me. I'm the invisible woman. That's fine with me.
Harry Potter made its stars famous in their teens. How would you have coped with success young?
Probably not as well as they have. I'm happy now that I didn't get work younger. But when I was younger it was hell, you know. Biting my nails in between jobs, not knowing when the next one was coming.
Did you ever consider giving up acting?
Oh, like after every humiliating audition. But in a real way, no. I'm too stubborn to quit I guess.
Alien: Covenant' is in cinemas on 10 May
It's 2104, 10 years after the Prometheus' crew members ended up as alien meat on their mission to find the origins of human life. A colony ship, the Covenant, is gliding through space on a voyage to a distant planet. Its cargo includes 2,000 people sleeping in hibernation pods, as well as a trove of embryos intended to populate their new home.
More to explore