Q&A with Dean
Meet Dean, a K-hip hop wunderkind whose edgy hip-hop/R&B music flies him off the ground, and gets him all the spotlights in an international music scene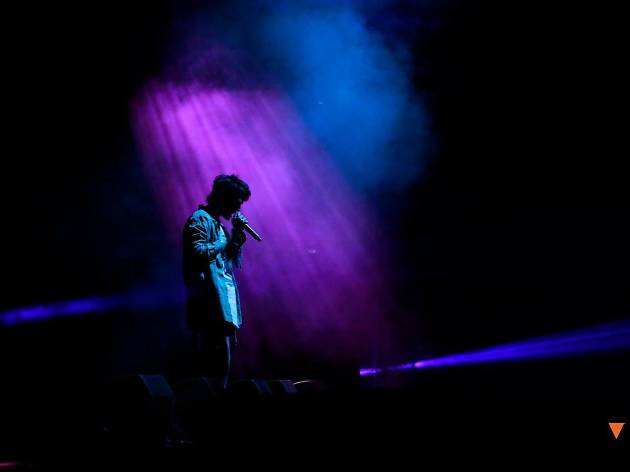 Who's next one to watch in South Korean music? Meet Dean, a K-hip hop wunderkind whose edgy hip-hop/R&B music flies him off the ground, and gets him all the spotlights in an international music scene. Born Kwon Hyuk in 1992, the singer/songwriter kicked off his music career when he was as young as 16 years old, joining the squad of a hip-hop talent of the same root, Keith Ape, as an apprentice. So when he turned 18, Dean knew exactly what he's good at: producing hip-hop music. Since then, he has been writing songs for famous K-Pop groups like Block B and VIXX.
In 2016, Dean's international recognition arrived when he was picked as one of Spotify's "25 under 25," a list of 25 most influential artists under the age of 25 from around the globe. Besides becoming a headliner at gigs and music festivals across South Korea and the United States, Dean has collaborated with various music talents, including The Internet, Anderson Paak. We had a quick chat with him (via a translator in a group interview) prior to his Bangkok show last week.

Is this your first time in Thailand? And how do you feel about having a debut stage in Bangkok?
Yes, this is my first time in Thailand. I've heard I have Thai fans—many of them had been messaging me on Instagram asking me to come here. I've been wanting to come here for so long. I'm so happy to be here and meet my Thai fans. So let's have fun with me today.

Since yesterday was your birthday, what's your birthday wish?
My new single is coming out soon so I hope everybody will enjoy and like it.

You have been working on an international stage. Is there a difference between working in and outside of South Korea?
When I work with international crews, working process and creating music is always fun. We're free to make music as we like. On the other hand, South Korean artists are more determined. They have goals that they want to achieve. We talk, talk, and talk all about reaching the goals. So in conclusion, international artists are freer in a process of making their songs, while Korean artists are more sticking to plans and goals.

You are both singer and songwriter. Is there any criteria whether you want that song for yourself or for other artists?
I keep good songs for myself (laugh). Actually, I didn't write songs thinking what to do with them. It was more like they requested me to write songs for them, so I did. I think writing songs is like designing clothes for people as I need to make it suitable and perfect for the ones they are made for. Their voices and characters are material I use. As for my songs, I think of myself as another artist and write songs for my style, voice, and character.
What's next for you?
After recording the TV show Show Me The Money, I was taking a break. Now, I have been recording new songs, and that makes me feel a bit tired.

Lastly, can you say something to Thai fans?
First, I have to thank all my Thai fans. My latest album was released in March last year. I know Thai fans have been waiting for me for a long time, and I want to return to their love and support with the best show. So please enjoy the show. My new album is also coming soon, so please support me in this upcoming project too.