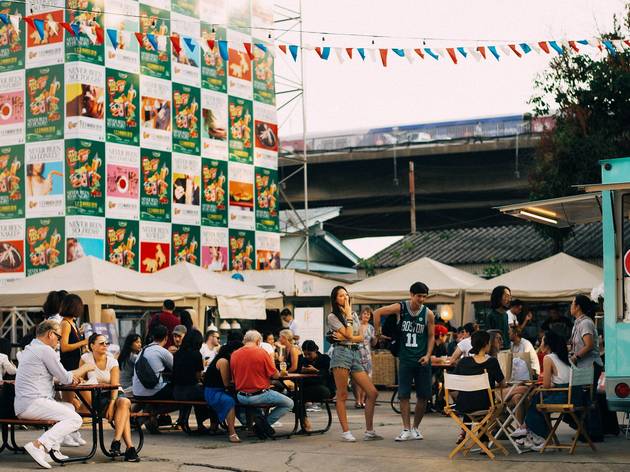 5 best things to do this week
Posted: Wednesday March 11 2020, 12:36pm
Fri 13
Mad Face Food Week at Sermsuk Warehouse; 3 pm; B100 (inclusive of one drink)
Save your appetites— this annual three-day food festival is returning to Sermsuk Warehouse. This year, under the theme "Last Meal on Earth," the feast features 50 vendors serving their signature creations along with dishes they would want to eat if it's the last day on Earth.
Chooseless 5-Day Journey at WWA Cafe X Chooseless; 5 pm; B99
My beer joins forces with WWA Cafe X Chooseless to host a 5-day event to celebrate art, music, fashion, and food. Come between 7 to 9 pm for awe-inspiring live projection mapping performance inspired by a music video by Kid Francescoli.
Sat 14
Mind the Unseen Heart: A Journey to Wholeness at Sathorn 11 Art Space; free entry
Curated by aspiring clinical art therapist Gabriela Moriarty, this multifaceted exhibition aims to raise awareness of mental health issues, and change the way mental health is viewed in Thailand. The two-week exhibition brings together the works of several multidisciplinary artists and mental health practitioners, and features a series of weekend events celebrating poetry, storytelling, performance art, dance and comedy.
We Will Have Been Young at RCB Galleria; 10 pm; free entry
This group show examines the themes of youth and the ambiguity of the future as reflected in the images taken by 12 emerging photographers from Thailand, Malaysia, Singapore, Cambodia, Indonesia, Philippines, Vietnam and Myanmar. These photographers were all participants of the Southeast Asian Photography Masterclass by German photographers Jörg Brüggemann and Tobias Kruse.
Sun 15
Lo-Fi Swing: DJ Do at Jam; 8 pm; B100
For something different, head to Jam this 15 March for the bar's monthly experimental
event Lo-Fi Swing, where artists are given the freedom to create and play hip hop and electronic beats however they like.
Share the story